Miniature Horse Auctions & Events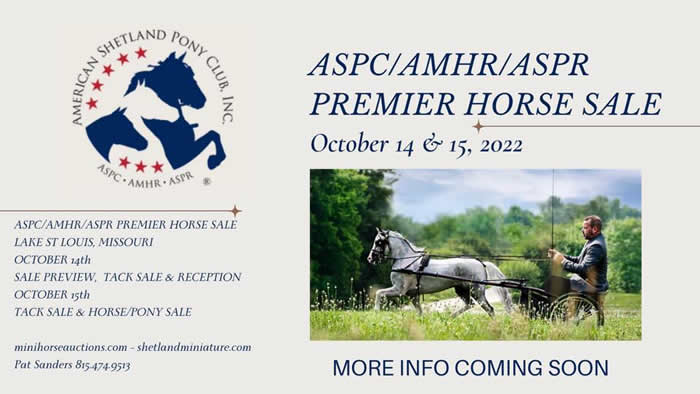 FOR CONSIGNMENT FORM & INFO PLEASE VISIT
www.SHETLANDMINIATURE.com
Premier Sale | shetlandminiature
OR VISIT OUR FACEBOOK PAGE AND SEND A MESSAGE THERE!
LOCAL LODGING:
Hilton Garden Inn
2310 Technology Drive
O'Fallon, MO
CURRENT CONSIGNMENTS! LOTS MORE COMING!
UPDATED 9/24/2022
ELTON

Foaled 5/29/2020

ASPC/AMHR #354053T

2020 SORREL PINTO STALLION

Rayvik Maserati x JHK Marios Rocket Jewel

WILDFIRE'S DUKE ELLINGTON

Foaled 5/2/2020

AMHR/ASPC #171467

2020 DARK BAY STALLION

MICHIGANS DUKE OF CAMBRIDGE X VERMILYEA FARMS VERSACE UTOPIA

WILDFIRES DUKE NUKEM

Foaled 5/4/2018

AMHR #344719T

2018 GREY DAPPLE GELDING

MICHIGAN'S DUKE OF CAMBRIDGE X BL PICK ME PLEASE

BONDESBOUNCINB BULLETS GUNNIN4 CHIX

Foaled 6/14/2021

AMHR/ASPC #172491

2021 Bay Stallion

THISTLE RIDGE HS BROWN BULLET X CAREFREES OH WHAT A NIGHT

WILDFIRE FARM CHOCOLATE SPRINKLES

Foaled 7/7/2019

AMHR/ASPC #170897

2019 Black Pinto Mare

VERMILYEA HERSHEY'S CHOCOLATE CHIP X BUCKEYE WCF CAT-A-LENA

L&J'S SHEZA DAZZLING CHIC

Foaled 3/30/2020

ASPC #171099

2020 Bay Pinto Mare w/Bald Face

VERMILYEA FARM HERSHEY'S MAGNUM X MAJESTIC FARM DIXIE CHICK (HOF)

WILDFIRE FARMS RHINESTONE COWBOY

Foaled 6/5/2018

ASPC #169113

2018 SORREL PINTO GELDING

VERMILYEA FARM CANDYMANS CHROME X D & S TAMMY WYNETTE

BONDEBOUNCINB BULLETS GUNS & ROSES

Foaled 4/14/2022

AMHR/ASPC #173299

2022 SOLID BAY MARE WITH SOCKS

THISTLE RIDGE HS BROWN BULLET X BUCKEYE WCF CLASSICAL FREEDOM

L&S'S MOONLITE SERENADE

Foaled 3/23/2019

ASPC #169842

2019 SOLID BAY MARE

VERMILYEA FARM HERSHEY'S MAGNUM X MAJESTIC FARM DIXIE CHICK (HOF)

RHAPSODY'S WHITE CHOCOLATE MOCHA

Foaled 6/1/2012

AMHR/ASPC #164362

SMOKY BLACK STALLION W/CHROME

RHAPSODYS REIGN MAN (HOF) X B & L'S ROCK "E" ELEGANT LADY (HOF)

ONE MICHIGAN NIGHT

Foaled 4/20/2016

ASPC #168623

ASPC BAY STALLION

Michigan's One For The Road x Instyle Music Til Dawn

PHOTO COMING SOON!

B MEYER CHARL "E"S GONE WILD

Foaled 4/14/2019

AMHR/NSPPR/ASPC #170847

BLACK PINTO MARE

B Meyer Charl "E"s Painted Kid x Woodland Acres Kings Wildflower

WRONG BEER

Foaled 4/10/2022

ASPC #173032

BAY WEANLING SHETLAND STALLION

Beer Money x Gold Mines China Moon

CANNON RIVER ROYAL CONTESSA

Foaled 5/30/2020

AMHR #349876T

BAY MARE W/BALD FACE & FOUR STOCKINGS

+++ FLASH +++ 2022 AMHR NATIONAL CHAMPION! +++

Rhapsody's Reign King (HOF) x Cannon River's Commanda Commotion (HOF)

LKF EXCALIBURS ALEXIS

Foaled 2/24/2020

AMHR/ASPC #171700

BAY MARE

Cherryville Majic's Excalibur x Erica's Candymans Ruby Red

MARYSTOWN SPUN CRAZY

Foaled 5/29/2022

AMHR/ASPC #173362

PALOMINO STALLION W/PARTIAL BALD FACE & 4 WHITE SOCKS

Royal Spun Charmer x Royal Golden Surprise

AFTERNOON DELIGHT KINGSMAJESTICLADY

FOALED 4/12/2019

AMHR #347906T

SILVER BAY MARE

CROSS COUNTRY CENTERFOLD

Foaled 3/29/2022

ASPC #173074

BAY MARE

Wall Street Rock E Seranade In Blue (HOF) x Wall Street Illusion's Prom Queen

MARYSTOWN TAMMIE LAMA DING DONG

Foaled 6/15/2019

AMHR/ASPC #170139

BLACK PINTO MARE

Wa-full Unique Bet I Can x Marystown She's Rockin The Dice

BUCKEYE WCF GRAND N GOLD

Foaled 5/10/2013

AMHR/ASPC #163882

PALOMINO MARE

Lee-Land Royal Golden Grand x Buckeye WCF Cicada Song

RAYVIK JOCOS NOW & FOREVER

"SOCKS"

Foaled 5/10/2021

ASPC/AMHR #353545

DARK BAY PINTO GELDING

+++ FLASH +++ 2022 AMHR NATIONAL CHAMPION +++ JUNIOR STOCK HORSE GELDING +++

D&S Jocomotion (HOF) x D & S Shirley Temple

ALL PROCEEDS FROM THE SALE OF THIS GELDING ARE BEING DONATED TO THE ASPC/AMHR PROFESSIONAL HORSEMANS CRISIS FUND

(MANY THANKS TO JERRED BRIDGES!)

CROSS COUNTRY ROSIE

Foaled 3/15/2022

ASPC/AMHR (ON FILE)

WEANLING MARE

Wall Street Rock E Seranade In Blue x Cross Country Dizzie Ms. Lizzie

PHOTO COMING SOON!

STS BUILT ON LOVE

Foaled 4/18/2022

ASPC/AMHA MARE

REGISTRATION PAPERS IN OFFICE

Wa-Full Unique Bob-The-Builder x STS Red E Cant Buy Me Love

BANDIDOS SHE'S EYE CANDY

Foaled 4/21/2014

ASPC/AMHR #327306B

PALOMINO MARE WITH BLAZE

Filipowicz That's All Foulks (HOF) x Van-Los Hard On The Hart

RHAPSODY'S GOT MY SOCKS

Foaled 7/20/2018

NSPPR #500176

SORREL PONY GELDING

Rhapsodys Rock E Mephis Celebrity (ASPPR) x Katy OWF (AHR)

This fancy sorrel gelding is sired by the Shetland Pony of the Year Mephis Celebrity, aka Elvis.

His Arabian dam, Katy OWF, is a line bred Padrons Psyche mare.

Socks is a 4 year old and began is western saddle training this spring.

He is doing exceptionally well under saddle and will continue in training until sale time.

Although Socks has not yet exhibited at shows, he has experience with round pen work, traffic, cattle and general ranch work.

At 14 hands, he is a comfortable size for most riders.

Socks has a quiet, easy-going disposition and bonds readily with people who have a soft, easy manner.

He is ready to finish, either as a show pony or as a family or trail pony.

AFTERNOON DELIGHT DANDYKINGS PRINCE

Foaled 2/9/2017

AMHR #300544

SORREL GELDING

VERMILYEA FARMS BLACK PYTHON

FOALED 4/15/2013

AMHR #322720A

BLACK GELDING

COLUMBIA DANDY KING

FOALED 4/26/2007

AMHR #308233A

34" PINTO STALLION

WILDFIRE'S CHOCOLATE KISS

Foaled 5/12/2019

AMHR/ASPC #170412

2019 BAY MARE

VERMILYEA HERSHEY'S CHOCOLATE CHIP X ROYAL POLKA DOT
Join us on Friday 10/14/2022 for informative clinics including: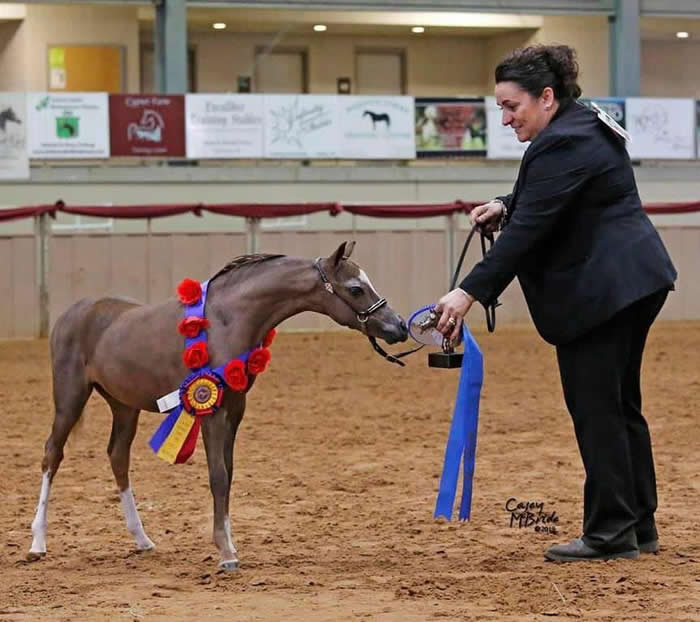 * FITTING THE HALTER HORSE w/ Danielle Hill (DHTC Danielle Hill Training Center)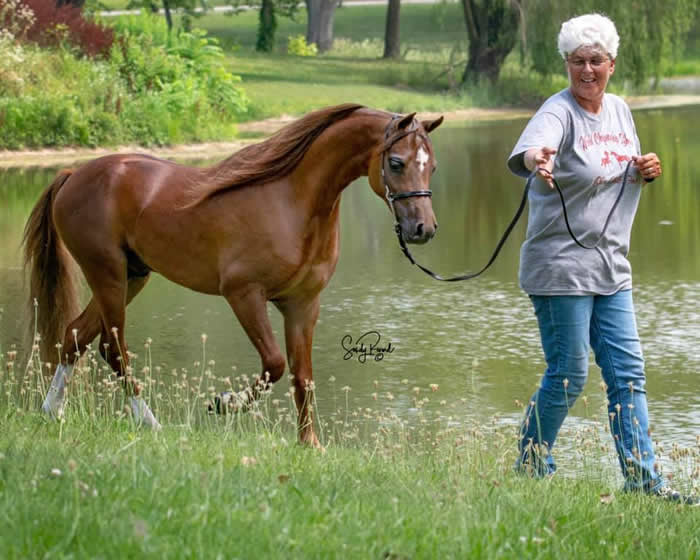 * SHOWING THE MODERN & MODERN PLEASURE PONY w/ Amber Kildow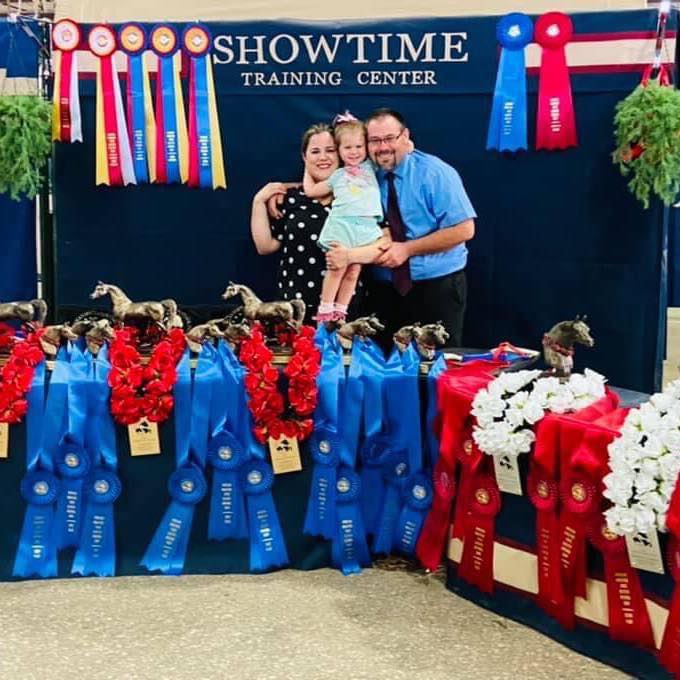 * STARTING THE DRIVING HORSE w/ Robby Barth
Showtime Training Center, LLC is a full-service professional facility that specializes in training and exhibiting AMHR, ASPC, and ASPR registered horses and ponies in driving and halter. It is owned and operated by Robby and Andrea Barth and is located in rural Northeast Iowa. The updated facility includes 30 stalls and a 60' x 125" indoor arena.
Robby and Andrea have been lifetime participants in the ASPC/AMHR and have trained and exhibited 47 Congress and National Grand/Stakes Champions to date.
Over the years, Robby has trained hundreds of horses to drive and is very skilled and purposeful in his training methods. In addition to training, Robby is a skilled farrier and does all of the shoeing and trimming at Showtime . Andrea is a carded judge in ASPC/AMHR for all divisions and also earned a Bachelor of Science Degree in Animal Science with an Equine Emphasis. Together, they make a great team and look forward to sharing their knowledge and experience with you!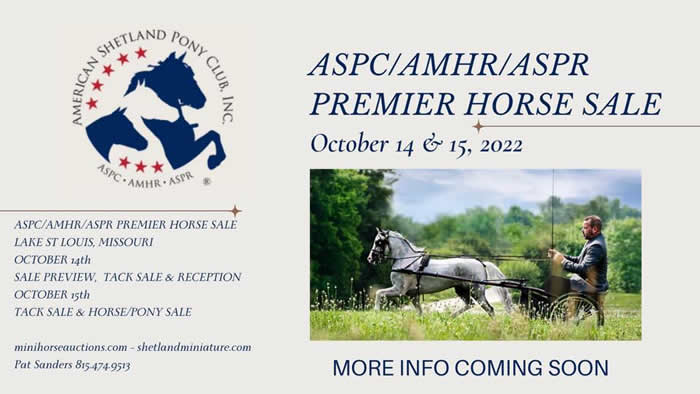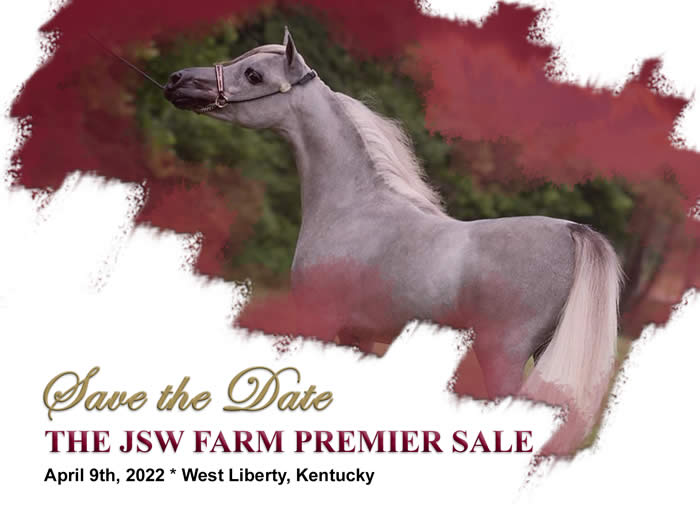 1645 Red Wine Rd., West Liberty, KY 41472
SALE RESULTS:

42 HORSES SOLD

1 NO-SALE

TOTAL AMOUNT OF SALES: $292,800

TOP 3 AVERAGE: $24,300.00 EACH

BOTTOM 3 AVERAGE: $2,900.00 EACH

AVERAGE SALE PRICE: $5,860.00 EACH

Poco De Oro Boleros Da Vinci

LOT #4

POCO DE ORO BOLEROS DA VINCI

AMHA A 221554

SMO BOLERO DE SUERTE x OAK BAY BLACK BEAN SALSA

Foaled 04/02/2014

HIGH SELLING HORSE

Fallen Ash Farms Epic Eagle

LOT #10

FALLEN ASH FARMS EPIC EAGLE

AMHA A 195700

FALLEN ASH FARMS EAGLE SCOUT x LUCKY FOUR REBELS RITZY

Foaled 05/05/2009

30" Bay Pinto Stallion

TOP 3 HIGH SELLING HORSE

JSW Prime Times Miss Juliette

LOT #15

JSW PRIME TIMES MISS JULIETTE

A 232304

RAYVIK PRIME TIME x PRF BLACK LABELS INTOXICATING MISS

05/05/2018

AMHA Solid Black Mare

TOP 3 HIGH SELLING HORSE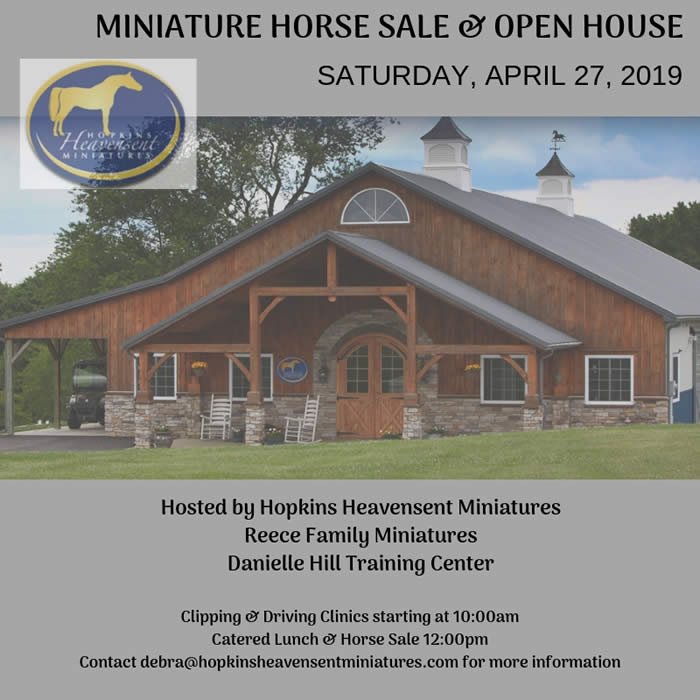 AMHA GELDING INCENTIVE & AMHA DEVELOPMENT FUND
ONLINE AUCTION EVENT!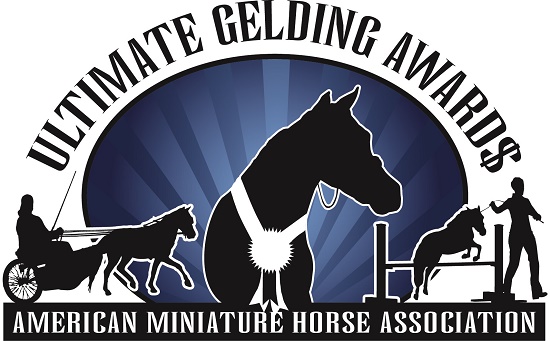 The AMHA Gelding Incentive Fund is back, and we think you're gonna LOVE it!  Show your support for our geldings by bidding on some of these AMAZING items that have been so generously donated.  All of the proceeds from the auction will benefit the GIF. 
The Gelding Incentive Fund will give back to the top ten point earners at the World Show for each of the following divisions: Youth/YOTE performance, Amateur/AOTE performance, Open performance, Junior halter (all points combined from all halter classes entered), and Senior halter.  Most performance classes will be included in the point tabulation--not just gelding-exclusive classes!
2018 HIGH SELLING AUCTION ITEMS BELOW:
** Multi World Champion & Regional Grand Champion Gelding
POCO DE ORO PEPITOS PICASSO
Donated by Barbara Hibbard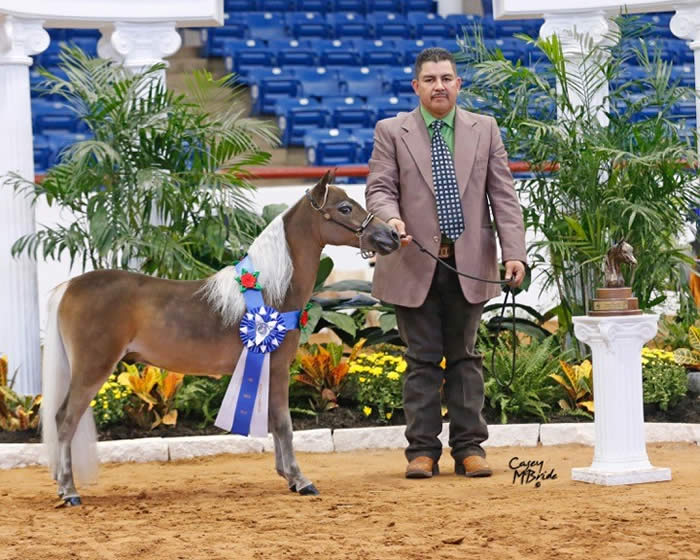 Picasso is currently located in Texas
Comes with 2 free AMHA 2018 World Show class entries (class entry fees donated by AMHA)
HIGH BID $1,000.00
The New and Improved Gelding Incentive Fund!
The Gelding Incentive Fund (GIF) Program has changed! 
The newly adopted program varies from the GIF programs of previous years so please be sure to familiarize yourself with the new program.
You need to NOMINATE your gelding prior to the start of the World Show.  You can access the nomination form here: http://www.amha.org/pdf/ws/GIFNominationForm2017.pdf

The purpose of the GIF continues to be the promotion of registrations and transfers of AMHA geldings by increasing their value through a monetary incentive encouraging their exhibition in the show arena. The GIF is meant to incentivize the use of geldings as all-around horses in the show arena.  As such, beginning at the 2017 World Show, the GIF will be distributed to the top ten overall point winners in Open performance, Amateur/AOTE performance, Youth/YOTE performance, Junior halter, and Senior halter.  Each division will be allocated an equal proportion of the funds to distribute to the winners. In order to be eligible for the GIF, a gelding must be nominated each year.  A gelding can be nominated for a non-refundable fee $50 per division for the first division nomination, $45 per division for 2 divisions, $40 per division for 3+ divisions at anytime during the show-year through the closing date of entries of the World Show. The postmark of the nomination will determine the timeliness of its submission.  Late nominations will be accepted for a non-refundable fee of $50 per division (no discounts for multiple divisions) up to the official start of the first class of the World Show.
Full list of rules for the new GIF can be accessed here: http://www.amha.org/pdf/ws/RulesForGIF.pdf