Helpful Information about Miniature Horses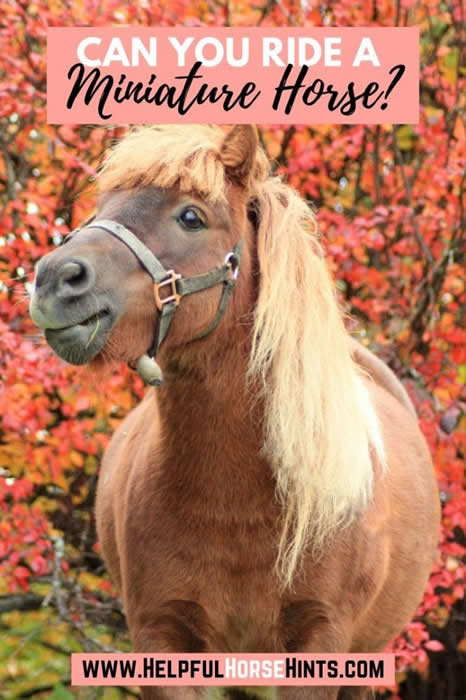 CAN YOU RIDE A MINIATURE HORSE?
(click on image at right for one owner's opinion!)
Ah, miniature horses –
so cute, so tiny, so perfectly adorable, right?
And, while you know that logically these tiny horses are pretty petite, many of us have often wondered if, despite that smaller stature, it is all right to ride a mini horse.
After all, they are sturdy and come from the relatively same equine stock. So it is only natural to wonder:
Can you ride a mini horse?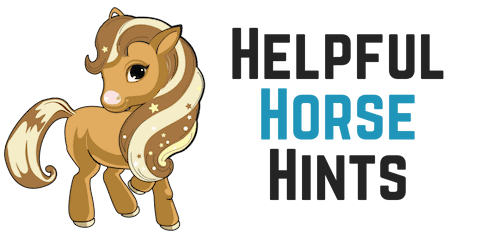 Helpful Info on treating Rain Rot
Rain Rot has many different names in the equestrian world including: rain scald, mud fever, scratches and sweet itch. Rain Rot is a fungus caused by dermatophilus congolensis, a bacterial organism whose natural habitat is unknown. Attempts to isolate it from soil have been unsuccessful, although it widely believed to be a saprophyte in the soil. Rain Rot is spread by direct contact between infected animals, through contaminated environments or possibly via biting insects. Factors such as prolonged wetting by rain, high humidity and high temperature can influence the development, prevalence, seasonal incidence, and transmission of Rain Rot. In the early stages of infection, you will feel small lumps on the horse's skin/hair by running your hand over his coat. As Rain Rot progresses, matted tufts of hair may appear as well as large (sometimes crusty) scabs. There are usually dozens of tiny scabs that have embedded in the horse's coat and can be scraped off. Underneath the scabs, sometimes the skin is pink with puss when the scabs are first removed, then it becomes gray and dry as it heals.
In layman's terms, we really have no idea how horses get rain rot and it's a really disgusting problem to have.
How to Treat Rain Rot

Step 1 Do not Google or go on the Chronicle Forums for advice. You will be scared silly, see terribly horrific pictures and spend a small fortune at Whole Foods and CVS. Plus, your horse won't get any better. Trust me, I tried it.
Step 2 Pick off all the scabs. Wipe your hand across your horse's entire body and anytime you feel a small lump, pick it off. If the scabs are tough and a little painful (I found this to be the case most often on Miles' legs), wipe some baby oil on them and let it sit for a few minutes. The baby oil will soften the scabs and make it less painful to remove them.
Step 3 Don't panic when you remove all the yucky gunk from your horse's back and realize he's now bald in large patches. Take a deep breath and evaluate the now exposed skin. Is it grey or pink? Pink = infected, grey = good.
Step 4 Skip all the home remedies and go straight to what works: Chlorhexidine. I got a shampoo [Equishield Ck Shampoo] and a spray [PhytoVet CK Antiseptic Spray] from my vet. Both contain 2% chlorhexidine gluconate and 1% ketoconazole. I bathe the infected areas three times a week, and spray once a day; and I promise it's like magic. I saw immediate improvement after just the first use!
Step 5 Contain the infection by not sharing brushes or saddle pads with other horses. Wash your hands thoroughly after grooming before touching other horses, and I would recommend regular sterilization of grooming tools with bleach water. If the infection is anywhere near your saddle or girth area, it wouldn't be a pad idea to also wash your saddle pads more regularly, and use a washable girth cover as well.
Article by:

Hi! I'm Tracy, a full-time marketing and communications professional from Central Ohio. Fly On Over follows my journey as a horse owner and adult amateur trying to find success in the hunter/jumper show ring with my Thoroughbred, Miles.
Clipping Hints
How to clip a Miniature Horse's head for an A rated horse show:
(SHOWING # BLADES TO USE FOR CLIPPING)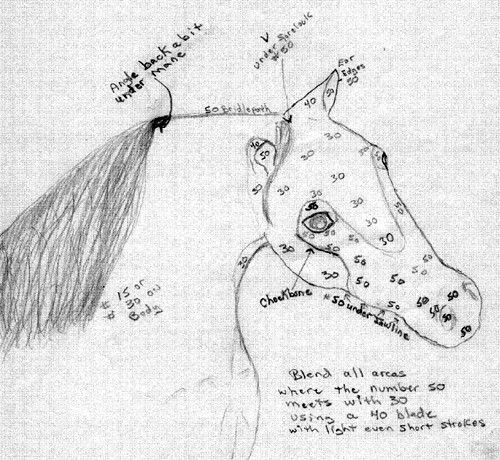 Measuring Miniatures
Did you know Miniature Horses are not measured at the wither, but at the last hair of the mane??
A "Short Course" in Measuring
How to Measure Your American Miniature Horse
Information provided by AMHA.org




Make sure that the horse is standing square
Front Legs - parallel with the measuring device
Rear legs - in a vertical line with the horse's Buttocks


Keep measuring stick straight
Measure at last hair of the actual mane hair,
NOT the long body hair!


Read to top of the cut-out, NOT at bottom.
Make sure arm of Measuring stick is right side up.
Make sure bubble is in center of Bull's-eye.
Photos and Tips by Tony Greaves

GR-020 HEIGHT VERIFICATION

A. No Miniature Horse shall exceed 34 inches in height. Weanlings must not exceed 30 inches. Yearlings must not exceed 32 inches. Two-year-olds must not exceed 33 inches. The show age of the horse is determined from January 1 preceding its birthday.

B. Horse's height must be verified on a hard, level surface, preferably concrete or paved, in a public place, by a Show Official and witnessed by a member sponsoring the show. No person with horses being shown competing in the show may be a measuring official at the show. The measuring device used to measure the first horse must be used to measure all the horses. A standard measurement stick is a straight, stiff, unbendable stick (metal) that is equipped with a bulls eye, plumb bob or a spirit level to make sure that the standard is perpendicular to the ground and that the cross piece or arm is parallel with the ground surface.

C. Management shall announce the time and place for height verification.

D. To receive an exhibitor's number, the horse must be measured and have height recorded on the entry sheet by the person measuring horses or by his designee.

E. The height verification of the Miniature Horse shall be determined by measuring the vertical distance from the base of the last hairs of the mane to the ground with the front two legs vertical and in line with or parallel to the measuring device, and the back of the hocks in a vertical line with the horse's buttocks. The last hairs of the mane refers to the last coarse (longer) hair of the horse's mane. Any softer body hair, left longer so as to be considered as an extension of the mane, should be differentiated from mane hair and should not be included as part of the mane when measuring. The horse's head and neck shall be in a natural position. The animal must stand squarely on all four feet. No height allowance will be made for excessive foot. Unless the handler accepts the first measurement obtained, each horse shall be measured one time from each side, and one additional measurement, to consist of a total of three (3). These three (3) measurements must be added together and divided by three (3) to get the average height which shall determine the initial measurement. All three (3) measurements must be made consecutively, and other horses may not be measured until an initial measurement is obtained on each horse.

F. After initial measurement, including multi-judge shows, horses may not return more than one (1) time to be remeasured. This remeasurement must be done again according to "E" above. A horse that has to be remeasured must be sound. The measuring process will result in a final measurement.

G. A valid measurement card shall be issued for horses sixty months and older at the horse's first show or as soon as possible thereafter, which will be valid for that calendar year. Cards are not valid at Championship or National Shows.
- Projecting Mature Height in a Miniature Horse -
REMEMBER - these charts are just a guideline to estimate height. They can vary 1" - 1.5" in actual mature height. ALSO consider previous foals by the same sire/dam - what height they were born at and what they matured at ;o)

Estimating adult size when mature: (ESTIMATES ONLY!)
Measure from the middle of the front knee to the coronet band (top) of the hoof. Multiply times 4 and add 1". Best done after 3 months of age.
Birth height plus 10 - 12". Example: 20" at birth, plus 10" = 30" (or plus 12" = 32").
Back leg, top of hock to ground x 2 + 2". Example: 16" x 2 = 32" + 2" = 34"
Another Measure Method
Projected Mature Height

28"

29"

30"

31"

32"

33"

34"

36"

Birth

18.20"

18.85"

19.50"

20.15"

20.80"

21.45"

21.95"

23.40"

One
Month

19.60"

20.30"

21.00"

21.70"

22.40"

23.10"

23.80"

25.20"

Two
Months

21.56"

22.33"

23.10"

23.87"

24.64"

25.41"

26.18"

27.72"

Three
Months

22.40"

23.20"

24.00"

24.80"

25.60"

26.40"

27.20"

28.80"

Four
Months

22.96"

23.78"

24.60"

25.42"

26.24"

27.06"

27.88"

29.52"

Five
Months

23.52"

24.36"

25.20"

26.04"

26.88"

27.72"

28.56"

30.24"

Six
Months

23.80"

24.65"

25.50"

26.35"

27.20"

28.05"

28.90"

30.60"

Seven
Months

24.08"

24.94"

25.80"

26.66"

27.52"

28.38"

29.24"

30.96"

Eight
Months

24.36"

25.23"

26.10"

26.97"

27.84"

28.71"

29.58"

31.32"

Nine
Months

24.64"

25.52"

26.40"

27.28"

28.16"

29.04"

29.92"

31.68"

One
Year

25.20"

26.10"

27.00"

27.90"

28.80"

29.70"

30.60"

32.40"

Fifteen Months

25.76"

26.68"

27.60"

28.52"

29.44"

30.36"

31.29"

33.12"

Eighteen Months

26.32"

27.26"

28.20"

29.14"

30.08"

31.02"

31.96"

33.84"

Twenty-one Months

26.74"

27.70"

28.65"

29.61"

30.56"

31.52"

32.47"

34.38"

Two
Years

27.16"

28.13"

29.10"

30.07"

31.04"

32.07"

32.98"

34.82"

Thirty
Months

27.58"

28.57"

29.55"

30.54"

31.52"

32.51"

33.49"

35.46"

Thirty-Six Months

28.00"

29.00"

30.00"

31.00"

32.00"

33.00"

34.00"

36.00"
ABOVE ARE ESTIMATES ONLY!
The Importance of a Sound Vaccination Program
Vaccination is a term with which every horse owner is familiar.  Moreover, many do not realize the importance of a well-planned vaccination program for horses.  A vaccination program, designed by a veterinarian, will help ensure the horses in a stable stay healthy and productive.  An effective and successful vaccination program against infectious diseases is an essential component and key management tool for any horse operation wishing to institute a preventative medicine program.  Horses, just like people, are constantly exposed to bacterial and viral organisms.  Many of these can cause mild to debilitating diseases.  This risk is especially significant when horses are shipped to tracks, farms, or other stables.  The more a horse is away from his home environment and mingled with other horses, the greater the chance of exposure to potential carriers of infectious diseases.  This is particularly true of respiratory diseases.  Infectious disease control programs, in conjunction with vaccination, are important in maximizing the health, productivity, and performance of a horse.  A veterinarian can help design a health program to reduce exposure to infectious disease agents in a horse's environment to lessen the incidence of illness.  Disease control programs should be tailored to individual needs, with consideration given to ages, types, activities, and number of horses in the program.  The schedule below is a suggested vaccination schedule provided by the American Association of Equine Practitioners, and is based on generally accepted veterinary practices.
Recommended Equine Vaccination Schedule
Disease/

Vaccine

Foals/

Weanlings

Yearlings

Performance

Horses

Pleasure

Horses

Broodmares

Tetnus Toxoid

1st dose:  3-4 mos.

2nd dose:  4-5 mos.

Annual

Annual

Annual

Annual, 4-6 wks. Prefoaling

Encephalomyelitis

(VEE, EEE, WEE)

1st dose:  3-4 mos.

2nd dose:  4-5 mos.

Annual

Spring

Annual

Spring

Annual

Spring

Annual, 4-6 wks. Prefoaling

Influenza

1st dose:  3-6 mos.

2nd dose:  4-7 mos.

3rd dose:  5-8 mos.

Repeat at 3 mo. Intervals

Every 3 mos.

Every 3 mos.

Biannual with added boosters prior to likely exposure

At least biannual with one booster timed 4-6 weeks prefoaling

Rhinopneumonitis

(EHV-1 & EHV-4)

1st dose:  3-4 mos.

2nd dose:  4-5 mos.

3rd dose:  5-6 mos.

Repeat at 3 mo. Intervals

Every 3 mos.

Every 3 mos.

Optional:

Biannual if elected

5th, 7th, 9th mo. Of gestation (inactivated EHV-1 vaccine)

Strangles

(Strep, equi)

1st dose:  8-12 wks.

2nd dose: 11-15 wks.

3rd dose: 14-18 wks.

4th dose:  weaning (6-8 mos.)

Biannual

Optional:

Biannual if risk high

Optional:

Biannual if risk high

Biannual with one dose timed 4-6 wk prefoaling

Botulism, Potomac Horse Fever (PHF), Rabies & Rotavirus

These diseases are endemic; consult a veterinarian for use in specific areas.
HELPFUL HINTS TO PHOTOGRAPH YOUR MINIATURE HORSE
By Sandy Revard - MiniEquine Photography
Try to avoid mid-day sun.

Lightly overcast skies will provide even light and less lighting issues.

If shooting several horses, the lighter horses can be done in the lowest light..  the blacks .. urg...  more light!

Look past your subject and see what will be your background.  

Avoid clutter, trash cans...  powerlines, cars...  ugly stuff! The HORSE should be the main focus .... SIMPLE is better!

Get down low and take photos  shooting slightly upward.  Do not shoot down from up high... 

makes your subject appear short. Do not get too close to the horse...   (Ever see those photos

where the horse head is Giant and the butt is tiny?  Distortion!)

Always shoot in the Highest resolution format your camera will handle.   You never know when you get the AMAZING shot...


If the horse is not groomed or not showing....  that is the photo you will get. Winter coats don't usually help to sell a potential show horse. For a pet horse sale, fuzzy is fine but still does not show your horse to his best advantage. People who are new to minis don't "get" the head/neck clip. Unless you are marketing your horse to an AMHA/AMHR show home, avoid clipping this way if possible. CLEAN and GROOMED always helps sell! Horses must be well presented in photos.
Selling a driving horse or driving prospect? MOVING photos that show your horse at just the right point in his stride (full reach, hocks in action etc) are a MUST ... as is a VIDEO. People want to SEE movement - not just take your word for it.

Do NOT practice baiting the horse just prior to shooting photos....   he will be over the bait. Horse should be alert and fresh for

photos.


Take SEVERAL shots of each pose, so you can choose your favorite shot that captures the most! Lots of photos means lots more chances to capture your horse at his/her best.
Try hard to capture "expession" from your horse, and capture his personality. Use props (stuffed toy, things that make sounds, etc) to help get "ears" and bright eyes.
Coat Color Chart
COURTESY OF WWW.AMHA.ORG
Solid colored horses are just that - solid colored. They have one body color aside from leg or face markings that will be
discussed later in this guide. The AMHA also recognizes horses with color patterns such as pinto, appaloosa and
pintaloosa's. Each of these colors have variations which are also available for notation on registration forms.
If you would like help identifying your horse's color, please contact us at 817.783.5600 or email us.
PLEASE NOTE: The photos and descriptions below do not represent all of the colors recognized by the AMHA.
These are the most commonly used color descriptions.
| | | | | | |
| --- | --- | --- | --- | --- | --- |
| BAY | | Chestnut or Sorrel with black mane and tail and black points. | CREMELLO | | Creamish body and points with pink skin. Must have blue eyes. |
| BLACK | | Black with black hooves and skin; points are always black. | PERLINO | | Creamish body with very slightly draker points. Must have blue eyes. |
| BROWN | | Sometimes difficult to distinguish from black or dark bay but flank and muzzle usually lighter. | BUCKSKIN | | Tannish to yellow body color with black mane and tail and lower legs. |
| SORREL | | Reddish or copper red. Mane and tail usually the same color but may be flaxen. | GRULLO | | Smooth greyish blue color like a mouse. Not a blue roan. typically has a black mane and tail and black lower legs. |
| GREY | | Usually born a darker color and gradually turn white with age. | PALOMINO | | Light yellow to bright gold. Must have a white mane and tail. |
| DUN | | Duns have a dorsal line back and usually zebra markings at the knees and hocks. | APPALOOSA | | Solid colored skin with leopard like spots. Spots can be various colors. |
| SILVER BAY | | Chestnut or Sorrel with a silver or white mane and tail and black points. | SILVER DAPPLE | | Body color ranges from light milk chocolate to almost black with silver dapples. Mane & tail usually flaxen. |
| PINTO | | Must have at least 2 square inches of white somewhere on body. Can be any color. | PINTALOOSA | | Has the characteristic spotting of both the Pinto and the Appaloosa. |
| ROAN | | May be red, blue, black or bay base body color about 50 percent white hairs intermingled with much darker points.Blue Roan Shown here. | CHAMPAGNE | | Pinkish or light brown skin with dark freckles. Either bright blue, hazel or amber eye. Skin around eyes and muzzle is pinkish with dark freckles. |
| CHESTNUT | | Dark mahogany red, or dark reddish brown. Mane and tail usually the same color but may be flaxen. | | There are hundreds of choices that Miniature Horses comin in and many change color throughout their lives. If you do not feel secure with your choice, you can always check the box to allow the AMHA to select the color of horse for you. We are here to help! | |
How do I measure my Miniature Horse for a horse blanket?
A horse's blanket measurement is taken from the center of the chest to the edge of the tail. Most full grown Miniatures will measure somewhere between a 34 or 38" (30" or under height) to a 46 or 48" (36 to 38" height Mini)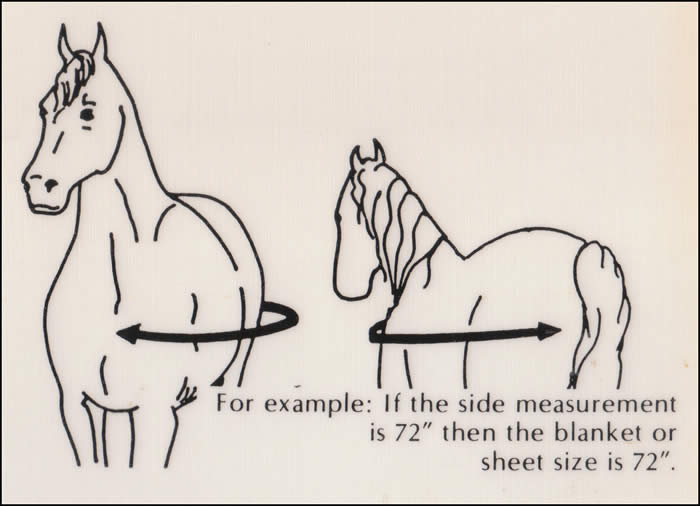 Dental Care

Equine dentistry is evolving from just floating to performance dentistry.  Interest of horse owners, trainers, and veterinarians have furthered studies on how the mouth functions and how dental problems affect performance.  Simply removing sharp molar points may not eliminate all the sources of oral pain.  Horses experiencing oral pain will not perform to their full ability.
Floating is done to make the surface of the horse's tooth level or smooth.  This is accomplished by the removal of sharp points on the outer edge of upper molars and inner edge of lower molars.
Performance Dentistry includes a floating, comprehensive oral examination, identification and correction of incisor and molar malocclusions, and tooth shaping.  Tooth shaping of certain molars to prevent soft tissue damage, which cause oral pain, is an important part of performance dentistry
BUTE vs BANAMINE IN MINIATURE HORSES
By "Dr. Pam" - Pam Ripperda D.V.M.
Bute is incredibly toxic to minis, and for some reason a lot of vets out there don't realize this. Not only is there a very narrow safety margin, i.e. you have to be very accurate at dosing them, but there are minis who will have problems even at the correct dose. It should be given at 1mg per pound body weight, which means most minis will get 150 mg to 250 mg--1/4 tablet or less. A lot of vets seem to think the average mini weighs 500 pounds and have owners give 1/2 tablet twice daily. ARGGGG!!!

Bute toxicity can cause severe gastric and intestinal ulceration, to the point of perforation and death (in as little as 5-7 days), kidney and liver damage, bone marrow suppression, and lowered blood protein levels.

That said, I have used bute on selected minis for laminities, but at a low dose and for short periods of time. For almost everything else I use Banamine (which can also cause problems if dosed too high or too long, but has a wider safety margin)

From Plumb's Veterinary Drug Handbook:

QUOTE
Adverse effects: Horses: oral and GI erosions and ulcers, hypoalbuminemia, diarrhea, anorexia, and renal (KIDNEY) effects.

QUOTE
Cautious use in both foals and ponies is recommended because of increased incidences of hypoproteinemia (LOW BLOOD PROTEIN LEVELS)and GI ulceration. Foals with a heavy parasite burden or that are undernourished may be more susceptible to development of adverse effects.

Phenylbutazone may cause decreased renal blood flow and sodium and water retention, and should be used cautiously in animals with preexisting renal disease or CHF (CONGESTIVE HEART FAILURE).

QUOTE
The primary concerns with phenylbutazone therapy in humans include its bone marrow effects (agranulocytosis, aplastic anemia), renal and cardiovascular effects (fluid retention to acute renal failure), and GI effects (perforated ulcers). Other serious concerns with phenylbutazone include, hypersensitivity reactions, neurologic, dermatologic (SKIN), and hepatic toxicities.

While phenylbutazone is apparently a safer drug to use in horses and dogs than in people, serious adverse reactions can still occur. Toxic effects that have been reported in horses include oral and GI erosions and ulcers, hypoalbuminemia (LOW BLOOD PROTEIN LEVELS), diarrhea, anorexia (LOSS OF APPETITE), and renal effects (azotemia (HIGH LEVELS OF UREA/AMMONIA IN THE BLOOD)). Unlike humans, it does not appear that phenylbutazone causes much sodium and water retention in horses at usual doses, but edema has been reported. In dogs however, phenylbutazone may cause sodium and water retention, and diminished renal blood flow.

QUOTE
...acute overdosage with phenylbutazone include, a prompt respiratory or metabolic acidosis with compensatory hyperventilation, seizures, coma, and acute hypotensive crisis. In an acute overdose, symptoms of renal failure (oliguric, with proteinuria and hematuria), liver injury (hepatomegaly and jaundice), bone marrow depression, and ulceration (and perforation) of the GI tract may develop.