Premier Miniature Horse Mares For Sale

The BEST of the BEST offered for your consideration
Top Quality mares of all ages, priced at $6,500.00 or more.
These mares are for the serious show competitor, or top notch breeding program.
Serious inquiries ONLY please!
Stars Could It Be

(Angel)

ASPC/AMHR/PtHA Registered 2019 39" Bay Mare

BEAUTIFUL, CORRECT & REFINED MARE WITH A SUPREME PEDIGREE!

Wind Flights Kings Domain x SMHC's Exceed And Excel

Foaled 4/07/2019

UNIQUE OPPORTUNITY TO PURCHASE A *DOMAIN* DAUGHTER!

("Domain" pictured at right)

If you've been following the Shetland & AMHR Miniature show results over the past few years, you will have seen the success of DOMAIN offspring -

even with only a handful of foal crops on the ground!

Domain is a show ring sensation that is outproducing himself again and again.

His accolades include:

3 TIME CONGRESS CHAMPION * 2 TIME NATIONAL CHAMPION * HALL OF FAME
2 TIME ALL STAR CHAMPION * AMHR SWEEPSTAKES CHAMPION SIRE
MULTI CONGRESS GRAND CHAMPION SIRE * MULTI NATIONAL GRAND CHAMPION SIRE * AMHR FUTURITY SUPREME CHAMPION SIRE

Not only does ANGEL boast Domain as her sire; Angel's dam is also outstanding.

"Exceed And Excel" (pictured at right) is a multi GRAND CHAMPION mare.

She has produced foals that are "excelling" in the show ring as well.

Angel is a lovely pinto with top placings at AMHR Nationals with classes exceeding 30 beautiful mares. She's a Pinto (PtHA) World Championship Top 5 and has won numerous Halter Champions & Reserves in ASPC, AMHR and PtHA.

Angel is easy to clip, bathe, load and lead. She is an excellent traveler and always a favorite on our show string.

This people-loving mare could continue her winning ways as a Senior Mare.

Our plan is to breed her in May 2022 to our HOMOZYGOUS Pinto 36" stallion, DVM'S BO'S NOT JUST ANYHOO.

He's registered PtHA, AMHR and ASPC so the resulting foal will be triple registered.

"AnyHoo" is Pinto Res WORLD Champion and multi Champion & Reserve Halter winner.

ANGEL IS PRICED OPEN AT $6,500.00

AND

PRICED AT $7,500.00 CONFIRMED IN FOAL FOR 2023

ACT FAST IF YOU PLAN TO BREED HER TO YOUR FINE STALLION INSTEAD!




PRAIRIE ROSE MINIATURE HORSE FARM

Contact: EVE

rauleveatbis@aol.com

(701) 673-3298

Located in North Dakota

(100122X) Ad updated 3/21/2022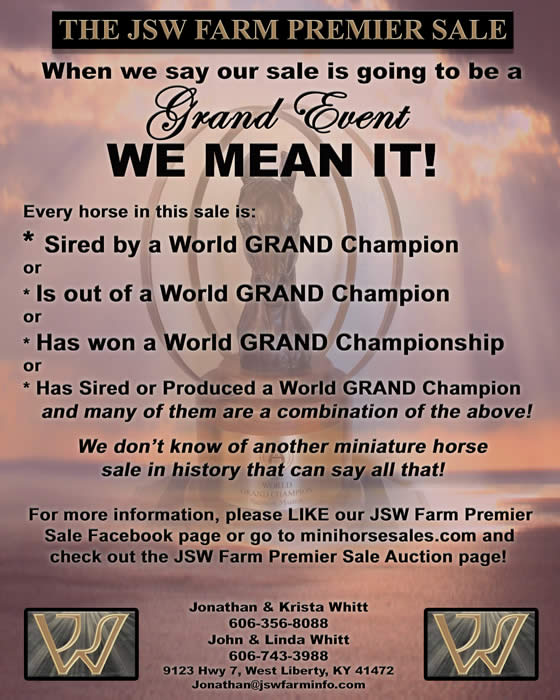 1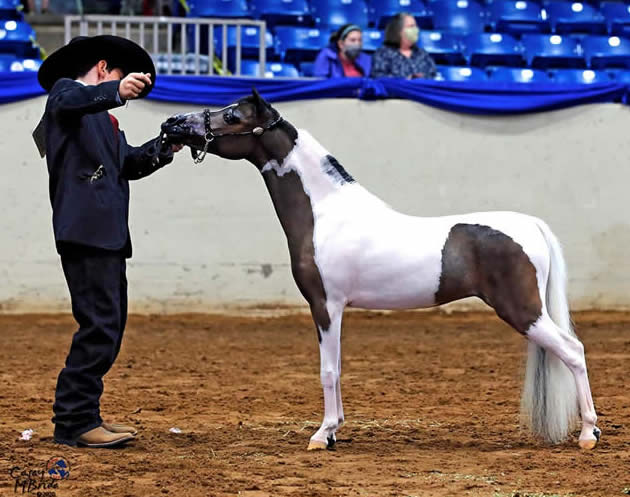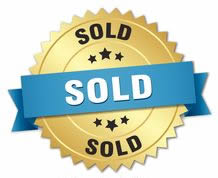 Hunterberry Hill Impressive Adora
AMHA/AMHR Parentage Qualified 50% Shetland 31.75" 2019 Bay Pinto Mare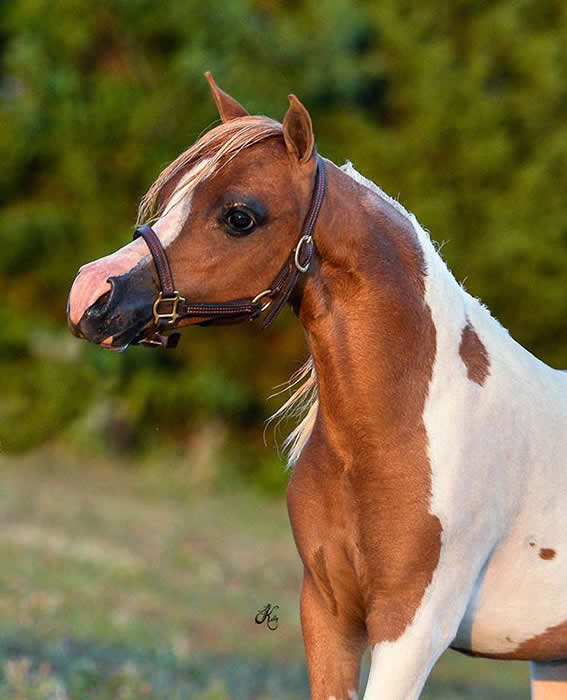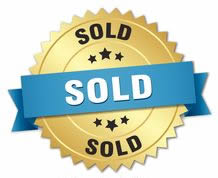 LM Hawks Shiraz
AMHA/AMHR 2012 Sorrel Pinto PROVEN Broodmare
CONTACT THE MARKS AGENCY FOR ALL YOUR EQUINE INSURANCE NEEDS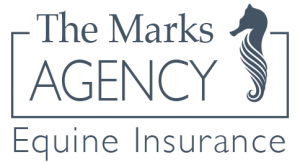 The Marks Agency, Inc
Founded and focused from the customer's point of view of Equine Insurance needs.
Providing you with direct communication to a licensed insurance producer with continued customer support from application to renewals.  We educate and provide proper tools for our clients to be prepared for the unexpected.
Providing Insurance while building relationships for #1 customer service!
The Marks Agency, Inc. founded by life long equine enthusiast Chandler M. Marks, is backed by the worlds leading providers for Equine Insurance needs – GREAT AMERICAN, with history dating back to 1872.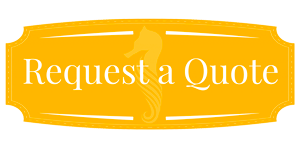 Sold from this page
Hunterberry Hill Impressive Adora (December 2020)
LM Hawks Shiraz (December 2019)
2018 LM Mare Country Boy/Catalina (March 2019)
Wingate Rebels Elegant Lady (November 2018) Congrats to Lisa & Ryder Pichler/Gallery Originals
First Knights Prima Ballerina (July 2018)
LM Hawks A Love Song (June 2018) Congrats to Regina Arons
LM Hawks Just Call Me Ivy (June 2018) Congrats to Regina Arons
Love At First Knight (April 2018)
LM Idols Radiant Hawk (May 2017)
Riverdances Marbled Tigress (December 2016)
RFM Inikis American Beauty (July 2016)
PHR Idols Brilliant Hawk (June 2016)
LM Hawks Bey Escape (May 2016)
LM Idols Juliette Hawk (April 2016)
LM Idols Blue Halo (April 2016) Congrats to Erin Petrilli
LM Hawks Classic Fable (March 2016)
LM Idols Contessa Hawk (February 2016)
SMHCs Rhythmic Dancer (December 2015)
2015 Shampaigne Filly by Billy Idol (November 2015)
Aloha Acres Picture The Lite (October 2015)
Aloha FRF A Silent Fawn (October 2015)
ALOHA ASPC/AMHR Shetland 2015 Chestnut Pinto SHOW Filly (September 2015)
Stars Idols Inspiration (August 2015)
Star Struck Hershey's Sweet Success (May 2015)
MiniEquine Idols SemiSweet (January 2015)
Alliance LA Mercy Me (January 2015)
Picture Perfect Rebelchase Roxyhart (October 2014)
Soldier Creek Baby Im A Star