Miniature Stallions Priced at $950.00 or less

Scott Creek On Target
AMHA (A45184) 30" 1992 Black Pinto Stallion
++ OLDER STALLION NEEDING A FOREVER HOME! ++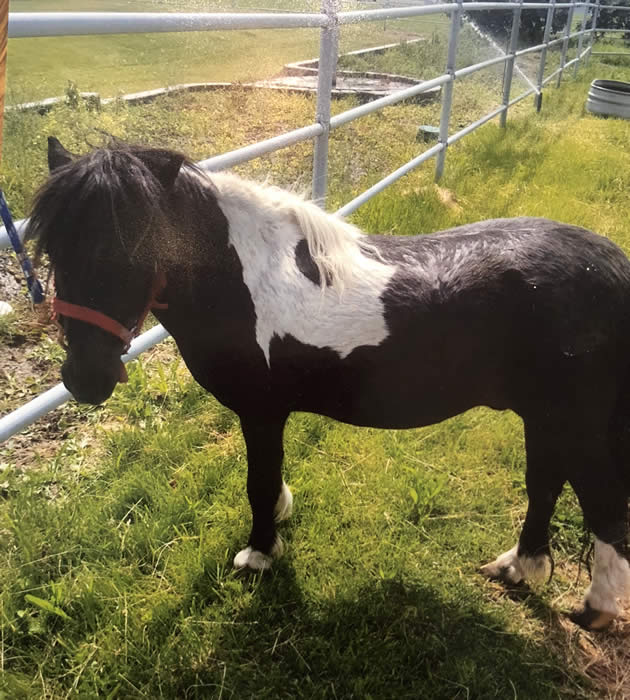 Little Kings Napoleon x Kentucky Mini Horses Derby Eve
Foaled 5/6/1992
Help us find this senior stallion a forever home!
Also selling his son -
- a pretty bay gelding CROSS B BENJAMIN (pictured below) and could package them together!
Target is a good stallion with a calm and tractable disposition. He acts more like a gelding than an intact stallion.
His owners love him dearly but are no longer able to perform the daily chores involved in horse ownership.
$800.00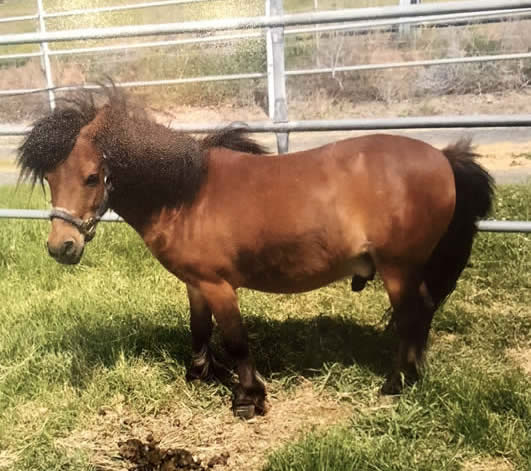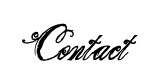 Janet Berg
721 Road 20 NE
Soap Lake, WA 98851
509-398-2776
Email: crossbfarm@mygait.com
Located in Soap Lake, Washington
(122518X) Ad updated 6/25/2018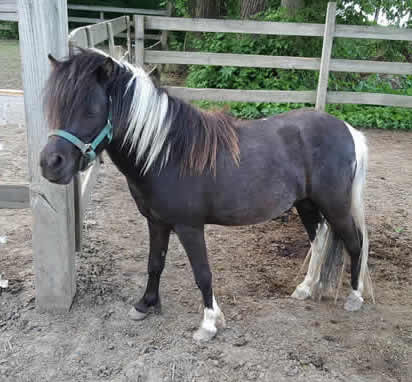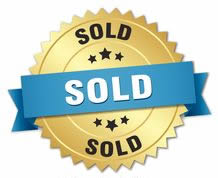 JAMiniatures Impressive Prince
AMHA 2016 Black Pinto Stallion - will mature 33"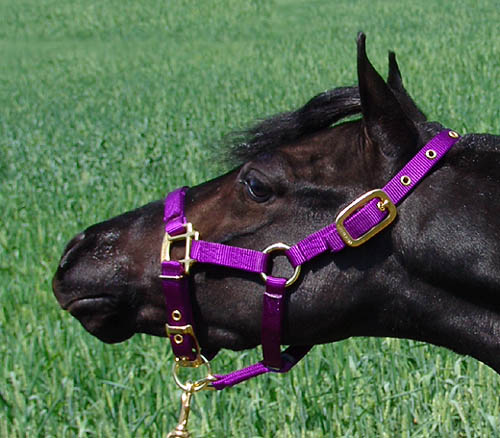 #JW200 Economy Non-adjustable Nylon Halter
3/4" 2-ply nylon, eyelet holes are burned to prevent fraying, no color choice. 
Well made Amish basic halter. (similar to photo but NOT adjustable noseband)
AMISH MADE in the USA.
Size is based on height at withers:
Small (27" - 29" horse)
Average (30" - 32" horse)
Large (33" - 35" horse)
Pony (36+ pony)
ONLY $10.00!

24/7 Call Toll Free 1-888-775-6446
VISIT OUR PRODUCTS PAGES FOR MANY MORE UNIQUE MINIATURE HORSE CLOTHING AND SUPPLIES
The Miniatures on this page are looking for good homes. Prices are very affordable - and suitable for great 4H homes or a pet home situation - some may even be free to approved homes with references!
Limited in budget, but not limited in the amount of LOVE you can give? Check out the horses in this album - priced at $900.00 or less. Many of the sellers will donate a part of the proceeds of the sale to a Mini Horse Rescue of their choice. Horses are available to loving, forever homes - ideal for 4Hers (once gelded!), companion horses or someone just looking for a wonderful "pet" mini.
Be sure to visit our Page Sponsor (on right) to view Minis available for adoption, or volunteer to be a FOSTER HOME for a Mini in need!
Please check back often!
SOLD FROM THIS PAGE
Hopkins Inspired Image (April 2017)
Lazy Ns Incendios Deigo (January 2017)
Lazy N Boleros El Jefe (January 2017)
Wolf Country Carbonado Apache (January 2017)
ABC Prime Time Buckon Bluez (October 2016)
Lucky Four Buckdeluxe Bodacious Bey (January 2016)
JA Miniatures Undisputed Commander (October 2015)
TOF Warriors Apache Masquerade (September 2015)
Nostalgias Supreme Justice (February 2015)
Amazing Grace On Cloud 9 (December 2014)
J and J Farm CF Cherokee Warrior (October 2014)
Frodo & Moonstone (July 2014)
11 Acres Sho Me The Money (May 2014)
MJM Little Louis Vuitton (April 2014)
Tapestry Call Me Cashmere (March 2014)
"Dexter" (February 2014)
Stars Legendary Eagle (December 2013)
Stars Legendary Gangster (December 2013)
Allure Ranch Spirits Ghost Rider (October 2013)
Wonder Horses Mischiefs Little Image (October 2013)
Rainbow Ridge Crimson Knight (October 2013)
Rainbow Ridge Hawks Buckeroo Laddie (October 2013)
Coolest Unforgettable (August 2013)
LR Hennessey Spirit (August 2013)
LR Aristocrats Invader (August 2013)
TOMF Pop A Top (July 2013)
Ace (July 2013)
Brave (July 2013)
Greystone Deputy Friday Surprise (July 2013)
Romeo (July 2013)
LR Idols Prince Charming (June 2013)
Wa-Full Unique Warrior (May 2013)
Finchwood Drakkars Royal Viking (May 2013)
Scenic Echo Bouncing Scout (May 2013)
Maple Hollow Numero Uno (April 2013)
TenLs Bey Medallion (February 2013)
Bucks Grand Apostle (December 2012)