Mini Horse Auctions & Events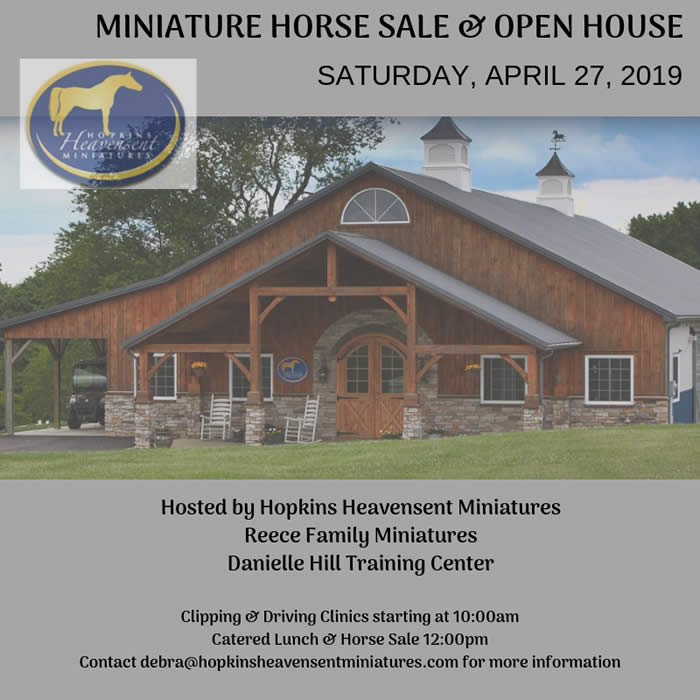 Watch live feed on Facebook Live via Mini Horse Sales – Quality Mini Horses For Sale
https://www.facebook.com/MiniHorseSales/
Contact debra@hopkinsheavensentminiatures.com with questions!
GET YOUR BIDDER NUMBER NOW!
HOPKINS HEAVENSENT MINIATURES
1089 Pond Neck Road, Earlville, Maryland 21919-2307
Friday April 26th 2019 5:00 PM – Auction Horse Preview (email us to view any specific horse via live feed!)
 6:00 PM – BBQ & Lemonade Fiesta
Saturday April 27th 2019 10:00 AM – View auction horses as well as other weanlings & bred mares offered for sale
Driving clinic by professional GEORGE PARRIS
Clipping/prepping your show horse clinic with Danielle Hill (Peas) of DHTC
+++ 12:00 PM Catered LUNCH +++ 12:30 (or after) AUCTION BEGINS! +++
CONSIGNMENTS INCLUDE:
Lot# 1 HOPKINS PC PHOEBE

AMHA/AMHR (Eligible) 2018 Bay Pinto SHOW Mare

BY WORLD GRAND CHAMPION SHETLAND "POKER CHIP"

Ravenwood Poker Chip x Ravenwood Aristocrats Painted Envy

Foaled 4/09/2018

This amazing Shetland Blend mare should mature around 33.5" .

PHOEBE HAS "SUPERSTAR" WRITTEN ALL OVER HER!

She's leggy and refined with an elegant, long neck.

She is super balanced with a tight trim barrel so typical of today's modern Shetlands

She's already on her way to becoming a SHOW horse -

Phoebe handled daily.

Lot# 2 HILLS UNIQUE ROSALIA

ASPC/AMHR TINY 2018 Bay Mare

SHOULD MATURE SMALL ENOUGH TO TRIPLE REGISTER!

Wa-Full Unique Waylon x Zee Jays Loose Change

Foaled 5/2/2018 AMHR#343490t

Tiny and perfect little show filly that should FOR SURE Hardship into AMHA when she is old enough!

AMHR FUTURITY NOMINATED

Lot# 3 HOPKINS INDELIBLE IMAGE

AMHA/AMHR 2018 Black Pinto SHOW Colt

BY WORLD GRAND CHAMPION STALLION OUT OF OUR "SALSA" DAUGHTER

Alliance Unforgettable Image x Oak Bay Salsa Sofrita

Foaled 4/15/2018

2018 colt by AMHA World GRAND CHAMPION stallion, Alliance Unforgettable Image .

Indy is out of Oak Bay Salsa Sofrita, a lovely daughter of OAK BAY SALSAMIO - Multiple World GRAND CHAMPION producing stallion. Indy is beautiful and correct with a fantastic personality like his sire. Estimated to mature approximately 32-33 inches.

Indy will be an easy measure for the show ring and get noticed. His black pinto markings are perfectly outlined with an aura and he got his sires one dark blue eye!

Lot# 4 RHA COLD BLACK WIND

ASPC/AMHR 35" Black Stallion

+++ NOW AN AMHR NATIONAL FUTURITY RESERVE CHAMPION! ++ ASPC & AMHR Registered 35" Black Stallion

Foaled 7/01/2015

Wauk A Way Catch The Wind x Silver Meadows Jet Star Of The Show

EXTREME show or breeding prospect SUPER refined

He has THE pedigree that's winning in the show ring –

- both in halter and performance!

Lot# 5 HOPKINS 2019 WEANLING COLT BY HUNTERBERRY HILL SURREAL IMPRESSION

2019 AMHA/AMHR Eligible Sorrel Colt w/Star

Hunterberry Hill Surreal Impression x Pecan Grove Cuttys Daily Double

Foaled 3/13/2019

AND HIS NEW OWNER GETS TO NAME HIM (with the Hopkins prefix of course!)

Extreme show quality all the way and YOU get to choose his name!

Stretchy and elegant and should mature about 32"

Lot# 6 ERL BUCKARI

AMHA/AMHR 33" Buckskin PROVEN BROODMARE & 2019 FILLY

Foaled 3/29/2010

SELLS WITH 4/4/2019 BAY FILLY BY TRIPLE REGISTERED BOLERO son "Bellagio"

Little Kings Techno Bucks x Fallen Ash Scouts Dark Divinity

We are excited to see what this Bolero/Fallen Ash/LKF cross produces! The modern Shetland infused with PROVEN classic Miniature Horse lines should produce what is winning in the AMHA show ring without compromising height or beauty!

FOAL WILL BE AMHR FUTURITY ELIGIBLE

Lot# 7 RFM TRUMPS IMPRESSIVE DESTINY

2011 AMHA/AMHR Smokey Black 32.5" PROVEN Broodmare

Foaled: 06/05/2011

Little Kings Buckeroo Trump x Equitots Impressive Destiny

Destiny is a very nice mare and a Daughter of World Champion Little Kings Buckeroo Trump! She is super refined, very typey and has a pretty head and great length of neck. She is what you need to get refinement in your herd. Destiny had a gorgeous upright colt in September 2018. SHE IS BRED TO RHA COLD BLACK WIND FOR A LATE 2019 FOAL! FOAL WILL BE AMHR FUTURITY ELIGIBLE

Lot# 8 HOPKINS PC PANDORA

AMHA/AMHR Registered 2018 Grey Pinto SHOW Mare

Ravenwood Poker Chip x Ravenwood Dominate The Ring

Foaled 4/30/2018

This amazing Shetland Blend World Champion cross was a no-brainer for us.

Pandora has big winners on both sides so she was already on the path to the winner's circle even before she was born. Pandora's dam, Ravenwood Dominate the Ring, is a gorgeous, World Champion mare. She has already produced World and National GRAND Champion foals. PC is a Multi WORLD CHAMPION and World GRAND Champion Driving stallion. His offspring are already cleaning up in the driving arena at the World & National level! Pandora will mature close to 34" She is super showy with beautiful movement.

Lot# 9 LITTLE KINGS SUNNY DAY

ASPC/AMHR 37" Cremello Bred Mare

Foaled 7/16/2006

Woodmere's Been There Dun That x B & L's Rock "E" Kan-Kassie

BRED FOR 2019 TO RHA COLD BLACK WIND –

This coming foal could very well be a BUCKSKIN beauty! This mare has an A-MAZING long neck and smooth, correct body.

FOAL CAN BE AMHR & ASPC FUTURITY NOMINATED

Lot# 10 HOPKINS PC PASCAL

ASPC/AMHR 2018 Grey Pinto Stallion

Ravenwood Poker Chip x Caldwells Walkin With Michelle

Foaled 5/08/2018

This bright, young Shetland stallion really is ALL THAT! This colt is bold and upright with TONS of lift and movement -

- a sure fire halter horse that will DRIVE when he's mature! Pascal is projected to mature at or around 34".

Pascal has a pedigree filled with some incredible CHAMPIONS - starting with his SIRE. Poker Chip is a direct son of the top producing stallion Wauk-A-Way Catch The Wind (aka "Mike") Pascal's dam, Walkin With Michelle, is sired by "Mike" as well making him DOUBLE BRED on this incredible line. Michelle is Arenosa bred on her dam's side.

Lot# 11 CHANCE OF GOLD UNIQUE Q TOO

ASPC/AMHR Black Mare

AMHR - 343024T

Foaled 5/24/2018

Wa-Fulll Unique Waylon x Michigan's Q.E. Two

SO elegant and refined! A TRUE tiny Shetland!

Top pedigree and incredible good looks make this filly a sure-fire YES for a show mare and future broodmare! She's super FANCY!

AMHR FUTURITY SUSTAINED FOR 2019

Lot #12 +++ ALLIANCE BOLEROS BELLAGIO +++

ASPC/AMHR/AMHA TRIPLE REGISTERED SON OF "BOLERO"

++ SALE HIGHLIGHT ++

SMO Bolero De Suerto x SMO Lexus De Suerto

Foaled 4/17/2012

BOLERO offspring have dominated the showring and continue to be a major force at Nationals and Worlds. Bellagio is a coveted TRIPLE registered, adding extra Shetland refinement.

Can't go wrong with this PROVEN stallion

Lot #13 LITTLE KINGS UNIQUA

ASPC/AMHR SHETLAND 38" BLACK BROODMARE – IN FOAL FOR APRIL 2019

++ SALE HIGHLIGHT ++

Wa-Full Unique Waylon x B & Ls Rock "E" Kan Kassie

Foaled 6/13/2012

HERE'S WHAT YOU NEED to improve your ASPC/AMHR breeding program! This beauty is IN FOAL and will likely foal BEFORE the sale, for an automatic 2-in-1 package!

She's bred to Congress/National GRAND CHAMPION stallion LITTLE KINGS IN DEMAND (Poker) (at left)

Lot# 14 HOPKINS PC PERSIUS

AMHA/AMHR 2018 Grey Pinto SHOW Colt

Ravenwood Poker Chip x FWF Blue Boys Flower Girl

Foaled 4/17/2018

This beautiful 2018 colt has driving on both sides of his pedigree starting with his AMHA World GRAND CHAMPION sire! Poker Chip (aka PC) is by the industry changing sire, Wauk-A-Way Catch The Wind (aka Mike). Persius's dam is a BLUE BOY bred mare who has produced many show winning foals for HHM. He will be tall and finish approximately 34". Both sire and dam are producing incredible, athletic foals - the Shetland blend has turned out to be exceptional.

Lot# 15 JHK MARIOS RUBY ECHO

ASPC/AMHR 2011 36.5" PROVEN Broodmare

BRED to TRIPLE REGISTERED "Bolero" son for  2019

Establo Mario x AClassic Touch Posta Echo

Foaled 5/10/2011

This PROVEN mare has a pedigree LOADED with top ARENOSA bloodlines. Crossed with ALLIANCE BOLEROS BELLAGIO – a TRIPLE REGISTERED son of BOLERO, this coming ASPC/AMHR foal should be stunning – and possibly a candidate for AMHA Hardship once it comes of age.

FOAL WILL BE AMHR & ASPC FUTURITY ELIGIBLE

Lot# 16 MINNERS AMADEUS RAZZLE DAZZLE

2017 AMHA Registered Sorrel Mare

Foaled 7/6/2017

Alliance Amadeus x H A Princes Grand Duchess

Her pedigree is enviable – She's 50% Shetland as her sire is TRIPLE registered.  Her paternal lineage goes back to TRIPLE stallion D&S FAST BREAK. Her dam's pedigree includes the epic EGYPTIAN KING for the ultimate Shetland/Mini cross!

Super sweet and correct little mare – ready for her own youth or amateur to be her show partner and best friend!

Lot# 17 PRATOS CHANEL IN DEMAND

ASPC Black Mare

Foaled 6/8/2018

Little Kings In Demand x Wilk. Ravens Designer Jeans

ASPC Futurity Nominated

Just WOW! This doll baby is STUNNING

Direct daughter of National GRAND and ASPC Champion LITTLE KINGS IN DEMAND (aka POKER)

She's correct and SUPER showy – a perfect SHOW prospect and future broodmare as well. ASPC FUTURITY SUSTAINED FOR 2019

Lot# 18 HOPKINS ISADORA IMAGE

AMHA/AMHR Pending 2018 Sorrel Show Mare

Alliance Unforgettable Image x LM Idols Heavensent Angel Hawk

Foaled 4/11/2018

This dynamo little mare is incredible. She's a twin to her full sister from 2017 Angelic Image (now owned by Limestone Miniatures in Winnsboro TX) Awesome cross of our World GRAND stallion and top bred BILLY IDOL daughter

If you want something that will win in the under 30" classes, this is your girl!

Her conformation is incredible, her head is gorgeous, and she has personality to spare!

Lot# 19 LM MISCHIEFS RIO GRANDE

AMHA/AMHR Bay Pinto PROVEN Broodmare

Foaled 5/9/2002

Glory B Farms Legacys MagicMischief x Flying W Farms Medicine Woman

Rio has been a consistent producer for HHM and she's currently being bred for2020 to World GRAND CHAMPION, Poker Chip. This foal should be both colorful and a fancy mover! This mare has produced SIX fillies and one colt!

Rio has many years left to faithfully produce winners for your farm.

CAN REMAIN AT HHM UNTIL SHE'S CONFIRMED IN FOAL FOR 2020

Lot# 20 STRASSLIEN BUILDERS THE JOKER

ASPC CONGRESS CHAMPION Bay Gelding

CONGRESS CHAMPION GELDING

2017 Congress Reserve Grand Champion Classic Gelding

2018 Congress Champion 2 yr old gelding

SUPER Gelding! Bright bay with four high white socks and a blaze! Get out in the show ring and have some FUN with this boy!

He's a been there-done that and still has TONS of show left in him!

Lot# 21 RFM MASTERS MARIANA

AMHA/AMHR 2018 Black SHOW Mare

Foaled 5/06/2018

Grahams Little Style Master x Reeces Thunder Princess

She's sweet and easy to handle – the perfect youth or amateur prospect! She's a gorgeous inky black mare with an impressive pedigree.

She is sired by Triple Registered Shetland, "Style Master"

Mariana will mature under 34"

Lot# 22 HOPKINS 2019 SORREL PINTO COLT (SUBSTITUTION)

AMHA/AMHR (Eligible) 2019 Chestnut Pinto SHOW Colt

Ravenwood Poker Chip x LK Buckeroo Center Stage

Foaled 4/2019

Sassy and sweet with lots of spunk – this little colt should mature around 33".

His sire is a World GRAND CHAMPION in driving and his dam is a Res World Champion as well as a Res World Champion producing mare.

New owner can help name this boy! (name to start with "Hopkins PC")

He can stay at HHM at no charge until weaned this fall!

Lot# 23 RFM GENESES SANTA FE

AMHA/AMHR Registered Sorrel Colt

Foaled 04/18/2018

Reece's Geneses x RFM Creations Lady In Red

If your looking for a well bred Colt to Show and later use as a herd Stallion. Don't pass this offering up of this handsome young Stallion.

His head is gorgeous, he has a long neck, short back and a wonderful attitude! AMHR FUTURITY SUSTAINED FOR 2019

Lot# 24 MAID OF THE WIND HG

ASPC/AMHR 2008 BRED Mare Black Pinto

Wauk a Way Catch The Wind x Wind Chime OK

This BRED mare is in foal for 2019 toTriple Registered BOLERO son, Alliance Boleros Bellagio

This is a PROVEN Broodmare that consistently produces show quality foals!

One of her previous foals is pictured at left (and is being retained by DHTC)

FOAL WILL BE AMHR & ASPC FUTURITY ELIGIBLE

Lot #25 PRATOS UNIQUE LALIQUE

ASPC Bay Mare

Foaled 04/26/2017

Wa-Full Unique Legend x Wilk. Ravens Designer Jeans

UNANIMOUS 2018 SHETLAND CONGRESS NATIONAL CHAMPION YEARLING MARE

ASPC Futurity Nominated - ALREADY A WINNING SHOW MARE! This elegant beauty could add some TOP bloodlines to your Shetland breeding program once her show career is over. We are head over heels with this exquisite Shetland.

Lot# 26 HOPKINS MOMENT TO REMEMBER

AMHA/AMHR 30" Sorrel Mare

Foaled 3/13/2014

First Knights In The Moment x Little Kings Joanna Jubilee

VET CHECKED IN FOAL FOR 2019 TO WORLD GRAND CHAMPION "POKER CHIP" This little GEM is carrying some pretty special cargo! This will be Ruby's first foal and it should be spectacular, judging from the top pedigrees on both sides! Ruby is by World Champion FIRST KNIGHT stallion out of a pretty Little King mare.

This foal will be 50% Shetland!

Lot #27 MINNERS FIRES RED RUBY

2017 AMHA/AMHR Sorrel Pinto Mare

Foaled 5/21/2017

 Hopkins Image On Fire x Libertys Miss Easter

Pretty and flashy mare – her high white socks will qualify her for PINTO (PtHA) papers

She should be a stand out in the show ring for sure!

Top First Knight and Liberty pedigree

New photos coming soon when it's warm enough to clip!

Lot #28 MCCARTHYS SILHOUETTE

AMHA/AMHR 34" Black Proven Broodmare

Minihkeim Im The One x Michigans Little Buckeye

Foaled 10/20/2011

Bred to World Grand Champion "Little O" for 2019

Should foal BEFORE the sale for an awesome 2-in-1 deal!

DUE DATE: MAY 2019

Her last two foals are now in SHOW homes (One pictured at left) and we expect a show stopper for 2019 as well!

Lot #29 FHF SIRS COPPER PENNY

AMHA/AMHR 2009 33" Chestnut Broodmare

A-Diamond H Night Rider x Buddys Copper Penny

BEING BRED TO ALLIANCE BOLERO BELLAGIO FOR EARLY SPRING 2020!

Foaled 5/26/2009

A-Diamond H Night Rider x Buddys Copper Penny

Possible 2-in-1 Package – By sale date this mare will have been out with TRIPLE Registered BOLERO son, Bellagio for four weeks! "Penny" is a beautiful and correct mare with a pedigree including ROWDY

Lot #30 RFM MASTERS LADY HAWK

AMHA and AMHR Registered Black Mare

Foaled 05/22/2018

Graham's Little Style Master x Reece's Impressive Lady Hawk

Lady Hawk is Sustained for the 2019 AMHR National Futurity.

Lady Hawk has a super pedigree, her Dam is My last born Hawk daughter. Her Sire is Triple Registered, adding the Shetland blend to her pedigree.

Show her or add her to your broodmare Band!

Win some Futurity money!

Lot# 31 LUCKYFOUR REBELCHASE REBELSUPREME RENATA

AMHA/AMHR BRED Mare Sorrel 33.5"

Foaled 2/28/2015

Lucky Four Rebelechase RebelSupreme x Lucky Four Swirls Sucha Surprise

In foal to Alliance Boleros Bellagio – Triple Registered son of BOLERO

FOAL WILL BE AMHR FUTURITY NOMINATED
AVAILABLE SHIPPERS: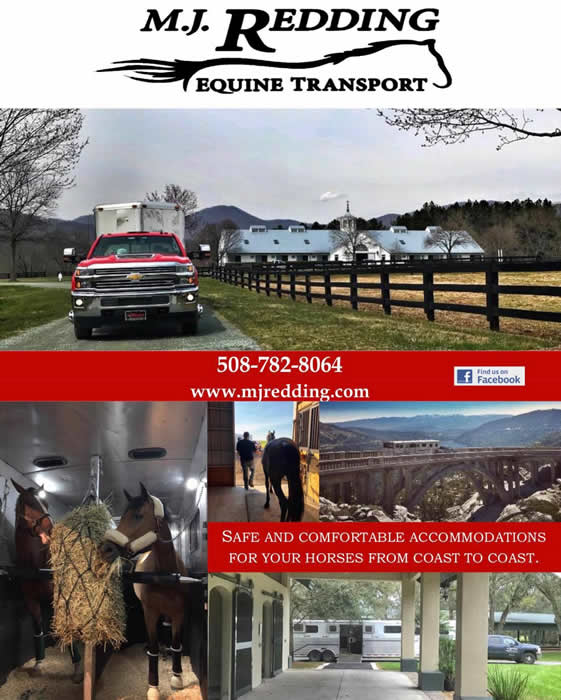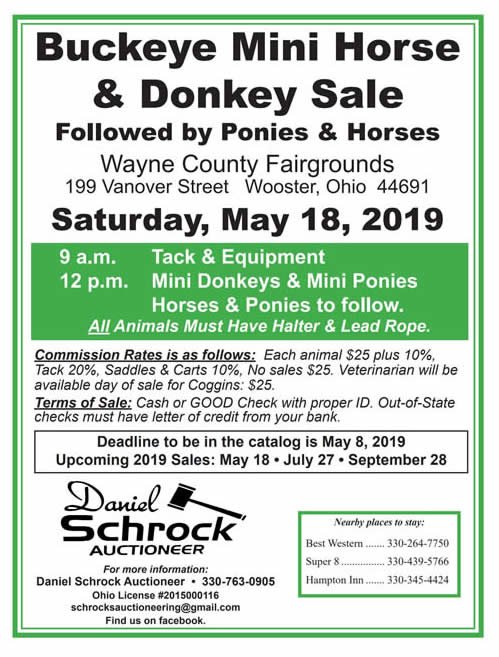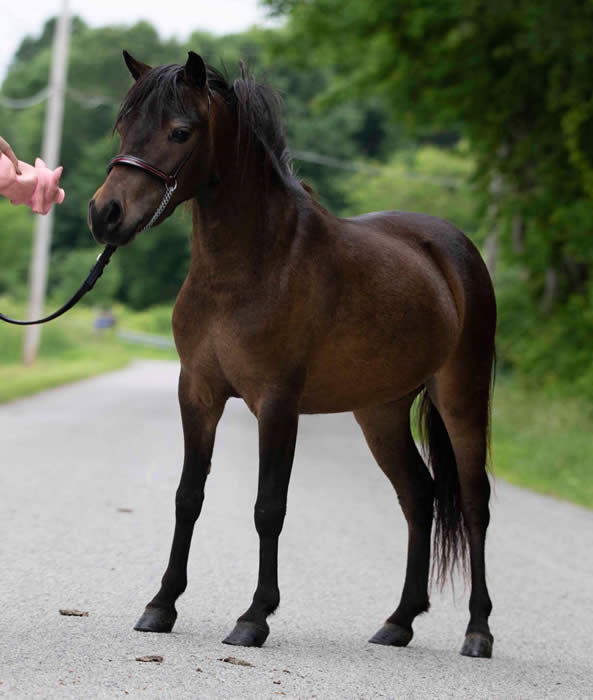 LOT #25 (SEPTEMBER 2018 SALE)
SOLD
AMHA GELDING INCENTIVE & AMHA DEVELOPMENT FUND
ONLINE AUCTION EVENT!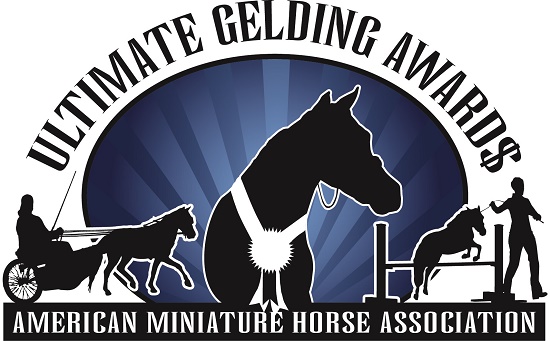 The AMHA Gelding Incentive Fund is back, and we think you're gonna LOVE it!  Show your support for our geldings by bidding on some of these AMAZING items that have been so generously donated.  All of the proceeds from the auction will benefit the GIF. 
The Gelding Incentive Fund will give back to the top ten point earners at the World Show for each of the following divisions: Youth/YOTE performance, Amateur/AOTE performance, Open performance, Junior halter (all points combined from all halter classes entered), and Senior halter.  Most performance classes will be included in the point tabulation--not just gelding-exclusive classes!
2018 HIGH SELLING AUCTION ITEMS BELOW:
** Multi World Champion & Regional Grand Champion Gelding
POCO DE ORO PEPITOS PICASSO
Donated by Barbara Hibbard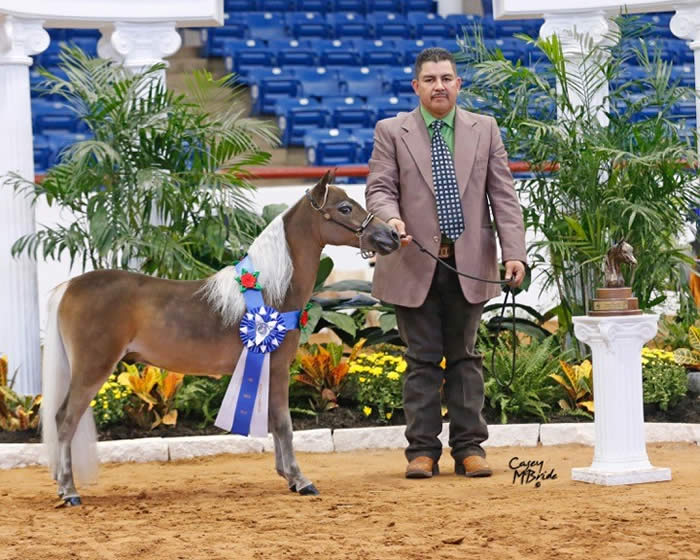 Picasso is currently located in Texas
Comes with 2 free AMHA 2018 World Show class entries (class entry fees donated by AMHA)
HIGH BID $1,000.00
** COVERGIRL MINIATURES 2018 BREEDING TO ANY ONE OF COVERGIRL'S WORLD CHAMPION STALLIONS
Stallions available include: (pictured in order)
LM IDOLS ROCK SOLID HAWK
COVERGIRLS IDOLIZE THIS
LM IDOLS FABIAN HAWK
LM IDOLS SOPHIES TROPHY HAWK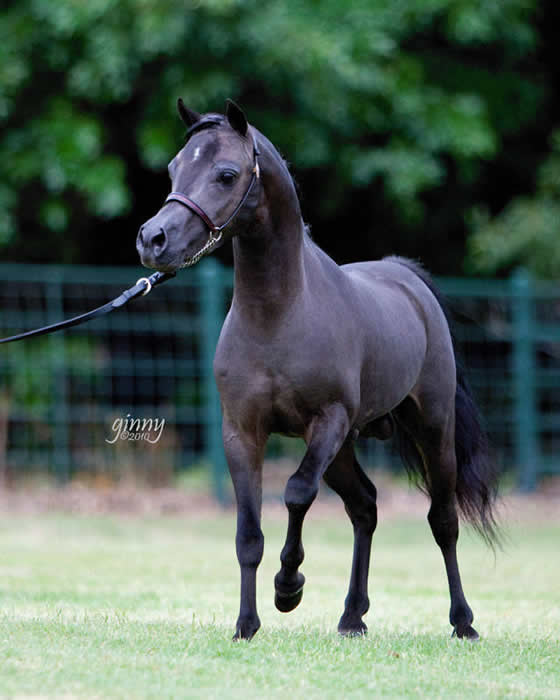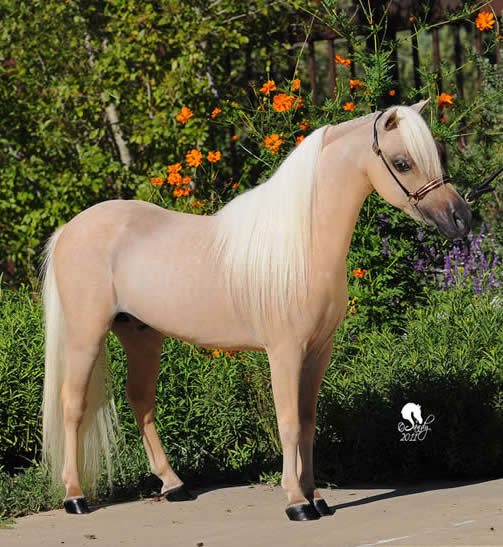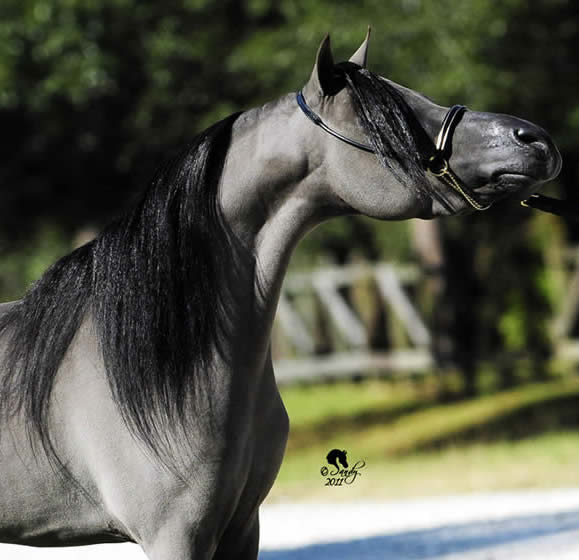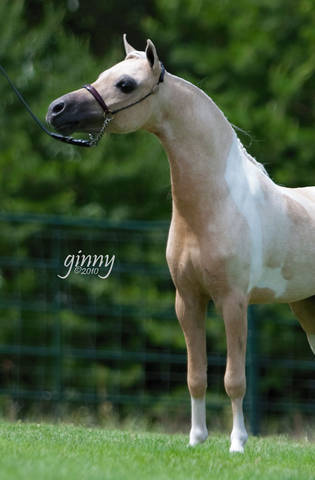 MARE CARE ADDITIONAL
Donated by COVERGIRL MINIATURES
Charlene Eisenmenger
HIGH BID $850.00
The New and Improved Gelding Incentive Fund!
The Gelding Incentive Fund (GIF) Program has changed! 
The newly adopted program varies from the GIF programs of previous years so please be sure to familiarize yourself with the new program.
You need to NOMINATE your gelding prior to the start of the World Show.  You can access the nomination form here: http://www.amha.org/pdf/ws/GIFNominationForm2017.pdf

The purpose of the GIF continues to be the promotion of registrations and transfers of AMHA geldings by increasing their value through a monetary incentive encouraging their exhibition in the show arena. The GIF is meant to incentivize the use of geldings as all-around horses in the show arena.  As such, beginning at the 2017 World Show, the GIF will be distributed to the top ten overall point winners in Open performance, Amateur/AOTE performance, Youth/YOTE performance, Junior halter, and Senior halter.  Each division will be allocated an equal proportion of the funds to distribute to the winners. In order to be eligible for the GIF, a gelding must be nominated each year.  A gelding can be nominated for a non-refundable fee $50 per division for the first division nomination, $45 per division for 2 divisions, $40 per division for 3+ divisions at anytime during the show-year through the closing date of entries of the World Show. The postmark of the nomination will determine the timeliness of its submission.  Late nominations will be accepted for a non-refundable fee of $50 per division (no discounts for multiple divisions) up to the official start of the first class of the World Show.
Full list of rules for the new GIF can be accessed here: http://www.amha.org/pdf/ws/RulesForGIF.pdf
Aloha Select Sale & Open House September 30, 2017
11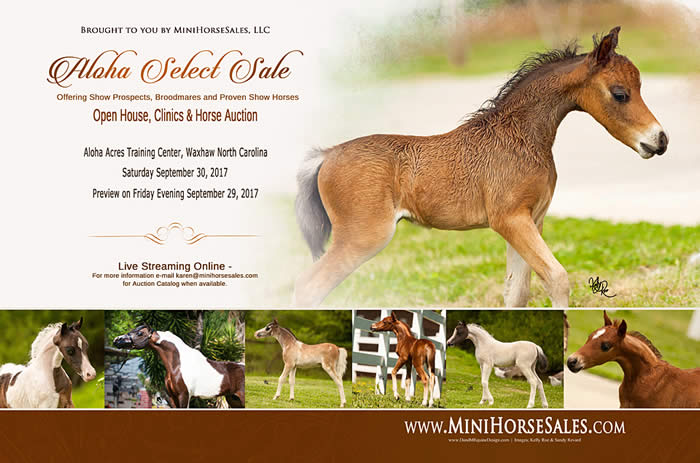 AUCTION RESULTS FROM THE ALOHA SELECT SALE SEPTEMBER 30, 2017
LOT #1 ALOHA ACRES IM SUPER COOL -2016 AMHR MARE ~ $1,100.00
LOT #2A BREEDING TO ALOHA STALLION (#1) ~ $2,100.00 (NEON)
LOT #2B BREEDING TO ALOHA STALLION (#2) ~ $2,050.00 (CANDYMAN)
LOT #2C BREEDING TO ALOHA STALLION (#3) ~ $2,000.00 (MASERATI)
LOT #3 RHAPSODYS RICOCHET - 2009 TRIPLE STALLION ~ $14,500.00 +++
LOT #4 BAR B MY SILENT HEART - 2013 A/R BRED MARE W/FOAL AT SIDE ~ $6,500.00 *
LOT #5 ALOHA ACRES LOOKIN FANCY - 2017 R/SHETLAND RES NATIONAL CHAMPION FILLY ~ $5,100.00
LOT #6 JHK MARIOS GLAMOUR GIRL 2011 R/SHETLAND BRED MARE ~ $4,150.00
LOT #7 ALOHA ACRES DESIGNED BY NEON - 2017 TRIPLE COLT ~ 4,600.00
LOT #8 ALOHA FRF BRANDY LITE - 2017 A/R SORREL PINTO FILLY ~ $2,500.00
LOT #9 ALOHA ACRES CALDWELLS WHITE DIAMOND - R 2013 BRED MARE ~ NO SALE (INQUIRE FOR PRICE!)
LOT #10 ALOHA ACRES SPRINGHILL HELEN SILENT LITE - 2016 A/R MARE ~ $3,250.00
LOT #11 ALOHA ACRES TWYLITE PRINCESS - 2015 NATIONAL CHAMPION R/SHETLAND MARE $11,100.00 ++
LOT #12 ALOHA ACRES A GUIDING LITE - 2016 R/SHELTLAND BLACK STALLION ~ $2,300.00
LOT #13 ALOHA ACRES A LITTLE BIT OF SILENCE - 2016 A/R 29" BLACK PINTO SHOW FILLY ~ $3,600.00
LOT #14 ALOHA ACRES SILENT SERINITY - 2011 A/R BRED MARE W/FOAL AT SIDE ~ $3,500.00
LOT #15 JHK MARIOS RUBY ECHO - 2014 R/SHETLAND BRED MARE ~ $4,750.00
LOT #16 ALOHA ACRES SPARKLE N SPIN - 2010 WC A/R MARE W/COLT AT SIDE ~ NO SALE
LOT #17 JHK MARIOS CALL ME STAR - 2011 R BRED MARE W/FILLY AT SIDE $4,750.00
LOT #18 ALOHA ACRES WHITES ALL WRIGHT - 2017 R/SHETLAND FILLY ~ $6,250.00 *
LOT #19 JHK MARIOS PRINCESS - R/SHETLAND 2011 BRED MARE W/COLT AT SIDE ~ $6,500.00
LOT #20 CALDWELLS POSITIVELY ELITE - R/SHETLAND 2014 BRED MARE ~ 4,000.00 *
LOT #21 CALDWELLS CALICO KATE - 33" 2014 R/SHETLAND BRED MARE ~ $7,700.00 +
LOT #22 ALOHA ACRES SHES A SILENT KICKER - 2009 A/R BRED MARE ~ NO SALE (INQUIRE FOR PRICE)
LOT #23 TYLERS KASHMIRE SAPPHIRE OF LTF - R/ SHETLAND 2013 BRED MARE ~ $6,750.00
* DENOTES HORSE WAS SOLD FOR RESERVE PRICE AFTER AUCTION ENDED
+++ HIGH SELLING HORSE IN SALE
++ SECOND HIGHEST SELLING HORSE IN SALE
+ THIRD HIGHEST SELLING HORSE IN SALE