Mini Horse Auctions & Events
Aloha Select Sale & Open House September 30, 2017
11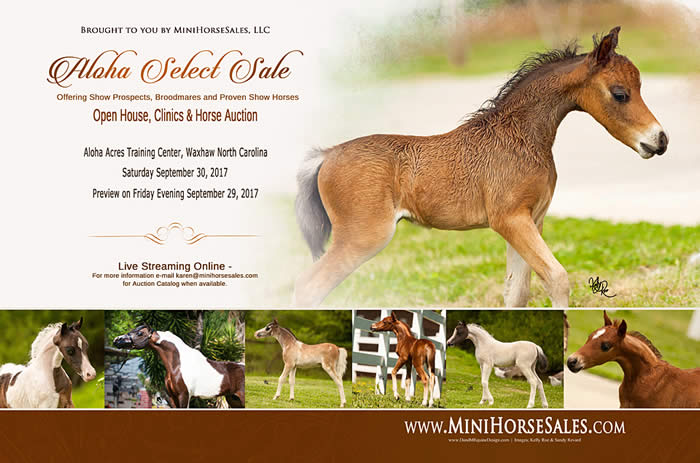 AUCTION RESULTS FROM THE ALOHA SELECT SALE SEPTEMBER 30, 2017
LOT #1 ALOHA ACRES IM SUPER COOL -2016 AMHR MARE ~ $1,100.00
LOT #2A BREEDING TO ALOHA STALLION (#1) ~ $2,100.00 (NEON)
LOT #2B BREEDING TO ALOHA STALLION (#2) ~ $2,050.00 (CANDYMAN)
LOT #2C BREEDING TO ALOHA STALLION (#3) ~ $2,000.00 (MASERATI)
LOT #3 RHAPSODYS RICOCHET - 2009 TRIPLE STALLION ~ $14,500.00 +++
LOT #4 BAR B MY SILENT HEART - 2013 A/R BRED MARE W/FOAL AT SIDE ~ $6,500.00 *
LOT #5 ALOHA ACRES LOOKIN FANCY - 2017 R/SHETLAND RES NATIONAL CHAMPION FILLY ~ $5,100.00
LOT #6 JHK MARIOS GLAMOUR GIRL 2011 R/SHETLAND BRED MARE ~ $4,150.00
LOT #7 ALOHA ACRES DESIGNED BY NEON - 2017 TRIPLE COLT ~ 4,600.00
LOT #8 ALOHA FRF BRANDY LITE - 2017 A/R SORREL PINTO FILLY ~ $2,500.00
LOT #9 ALOHA ACRES CALDWELLS WHITE DIAMOND - R 2013 BRED MARE ~ NO SALE (INQUIRE FOR PRICE!)
LOT #10 ALOHA ACRES SPRINGHILL HELEN SILENT LITE - 2016 A/R MARE ~ $3,250.00
LOT #11 ALOHA ACRES TWYLITE PRINCESS - 2015 NATIONAL CHAMPION R/SHETLAND MARE $11,100.00 ++
LOT #12 ALOHA ACRES A GUIDING LITE - 2016 R/SHELTLAND BLACK STALLION ~ $2,300.00
LOT #13 ALOHA ACRES A LITTLE BIT OF SILENCE - 2016 A/R 29" BLACK PINTO SHOW FILLY ~ $3,600.00
LOT #14 ALOHA ACRES SILENT SERINITY - 2011 A/R BRED MARE W/FOAL AT SIDE ~ $3,500.00
LOT #15 JHK MARIOS RUBY ECHO - 2014 R/SHETLAND BRED MARE ~ $4,750.00
LOT #16 ALOHA ACRES SPARKLE N SPIN - 2010 WC A/R MARE W/COLT AT SIDE ~ NO SALE
LOT #17 JHK MARIOS CALL ME STAR - 2011 R BRED MARE W/FILLY AT SIDE $4,750.00
LOT #18 ALOHA ACRES WHITES ALL WRIGHT - 2017 R/SHETLAND FILLY ~ $6,250.00 *
LOT #19 JHK MARIOS PRINCESS - R/SHETLAND 2011 BRED MARE W/COLT AT SIDE ~ $6,500.00
LOT #20 CALDWELLS POSITIVELY ELITE - R/SHETLAND 2014 BRED MARE ~ 4,000.00 *
LOT #21 CALDWELLS CALICO KATE - 33" 2014 R/SHETLAND BRED MARE ~ $7,700.00 +
LOT #22 ALOHA ACRES SHES A SILENT KICKER - 2009 A/R BRED MARE ~ NO SALE (INQUIRE FOR PRICE)
LOT #23 TYLERS KASHMIRE SAPPHIRE OF LTF - R/ SHETLAND 2013 BRED MARE ~ $6,750.00
* DENOTES HORSE WAS SOLD FOR RESERVE PRICE AFTER AUCTION ENDED
+++ HIGH SELLING HORSE IN SALE
++ SECOND HIGHEST SELLING HORSE IN SALE
+ THIRD HIGHEST SELLING HORSE IN SALE
SHIPPERS AVAILABLE TO HAUL YOUR NEW HORSE!
++ ALL HORSES COME WITH COGGINS AND US HEALTH CERTIFICATES ++ FREE BOARD THROUGH OCT 31st ++
++CAVALETTI EQUINE LOGISTICS++ Offering EXPORT Mid October can transport NC to TEXAS Quarantine
++ SHORTVIEW STUD EXPORT ++ Offering Export mid-October NC to TX QT (940) 372-8028
CLINTON JURY (270) 723-7744 NC to New England (from sale)
JASON WARRENFELTZ (717) 658-3996 NC to PA
DONNA LAVERY (352) 274-3715 NC to Florida
MIKE ROE (267) 424-3603 WEST COAST
PAT HERRICK (860) 933-7668 New England & Texas (Mid October)
DENISE HARDESTY (812) 946-2919 Indiana/Kentucky
LISA MCLEOD NC to Ontario Canada (561) 846-0209
The AMHA Gelding Incentive Fund has changed, and we think you're gonna LOVE it!  Show your support for our geldings by bidding on some of these AMAZING items that have been so generously donated.  All of the proceeds from the auction will benefit the GIF.
THIS AUCTION HAS ENDED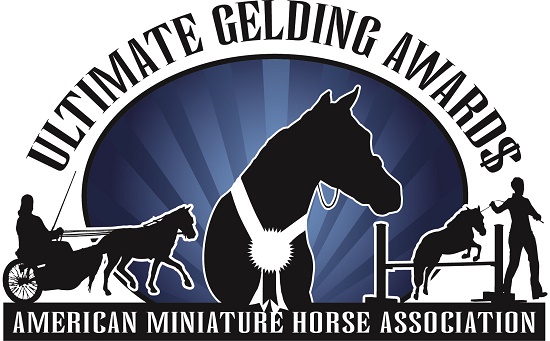 Liberty Auction has ended!