Mini Horse Auctions & Events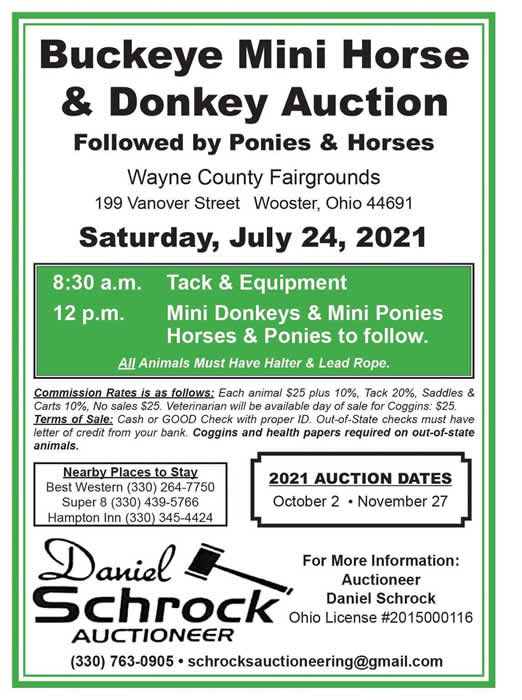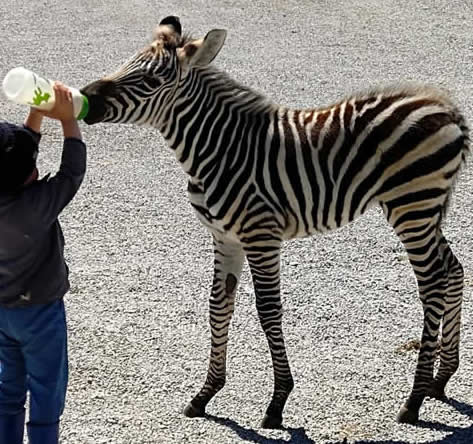 HIGH SELLER AT THE MAY 22, 2021 BUCKEYE SALE!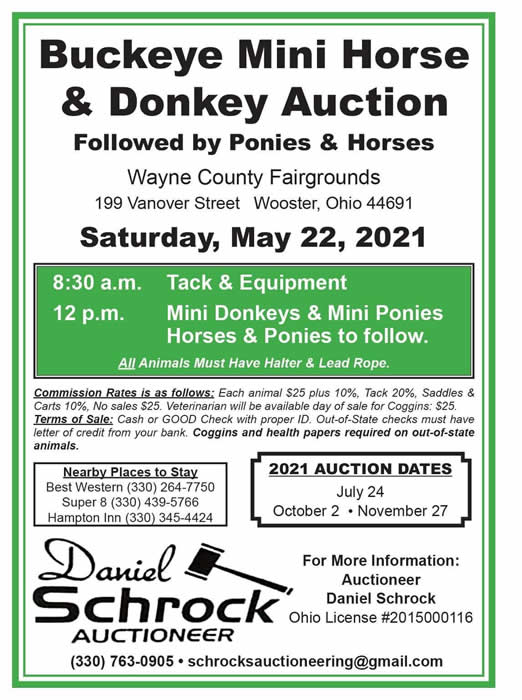 Top Seller of the Day Bottle male Baby Zebra for $7,100.00 Consigned by the Miller Family 
Congrats to The Buyer!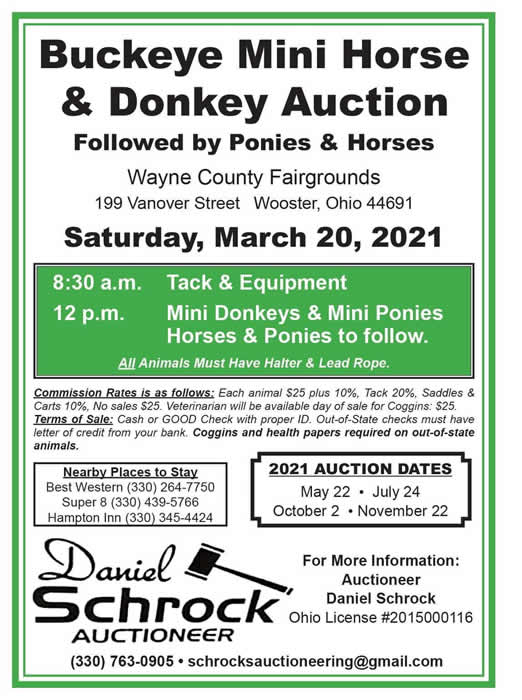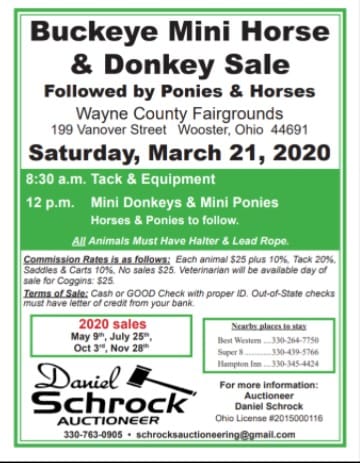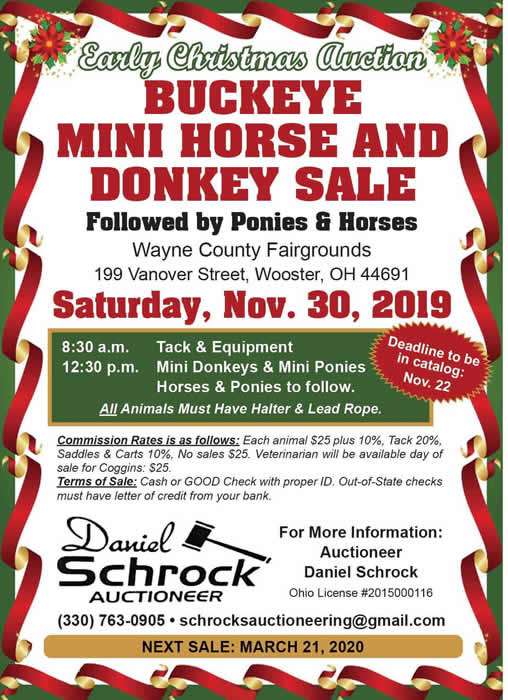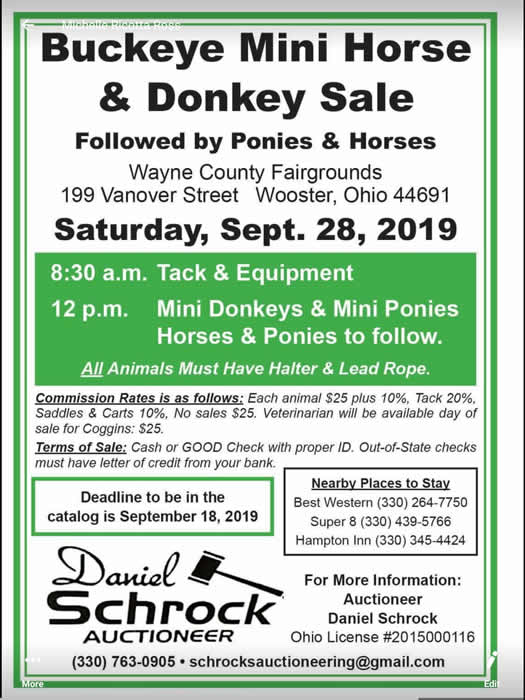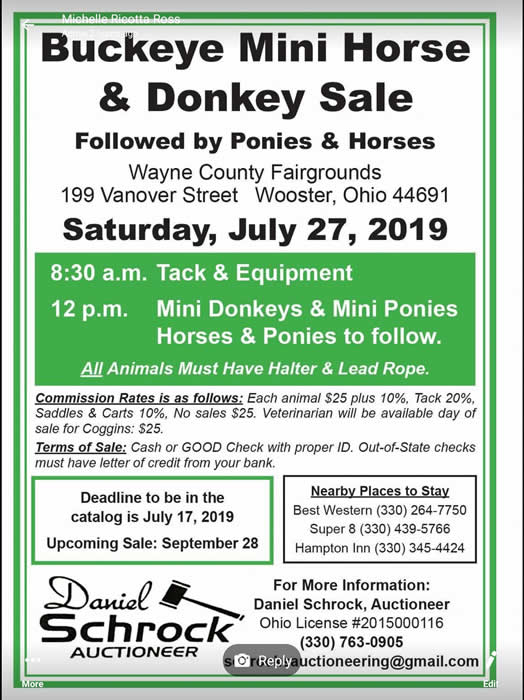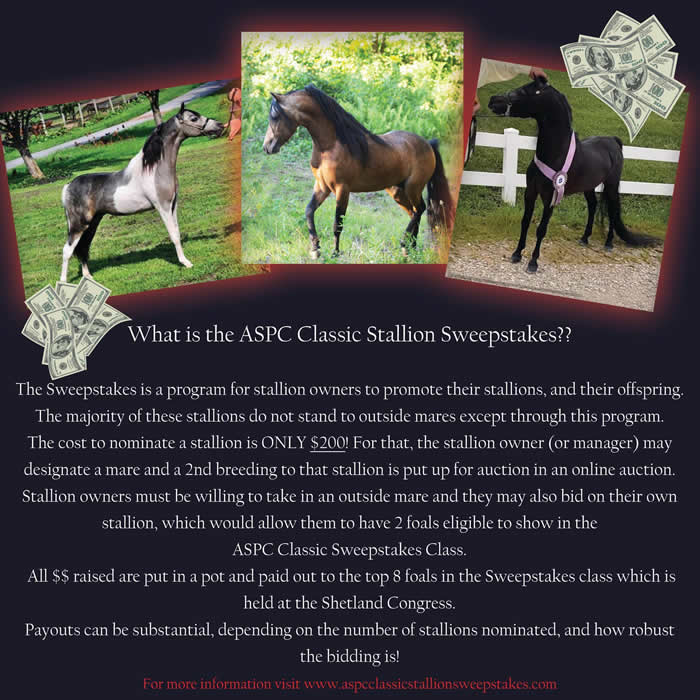 LIMESTONE PARTIAL HERD REDUCTION SALES LIST - FEBRUARY 2021

TIBBS TIGER LILY TANGO
34/35" Dark Bay 2016 PROVEN Broodmar sells IN FOAL to double dilute COVERGIRLS ROCKS PEARL JAM for an early June 2021 foal. This mare is hard to catch and NOT a horse for a novice owner.
LM HAWKS ITALIA IDOL
33.75" bay frame Overo 2016 mare.AMHA/R OPEN SELLS breeding sound. Her 2019 filly is in training with Alliance. She had a colt this year that died due to choke/ no fault of hers. $SOLD
LM HAWKS HEIR OF AN IDOL (Bugz)
bay roan frame overo 33.25"AMHA/R 2012 NIGHTHAWK x LM Idols Blue Halo.OPEN/SELLS Breeding sound. She has a buckskin colt on her side ready to wean. Dam to LM Idols Remington Hawk owned by Karen Rudolph – many time world champion. Also dam to LM Idols Miami Hawk owned by Lisa Berberich – England (frame overo champion) Price is for the mare. $SOLD
OLYMPIAN LM IDOLS JONI HAWK
2019 palomino frame overo filly 31.5" By First Knights Billy Idol x Olympian Saharas Golden Goddess AMHA/R filly. $SOLD
LM HAWKS BLUE DIAMOND
(full sister to Bugz) Champion Farms Nighthawkx LM Idols Blue Halo. 34"-34 ½"AMHA/R mare. Her 2020 filly has been sold. SELLS IN FOAL for 2021 to Pearl Jam. $SOLD
LM COUNTRY SUNSHINE
(Dottie) 2018 bay filly by TG IM A Country Boy x LM Idols Catalina Blue. Currently 33.5" No plans to breed her this year so sells open as a maiden filly.
2020 OFFERINGS:
Anna Nicole 20 filly/palomino with stockings and blaze (dam is triple registered shetland) by Billy Idol foaled 4/22 AMHA/R pending. Should mature around 33"-33.5". $SOLD
Sofia 20 colt/buckskin by Billy Idol foaled 5/02 A/R Pending. Should mature around 32". SOLD
Jelly 20 colt/sorrel/GRAYING? by Country Boy foaled 4/17. Will be small mature under 30-31". A/R Pending. Special gelding price/ask. SOLD
Fancy 20 filly/black will GOING GRAY (dam is triple registered Shetland) by Billy Idol 5/03/2020 A/R Pending. Will be close in height. with height guarantee. Less with no guarantee/inquire. SOLD
Dare 20 palomino filly by Pearl Jam. Shows driving potential. Will mature small - currently 30". A/R Pending
Bugz (Heir of An Idol) 20 colt/buckskin by Pearl Jam foaled 4/30 Should mature around 31"-32"A/R Pending. $6,000.00. Special gelding price/ask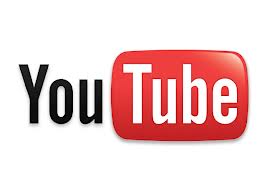 Lilly 20 bay colt AMHR only. Will mature small 32" mostly Shetland blood. SHOW quality. By Comferts Leave The Night On.$3,500.00 Will hardship into AMHA.
CONTACT JANET KING
jfk657@yahoo.com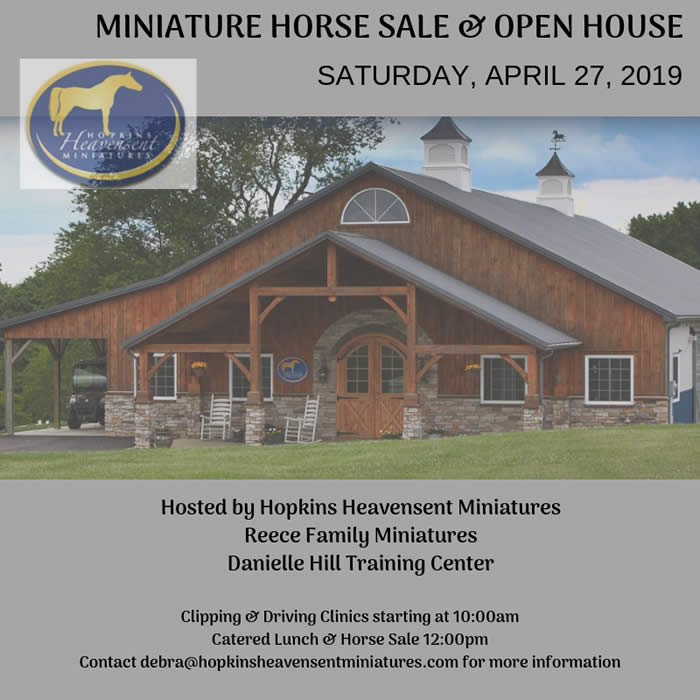 AVAILABLE SHIPPERS: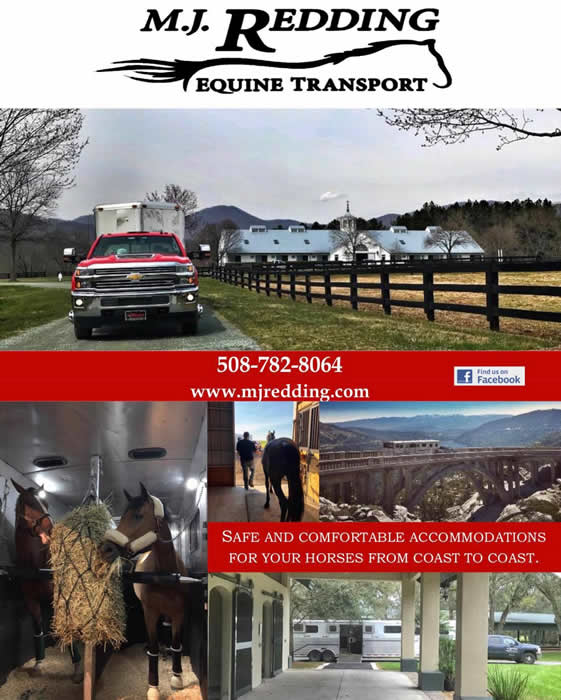 AMHA GELDING INCENTIVE & AMHA DEVELOPMENT FUND
ONLINE AUCTION EVENT!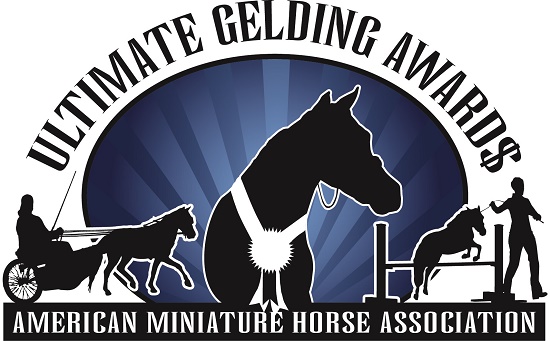 The AMHA Gelding Incentive Fund is back, and we think you're gonna LOVE it!  Show your support for our geldings by bidding on some of these AMAZING items that have been so generously donated.  All of the proceeds from the auction will benefit the GIF. 
The Gelding Incentive Fund will give back to the top ten point earners at the World Show for each of the following divisions: Youth/YOTE performance, Amateur/AOTE performance, Open performance, Junior halter (all points combined from all halter classes entered), and Senior halter.  Most performance classes will be included in the point tabulation--not just gelding-exclusive classes!
2018 HIGH SELLING AUCTION ITEMS BELOW:
** Multi World Champion & Regional Grand Champion Gelding
POCO DE ORO PEPITOS PICASSO
Donated by Barbara Hibbard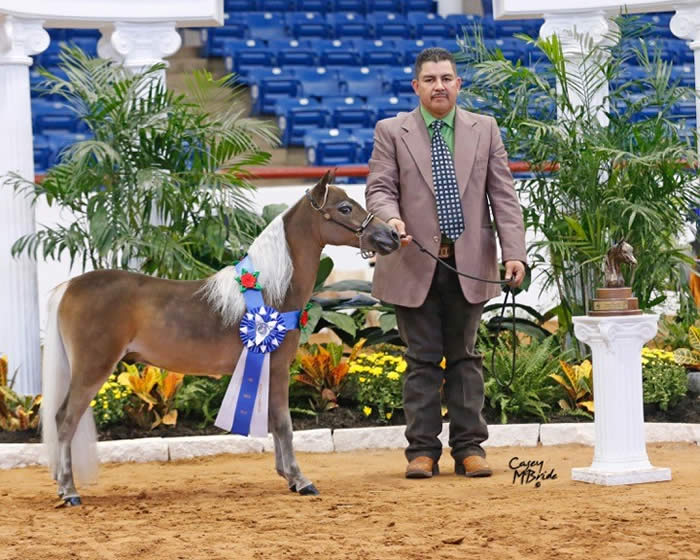 Picasso is currently located in Texas
Comes with 2 free AMHA 2018 World Show class entries (class entry fees donated by AMHA)
HIGH BID $1,000.00
The New and Improved Gelding Incentive Fund!
The Gelding Incentive Fund (GIF) Program has changed! 
The newly adopted program varies from the GIF programs of previous years so please be sure to familiarize yourself with the new program.
You need to NOMINATE your gelding prior to the start of the World Show.  You can access the nomination form here: http://www.amha.org/pdf/ws/GIFNominationForm2017.pdf

The purpose of the GIF continues to be the promotion of registrations and transfers of AMHA geldings by increasing their value through a monetary incentive encouraging their exhibition in the show arena. The GIF is meant to incentivize the use of geldings as all-around horses in the show arena.  As such, beginning at the 2017 World Show, the GIF will be distributed to the top ten overall point winners in Open performance, Amateur/AOTE performance, Youth/YOTE performance, Junior halter, and Senior halter.  Each division will be allocated an equal proportion of the funds to distribute to the winners. In order to be eligible for the GIF, a gelding must be nominated each year.  A gelding can be nominated for a non-refundable fee $50 per division for the first division nomination, $45 per division for 2 divisions, $40 per division for 3+ divisions at anytime during the show-year through the closing date of entries of the World Show. The postmark of the nomination will determine the timeliness of its submission.  Late nominations will be accepted for a non-refundable fee of $50 per division (no discounts for multiple divisions) up to the official start of the first class of the World Show.
Full list of rules for the new GIF can be accessed here: http://www.amha.org/pdf/ws/RulesForGIF.pdf