Miniature Horse Trailers & Equipment for Sale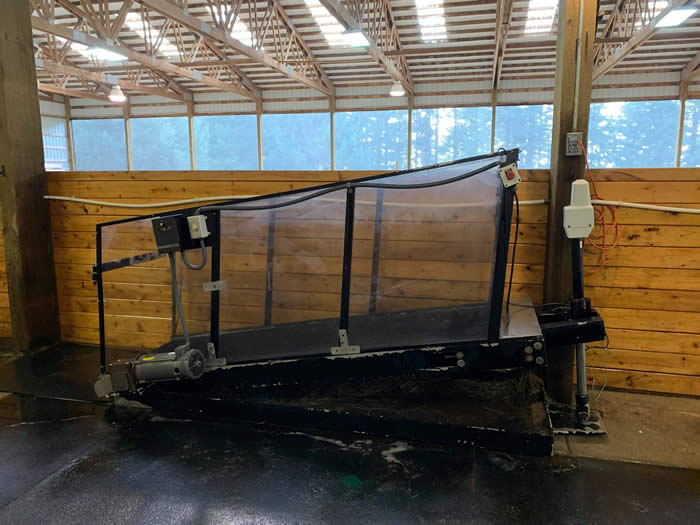 Custom Miniature Horse Treadmill FOR SALE
OFFERED BY HUNTERBERRY HILL FARM
The last of our dispersal items to sell!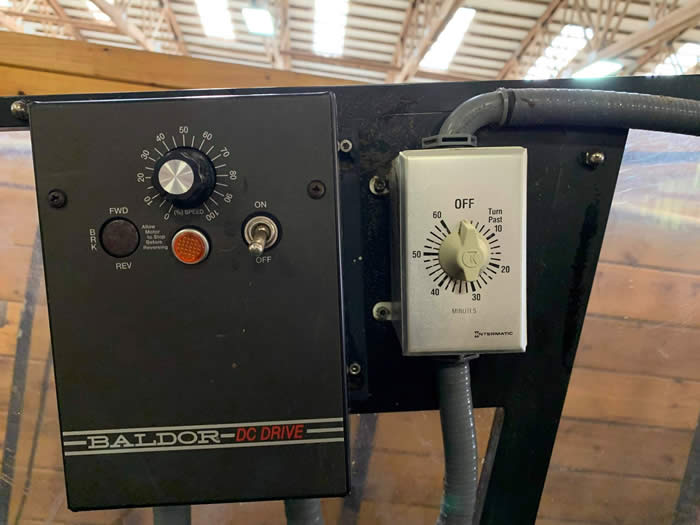 We had this treadmill custom made and it not only looks beautiful but works great!

Adjustable speed, timer, adjustable incline from flat to very steep, emergency stop button.
Great quality non skip rubber belt, made out of high quality aluminum and plexiglass.
Two tie rings in the front, butt bar across the back.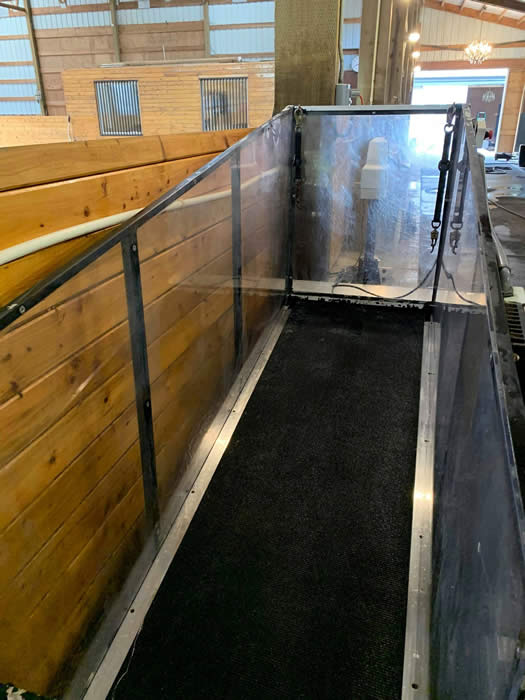 Runs great!
There are a few small spots where the welding could use a touch up on the side panels.
Had a professional welder come look at it and he said it would be very easy and quick to do ~$200. 00
Being sold as is, can still be used as is!
$3,500.00
Jennifer Rowland
Hunterberry Hill Farm
jennifer@hunterberryhill.com
Located in Oregon
(102719NX) Ad updated 4/26/2019
Kee-Port Barn Camera System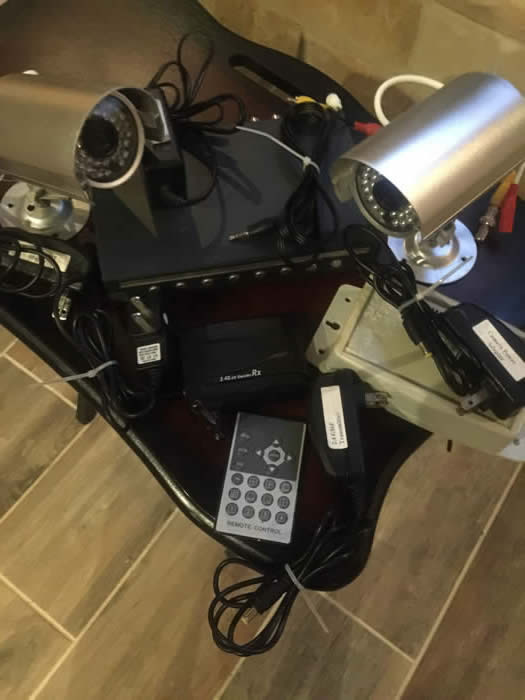 EXCELLENT CONDITION
+ Three Years Old +
DETAILS:
KEE-PORT BARN CAMERA SYSTEM
8 CH COLOR CCTV QUAD PROCESSOR
(2) DAY/NIGHT CAMERAS
WEATHERPROOF TRANMITTER
RECEIVER
POWER ADAPTERS FOR ALL COMPONENTS
REMOTE
Seller recently purchased a whole-home security system and this system is not compatible with it - ONLY reason for selling!
This has been an excellent sytem.
It was purchased new three years ago and worked flawlessly.
The wiring is not included but can be purchased by buyer and is very inexpensive (cameras were mounted high in the barn, making wiring hard to access to remove and would have increased shipping cost for buyer)
(link to Foaling Camera website)
$300.00
Buyer Pays Shipping
Julie Petri
(936) 348-1243
Located in Madisonville, Texas
(91519X) Ad updated 4/12/2019
2016 GORE Miniature Horse Bumper Pull Trailer
Custom Show Pony and Mini Trailer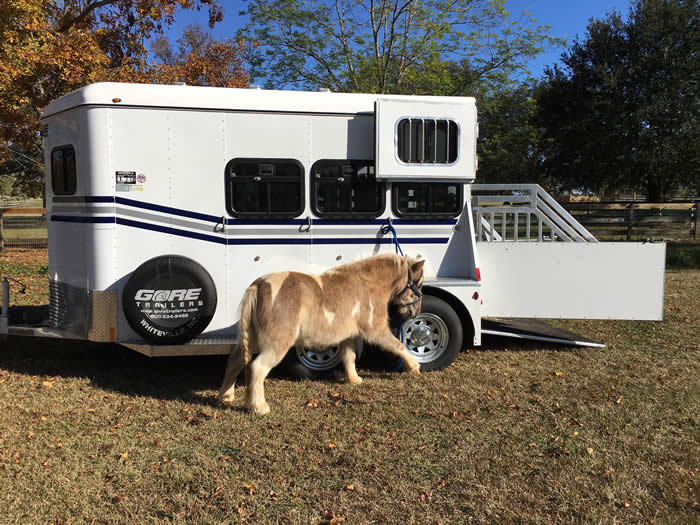 LIKE NEW
This is the trailer to have for minis and ponies!
A Very Special Trailer 2016 Gore, BP, 3 horse with large tack area, Custom Show Pony and Mini Trailer
Photos taken just last week (December 2018)
Lots of tack room to change for the show!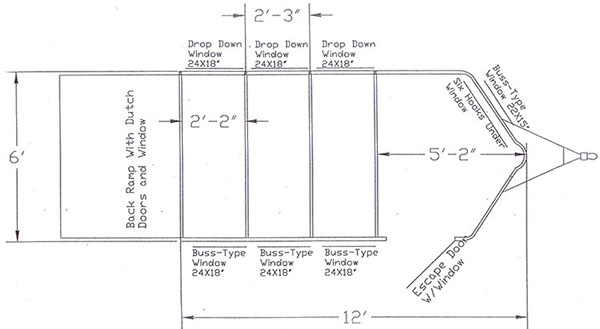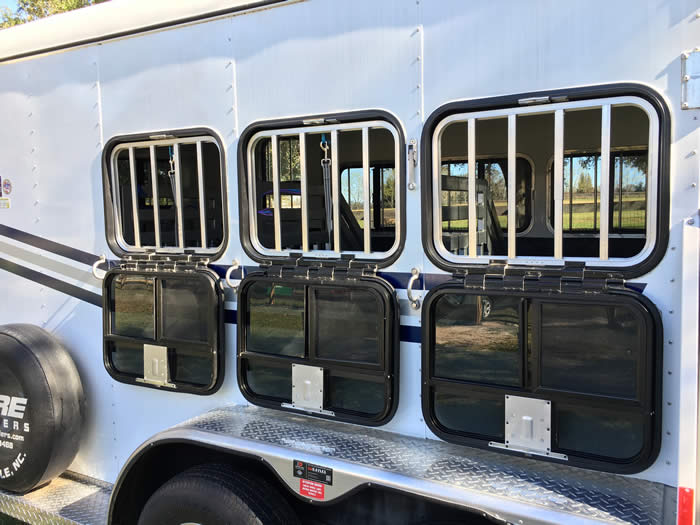 Trailer weight approx. weight: 2,660 pounds
escape door with window to tack area, rear ramp with windows

Steel Chassis for added strength

Dutch door windows swing out, super cool for horses in summer

7,000 GVWR, 6'6"x 12 length 6' wide

Treated wood floors with heavy mats

removable aluminum dividers convert to box stalls or come out to haul larger ponies or small horses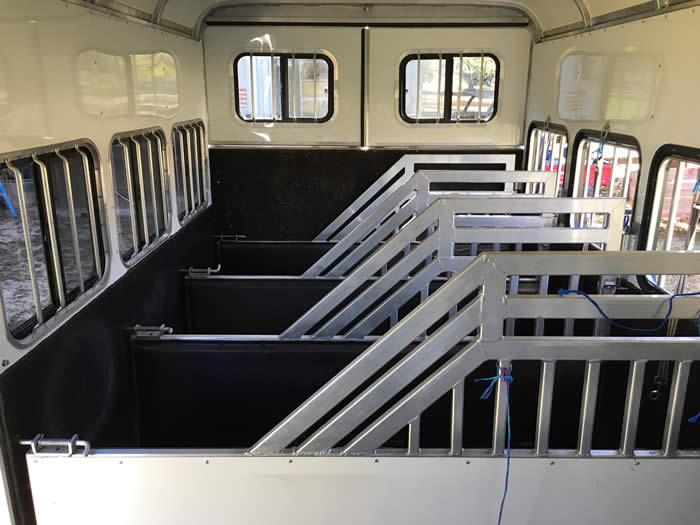 Drop down windows at heads

Loading lights, interior lights, white with diamond plate rock guard

Three stripes in Aztec Blue and Gray metallic,

Custom dividers are 46 inches high for Ponies, Tall Minis and Shetlands (see photo),

Thick padded sides for safety and comfort

Easy hook ups for hay bales and tie ups, super clean trailer

Only 800 miles and kept under cover.

All slants are padded on both sides
Price to sell at $10,500.00
Teresa Leigh
Call or Text 919-454-4423 (ask for Teresa)
Email: info@runenevada.com
Located in Tallahassee, FL
(62519X) Ad updated 12/22/2018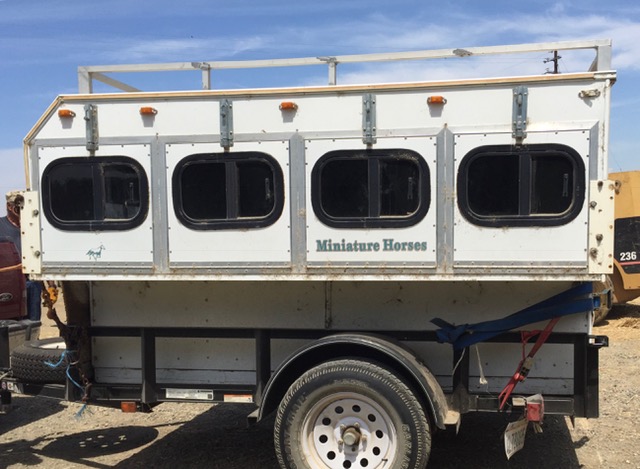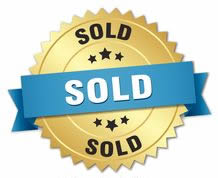 Miniature Horse Trailer Alternative
Four horse "Mini Hauler"
2008 Hawk Custom Miniature Horse Trailer