Miniature Horse Stable Halters and Supplies

CLICK ON LINK ABOVE TO VIEW OUR SPONSOR'S WEBSITE PRODUCTS
Items below are offered by some of our site sponsors. To purchase any product, click on the link provided in the ad to go directly to the vendor's website.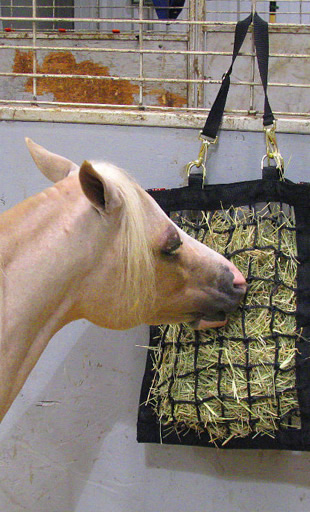 Slow Feeder
Slow Feeder (# KMSF)

This wonderful feeder slows your horse down and allows him to "graze" longer. Fits a small flake of hay. Also helps keep your horse occupied. Excellent feeder for stalls and pens.

18 tall x 14 wide, with 3 gusset

Black only
CLICK ON LINK BELOW TO ORDER!

24/7 Call Toll Free 1-888-775-644
Griffinbrook.com is a full-service tack shop featuring equipment, tack, apparel and supplies for horses miniature to draft. Our website has a Miniature Horse section with many fine items designed for the VSE (Very Small Equine)! We also offer embroidery service, brass plate engraving and tack repair.

Featured products (click on photo of product or logo above to purchase)
Leather Halter with FREE nameplate!
Made in AMERICA!
Only $44.00 - click on photo to order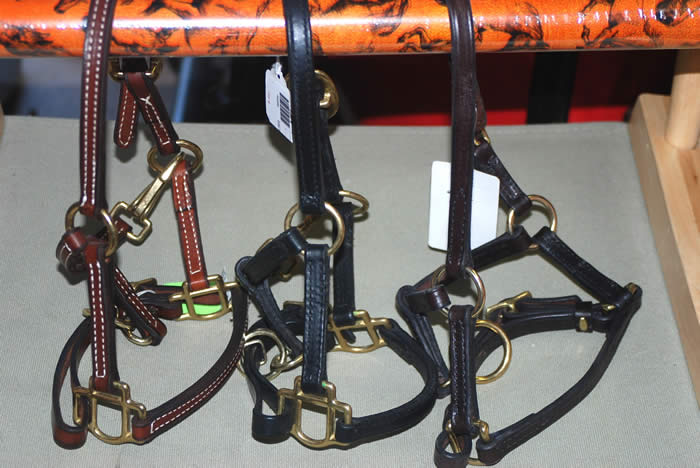 This halter is made with real Minis in mind.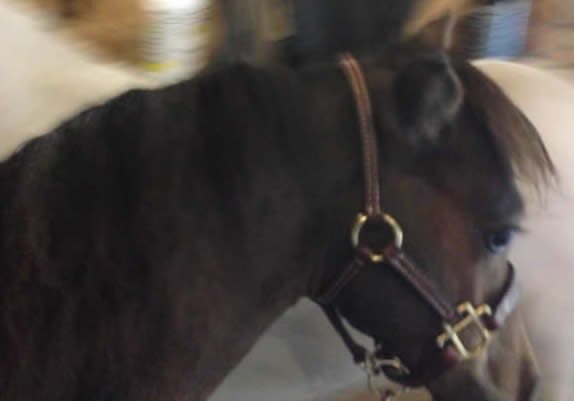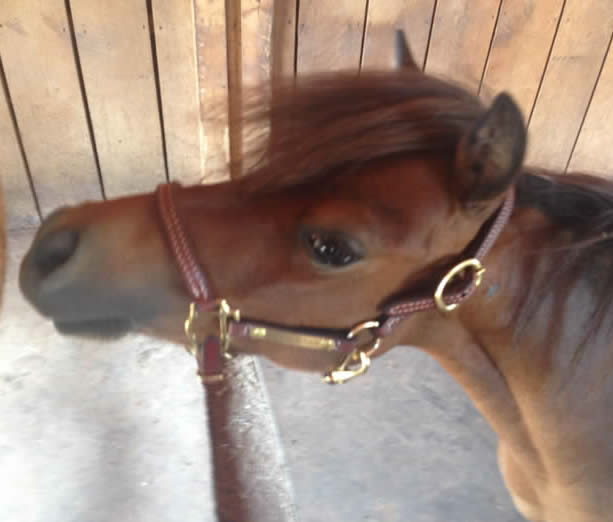 It is handcrafted here in the states and made in 4 different sizes fitting everything from the mini babies to full-grown ponies. It is 3/8" wide, vegetable tanned leather in brown or black with white stitching. Has adjustable crown, nose and snap throat.
The sizes (leather itself) measure as follows:
Foal: single-thickness crown, chin and nose straps, dark brown only, 3" cheek, crown to nose 25" all the way out, noseband 6 1/2" with adjustable chin strap.
Small - 3-3/8" cheeks, crown to nose 25" all the way out, noseband 6" with adjustable chin strap
Medium - 4-1/4" cheeks, crown to nose 28" all the way out, noseband 7" with adjustable chin strap
Large (fits small ponies) - 5" cheeks, crown to nose 33" all the way out, noseband 8" with adjustable chin strap
X-Large (fits most ponies) - 6 1/2" cheeks, crown to nose 36 1/2" all the way out, noseband 9" with adjustable chin strap
Free name plate with any leather halter. Just put the name to be engraved in the comment box along with your choice of block or script.
Click on GRIFFINBROOK logo to order yours today!
Made in the USA!
#JW200 Economy Non-adjustable Nylon Halter
3/4" 2-ply nylon, eyelet holes are burned to prevent fraying, no color choice. 
Well made Amish basic halter.  (similar to photo but NOT adjustable noseband)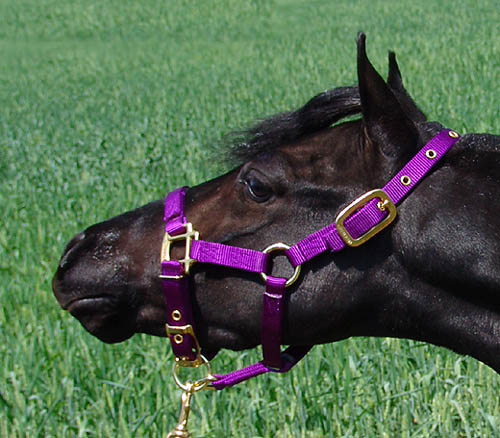 Available with adjustable chin.
An adjustable chin allows you to tighten or loosen around the nose.
AMISH MADE in the USA.
Size is based on height at withers:
Small (27" - 29" horse)
Average (30" - 32" horse)
Large (33" - 35" horse)
Pony (36+ pony)

AVAILABLE COLORS

24/7 Call Toll Free 1-888-775-6446

Would YOU like to list YOUR stable supplies and stable halters on this page? The cost is $25.00 per item - tack shops with Mini products - a SUPER way to promote your items and link to your site! You MUST be a sponsored Link first - at $175.00 per year.
Your item will be posted on this website and on our fan page on Facebook, reaching 70,000 fans!
Anything Mini-horse related - as long as it is clean and in safe working order is eligible.
Check your tack room and make a little extra CASH for show season!
In 2015, we have sold show carts, many show and work harnesses, show halters, horse blankets, sheets, hoods & much more!