Shetland Stallions for Sale

ASPC (Shetland) STALLIONS (ALL AGES) as well as ASPC/AMHR Stallions listed on this page!
SMHC's Civil Liberty
(Civil)
ASPC/AMHR/PtHA 2015 42" Bay Pinto Stallion
SUCCESSFULLY SHOWN - SWEET STALLION!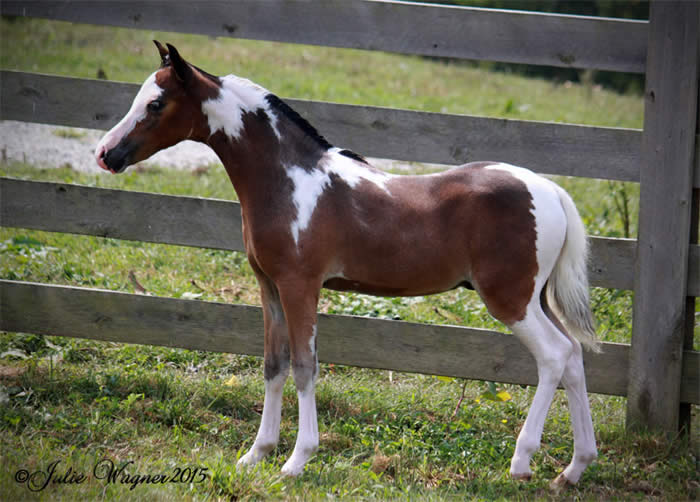 SMHC's Let's Dance x SMHC's Freedom's Liberty
Foaled 5/25/2015
THIS STRIKING YOUNG STALLION IS LOOKING FOR A SHOW PARTNER!
"Civil" has been successfully shown on the Pinto (PtHA) circuit.
He's AMHR, ASPC and PtHA registered.
He's a bit of an "overachiever" at 42" tall and so has outgrown his AMHR height limit.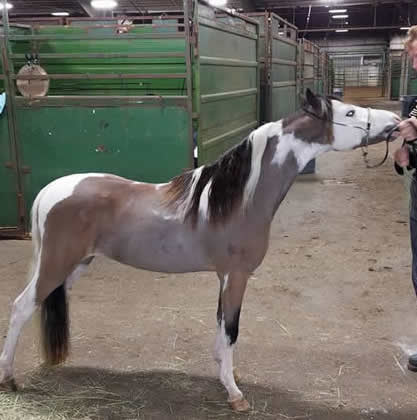 No worries, since we see him cleaning house on the PINTO (PtHA) circuit with his bold coloring and dynamic presence.
Civil has the most perfectly placed pinto markings.
His markings accentuate his correct conformation, smooth correct body and ultra long neck.
In addition, his bright white legs will look incredibly flashy when he's pulling a cart!
He's the total package whether you show ASPC Shetland or Pinto.
Civil is super sweet and easy to work with. He LOVES attention and lives to please "his" people.
He's worthy of continuing as a stallion but would also make a kick-butt gelding for someone completely serious about WINNING.
$3,500.00
Cherie Smith
(503) 917-9097
cherietrainctr@aol.com
Located in Dallas, Oregon
(1117) Ad updated 10/9/2017
Sunswept's King's Blazing Knyght
(Blaze)
ASPC/AMHR 2011 36" Liver Chestnut Pinto PROVEN Stallion
PROFESSIONALLY TRAINED TO DRIVE BY MIKE MCCABE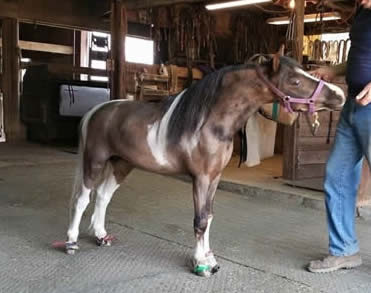 Graham's King Of Kings x Graham's Sunswept's Destiny
Foaled 4/05/2011
This Kid Lee/Arenosa cross is amazing!
Blaze is a typey, correct stallion, blending the best of both bloodlines.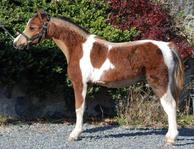 His beautiful dam (pictured below, at right) is a paternal sibling to World SUPREME CHAMPION stallion, GRAHAM'S RAGTIME.
Her pedigree is loaded with HOF (Hall of Fame) Champions.
Blaze goes back to the great RED ROCK KID LEE 2x on his sire's side.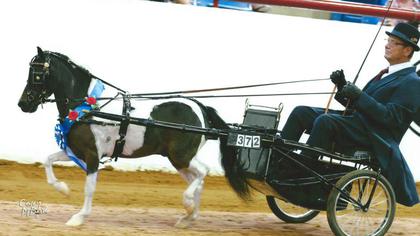 His sire, pictured at left, is a World Champion Driving Horse.
Blaze has been professionally trained to drive by the well respected Mike McCabe (see his driving video below)
This talented young stallion will excel as a fancy driving horse and is pretty enough to halter.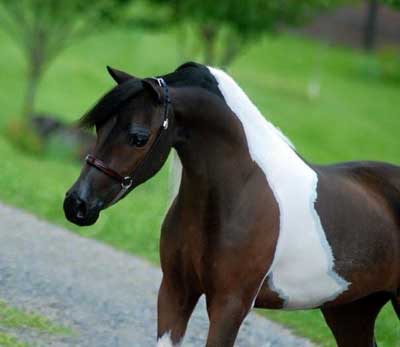 He was bred once and produced a show quality palomino colt.
Blaze is such a RICH dark liver chestnut he almost appears bay.
(photo above, right is a yearling photos and he has darkend with age)
He has just the right amount of "chrome" to really stand out as a driving horse.
Blaze's talents are being wasted since his owners have too many young driving prospects - no time to devote to this boy!
Add some KID LEE & ARENOSA Shetland to your breeding program - AND have a super fun driving horse at the same time.
OFFERED AT $2,900.00
POSSIBLE LEASE TO THE RIGHT SITUATION
See BLAZE move here!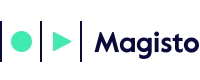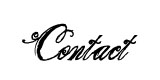 Mary Susany
(330) 398-8575
msews2@yahoo.com
Located in Edinburg, Pennsylvannia
(617) Ad updated 9/16/2017
Finchwoods In Perfect Stetson Style
(Stetson)
ASPC/AMHR 37" Black Shetland CHAMPION Stallion
2015 AMHR RESERVE NATIONAL CHAMPION STALLION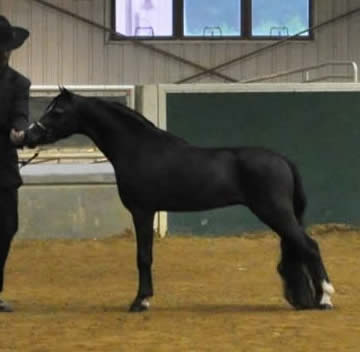 WA-FULL UNIQUE STYLE x BUCKEYE WCF 1 HOT TAILOR MAID
Foaled 6/16/2014
I'm a HUGE proponent for gelding all stallions -
- a great stallion makes a fantastic gelding.
But THIS boy is so fantastic it would almost be a shame to geld him.
He has a stellar pedigree, a Champion show record AND he's beautiful.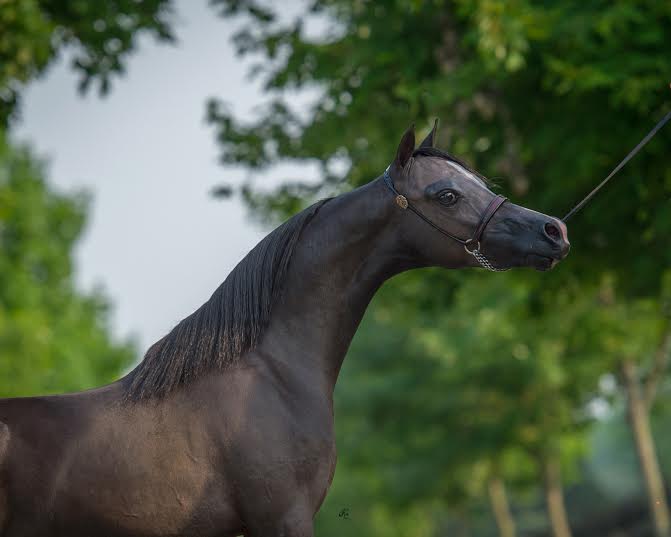 So YOU decide.
His "show ring photo was taken April 2017, where he won AMHR CHAMPION MODEL STALLION in Williamston NC with Matt Johnson.
Stetson could be your future herd sire or the most amazing gelding prospect out there.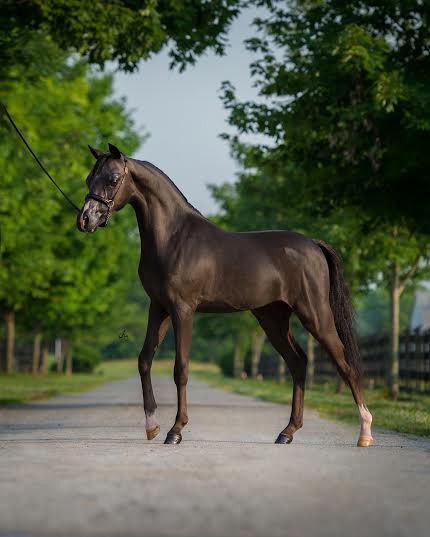 His sire is the Grand Champion producing stallion "LEGEND" -
- who stamps his get with ultra long necks, clean, straight legs and super show attitudes.
Stetson's maternal side is loaded with Hall of Fame (HOF) horses with top MICHIGAN bloodlines.
Stetson is a VERY good boy.
He's calm and easy to get along with.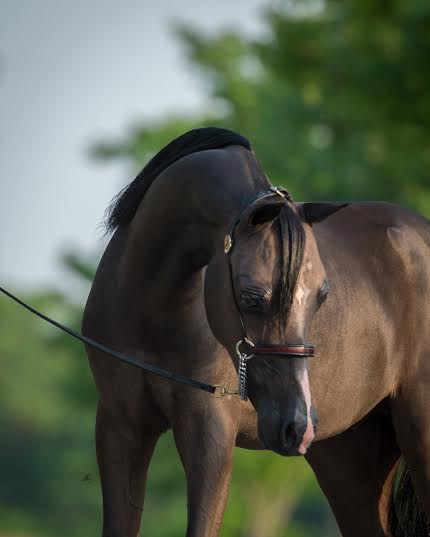 Stetson is fully dropped and ready to breed.
He successfully bred his first mare in 2016.
You can see Stetson at the FLETCHER, North Caroloina show in June -
- connect with his owner and see him for yourself!
He's the real deal!
PRICE REDUCED AUGUST 8, 2017
OFFERED AT $3,400.00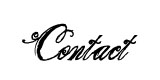 Laura Beavers
(336) 301-3776
beaverspottery@gmail.com
Located in Staley, North Carolina
(617) Ad updated 8/8/2017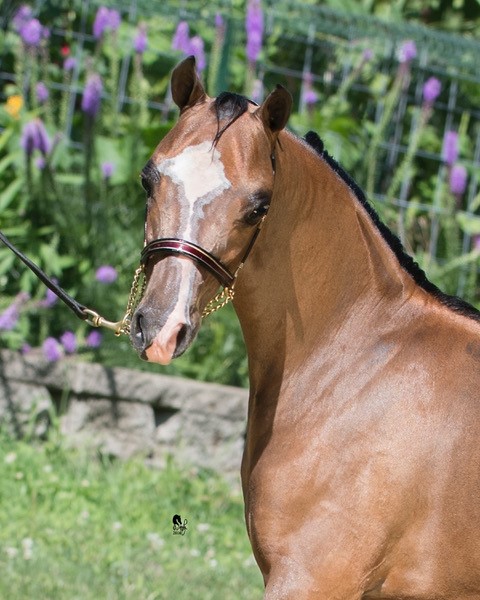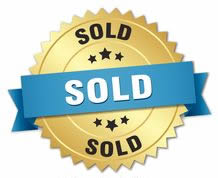 Rhapsody's Inherit The Wind
ASPC/AMHR 2016 Bay Stallion
ASPC CONGRESS CHAMPION AS A WEANLING!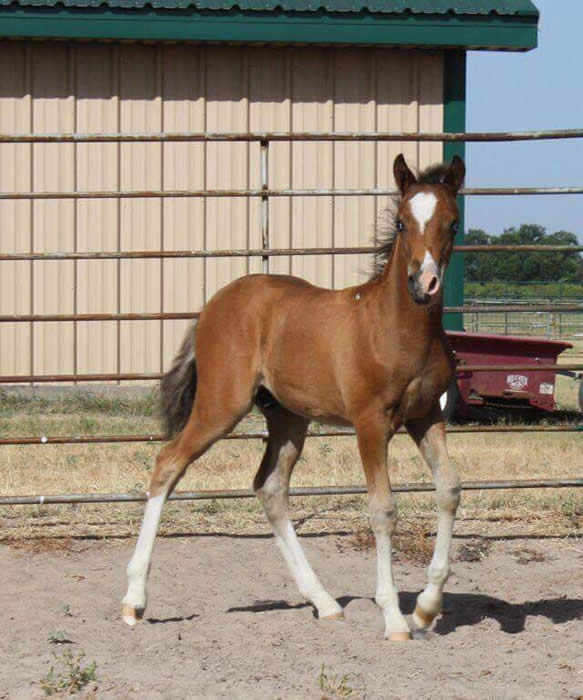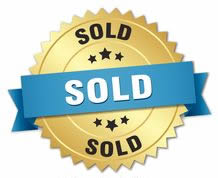 TF Hershey's For Pleasure
ASPC 2016 Bay Grand Champion SHOW Stallion
ONE OF THE VERY LAST "HERSHEY BAR" OFFSPRING EVER!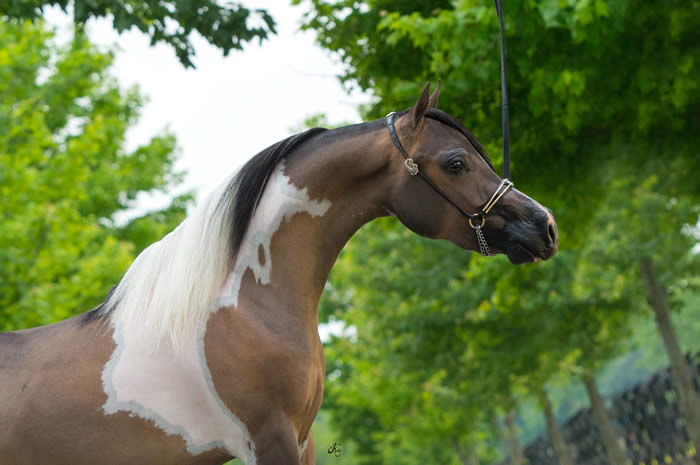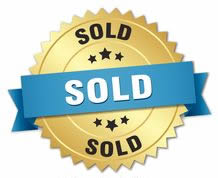 H-Lynnes Earth Wind And Fire
ASPC/AMHR 2915 FOUNDATION Certified Bay Pinto Shetland Stallion
2016 NEW YORK STATE FAIR CHAMPION STALLION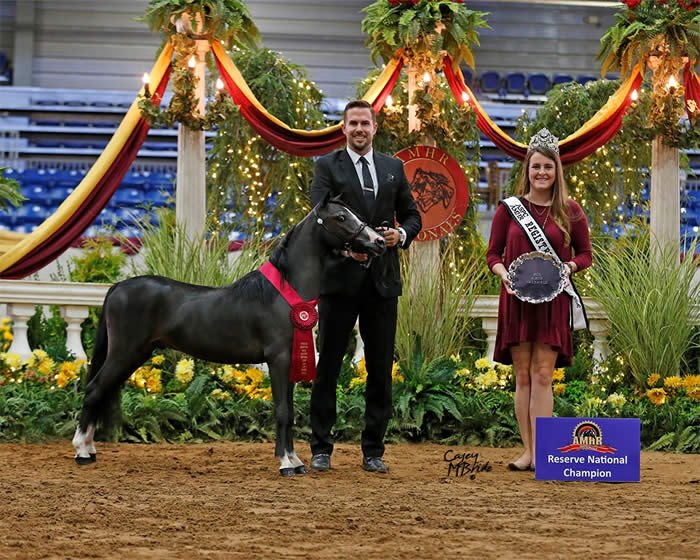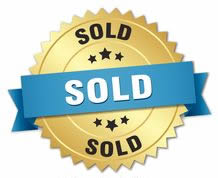 Lilac Hills Trot On The Dark Side
ASPC/AMHR 2015 Dark Bay SHOW Stallion
AMHR RESERVE NATIONAL CHAMPION IN 2016!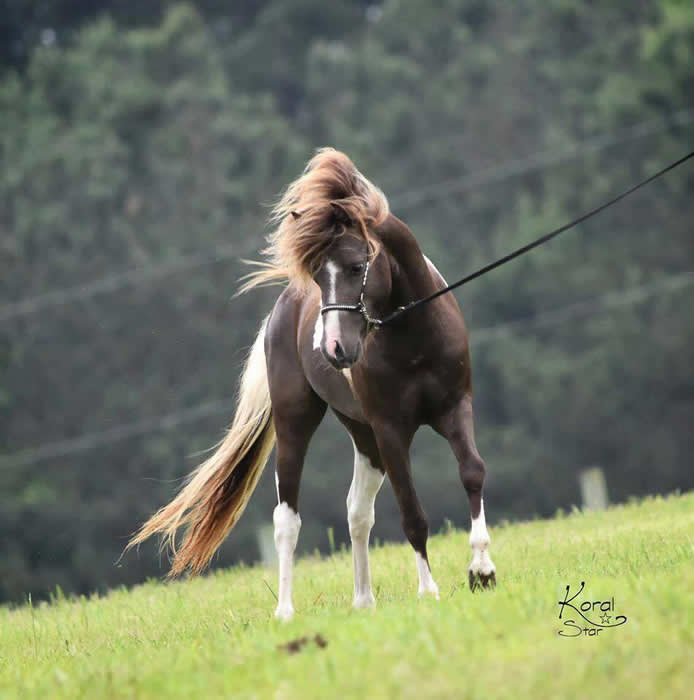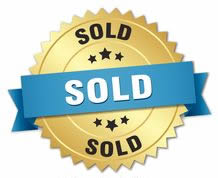 Buckeye Kakos King Of Hearts
(Lover Boy)
ASPC/AMHR 38" 2013 Silver Smokey Black PROVEN Stallion
50% ARENOSA BRED STALLION BY LEELAND ROYAL GRAND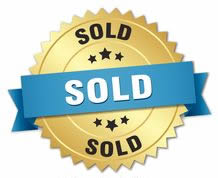 Ozark Hawks Southern Comfert
ASPC/AMHR 2014 34" Shetland Black Pinto CHAMPION Stallion
Son of TSL's Ravens Nighthawk
GRAND CHAMPION SENIOR STALLION IN 2017!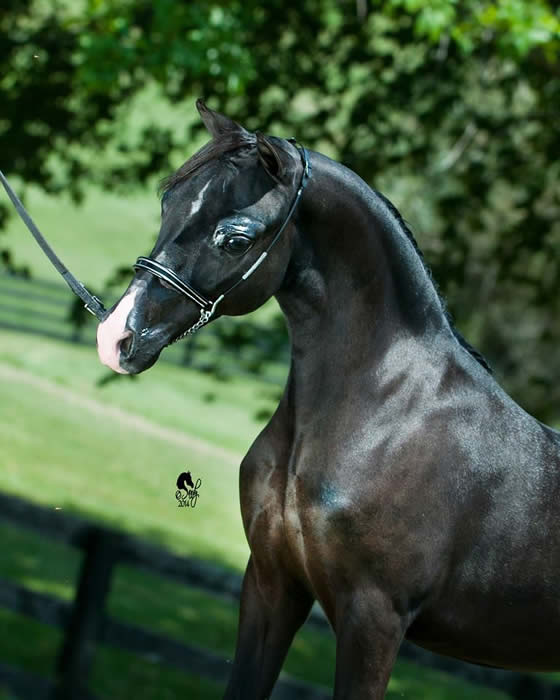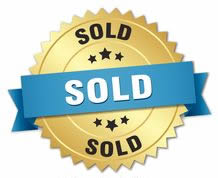 Ten Ls Tigers Night Tide
ASPC/AMHR 2013 37" Black Shetland Stallion
AMHR National Top Ten as a Weanling & Yearling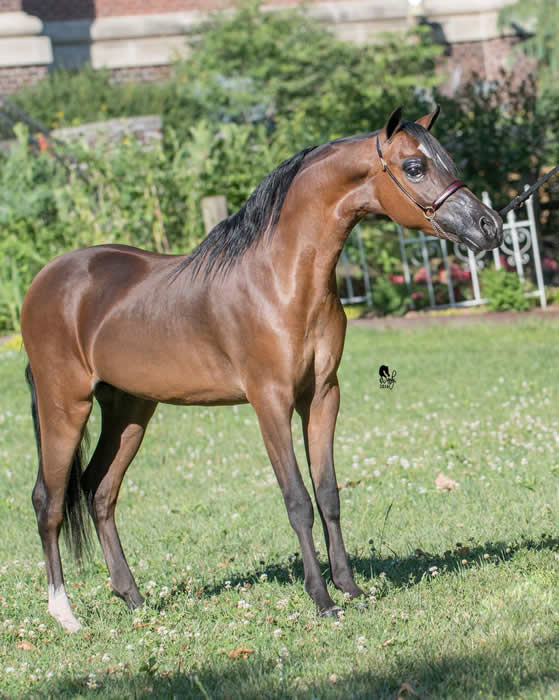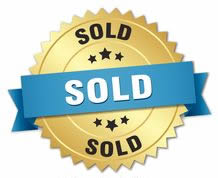 +++ NOW A 2016 AMHR NATIONAL CHAMPION STALLION! +++
Justified AN
ASPC/AMHR 2015 Bay SHOW Stallion
ASPC CONGRESS RES CHAMPION WEANLING STALLION
+++ 2016 ASPC CONGRESS CHAMPION +++
SOLD from this page
Lilac Hills Trot On The Dark Side (July 2017)
Ozark Hawks Southern Comfert (July 2017)
Ten Ls Tigers Night Tide (July 2017)
Rhapsody's Inderit The Wind (June 2017)
Buckeye Kakos King Of Hearts (June 2017)
Wetrock Race With A Passion (December 2016) Congrats to Kara Barker - Ontario
Strasslein Red E To Rumble (October 2016)
Pheasant Run - Mr, Tea (June 2016)
Platinum Image Roadmaster (May 2016)
Vermilyea Farms Dice's Black Jack (April 2016)
Ozark Mtn's Currys Treasure (March 2016)
Ozark Mtn's Rock E Charlie May (February 2016)
Erica's Pharaoh's Limitless (August 2015)
Cross Country Conquistador (June 2015)
Aalin Watch Me Wauk Away (February 2015)
MJM Wicked Pistol (October 2014)
JC's Gametime (October 2014)
Graham's Raise The Bar (Summer 2014)
SMHC I'm Just Fabulous (March 2014) Heading overseas!
Terry Jean's Fort Knox (February 2014)
Jubilations Lighting (November 2013)
Michigan's Never Out Of Style (September 2013)
Graham's Little Stylemaster (August 2013)
MJMs I'm Super Slick (August 2013)
Establo Capitan
Caldwell's Photo Finish
Shneighs Phantom Of The Opera
Caldwells Cruzin On In