Miniature Horse Mares Age 3 and Over For Sale

SRF Rising Star

(Coco)

AMHA/AMHR 2013 30" LWO+ Black Mare

KID TESTED - MOTHER APPROVED - ALL AROUND MARE

++ DRIVES ++ WINS AT HUNTER ++ LIBERTY ++ HALTER ++ OBSTACLE ++

SRF Revelation x SRF Keepsake

Foaled 7/19/2013

Coco is a tiny little mare that has already attained UNICORN status.

She's the ultimate babysitter, best friend and show partner.

Coco is trained to drive and BEGINNER SAFE.

She is often used to "teach" novice drivers to drive and improve thier confidence.

Coco is always a super star at the local AMHA, VSE and 4H horse shows, teaching young children how to show.

Coco is patient and tolerant - sweet and quiet with just the right amount of spice.

This black beauty was bred by the prestigious World GRAND CHAMPION producing farm, SAWMILL RIVER FARM (SRF) and she exemplifies the quality and beauty the farm is well known for.

in 2020, she was entered in the online Miniature Horse video horse show where she placed FIRST in a tough class of 33 horses!

(watch her winning round below!)

COCO WOULD LOVE HER OWN YOUTH, NOVICE AMATEUR OR FAMILY WITH KIDS!

She is located in Massachusetts but will be heading the the AMHA World Show in Fort Worth Texas and can be picked up there.

She is entered in many performance classes at the show and her new owner can take Coco AND her winnings home from Fort Worth!

Coco has never been bred.

She is DNA tested Ee aa nCR LWO+ and could be an asset to any fine breeding program; one that is knowledgeable in the care required in breeding very small mares.

Videos and additional photos available on request.

A NON-REFUNDABLE DEPOSIT WILL HOLD HER FOR HER LUCKY NEW OWNERS!

PRICED FAIRLY AT $3,600.00

TO APPROVED HOME WITH REFERENCES ONLY!

THIS MARE IS TRULY ONE OF A KIND!

Sarah Murray

SANDBOX MINIATURES

(339) 364-0919

sandboxminiatures.weebly.com/

Located in Carver, Massachusetts

(020122NX) Ad updated 7/27/2021
Vista Valley Striders RedSexyStrass

(Strass)

AMHA/AMHR 2018 33" Chestnut SHOW Mare

READY TO SHOW OR TO BREED TO YOUR FINE STALLION

First Knights Lord Of The Ring (Strider) x Flying Hearts Winnie Bee

Foaled 5/11/2018

FULL SIBLING TO MULTIPLE WORLD CHAMPIONS!

"Strass" is sired by the AMAZIMG multi World GRAND CHAMPION stallion and World GRAND producing sire, "Strider".

Her dam, Winnie Bee" has produced many top show horses.

Strass's most notable full siblings are:

FIRST KNIGHT STRIDERS BLACK SATIN - 2x World Champion; Res World Champion

FIRST KNIGHT STRIDERS RED STILETTO - World Champion; World GRAND CHAMPION

We'd LOVE to see Strass in a show home to follow in her sibling's hoofprints.

Strass has been shown lightly as a yearling and was awarded CHAMPION Junior Mare by the highly regarded RICHARD PETTY.

WE SEE BIG THINGS IN HER FUTURE!

$4,500.00 Canadian

THIS MARE IS ONLY OFFERED FOR SALE AS WE ARE A SMALL FARM WITH LIMITED AVAILABLE SPACE!

Joan Cunningham

VISTA VALLEY MINIATURES

(250) 309-9291

vistavalleyminis@shaw.ca

Located in Vernon BC, Canada

(080221X) Ad updated 7/9/2021

STRASS

SIRE: LORD OF THE RING

(STRIDER)
FHFs Lads Shes Still Got It

(Gidget)

AMHAAMHR 2013 33" Silver Buckskin Pinto PROVEN Broodmare

HOMOZYGOUS SILVER BUCKSKIN TOBIANO (Ee Aa NCr nZ TT)
Poco De Oro Call Me Classy

AMHA/AMHR 2018 Sorrel Pinto Mare

RESERVE WORLD CHAMPION & TOP TEN JUNIOR MARE

Little Kings Veronique

AMHR Registered 2018 Dark Bay SHOW Mare

DIRECT DAUGHTER OF WA-FULL UNIQUE WAYLON

CONTACT MARKS INSURANCE AGENCY FOR ALL YOUR EQUINE INSURANCE NEEDS

The Marks Agency, Inc

Founded and focused from the customer's point of view of Equine Insurance needs.

Providing you with direct communication to a licensed insurance producer with continued customer support from application to renewals. We educate and provide proper tools for our clients to be prepared for the unexpected.

Providing Insurance while building relationships for #1 customer service!

The Marks Agency, Inc. founded by life long equine enthusiast Chandler M. Marks, is backed by the worlds leading providers for Equine Insurance needs – GREAT AMERICAN, with history dating back to 1872.

Chandler Marks

NMOTION EQUESTRIAN LLC

chandlermmarks@gmail.com

((239)980-0272

Located in Ocala, Florida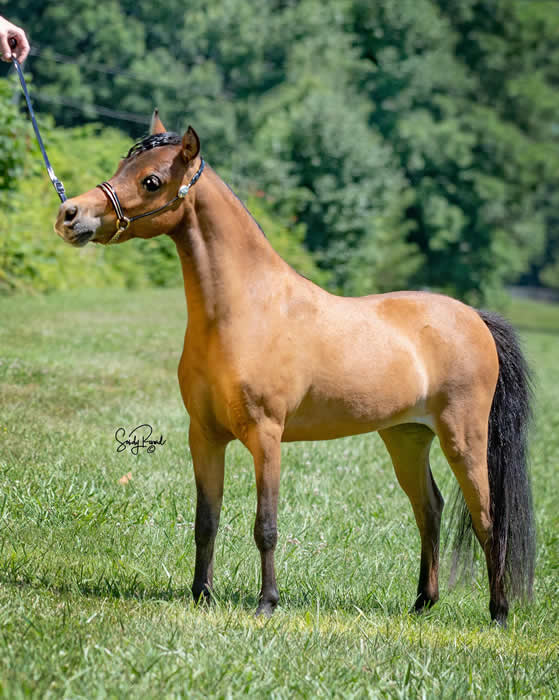 TOF Secrets Tango Bayjavu
(Bayja)
AMHA/AMHR 2017 32+" Bay Shetland Blend Mare
++++ BEAUTIFUL SHETLAND BLEND MARE ++++
Tibbs Tango Jet Ravenwood Medalions Keeping Secrets
Foaled 4/16/2017
LOVELY SHETLAND BLEND MARE READY TO SHOW OR BREED!
Bayja is refined and elegant - an easy mare to handle and eye candy in the pasture!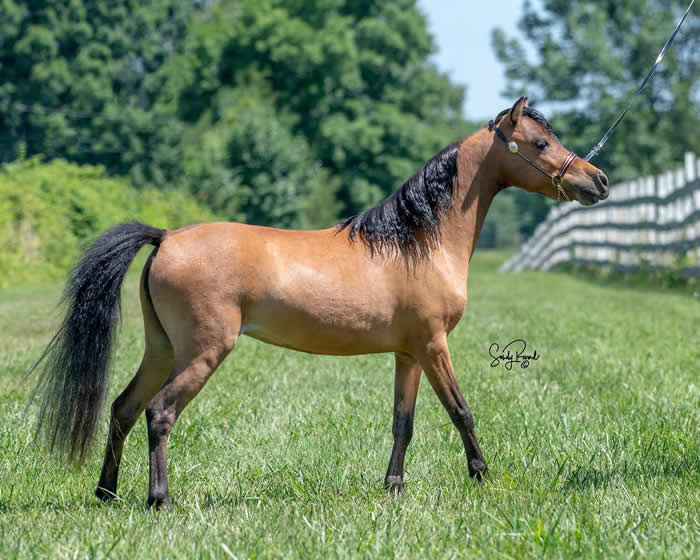 Bayja currently measures about 32" and will mature safely under 34".
This bay beauty would make a talented, competitive Senior Mare in 2021 -
- or breed her to your fine stallion for a show quality, Shetland Blend foal!
Bayja has an impressive pedigree.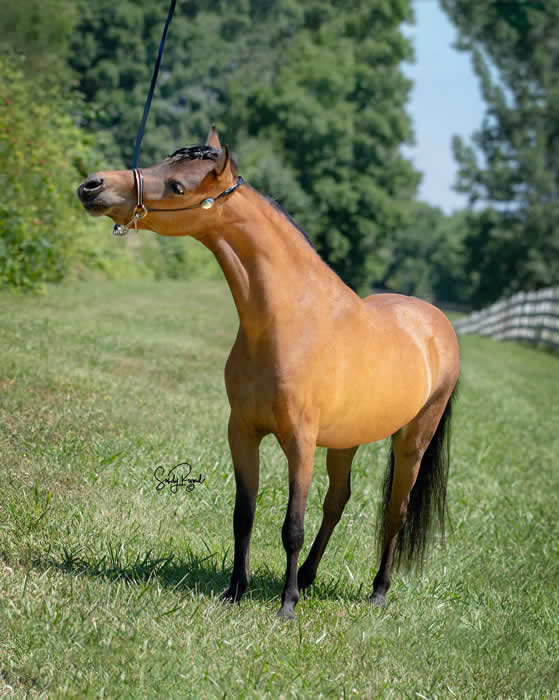 Her dam is a 2x AMHA World Champion by AMHA National Reserve GRAND CHAMPION Stallion, HUNT HOUSE FARMS MEDALION.
Bayja's sire is a striking Shetland blend black stallion by the World GRAND Champion producing Triple registered sire, RHAPSODYS LATIN TANGO.
Bayja is up to date on vaccinations and hoof care. New owner responsible for Health Certificate and travel papers.
TOP PEDIGREE, OUTSTANDING CONFORMATION & EXCELLENT DISPOSITION - HARD TO GO WRONG WITH THIS MARE!
OFFERED AT $4,500.00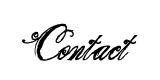 Valarie Bowman
TWIN OAKS FARM MINIATURES
squirrelyone@live.com
(703) 785-5310
FIND US ON FACEBOOK Twin Oaks Farm
Located in Catlett, Virginia
(090121X) Ad updated 6/7/2021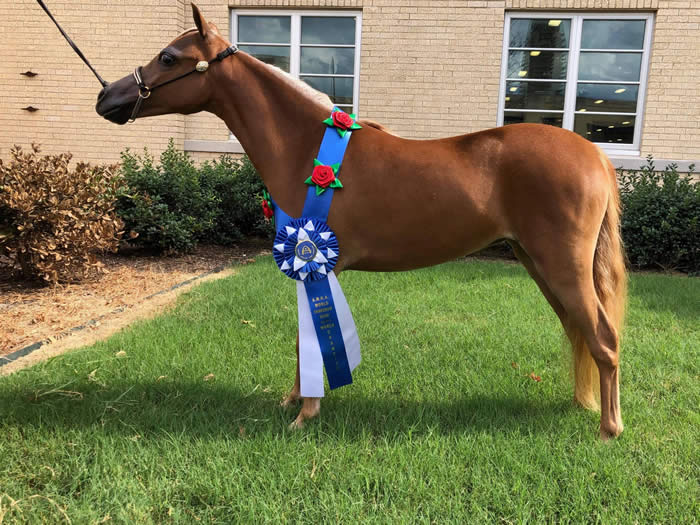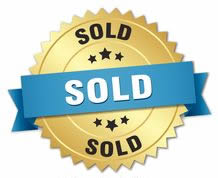 JSW Mona Lisa
AMHA/AMHR KyMHBA Nominated 2018 33" Sorrel Mare
MAKE MONEY WHILE YOU SHOW HER IN AMHA SHOWS!


MARES SOLD

FHF Lads Shes Still Got It (July 2021)

Poco De Oro Call Me Classy (June 2021)

Little Kings Vernoique (June 2021)

Little Kings Affectionique (May 2021)

Olympian Idols Baby Talk (May 2021)

JSW Mona Lisa (April 2021)

Oak Bay Salsas Shadow Dancer (February 2021)

Ravenwood Honor And Remember (February 2021)

Tibbs Cinderella Sovereign (December 2020)

Oak Bay Salsa Stilettos (December 2020)

Minners Amadeus Rumor Has It (June 2020)

Finchwoods Moon Over Miami (May 2020)

Hopkins Invincible Image (April 2020)

Modern Candymans Reba (March 2020)

Winning Streaks Miss Lavonna (December 2019)

Aloha Acres Charmed By The Lite (June 2019)

Silver Meadows Is That A Jet (January 2019)

Pacific Calico Cutie (November 2018)

Wiltz Farm Show Me The Candy (November 2018)

7S Mavericks Parting Gift (September 2018)

Libertys Sugar Cat (August 2018)

At Last Extravagance (July 2018)

Designer Infinite Rouge Lady (April 2018)

Modern Candymans Jesse (April 2018)

Reeces Karismic Hawk (March 2018)

Knells Bey Sashay (January 2018)

Hot White Gossip SOS (October 2017)

LR Aristocrats Precious Girl (July 2017)

Avalon Farms Smoke N Mirrors (July 2017)

First Knight Platinum Princess (July 2017)

Winning Streaks Elegant Miss (June 2017)

Cedar Rails Elegant Dreamgirl (May 2017)

Caldwells Wind Beneath My Wings (May 2017)

Brookhavens April In Augusta (March 2017)

First Knight Champagne And Diamonds (March 2017)

SRF Belle Heir (February 2017)

Junior Bear Magnificent Moment (January 2017)

Ravenwood Roll The Dice (January 2017)

Diamond Ts Designed To Shine (January 2017)

Rivenburghs Jess Kinky Boots (November 2016)

OceansEast Secrets Bella Columbia (November 2016)

TMF Lavender N Lace (November 2016)

JMW Rebs Sirius Lee Sensational (May 2016)

Candylands French Kiss (April 2016)

LM Hennesseys Blue Angel (April 2016)

Ravenwood Champagne Memories (April 2016)

Dew's Miss Katie Scarlett My Oh My (March 2016)

Dews Shareeks Bonnie Blue Valentine (February 2016)

Rivenburghs Jess Sunrise Surprise (February 2016)

Happy Times Chips Harmonie (January 2016)

Lazy Creeks Rowdy Lil Hawk (December 2015)

Darrahs Princess Nadean (December 2015)

De Chevals Windsong Of The Night (September 2015)

Quintessa Tributes Lokoya (May 2015)

Buckeye WCF Sushi Dancer (May 2015)

SRF Riviera (April 2015)

Little Achers Feona (April 2015)

Finchwood Smokin Hot ShezaShowgirl (April 2015)

Cherryville Luxors Rio Jubilee (April 2015)

Fallen Ash Farms Sienna Buck (January 2015)

LR Aristocrats Champagne Lady (December 2014)

Little Kings Russian Delight (December 2014) Sold to Indiana

Aloha Acres A Moment In Silence

Vermilyea Farms Impressive Queen (December 2014)

Vermilyea Farms Errotica (November 2014)

LM Idols Baby Blue (October 2014)

Hunterberry Hill Angelina Ballerina (September 2014)

Conders Happy Happy Happy (August 2014)

Alamos Buck Echo Feverette (August 2014)

Allure Ranch Spirits Class Act (July 2014) Heading to South America

Little Kings Bantam Buttercup (June 2014)

Scott Creek Ribbon Royale (June 2014)

OceansEast Secrets Midnight Madness (June 2014) Sold to NH!

KMA Miss Belingo BTU Buckeroo (May 2014)

Lymricks Vegas Showgirl (April 2014)

Junior Bear Betcha Mega Bucks I Can (April 2014)

Oak Parks Are You Delilah By Chance (March 2014)

EaglesNest Unos Secret Glory (February 2014) Sold to ALASKA!

Poco De Oros Regalos Ritzy N Red (February 2014) Heading to Vermont!

Abrias Signature Exclamation (February 2014) Going to Europe!

LR Aristocrat Champagne Lady (January 2014)

Winning Streaks Miss Brios (January 2014)

Poco De Oro Memoirs Misty Rose (December 2013)

Mystic Shadows Carmel Delight (November 2013)

Hennessey Hawk Precious Angel

Rainbow Ridge Chelseas Mona Lisa (November 2013)

Rainbow Ridge Bernies Lucky Seven

DSB Sassy Sami

2Bs Patsys Tribute To Gina

Rainbow Ridge Tiny Dancer

Stars Geisha

Hytide Burnin Love

Havencrofts Satin Charm

SRF Vanity Flaire

SBS Confettis Sheer Elegance - Congrats to Janae Benton!

LM Idols Rihanna Hawk

Mochas CC Cherokee Treasure - Congrats to Ginny Gonsolves!

Frost Hill Apache Love Note

Frost Hill CC Forget Me Not