Miniature Mares Age 3 and Over

Hopkins Invincible Image
(Vinnie)
AMHA/AMHR 2016 Black Pinto Mare
TRAINED TO DRIVE - READY TO BREED OR SHOW
Alliance Unforgettable Image x Ravenwood Aristocrats Painted Envy
Foaled 3/30/2016
QUALITY MARE READY TO BREED OR SHOW!
Vinnie is already an accomplished show horse with many Championships and 2 AMHA World Top Tens to her name.
She's a super sweet mare with a kind and willing attitude.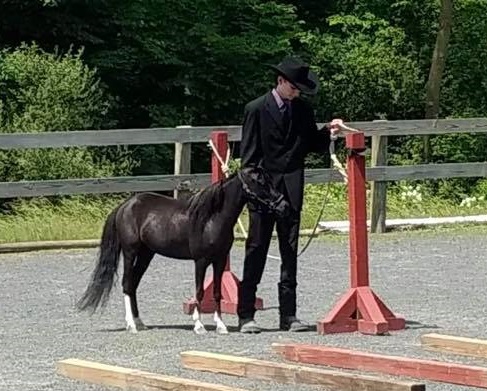 Vinnie LOVES kids and would be well suited as a youth or amateur all-around prospect.
She has been shown and handled almost exclusively by a youth.
She has training in Hunter and Trail.
Vinnie has been started in training for driving and has been driven on trails and roads.
With more miles, Vinnie will make a superstar in Classic or Western Country Driving.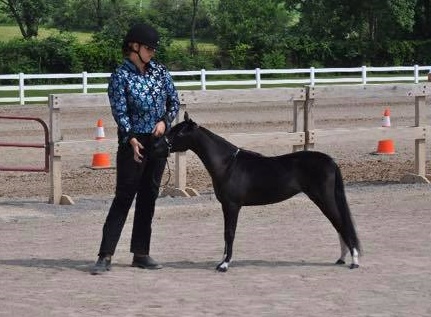 She is super easy and quiet to drive.
Her pedigree is loaded with Champions, starting with her National GRAND CHAMPION sire, Alliance Unforgettable Image.
Unforgettable Image is not only a winning HALTER horse -
- he is also a multi World Champion and World Reserve GRAND CHAMPION in Classic Pleasure Driving.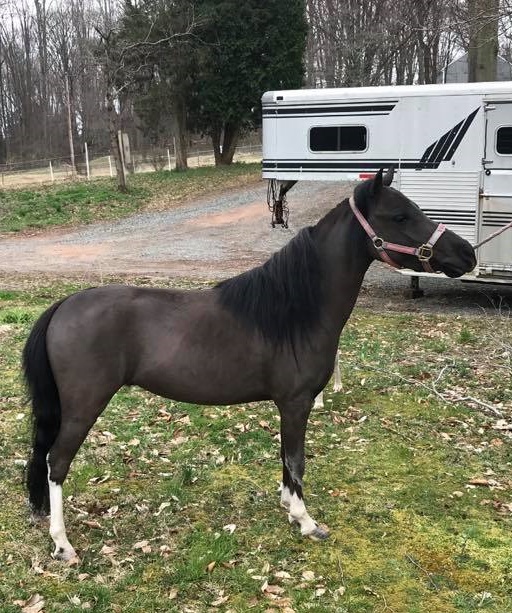 Vinnie's dam is World Champion bred as well.
She goes back to the immortal ROWDY through her World Champion producing sire, SRF ARISTOCRAT.
CONTINUE TO SHOW HER & PUT THE FINISHING TOUCHES ON HER DRIVING TRAINING
OR
BREED HER TO YOUR STALLION TO PRODUCE FUTURE CHAMPIONS.
PRICED AT $3,500.00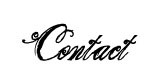 Merdena Twaddell
ROYAL T STABLES
(484) 944-4845
easylopingjoe@gmail.com
Located in Pottstown, Pennsylvania
(040320X) Ad updated 11/22/2019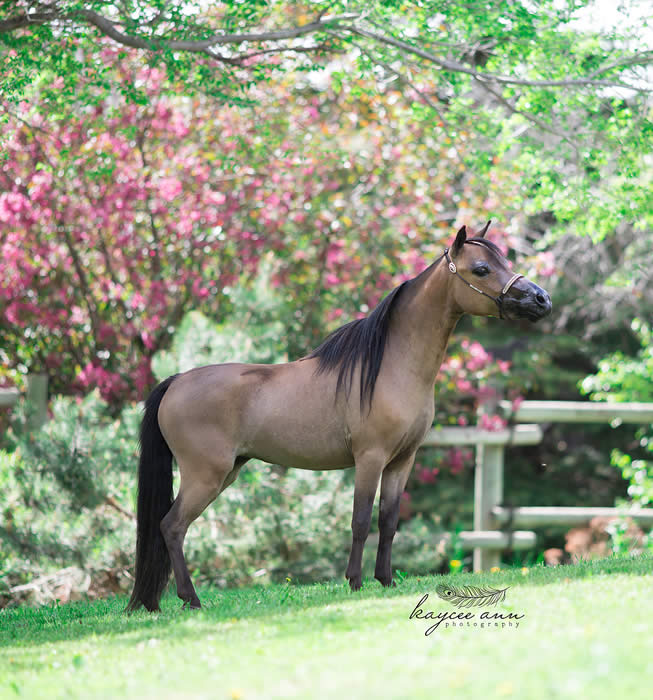 Amaretto Juan Night Stand
(Abel)
AMHA/AMHR 2012 34" Bay SHOW/DRIVING Mare
GREEN BROKE TO DRIVE & SWEET AS PIE POCKET PET!
JSW MAGIC JUAN x ROKO ROYALLY BEWITCHED BY MAGIC
Foaled 5/06/2012
Abel is a really smooth bodied mare.
She is short in the back, long in the hip & shoulder and is a big stomping mover that could go Country Pleasure.
Her sire, Magic Juan, is a versatile stallion I have drooled over for ages.
He drives, he jumps & does halter and looks great doing it!
Abel's dam Maggie was my Classic Pleasure show mare and went World Top 10 in 2011.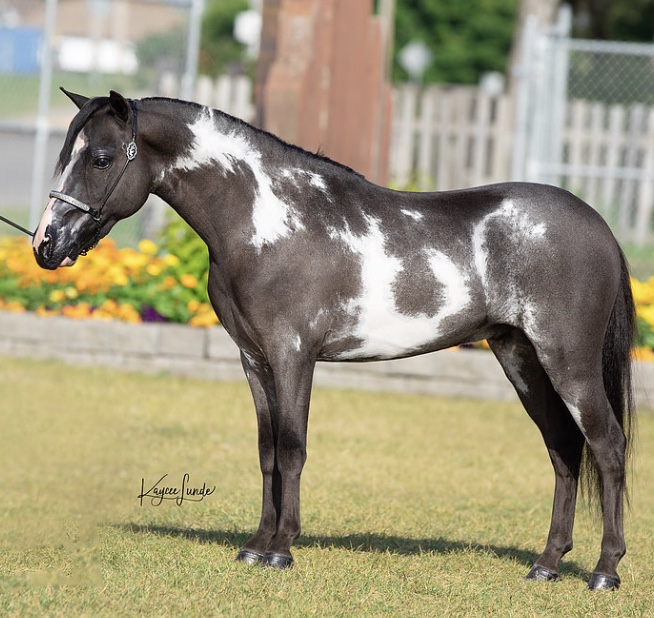 So it makes sense that Abel is built to be athletic and multi-functional.
Conformationally, Abel is the perfect building block for producing athletic show horses that can show in Halter in their younger years and then move on to be terrific performance horses.

Abel has only had 1 foal, Amaretto For One Night Only "Jamie", a loud overo colt.
(pictured at right)
Jamie has went on to be a competitive halter stallion with his new owner Taylor G and in 2019 was awarded the WCMHC Aggregate Futurity Performance Champion buckle.
We are so proud of Taylor & Jamie.
Abel has been left open the past few years by choice.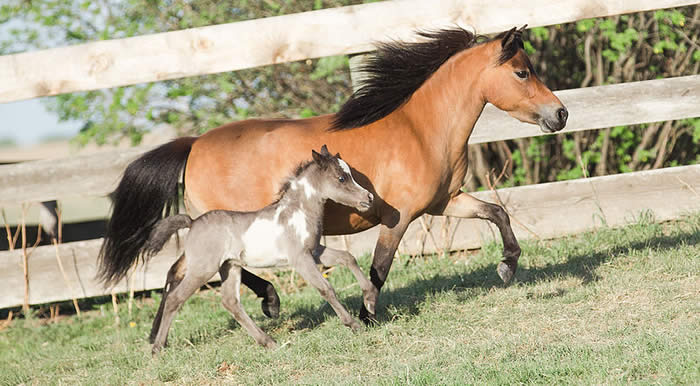 BROKE TO DRIVE AND WILL BE DRIVING THIS FALL/WINTER

Abel is an extremely well rounded mare when it comes to her conformation and natural talent!
She is green broke to drive, just needs more miles and could go Country Pleasure someday.
She was born and raised here, and has been my horse from Day 1, and I have trained her myself.
​
Abel has been left open by choice, along with most of our herd. Abel is a kind, sweetheart mare with a lot of try!
It's hard to fault her conformation and she is the type of mare that is a terrific foundation for a stallion to enhance.

$2,500.00
OPEN & READY TO BREED - OR CONTINUE HER DRIVING TRAINING AND SHOW HER IN 2020!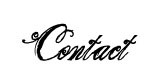 03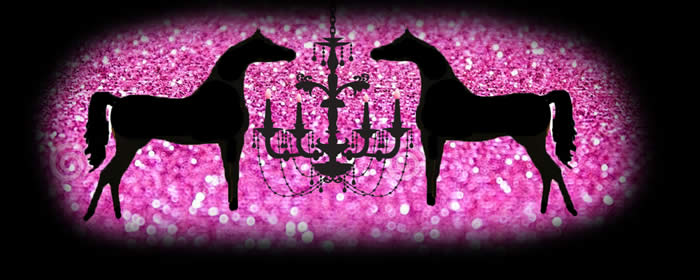 KayCee Lunde
AMARETTO MINIATURE HORSES
www.amarettominiaturehorses.com
(403) 305-1561
kLunde@live.ca
Located in Calgary, Alberta Canada
(032620X) Ad updated 11/21/2019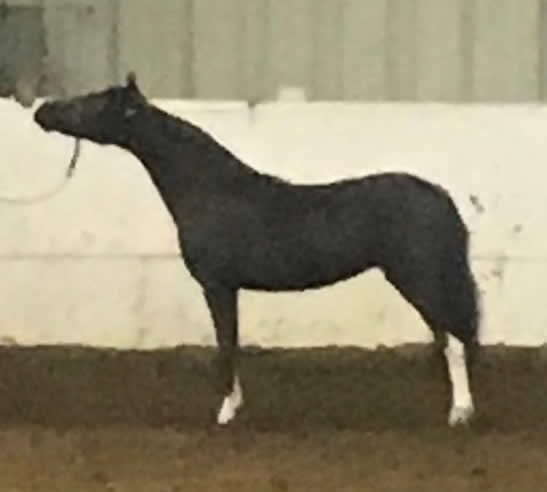 Winning Streaks Miss Levonna
AMHA/AMHR 34"+ 2016 Black SHOW Mare
** AMHA WORLD & AMHR NATIONAL CHAMPION **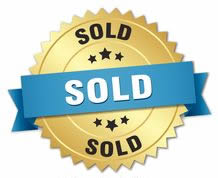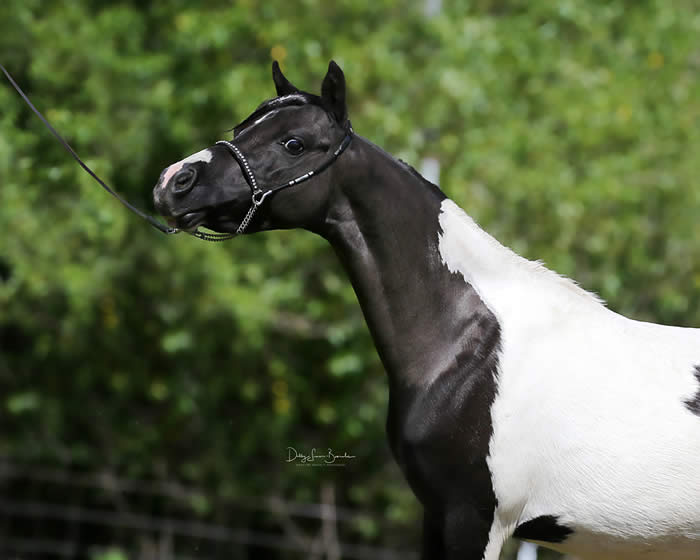 Sundance LB Magical Fiji
(Fiji)
ASPC/AMHR/AMHA Triple Registered 2011 34" Black Pinto Mare
GOING GRAND IN 2019!
FRH Fancy Wizard x Sundance LB Jakarta
Foaled 6/10/2011
Fiji is a very refined young mare with a long elegant neck that doesn't require sweating.
Fiji is friendly & willing to learn.
She will still need an experienced handler for a little longer as she has only been a broodmare.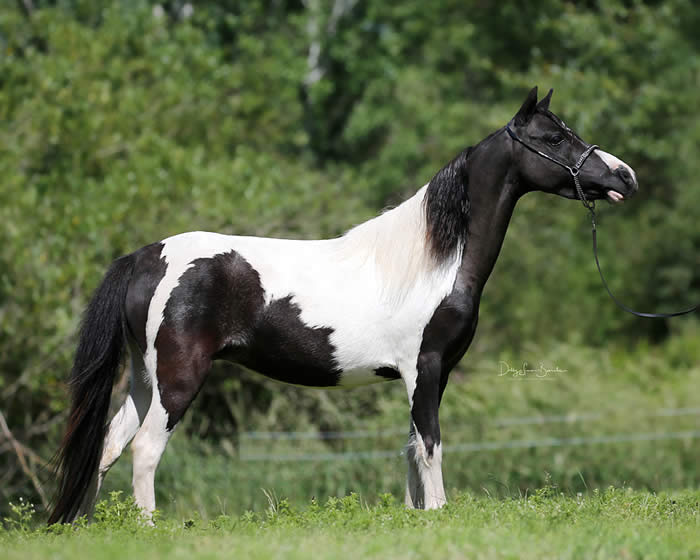 She has been shown in Multi-Color Mares in 2018 to start her AMHR National qualification.
Fifi could easily continue as a broodmare or continue to fit her up and show her
Her Arenosa pedigree could add consistent refinement to any quality breeding program.
She foals & settled easily, gets along great in a herd environment.
CAN'T GO WRONG WITH THIS TRIPLE MARE
PRICED AT $6,500.00
OFFERED BY OUR CORPORATE SPONSOR
Jessica Matheson-Vassar
SPIRIT THUNDER TRAINING
(208) 446-8816
pinaraloosa@aol.com
Located in Idaho
(010619X) Ad updated 9/20/2019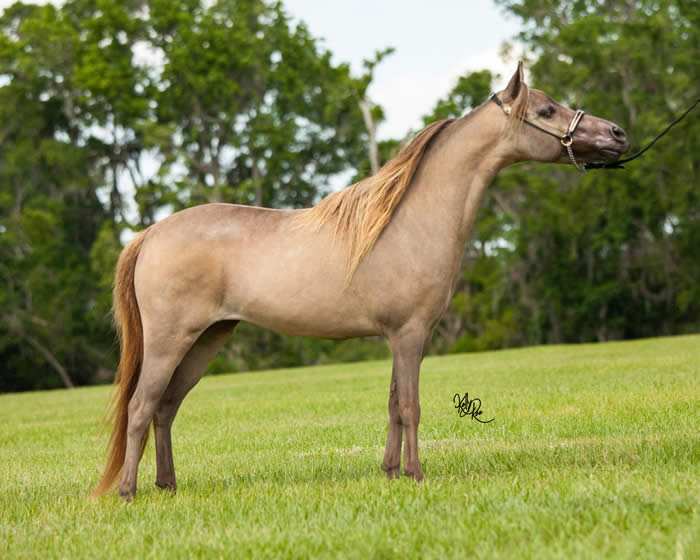 LM Idols Creme Brulee
(Creme)
AMHA/AMHR 2008 33" Silver Buckskin PROVEN Broodmare
SUPER SWEET & QUIET AND COULD BE A THERAPY HORSE CANDIDATE
++ 3rd A AMHA WORLDS IN YEARLING MARES OUT OF 27! ++
First Knights Billy Idol x Falcon Ridge Sheza Cool Chick
Foaled 4/19/2008
Sweet and gentle mare - ready to breed to your fine stallion of become your next THERAPY HORSE prospect!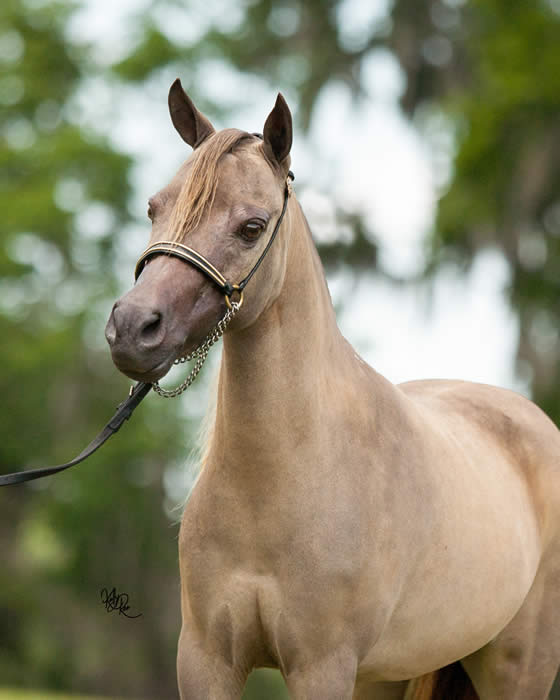 She has the most beautiful face and large, sweet eye.
She is beautifully balanced and her foal this year is just gorgeous. (He'll probably be at World's this year!!!)
She loves my young children and would be a wonderful therapy horse candidate.
Super friendly, easy to handle, good mother.
Perfect example of a miniature horse.
I'm only selling her because my stallion is her half brother so I have no one to breed her to but I am considering keeping her and using a stud.
She is a wonderful mare & priced right to ensure she finds an AMAZING new home!
OFFERED AT $2,000.00
Jennifer Williams
ALORA FARMS
Jenniferwilliams1320@gmail.com
(904) 382-1262
Located in Merritt Island, Florida
(121419X) Ad updated 7/24/2019
Precious Reflections Of Panorama
(Precious)
AMHA/AMHR 2015 32" Bay Mare
Pleasant Meadows Bucks Bay Blue x Precious Revenge
Foaled 3/31/2015
SO MUCH POSSIBILITY!
Precious is a lovely maiden mare -
- ready to breed to your stallion OR become your new show partner.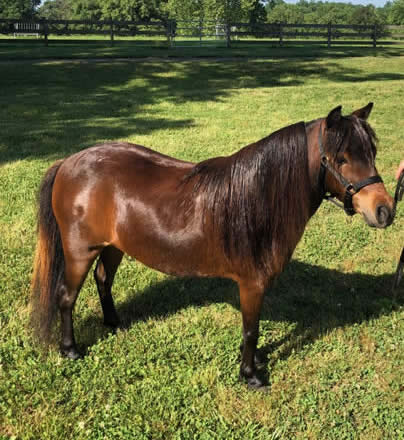 She's a sweet mare with a wonderful temperament.
Precious has many World Champions on her pedigree, top & bottom.
Let's start with her dam - WF Precious Revenge (PICTURED BELOW AT RIGHT) is a 2x World Champion and 1x Res World Champion Halter Mare.
She is a granddaughter of the 3x AMHA Get-of-Sire World/National Champion stallion, GLENNS GENERAL PATTON.
"Revenge's" pedigree also includes AMHA National Champion, LITTLE KINGS BUCK BY BUCK -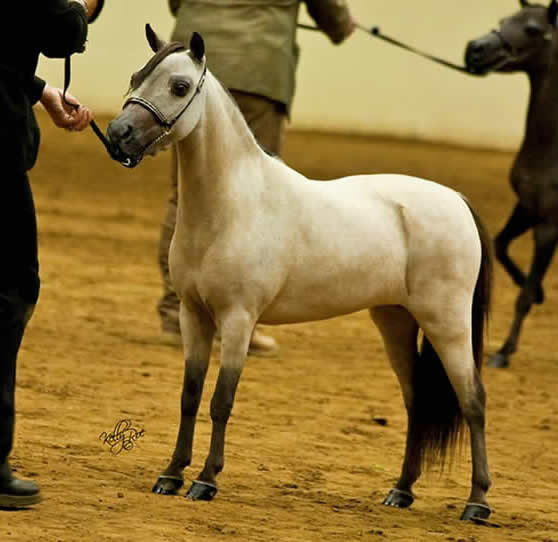 - a BOONES LITTLE BUCKEROO son who is also a maternal sibling to LITTLE KINGS WHITE RUSSIAN -
- making Revenge DOUBLE BRED Buckeroo on her dam's side.
Looking for an all-around?
Precious's sire is PLEASANT MEADOWS BUCKS BAY BLUE.
(HE'S PICTURED ABOVE AT LEFT)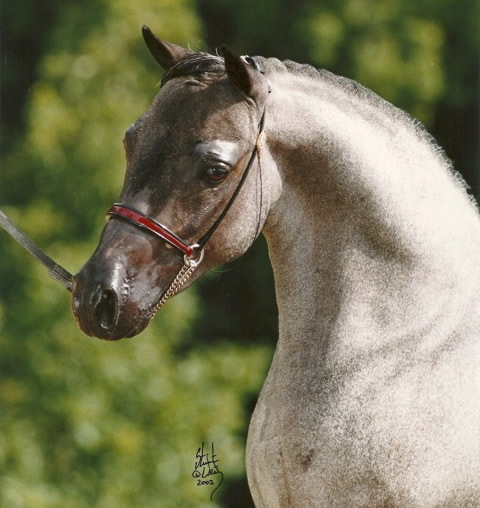 He's a 2x AMHA World/National Champion, 1x Res World Champion and Res WORLD GRAND CHAMPION in SINGLE PLEASURE DRIVING!
Precious is classically correct, good minded & ready for her next adventure!
PRICED LOW TO A QUALIFYING HOME ONLY!
PRICED AT $1,500.00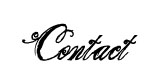 Cathy Fatigati
PANORAMA MINIATURES
(804) 925-5146
type_o13@hotmail.com
Located in Montross, Virginia
(120119X) Ad updated 7/24/2019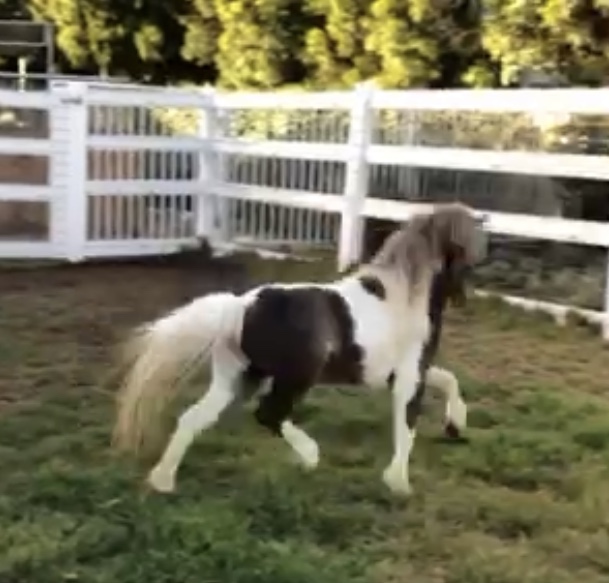 Hunterberry Hill Check Me Out
(Tiki)
AMHA/AMHR 2016 33" Bay Tobinao Pinto Mare
++ SIRED BY 3X AMHA WORLD GRAND CHAMPION SALSA SON! ++
Oak Bay Salsa Chipotle x Modern Candymans Mandy
Foaled 3/15/2016
~ OUTSTANDING PEDIGREE
~ OUTSTANDING CONFORMATION
~ OUTSTANDING COLOR
~ OUTSTANDING MOVEMENT
What's not to love?!
Tiki is a lovely pinto mare sired by 3x AMHA World GRAND CHAMPION stallion, OAK BAY SALSA CHIPOTLE.
(pictured below at right)
"Chip" now resides overseas so there will be no more offspring in the United States!
Chip is a direct son of OAK BAY SALSAMIO who has made a dramatic impact in the show ring.
SALSA has sired many World GRAND CHAMPIONS in both HALTER and in the PERFORMANCE arena.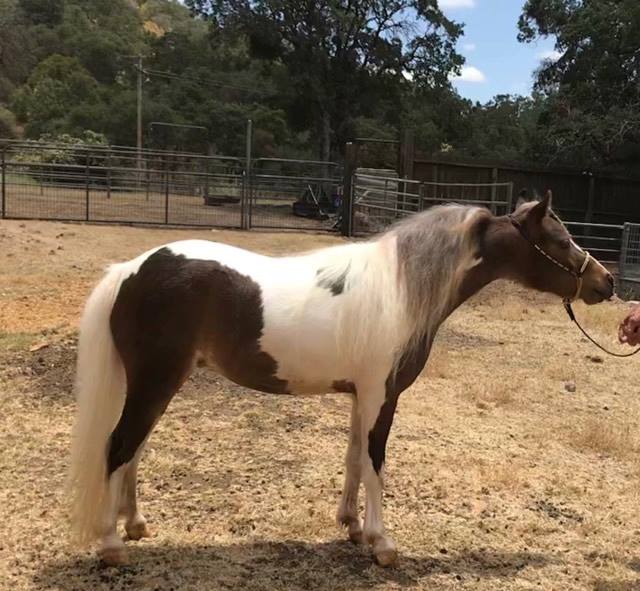 SALSA is also a 4x World Champion/Res World Champion of the coveted GET-OF-SIRE title.
And check out Tiki's MATERNAL side!
Her dam is a daughter of Modern Golds Candyman - Triple Registered sire to World and National Champions and GRAND CHAMPIONS.
"Candyman" daughters are highly sought after as broodmares for those adding Shetland lines to their Miniature Horse breeding program.
Tiki should make a competitive driving horse or a fantastic broodmare prospect.
$3,500.00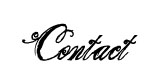 Lynne Francis
DARKSIDE MINIATURES
email address: darksideminis@yahoo.com
(805) 807- 7905
Located in California
(041219X) Ad updated 11/22/2019

MARES SOLD

Winning Streaks Miss Lavonna (December 2019)

Aloha Acres Charmed By The Lite (June 2019)

Silver Meadows Is That A Jet (January 2019)

Pacific Calico Cutie (November 2018)

Wiltz Farm Show Me The Candy (November 2018)

7S Mavericks Parting Gift (September 2018)

Libertys Sugar Cat (August 2018)

At Last Extravagance (July 2018)

Designer Infinite Rouge Lady (April 2018)

Modern Candymans Jesse (April 2018)

Reeces Karismic Hawk (March 2018)

Knells Bey Sashay (January 2018)

Hot White Gossip SOS (October 2017)

LR Aristocrats Precious Girl (July 2017)

Avalon Farms Smoke N Mirrors (July 2017)

First Knight Platinum Princess (July 2017)

Winning Streaks Elegant Miss (June 2017)

Cedar Rails Elegant Dreamgirl (May 2017)

Caldwells Wind Beneath My Wings (May 2017)

Brookhavens April In Augusta (March 2017)

First Knight Champagne And Diamonds (March 2017)

SRF Belle Heir (February 2017)

Junior Bear Magnificent Moment (January 2017)

Ravenwood Roll The Dice (January 2017)

Diamond Ts Designed To Shine (January 2017)

Rivenburghs Jess Kinky Boots (November 2016)

OceansEast Secrets Bella Columbia (November 2016)

TMF Lavender N Lace (November 2016)

JMW Rebs Sirius Lee Sensational (May 2016)

Candylands French Kiss (April 2016)

LM Hennesseys Blue Angel (April 2016)

Ravenwood Champagne Memories (April 2016)

Dew's Miss Katie Scarlett My Oh My (March 2016)

Dews Shareeks Bonnie Blue Valentine (February 2016)

Rivenburghs Jess Sunrise Surprise (February 2016)

Happy Times Chips Harmonie (January 2016)

Lazy Creeks Rowdy Lil Hawk (December 2015)

Darrahs Princess Nadean (December 2015)

De Chevals Windsong Of The Night (September 2015)

Quintessa Tributes Lokoya (May 2015)

Buckeye WCF Sushi Dancer (May 2015)

SRF Riviera (April 2015)

Little Achers Feona (April 2015)

Finchwood Smokin Hot ShezaShowgirl (April 2015)

Cherryville Luxors Rio Jubilee (April 2015)

Fallen Ash Farms Sienna Buck (January 2015)

LR Aristocrats Champagne Lady (December 2014)

Little Kings Russian Delight (December 2014) Sold to Indiana

Aloha Acres A Moment In Silence

Vermilyea Farms Impressive Queen (December 2014)

Vermilyea Farms Errotica (November 2014)

LM Idols Baby Blue (October 2014)

Hunterberry Hill Angelina Ballerina (September 2014)

Conders Happy Happy Happy (August 2014)

Alamos Buck Echo Feverette (August 2014)

Allure Ranch Spirits Class Act (July 2014) Heading to South America

Little Kings Bantam Buttercup (June 2014)

Scott Creek Ribbon Royale (June 2014)

OceansEast Secrets Midnight Madness (June 2014) Sold to NH!

KMA Miss Belingo BTU Buckeroo (May 2014)

Lymricks Vegas Showgirl (April 2014)

Junior Bear Betcha Mega Bucks I Can (April 2014)

Oak Parks Are You Delilah By Chance (March 2014)

EaglesNest Unos Secret Glory (February 2014) Sold to ALASKA!

Poco De Oros Regalos Ritzy N Red (February 2014) Heading to Vermont!

Abrias Signature Exclamation (February 2014) Going to Europe!

LR Aristocrat Champagne Lady (January 2014)

Winning Streaks Miss Brios (January 2014)

Poco De Oro Memoirs Misty Rose (December 2013)

Mystic Shadows Carmel Delight (November 2013)

Hennessey Hawk Precious Angel

Rainbow Ridge Chelseas Mona Lisa (November 2013)

Rainbow Ridge Bernies Lucky Seven

DSB Sassy Sami

2Bs Patsys Tribute To Gina

Rainbow Ridge Tiny Dancer

Stars Geisha

Hytide Burnin Love

Havencrofts Satin Charm

SRF Vanity Flaire

SBS Confettis Sheer Elegance - Congrats to Janae Benton!

LM Idols Rihanna Hawk

Mochas CC Cherokee Treasure - Congrats to Ginny Gonsolves!

Frost Hill Apache Love Note

Frost Hill CC Forget Me Not