Driving Mares offered for Sale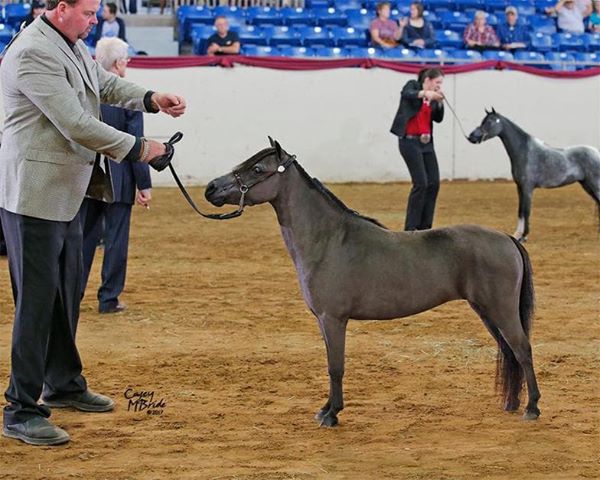 Los Arboles Endless Love
(Cricket)
AMHA/AMHR 2012 32" Black All Around Mare
+++ HER PRICE INCLUDES TWO ADDITIONAL MONTHS OF DRIVING TRAINING WITH HER CURRENT TRAINER +++
SELLS WITH HER LUTKE HARNESS!
LM Idols Hy Flyin Hawk x Buckeroo Love Affaire
Foaled 3/18/2012
Cricket is a beautiful and exotic black Miniature Horse Mare.
She has a pretty Arabian style head, straight legs and a good hip.
Cricket is a 2017 AMHR National Top Ten 3 & Over Mare, 30-32"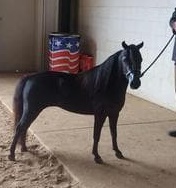 When show ready, she has a deep coal black, glossy coat and has won in Solid Color Mares also.
In 2017, Cricket had 6 months professional halter training with Darin Southwick.
In 2019 Cricket entered performance training with Lorreta Johnloz of Hitchin' A Dream.
She was taught to ground drive and after 3 weeks, was hitched. 
She behaved in a willing and cooperative manner.
Her trainer says she handles new situations very well and is not spooky.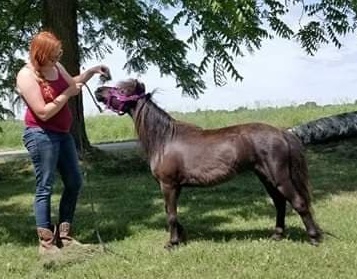 She has been hitched for 6 weeks now and becoming a very lovely Country Pleasure Mare. She turns well, stands patiently.
She is peppy and forward, but not hard to drive.
She needs more miles and work on her headset to be finished.
She can be driven by an intermediate teenager or adult at this point .
She also has training in Liberty and In-Hand Obstacle!
She enjoys Liberty and shows off her flashy trot! She is excellent at Obstacle.
She climbed a tire pyramid the first time with ease and no hesitation.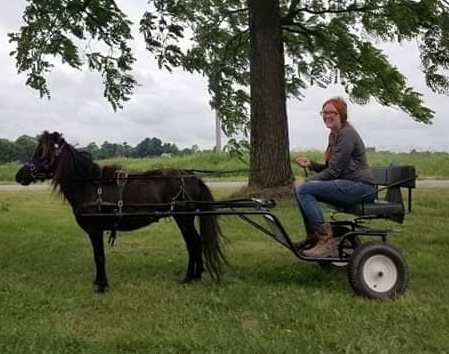 She is easy to handle in-hand and has been put thru her paces by a child.
Cricket has a very desirable pedigree, with First Knights Billy Idol and Boones Little Buckeroo as her grandsires.
Champion Farms Nighthawk is her great grandsire.
Cricket has a friendly and willing disposition.
Cricket is green broke to drive and will make a stunning Country Pleasure Horse with a elegant trot and natural presence.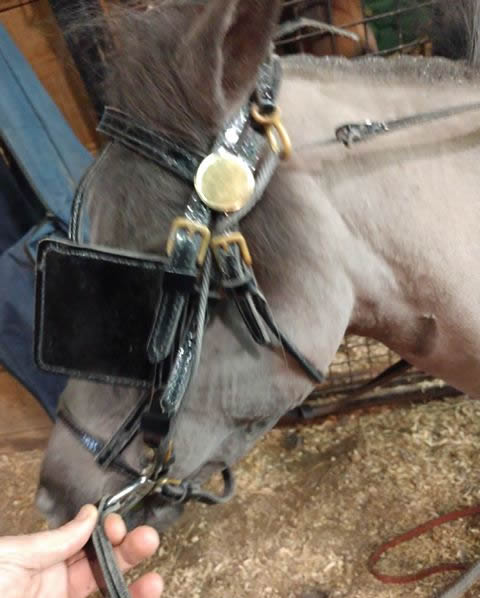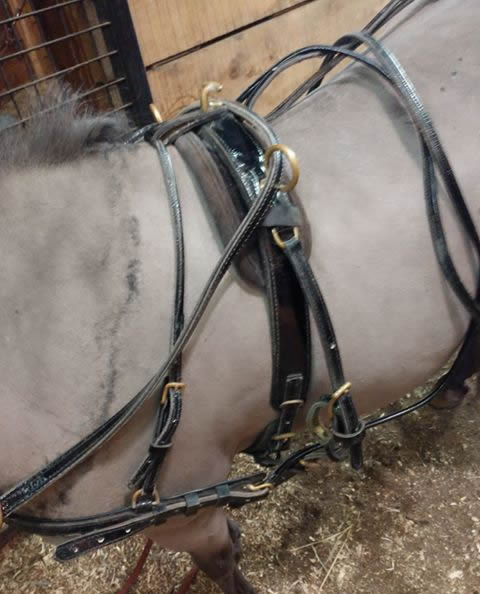 +++ CRICKET SELLS WITH HARNESS IN PHOTOS ABOVE! +++
(horse in photos not included!)
Cricket has been trained in both Liberty and Halter Obstacle, and can be handled by a youth.
Cricket will make a exceptional broodmares, with her fine pedigree and conformation.
OFFERED AT $3,500.00
PRICE INCLUDES TWO FREE MONTHS OF TRAINING WITH HER CURRENT DRIVING TRAINER!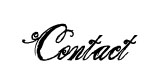 Wendy Steerman
OLE COUNTRY ROAD MINIATURES
Website: olecountryroadsminis.com
wendyluvsminis@hotmail.com
(989) 475-4977
Located at her trainer's farm in Sherwood, Michigan
(010620X) Ad updated 8/3/2019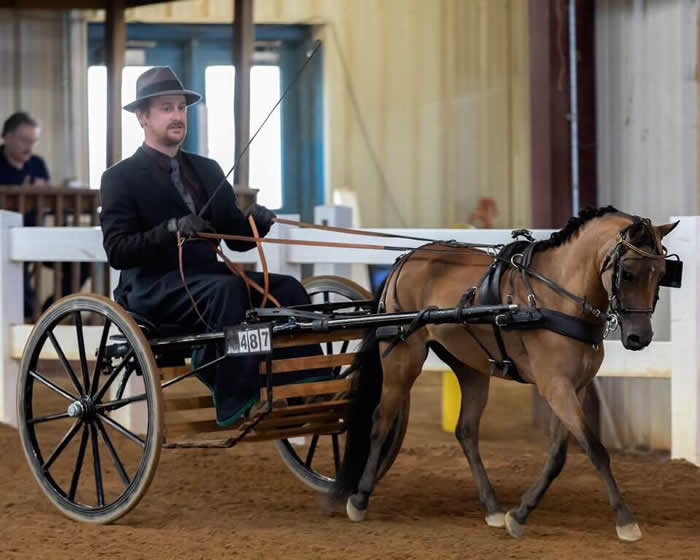 TMF Bombay Sapphire On The Rocks
ASPC/AMHR/AMHA 34+" Triple Registered Bay DRIVING Mare
MORE INFO COMING SOON
Located in Massachusetts
Will be at AMHR Nationals in September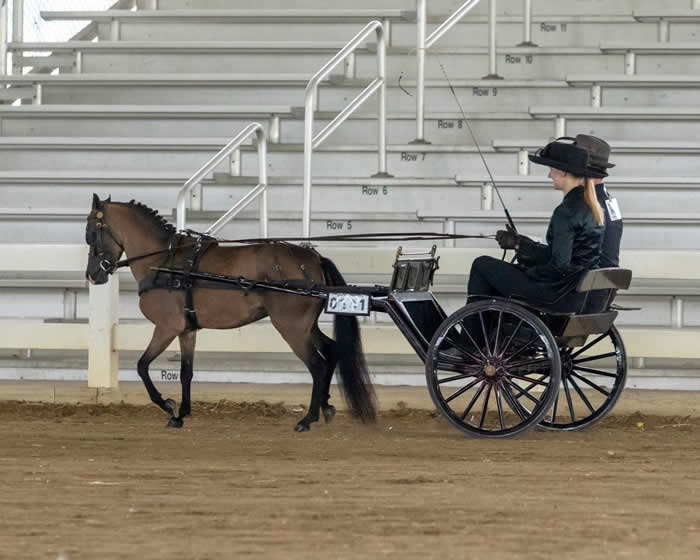 SOLD from this page:
At Last Extravagance (September 2018)
Rayvik Storms Fancy New Dew (May 2018)
Quinitessa Valentina Di Dominus (March 2018)
Dayspring Beth Eden January 2018)
Classic Views Phantom Girl (November 2017)
"Sara May" (September 2017)
Samis Exotic Dancer (February 2017)
Running Brooks Black Velvet (January 2017)
Century Oaks Velvet Jewel (October 2016)
Little King Sheza Swan (May 2016)
Mulligans Run Dreams Rogue Dancer (November 2015)
MRMs Chivas Regal (September 2015)
Mini Ridge Jazz Dancer (August 2015) Heading Overseas!
Buckeye WCF 1 Hot Unforgettable (July 2015)
MiniMotions I Fancy Dapper Dan (March 2015)
Buckeye WCF Summer Dance (July 2014)
Lymricks Vegas Showgirl (April 2014) Congrats to the Weis Family
2 B Patsy Cline (March 2014) - sold to Sweden! Congrats to Eva Rubin!
MTC Scarlett Lass (February 2014) Congrats to Kim Audet