Driving Mares offered for Sale
At Last Extravagance
(Rosa)
AMHA/AMHR 2013 34" Bay DRIVING/HALTER Mare
+ DAUGHTER OF BOLERO - OUT OF WORLD GRAND CHAMPION MARE +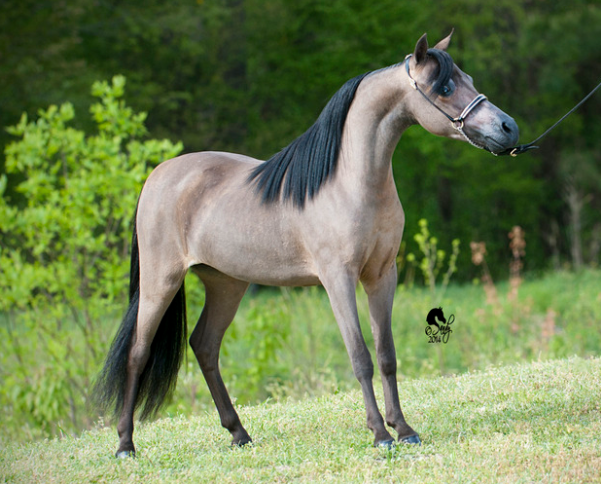 SMO Bolero De Suerte   x    Fallen Ash Scouts Real Rosy
Foaled 3/10/2013
Looking for a sure-fire winning all-around? Your search is over!
Rosa is a GORGEOUS daughter of World Champion Get-of-Sire "BOLERO" who needs no introduction.
Bolero is a multi World and National GRAND CHAMPION producing stallion.
His get have all inherited his extreme show attitude - they just don't have an "off" button in the show ring!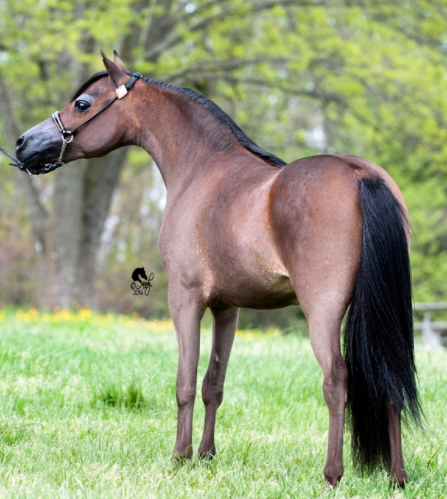 Rosa is no exception and it's easy to see why.
She not only inherited her sire's brilliant showring spark - she's easily following in her dam's hoofprints as well.
Rosa's dam is FALLEN ASH SCOUTS REAL ROSY - a 5x AMHA National Champion, AMHA Res National Champion and AMHA National GRAND CHAMPION Amateur Mare. Her show career spanned three years - winning each year that she was in Fort Worth.
Not only was Rosy and exceptional SHOW mare, she's is producing champions as well.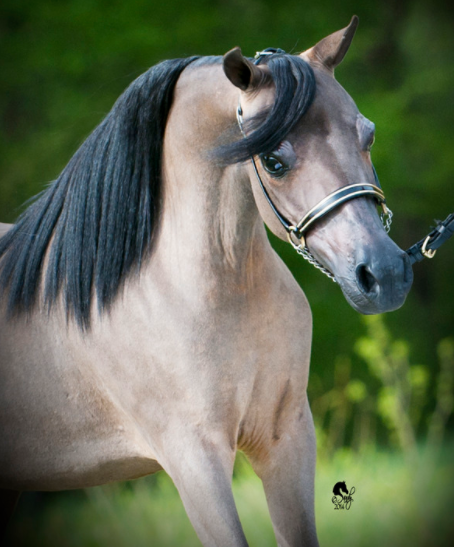 Her offspring include:
AT LAST RELENTLESS PURSUIT - World Champion ansd 2x Res World Champion
ERL BUCK BE A LADY - 2x World Champion
ERL BANG FOR YOUR BUCK - World Champion & World Res GRAND CHAMPION Futurity
Rosa is a delight to have in the barn.
She is easy to handle and an experienced show horse.
This mare is a Regional Champion in Youth Halter (Senior Mares) and a Grand & Res Grand Champion Senior Mare at local rated AMHR shows.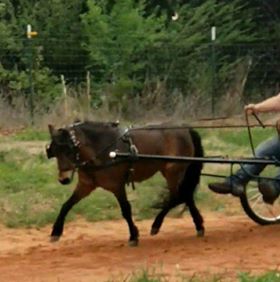 She is also beautiful in the cart!
If the observer didn't know it, they would think they are watching a 16 hand Hunter Under Saddle Thoroughbred.
She will drive Classic or Western depending on where her new owner would like her head set.
Rosa has several Stakes wins in Western Country Pleasure Driving with limited showing.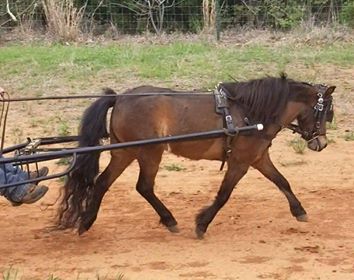 She has also been started over fences.
Rosa has not been show extensively due to the fact that JoVon has so many World/National titled driving horses in their barn.
NO DOUBT she has the potential to earn those titles herself.
Not looking to show? Rosa's pedigree makes her IDEAL as a broodmare t00 -
her Shetland blend lineage would be an asset to any top breeding program.
PRICED AT $5,000.00
Contact Leigh Murray to inquire on this talented & beautiful mare!
OFFERED AT $5,000.00
JOVON MINIATURES
Leigh Murray
2920 Quail Ridge Street
Stillwater OK 74074
(405) 714-8595
murr_maid@hotmail.com
Located in Oklahoma
(110418X) Ad updated 5/4/2018
Westwind Farms Amazing Signature
(Maizie)
AMHA/AMHR 2008 32" Silver Bay Tovero Pinto DRIVING Mare
AMHA 3X WORLD CHAMPION DRIVING MARE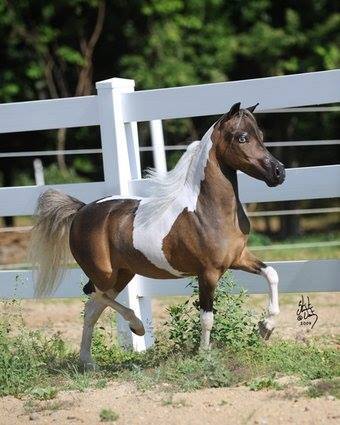 Champion Farms Sirs Signature x Abrias Majestic Grace
This HUGE moving mare certainly lives up to her name - AMAZING!
Maizy is PROFESSIONALLY trained to drive with a PROVEN show record.
She's a 3x AMHA World Champion. Her wins include:
2011 World Champion 3 Year Old Single Pleasure Driving
2011 World Champion 3YO Single Pleasure Driving Futurity
2012 World Champion 4YO Country Pleasure Driving Futurity
Maizie is also an AMHA Regional GRAND CHAMPION Halter Senior Mare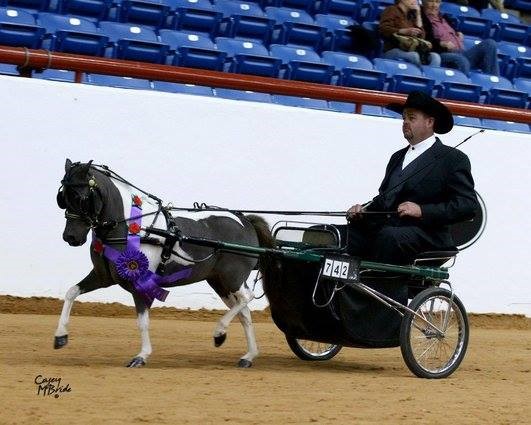 She's not a kid's horse as she's forward and bold but completely suitable for an experienced amateur that wants to compete at the World/National level.
Maizy had previously retired from the show ring and exceeded our expectations as a broodmare.
She foaled an amazing SHOW QUALITY colt that should be competitive in both HALTER and PERFORMANCE classes.
"DnN Good Time Charlie"(pictured below, at right) is a little palomino clone of his mom, complete with her natural headset, short back, powerful hip and TONS of hock.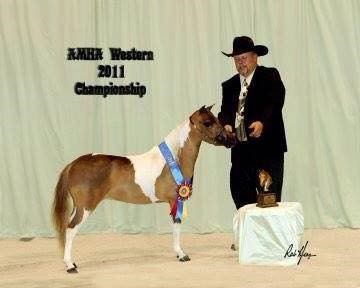 Maizy herself is one of those horses you can't take your eyes off of.
She has a beautiful, chiseled head, huge eyes, long neck and her above level movement is just icing on the cake.
Maizy's TOP pedigree adds to her value as a treasured broodmare.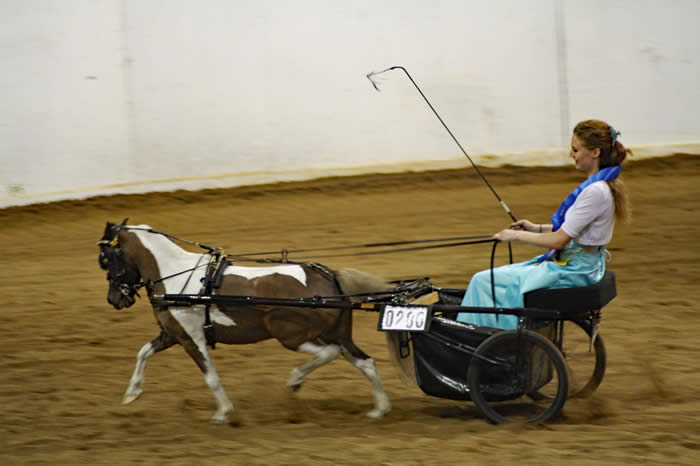 Her sire, SIRS SIGNATURE, is a 2x AMHA Res National Champion.
He's a son of the epic CROSS COUNTRY CALL ME SIRE.
For more info and to purchase contact: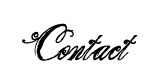 Located in Medford, Oregon
(118) Ad updated 5/11/2018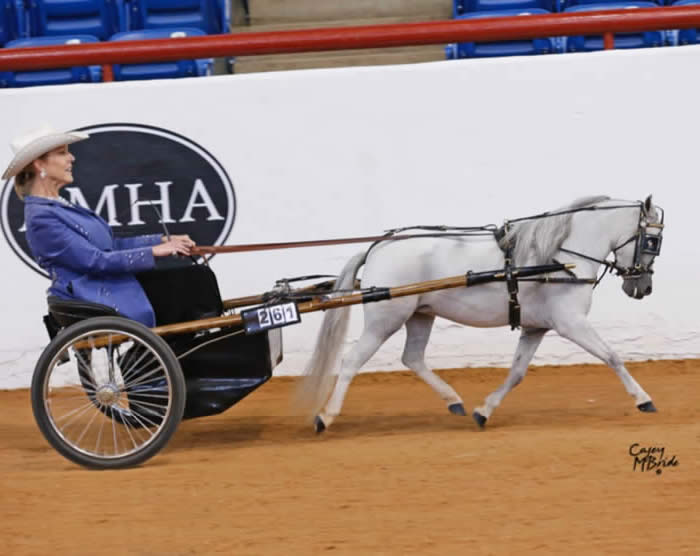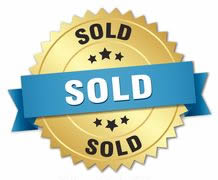 Quintessa Valentina Di Dominus
AMHA/AMHR 2009 32" Grey Pinto World GRAND CHAMPION Driving Mare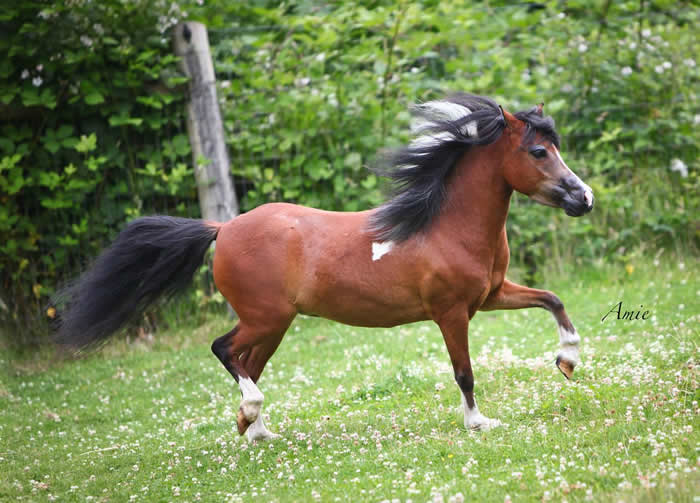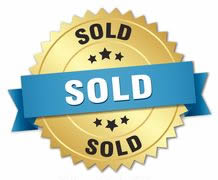 Dayspring Beth Eden
AMHA/AMHR Bay Pinto 33.5" DRIVING & All Around Mare
FULL SIBLING TO WORLD GRAND CHAMPION DAYSPRING I MEAN TO SHINE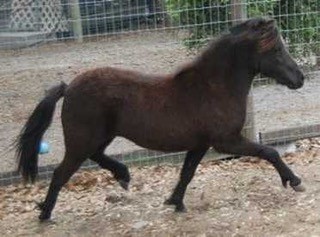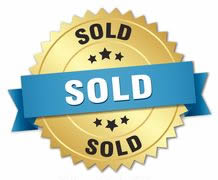 Classic View Phantom Girl
AMHA/AMHR 2011 Black EXTREME Driving Prospect Mare
GRAND DAUGHTER OF SILVER MEADOWS PHANTOM STORM
SOLD from this page:
Rayvik Storms Fancy New Dew (May 2018)
Quinitessa Valentina Di Dominus (March 2018)
Dayspring Beth Eden January 2018)
Classic Views Phantom Girl (November 2017)
"Sara May" (September 2017)
Samis Exotic Dancer (February 2017)
Running Brooks Black Velvet (January 2017)
Century Oaks Velvet Jewel (October 2016)
Little King Sheza Swan (May 2016)
Mulligans Run Dreams Rogue Dancer (November 2015)
MRMs Chivas Regal (September 2015)
Mini Ridge Jazz Dancer (August 2015) Heading Overseas!
Buckeye WCF 1 Hot Unforgettable (July 2015)
MiniMotions I Fancy Dapper Dan (March 2015)
Buckeye WCF Summer Dance (July 2014)
Lymricks Vegas Showgirl (April 2014) Congrats to the Weis Family
2 B Patsy Cline (March 2014) - sold to Sweden! Congrats to Eva Rubin!
MTC Scarlett Lass (February 2014) Congrats to Kim Audet