Premier Miniature Stallions

Stallions listed on this page are the PREMIER stallions located in the USA & Canada.
They are priced at $7,500.00 or more.
Offered to serious show or breeding homes
Nirvanas Talisman De Suerte
(Tally)
AMHA/AMHR 2012 Black PROVEN Stallion
AMHA WORLD CHAMPION TITLED SON OF "BOLERO"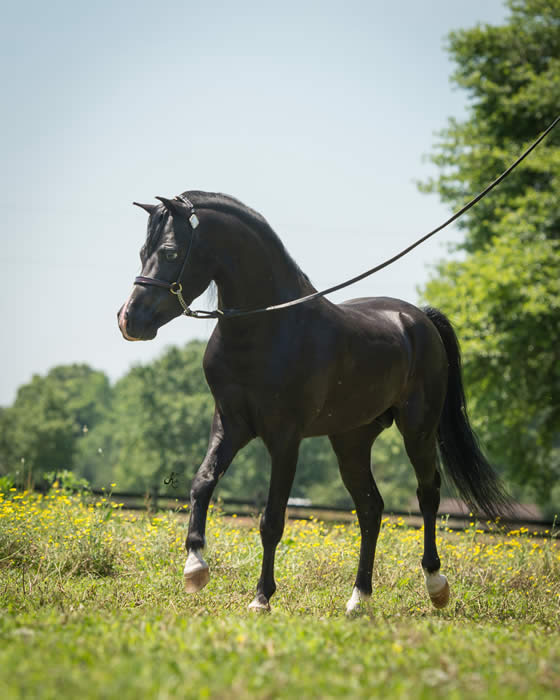 SMO Bolero De Suerte x Winning Streaks Amanda Star
Foaled 5/05/2012
NEVER THOUGHT WE'D BE OFFERING THIS STALLION FOR SALE!
Tally is a perfect match for "The Black Stallion" in Miniature!
He's EXTREME and elegant with a chiseled ARABIAN type head with ICE blue eyes.
His neck comes out high from his shoulders, blending smoothly into his ultra long, hooky neck.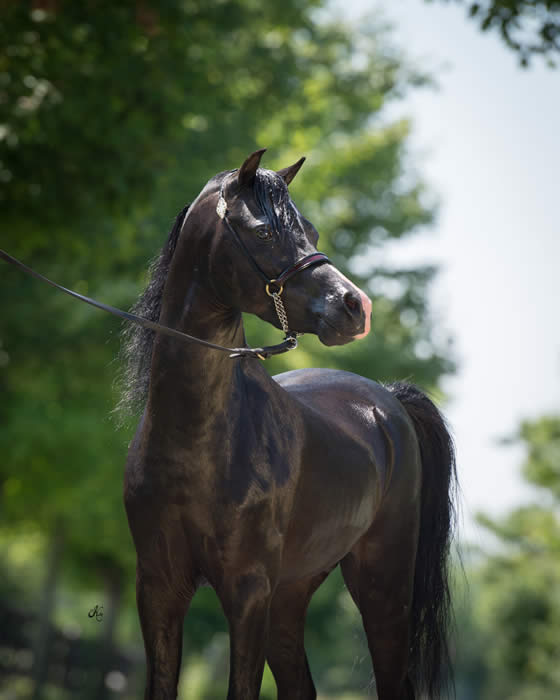 Tally was shown lightly, bringing home multiple Grand Championships, Supremes and WORLD titles.
Tally is a direct son of Get-of-Sire and multiple World GRAND CHAMPION producer, SMO BOLERO DE SUERTE (32.75) aka "'BOLERO".
Even more uniuque - Tally could possibly be the only BLACK Bolero son!
Tally has been successfully bred and his foals are outstanding.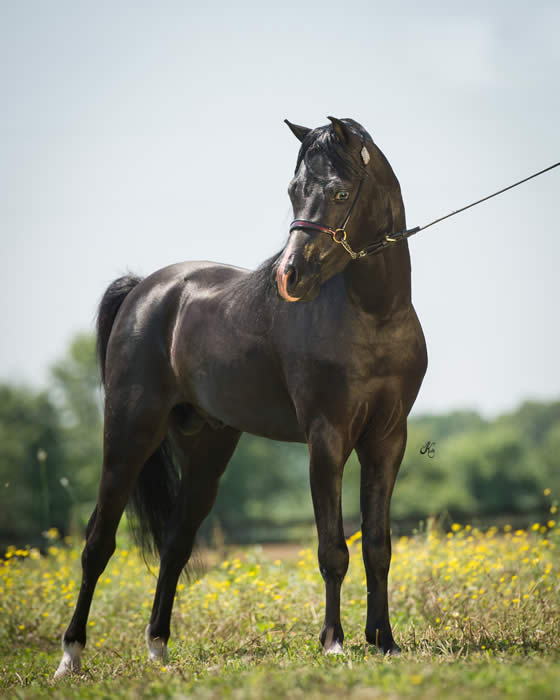 He's already produced multiple GRAND Champions with just a few foals on the ground.
One of his 2017 foals is pictured below - and is also FOR SALE.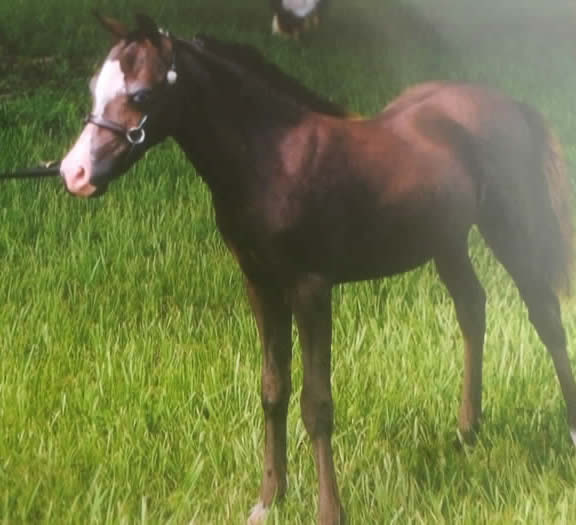 Lightening Ridge is offering other weanling and yearling offspring of Tally at reduced prices to SHOW HOMES only.
Tally is for sale only because his owner needs to reduce the amount of stallions she has for her downsized breeding program.
This incredible stallion is for sale at HALF his original purchase price.
OFFERED FOR SALE AT $7,500.00 FIRM
SERIOUS INQUIRIES ONLY PLEASE
Kris Vegter
LIGHTENING RIDGE
(863) 557-0886 (call or text)
Located in Florida
(1217) Ad Updated 11/27/2017
Dayspring Impressed On My Heart
(Shiloh)
AMHA/AMHR 50% Shetland 31" 2015 Black Appaloosa Stallion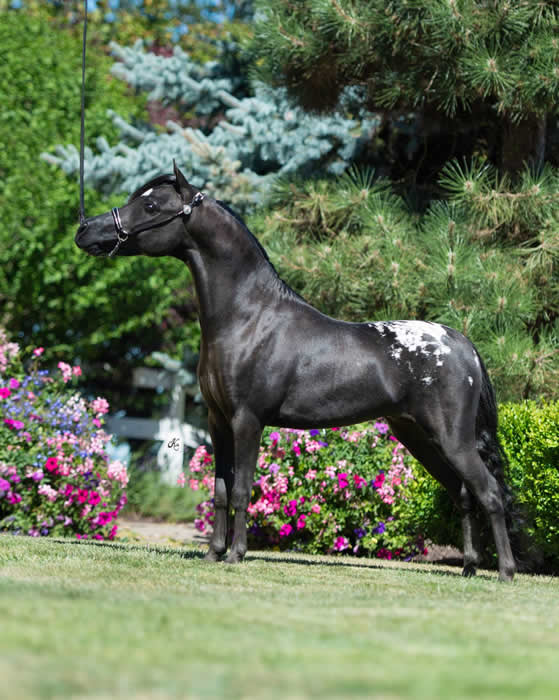 Rivenburghs Jess Let Me Impress x Scott Creek Mystic Monique
Foaled 5/23/2015
Are you searching for something SPECIAL?
A stallion with the looks, pedigree and disposition to take your farm to the next level?
Shiloh is a stallion that looks as good in person as he does on paper -
- but let's start with PEDIGREE.
Shiloh's sire is AMHA World SUPREME CHAMPION Rivenburghs Jess Let Me Impress -
Impress is a TRIPLE Registered son of the iconic JESSE JAMES.
With just a few foal crops on the ground, IMPRESS has already produced multiple World GRAND CHAMPIONS including:
HUNTERBERRY HILL IMPRESSIVE ALLURE - World GRAND CHAMPION Junior Mare
HUNTERBERRY HILL IMPRESSIVE DESIGN - World Champion & Res World GRAND CHAMPION Futurity
HUNTERBERRY HILL IMPRESSIVE EXOTICA - World GRAND CHAMPION
HUNTERBERRY HILL IMPRESSIVE FINESSE - Multi Word/Res World Champion
INDIAN PEAKS DARE TO IMPRESS - 4x World GRAND CHAMPION Stallion
HUNTERBERRY HILL SIMPLY IMPRESSIVE - World GRAND CHAMPION
Shiloh'a DAM, "Monique" is an AMHA Unanimous World GRAND CHAMPION mare.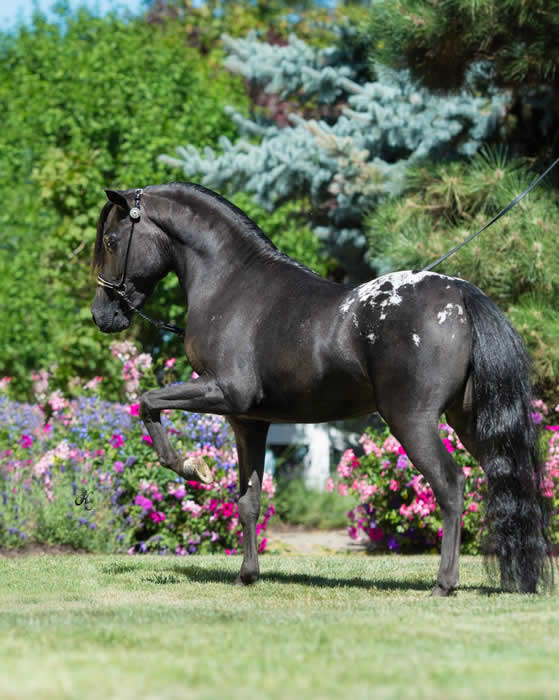 In addition, she is also a World GRAND CHAMPION producing mare.
Her son, DAYSPRING I MEAN TO SHINE is a World GRAND Senior Stallion with SINGLE PLEASURE movement.
Shiloh has the same powerful SINGLE movement as his maternal sibling.
He has a great mind and a great attitude to go along with it.
Shiloh has an exceptionally long neck, trim barrel and a small, pretty head.
His owner has been told many times that Shiloh is "possibly the prettiest appaloosa Miniature in the industry" and we have to agree!
He was successfully shown in 2017 by the talented Adelyn Rowland of Hunterberry Hill.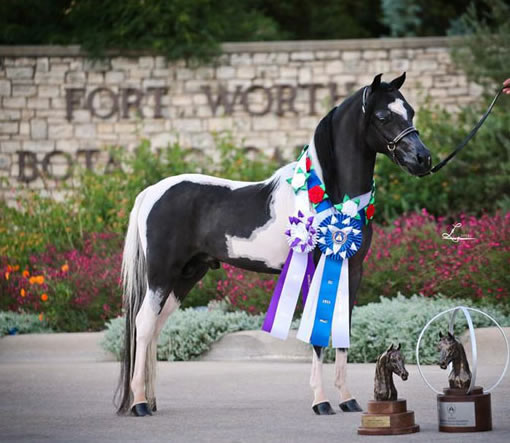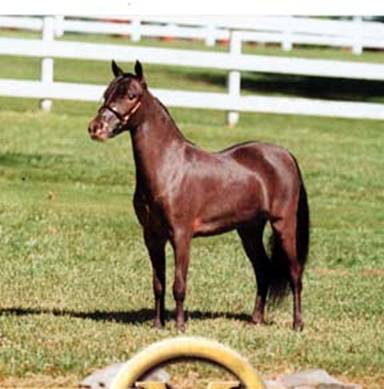 (Sire: World Supreme - IMPRESS) (Dam: World Grand - Monique)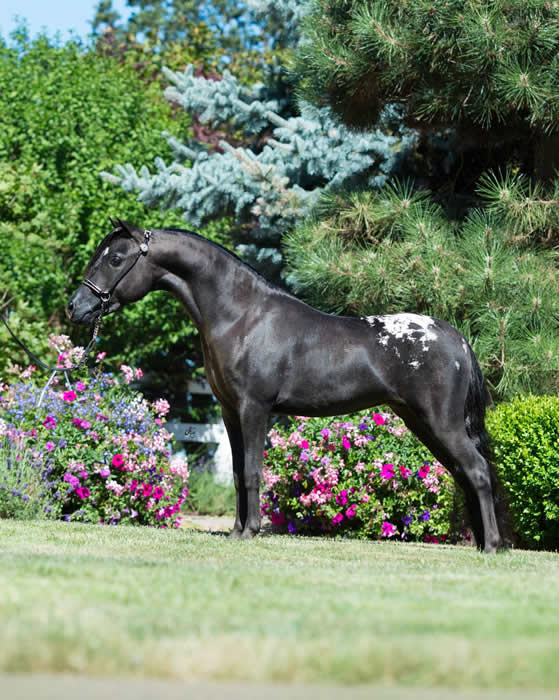 Shiloh is now an AMHA World Top Ten Stallion and his show career has just begun.
He'll be a FORCE in ther Single Pleasure Driving arena in the future -
- and with his unique coloring he'll surely be a stand-out.
He should mature to around 32".
He is the compete package of beauty and genetics for producing Halter & Performance offspring.
OFFERED AT PRIVATE TREATY
SERIOUS INQUIRIES ONLY PLEASE
INTERNATIONAL INQUIRIES WELCOME!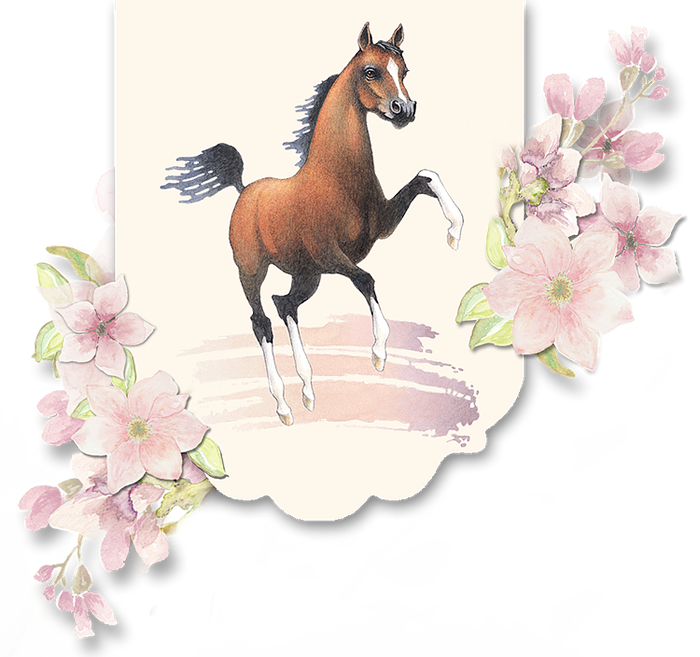 Andrea Evans
Andrea@dayspringminis.com
(425) 844-9817
Located in Duvall, Washington
(1117) Ad updated 11/7/2017
Exclusive Offerings from our Corporate Partner JSW Farms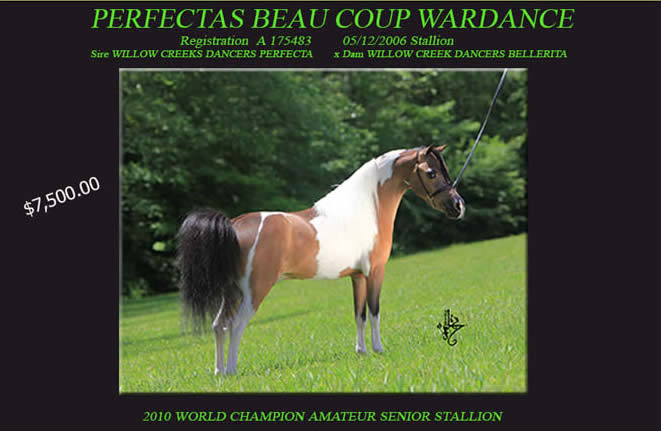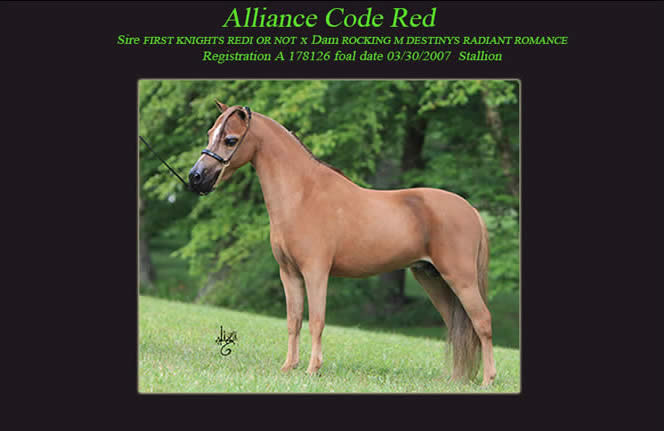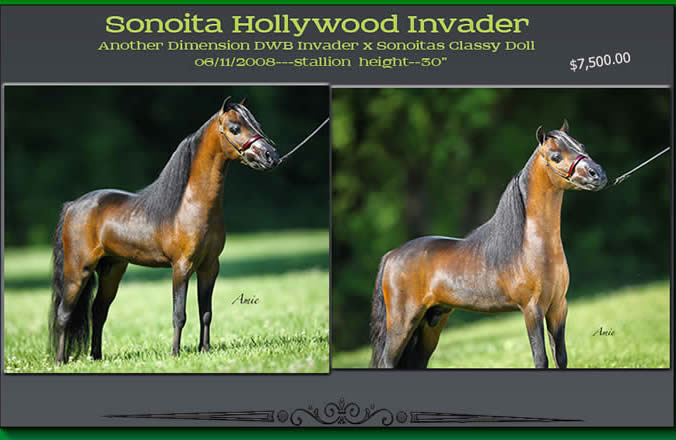 Proudly offered by JSW Farm

info@jswfarm.com
(606) 743-4436
Horses located in Kentucky
(817) Ad updated 9/25/2017
Rivenburghs Jess Phenomenal
(Phin)
ASPC/AMHR 37.5" Black Foundation Certified SHETLAND Stallion
DIRECT SON OF MCCARTHYS JESSE JAMES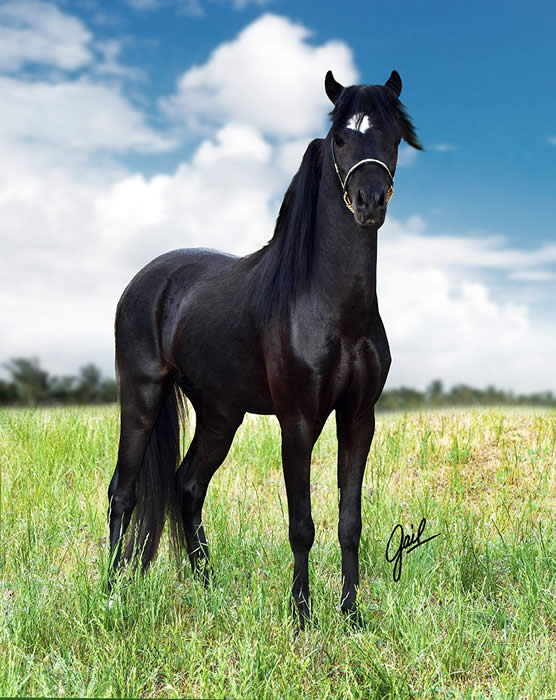 McCarthys Jesse James Of Rivenburgh x Springer Farms Midnight Storm
Foaled 7/09/2013
EXCLUSIVE OFFERING
"Phin" is a direct son of the epic JESSE JAMES.
He is ASPC/AMHR Foundation Certified.
He's a FULL sibling to the "down under" sensations, RIVENBURGHS JESS TOO GOOD TO BE TRUE ("Goody") & RIVENBURGHS JESS REMARKABLE ("Marki") -
- both proving themselves in Australia as winning show horses and top herd sires, producing CHAMPION offspring.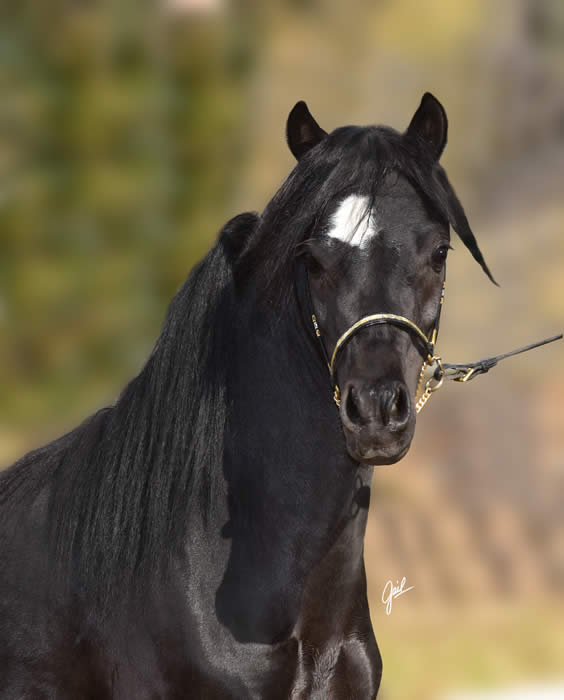 Phin's dam, Midnight Storm, is a direct daughter of the HOF super-stallion, SILVER MEADOWS JET SET GO who passed away this year.
She is ARENOSA bred and goes back to ZJ's Windwalker on her dam's side.
Phin's current owners are refocusing their breeding program on AMHA/AMHR & straight R horses and are regretfully offering him for sale.
Phin measures around 37-38" and owner will provide a more accurate measurement soon.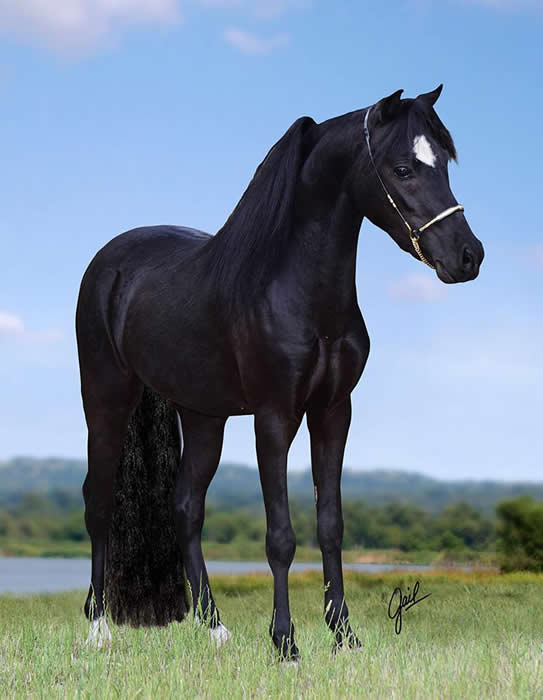 Phin currently has one mare in foal for 2018 and we are excited about
his ability as a sire.
Phin can add the famous "Jesse James" bloodlines to YOUR breeding program.
He's extremely refined and very correct.
Phin has a pretty head and the signature "Jesse" topline & ultra long neck that is set high on his shoulder.
This exquisite young stallion has so much to offer.
Phin could easily get fit up and enter the show ring,
- or start using him NOW on your mares to produce Champions with YOUR farm name on them.
OFFERED AT PRIVATE TREATY
DARKSIDE HEIRLOOM MINIATURES
Lynne Francis
(805) 279-7905
darksideminis@yahoo.com
Located in Northern California
(817) Ad updated 9/17/2017
Reeces Geneses
(Geneses)
2008 AMHA/AMHR Res World Champion Chestnut Stallion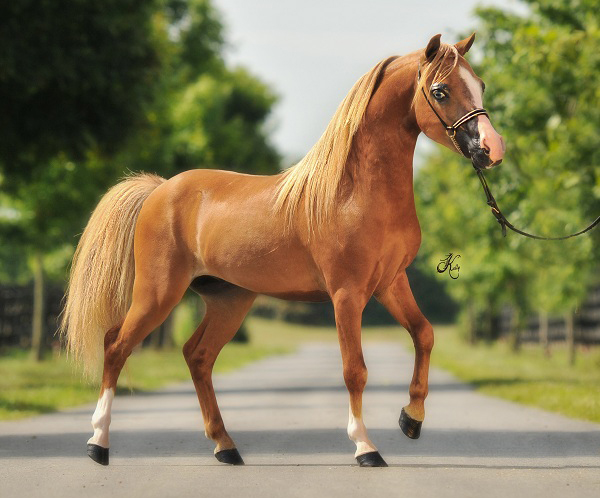 Grosshill EK Undisputed Creation x Reeces Ebony Hawk
Foaled 5/11/2008
Where do I start?!
If pictures speak 1,000 words, then Geneses photos should tell the story -
- he is A-M-A-Z-I-N-G!
Geneses has been a premier breeding stallion at Reece Family Miniatures for the past few years.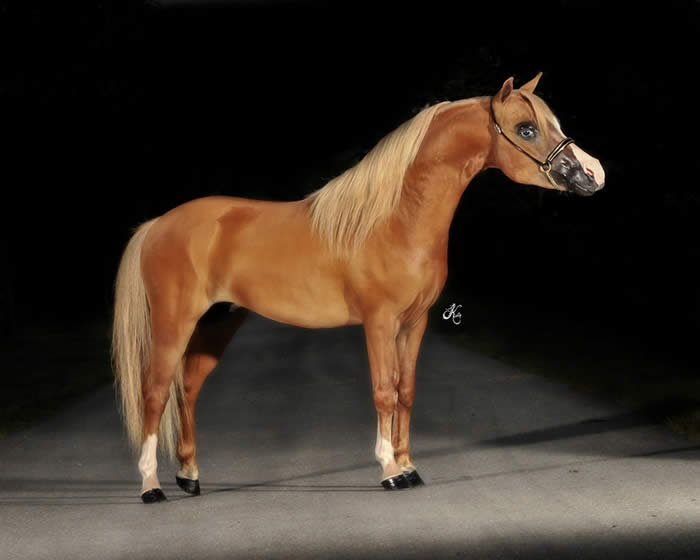 He is proudly offered for sale, as RFM has retained many of his offspring to continue his legacy.
This fine stallion boasts the bloodlines of Egyptian King & the epic "Hawk" ( 4 GS LITTLE KINGS ALFALFA PLEASURE)
His dam, Ebony Hawk is an AMHA World Champion & Res World Champion.
Geneses is a Res World Champion. He's also a multi-Grand Champion producing stallion. He is a FULL sibling to 7x World Champion, Reeces Undisputed Cowgirl.
He passes on his vibrant color and crystal blue eye to many of his offspring.
Priced at $10,000.00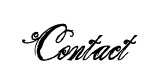 REECE FAMILY MINIATURES
Toni Reece
302-420-5330
Clayton, Delaware

Located in Delaware
(116) Ad updated 9/16/2017
Introducing the PREMIER Stallions of MiniHorseSales!
The stallions presented on this page are the highest caliber Miniature Horses on the market and offered to show homes only. If you want to win at the TOP, this page is where you need to look! Serious inquiries only please.
For information on listing YOUR premier stallion, please e-mail karen@minihorsesales.com with PREMIER as the subject line. Value of horse MUST be $7,500.00 or more.
Listing fee $75.00 per horse.
SOLD FROM THIS PAGE:
Lucky Four Rebelsupreme GoodLooker (February 2017)
Lymricks Irresistible Force (January 2017)
Hunterberry Hill Impressive Artwork (January 2017)
Wall Street Rock E Red Red Hot (August 2016)
Erica's Pharaohs Heart Throb (June 2016)
Marystown McDreamy (May 2016)
Modern Candymans Inferno (March 2016) Congratulations to Megan Mahoney!
Hunterberry Hill Josies Keepsake (March 2016)
Aloha Acres The Lites On Me (February 2016) Congrats to Jere Olsen
LM Idols Hawks Burton (January 2016)
Oak Bay Salsa Chipotle (January 2016)
Oak Bay Salsas Silverado (December 2015) Going to Holland
LM Idols I Of The Tiger (November 2015)
Hunterberry Hill Jess Marvelous (November 2015)
Aloha Acres Lite Over Yonder (October 2015)
HumHill's Rich & Rare On The Rocks (September 2015)
ALOHA 2015 ASPC/AMHR Colt out of Q.P. Dolls Abril Necia Of Texana (July 2015)
Avantes Chasing The Ace (July 2015)
JSW Beaus War Cry (July 2015)
MiniEquine Code Of Silence (April 2015) Heading Overseas!
At Last Surastars Lil Rebel (April 2015)
Ten Ls Legacys In The Spotlight (March 2015)
At Last Surastars Crescendo (February 2015)
LM Idols Revelation Hawk (December 2014)
RFM Thunders Iniki (October 2014) Heading Overseas!
LM Idols IBN Hawk (November 2014) Heading to the West Coast!
Alliance Boleros Sergio (November 2014)
Ravenwood The Chips Are In (November 2014)
Alliance Boleros Enrique (October 2014)
Brookhavens Knight Dreams (September 2014)
Conders Exception To The Rules (September 2014)
LM Hawks Deuce (May 2014)