Premier Miniature Stallions

Stallions listed on this page are the PREMIER stallions located in the USA & Canada.
They are priced at $7,500.00 or more.
Offered to serious show or breeding homes
Exclusive Offerings from our Corporate Partner JSW Farms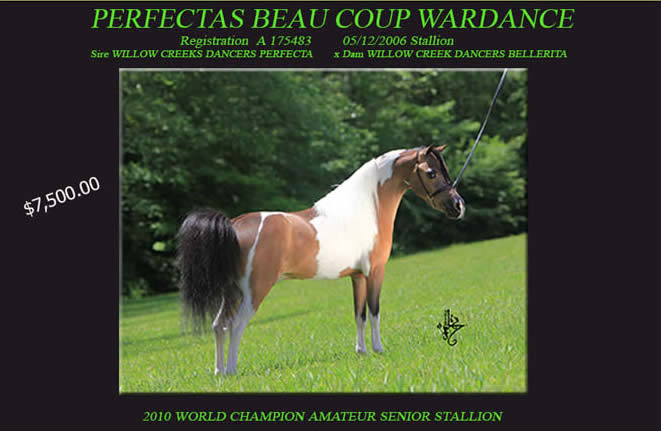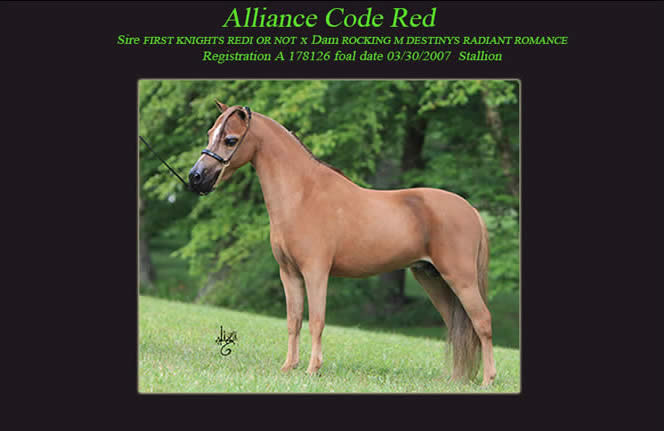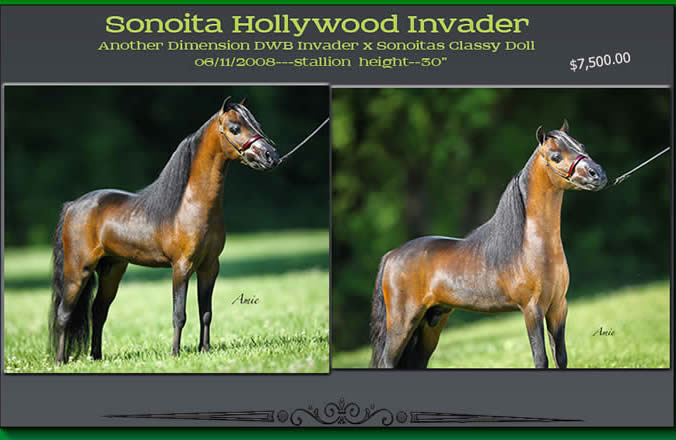 Proudly offered by JSW Farm

info@jswfarm.com
(606) 743-4436
Horses located in Kentucky
(817) Ad updated 7/25/2017
Rivenburghs Jess Phenomenal
(Phin)
ASPC/AMHR 37.5" Black Foundation Certified SHETLAND Stallion
DIRECT SON OF MCCARTHYS JESSE JAMES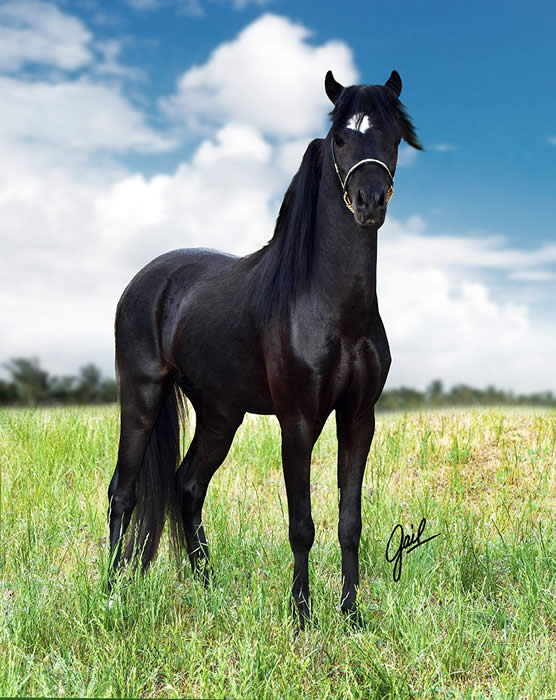 McCarthys Jesse James Of Rivenburgh x Springer Farms Midnight Storm
Foaled 7/09/2013
EXCLUSIVE OFFERING
"Phin" is a direct son of the epic JESSE JAMES.
He is ASPC/AMHR Foundation Certified.
He's a FULL sibling to the "down under" sensations, RIVENBURGHS JESS TOO GOOD TO BE TRUE ("Goody") & RIVENBURGHS JESS REMARKABLE ("Marki") -
- both proving themselves in Australia as winning show horses and top herd sires, producing CHAMPION offspring.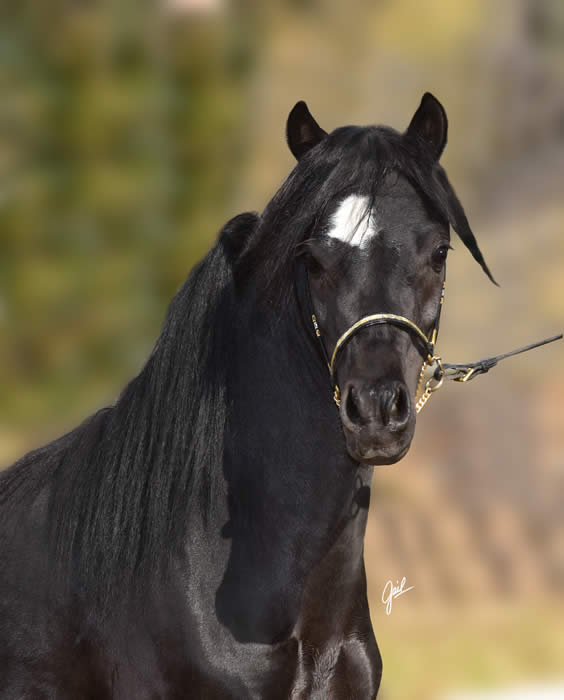 Phin's dam, Midnight Storm, is a direct daughter of the HOF super-stallion, SILVER MEADOWS JET SET GO who passed away this year.
She is ARENOSA bred and goes back to ZJ's Windwalker on her dam's side.
Phin's current owners are refocusing their breeding program on AMHA/AMHR & straight R horses and are regretfully offering him for sale.
Phin measures around 37-38" and owner will provide a more accurate measurement soon.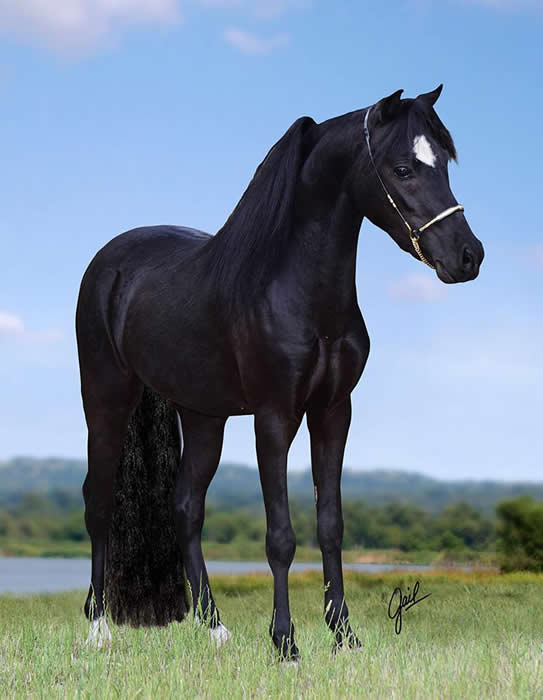 Phin currently has one mare in foal for 2018 and we are excited about
his ability as a sire.
Phin can add the famous "Jesse James" bloodlines to YOUR breeding program.
He's extremely refined and very correct.
Phin has a pretty head and the signature "Jesse" topline & ultra long neck that is set high on his shoulder.
This exquisite young stallion has so much to offer.
Phin could easily get fit up and enter the show ring,
- or start using him NOW on your mares to produce Champions with YOUR farm name on them.
OFFERED AT PRIVATE TREATY
DARKSIDE HEIRLOOM MINIATURES
Lynne Francis
(805) 279-7905
darksideminis@yahoo.com
Located in Northern California
(817) Ad updated 7/17/2017
Hunterberry Hill SweetestImpression
(Sweets)
AMHA/AMHR 2014 31.5" World Champion BAY Stallion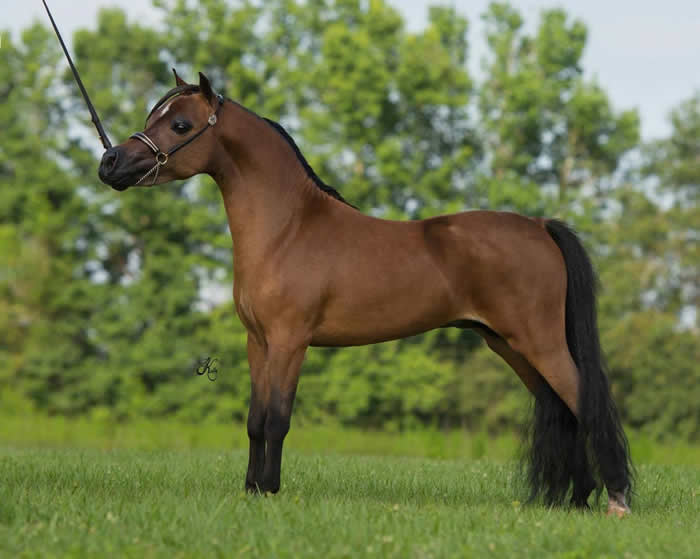 Rivenburghs Jess Let Me Impress x Fallen Ash Scouts So Sweet
Foaled 5/18/2014
AMHA WORLD CHAMPION YEARLING STALLION
AMHA RES WORLD CHAMPION 2 YEAR OLD STALLION
Ready to breed to YOUR mares and add some incredible SUPREME CHAMPION Jesse James bloodlines to your breeding program!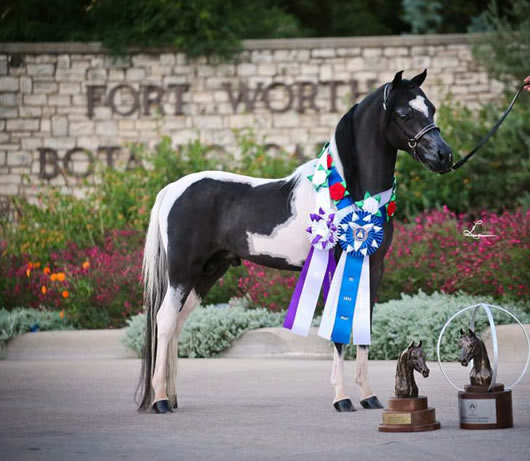 With the added bonus of L&D SCOUT lines!
Sweets is sired by AMHA World SUPREME CHAMPION "Jess Let Me Impress" -
(pictured at left)
- already a multi World Champion/Grand Champion producing sire!
There are very few Impress offspring offered for sale.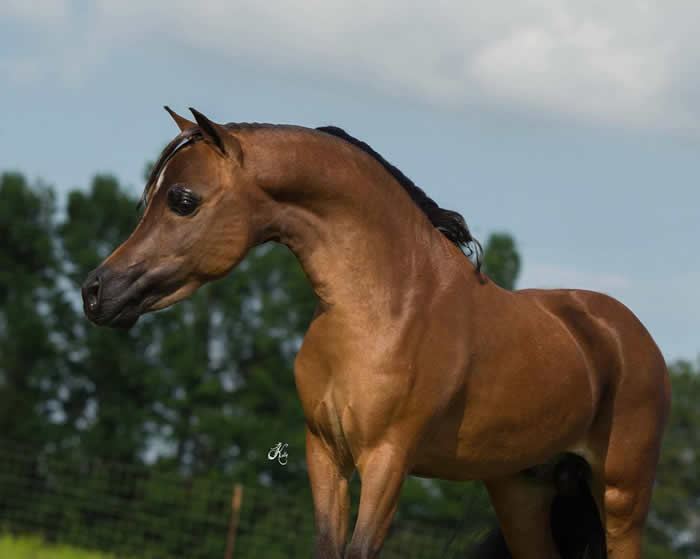 Sweets is unique in that he is so small yet so well balanced and correct -
- and his head it to-die-for!
Sweets is out of a pretty L&D Scout bred mare -
- combining the Jesse James bloodlines with the preponent lines of SCOUT has produced something spectacular.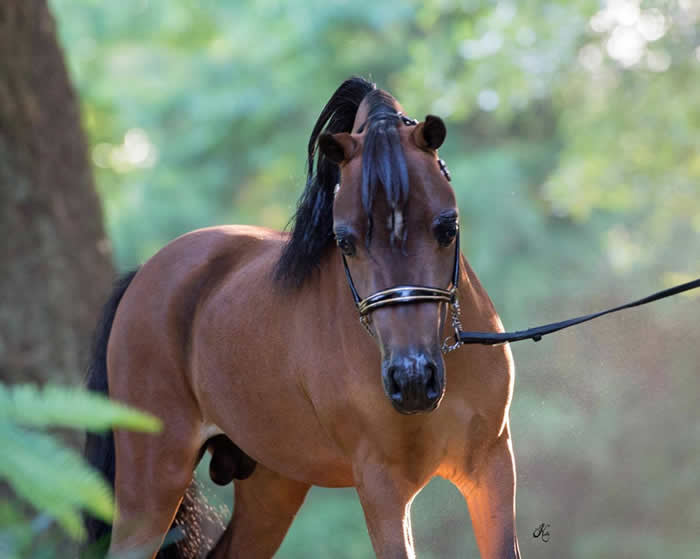 ONLY offered for sale as DVM farms is focusing their energy on a new foaling center where they will be standing syndicate stallions.
Otherwise he'd be a KEEPER -
- this stallion is a GOLDMINE of opportunity to the smart invester.
This is the quality of stallion that could put your breeding program on a whole new level.
Serious inquiries - please inquire!
OFFERED AT PRIVATE TREATY
Welcome to Diva Valley Miniature Horse Farm !

We started raising Miniature Horses in 1980 as Jones' Mini-Whinnies but have now converted to Diva Valley Miniature Horse Farm as we have changed our breeding program to accommodate the ever increasing competition in the AMHA and AMHR.  DVM Farms is owned by Nicole and Boomer Pearsall and is located in western Pennsylvania just off I-80 just a few yards over the OH/PA border about an hour north of Pittsburgh and an hour east of Akron, OH.  Nicole and Boomer also own
Penn-Ohio Veterinary Services
which is also located at their residence in West Middlesex which requires a lot of their attention; however, with the help of Nicole's amazing mother, Elaine Buchanan, the horses are well-taken care of and spoiled !  Our horses boast many of the top bloodlines that are winning in the show ring today such as Graham's Ragtime, First Knights Billy Idol, Champion Farms Nighthawk, and Buckeye WCF Leeland Royal Grand; but, at the same time are deeply rooted in bloodlines that have stood the test of time such as FWF Little Blue Boy, Boogerman, Rowdy, Sid's Rebel, FWF Little Wardance, and Gold Melody Boy.  Our horses hold many AMHA and AMHR National titles and also Hall of Fame titles.  Now after 35 + years of raising miniatures, we are very proud of what we are producing.  We have sold minis to many different countries and enjoyed meeting people from all over the World.  Please feel free to call or stop by our farm to see what we have to offer!
Nicole & Boomer Pearsall
5 Jimro Road West Middlesex, PA  16159
(412)527-0358  (call or text)

dvmfarms@hotmail.com
Located in Pennsylvania
(1016) Ad updated 7/1/2017
Columbia Triple Crown
(Trip)
2014 AMHA/AMHR Palomino Pinto 34" Driving Stallion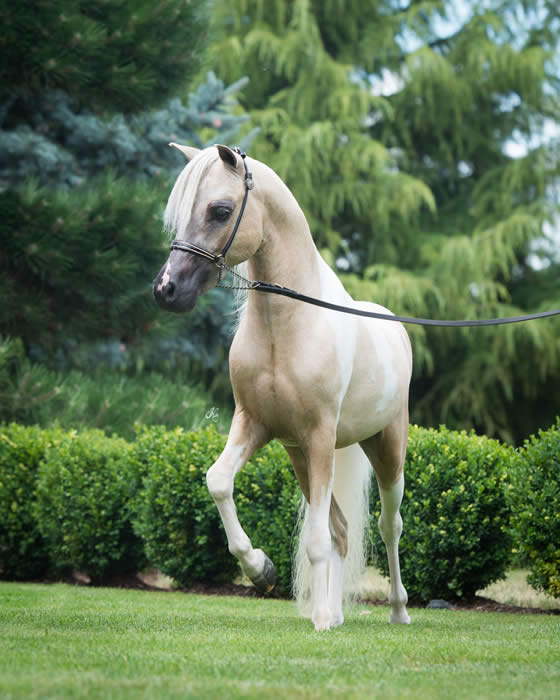 Columbia Trifecta x Columbia Dancing Queen SE
Foaled 5/24/2014
"Trip" is a TRUE stand out stallion.
He is extremely leggy with good refinement and a high set neck.
His head is small and short with great shape and beautiful expression.
He has a wonderful temperament and personality with just enough fire and energy but very sensible and trainable.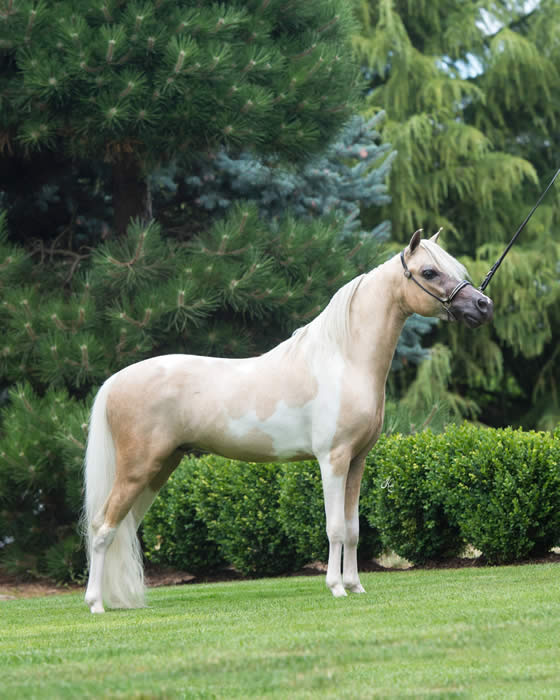 He is broke to drive and ready to go win in the show ring in 2017!
He showed in one show at halter as a 2yr old with no prior conditioning or training and won Champion and Reserve.
His sire is a Reserve World Champion halter horse and son of the legendary 2x World Reserve Grand Champion stallion Philia Blazes Joe Dandy who was also a World Supreme Halter Horse producer.
Trip's dam is a World Champion Roadster and Champion Single Pleasure driving horse Columbia Dancing Queen SE who is sired by none other than the Rhotens Little Dandy son Grosshill Dandys Special Edition.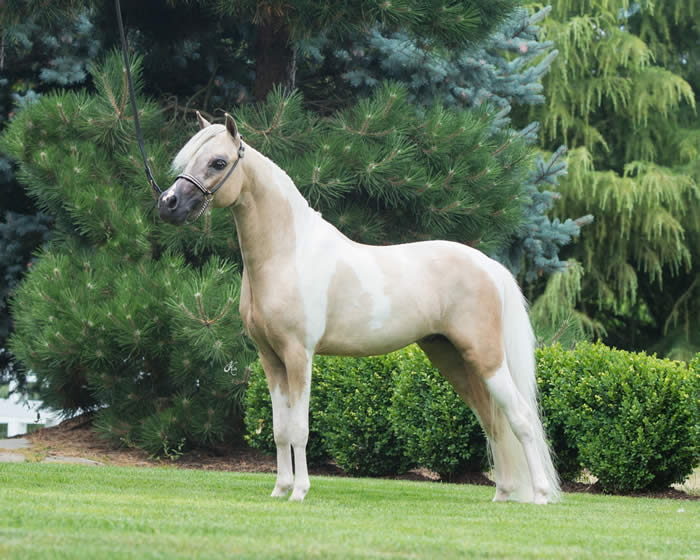 "Eddie" has produced multiple World Champion offspring in both halter and driving.
Dancing Queen's dam is an Arenosa bred Shetland mare.
Trip has just enough shetland infused to help him have the current look that wins in the show ring.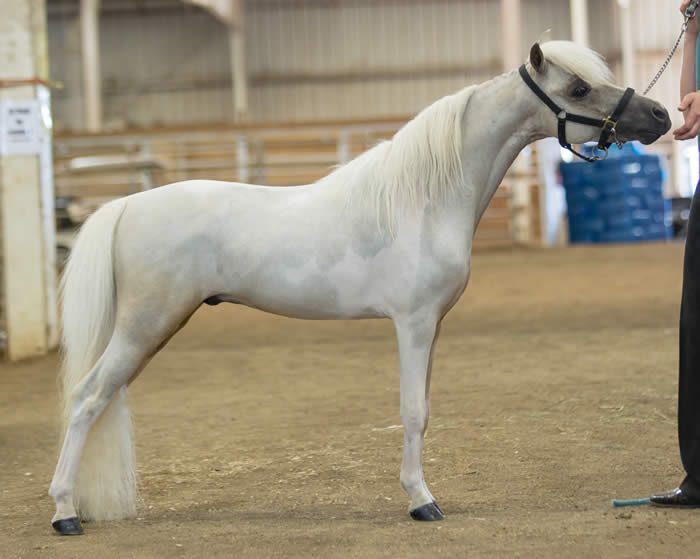 This colt makes a beautiful picture in harness with lots of natural ability and talent.
We think he will make a top contender as a fancy country pleasure stallion.
He has a spot with Adelyn Rowland of Hunterberry Hill for the 2017 show season.
Trip is being sold on a show contract to stay in training through the AMHA World Show.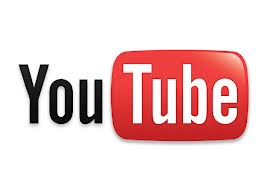 INQUIRE FOR PRICE
OFFERED FOR SALE BY:

COLUMBIA MINIATURE HORSE FARM
KATHY HOWARD
To Purchase Contact:
Adelyn Rowland
503.991.7426
Adelyn@hunterberryhill.com
Salem, Oregon 97308
Located in Oregon
(1016) Ad updated 10/22/2016
Reeces Geneses
(Geneses)
2008 AMHA/AMHR Res World Champion Chestnut Stallion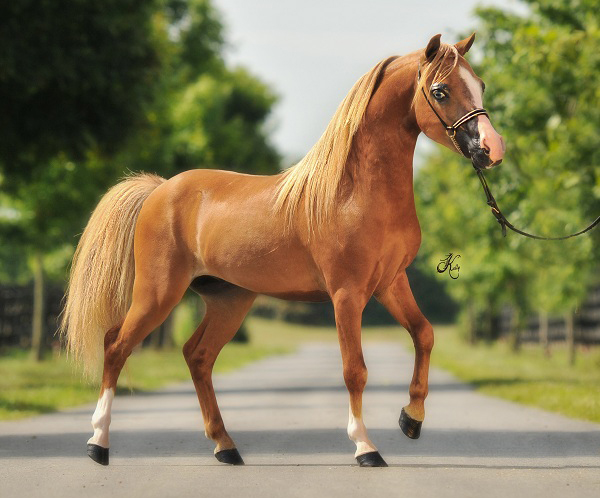 Grosshill EK Undisputed Creation x Reeces Ebony Hawk
Foaled 5/11/2008
Where do I start?!
If pictures speak 1,000 words, then Geneses photos should tell the story -
- he is A-M-A-Z-I-N-G!
Geneses has been a premier breeding stallion at Reece Family Miniatures for the past few years.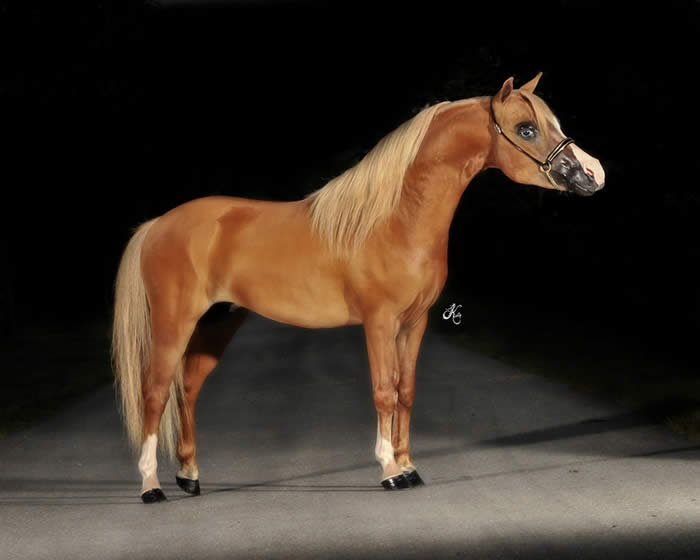 He is proudly offered for sale, as RFM has retained many of his offspring to continue his legacy.
This fine stallion boasts the bloodlines of Egyptian King & the epic "Hawk" ( 4 GS LITTLE KINGS ALFALFA PLEASURE)
His dam, Ebony Hawk is an AMHA World Champion & Res World Champion.
Geneses is a Res World Champion. He's also a multi-Grand Champion producing stallion. He is a FULL sibling to 7x World Champion, Reeces Undisputed Cowgirl.
He passes on his vibrant color and crystal blue eye to many of his offspring.
Priced at $10,000.00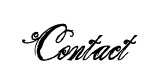 REECE FAMILY MINIATURES
Toni Reece
302-420-5330
Clayton, Delaware

Located in Delaware
(116) Ad updated 2/16/2017
Introducing the PREMIER Stallions of MiniHorseSales!
The stallions presented on this page are the highest caliber Miniature Horses on the market and offered to show homes only. If you want to win at the TOP, this page is where you need to look! Serious inquiries only please.
For information on listing YOUR premier stallion, please e-mail karen@minihorsesales.com with PREMIER as the subject line. Value of horse MUST be $7,500.00 or more.
Listing fee $75.00 per horse.
SOLD FROM THIS PAGE:
Lucky Four Rebelsupreme GoodLooker (February 2017)
Lymricks Irresistible Force (January 2017)
Hunterberry Hill Impressive Artwork (January 2017)
Wall Street Rock E Red Red Hot (August 2016)
Erica's Pharaohs Heart Throb (June 2016)
Marystown McDreamy (May 2016)
Modern Candymans Inferno (March 2016) Congratulations to Megan Mahoney!
Hunterberry Hill Josies Keepsake (March 2016)
Aloha Acres The Lites On Me (February 2016) Congrats to Jere Olsen
LM Idols Hawks Burton (January 2016)
Oak Bay Salsa Chipotle (January 2016)
Oak Bay Salsas Silverado (December 2015) Going to Holland
LM Idols I Of The Tiger (November 2015)
Hunterberry Hill Jess Marvelous (November 2015)
Aloha Acres Lite Over Yonder (October 2015)
HumHill's Rich & Rare On The Rocks (September 2015)
ALOHA 2015 ASPC/AMHR Colt out of Q.P. Dolls Abril Necia Of Texana (July 2015)
Avantes Chasing The Ace (July 2015)
JSW Beaus War Cry (July 2015)
MiniEquine Code Of Silence (April 2015) Heading Overseas!
At Last Surastars Lil Rebel (April 2015)
Ten Ls Legacys In The Spotlight (March 2015)
At Last Surastars Crescendo (February 2015)
LM Idols Revelation Hawk (December 2014)
RFM Thunders Iniki (October 2014) Heading Overseas!
LM Idols IBN Hawk (November 2014) Heading to the West Coast!
Alliance Boleros Sergio (November 2014)
Ravenwood The Chips Are In (November 2014)
Alliance Boleros Enrique (October 2014)
Brookhavens Knight Dreams (September 2014)
Conders Exception To The Rules (September 2014)
LM Hawks Deuce (May 2014)