2018 Miniature Yearling Stallions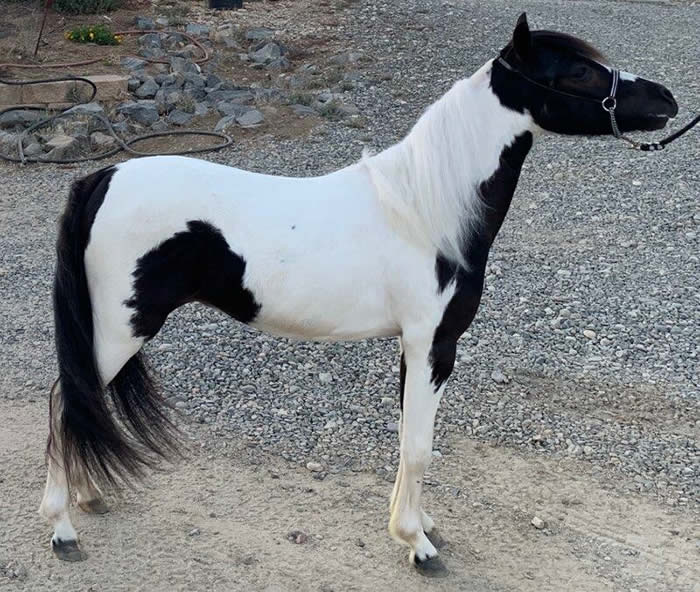 Cocos Strummin In The Wind
(Strummer)
ASPC/AMHR 32" Black Pinto Stallion
MAY MATURE SMALL ENOUGH TO HARDSHIP INTO AMHA
RHA Guitar George x Caldwells Wind Beneath My Wings
Foaled 4/04/2018
This colt's pedigree speaks VOLUMES of his quality!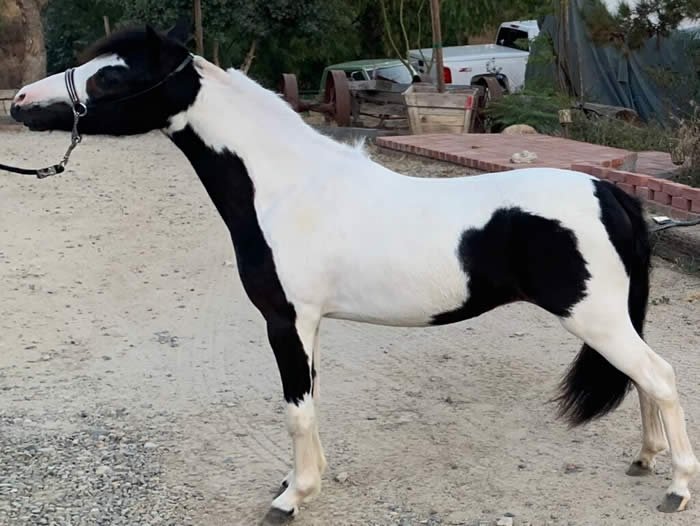 On his sire's side, Strummer is by RHA Guitar George who is a direct son of SMHC'S FREEDOM'S NICODEMUS.
His paternal lineage includes Miniature Horse icons, SMHC'S PAINTED FREEDOM (HOF), TOWN & COUNTRY'S KIT CAT (HOF) and J-J'S PAINTED APACHE (HOF).
Strummer's dam ia a daughter of WAUK-A-WAY CATCH THE WIND and is double bred on the pivotal sire, SMHC'S PAINTED FREEDOM (HOF) -
(who stands at just 34" tall!)
This pinto beauty is just 32" as a full yearling and may mature small enough to hardship into AMHA.
For sure he has PLENTY of AMHR and Shetland "34" and Under" horses peppering his pedigree.
Strummer has been successfully shown in 2019 and is show fit & ready for YOU.
He is easy to handle and well trained in halter.
PRICED AT $2,500.00
PAYMENT PLAN AVAILABLE - PLEASE INQUIRE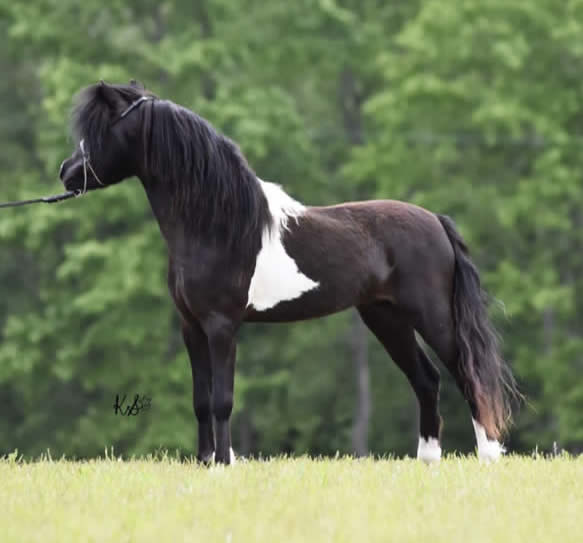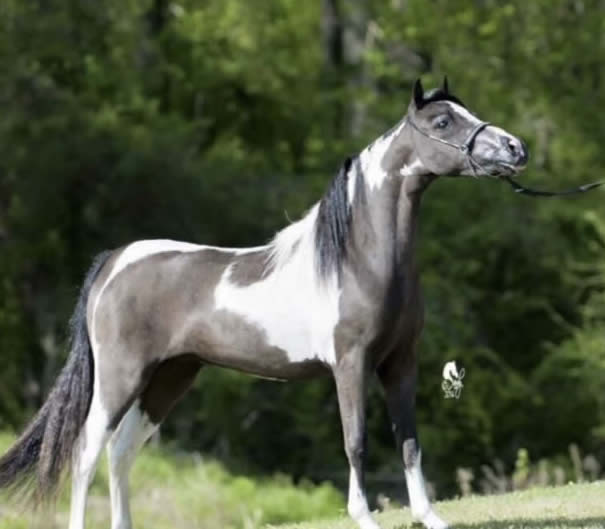 SIRE: RHA GUITAR GEORGE DAM: "WAUK-A-WAY CATCH THE WIND" DAUGHTER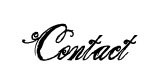 COCO'S MINIS
www.cocosminis.com
Colleen Cayton
(951) 553-1509
pcayton2000@yahoo.com
Located in Temecula, California
(120219X) Ad updated 8/14/2019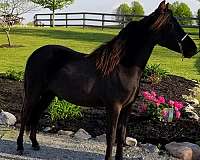 CD Jess A Show Off
(Jesse)
AMHR/AMHR 2018 31" Black Stallion
50% Shetland Blend by World GRAND Champion
Rivenburghs Jess Majestic x Finchwoods Smokin Hot Sheza Showgirl
Foaled 5/05/2018
This handsome boy is LOADED with presence and spunk.
His halter breeding shines through -
- he is very proud of himself and commands attention.
It's easy to see where he gets his good looks and show-off attitude -
- Jesse is sired by World GRAND Champion, RIVENBURGHS JESS MAJESTIC.
Majestic is a Triple Registered son of MCCARTHYS JESSE JAMES OF RIVENBURGH - sire to World SUPREME Champions and numerous World/National GRAND Champions.
His offspring win in Halter as well as in DRIVING.
Jesse's dam, FINCHWOODS SMOKIN HOT SHEZA SHOW GIRL is a stunning SUPREME Halter horse.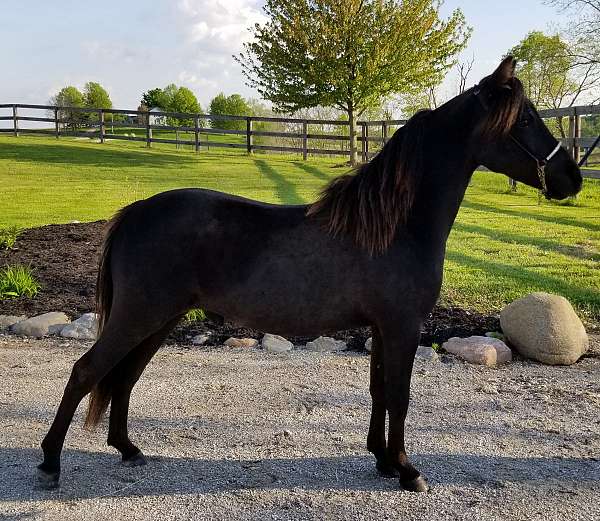 Jesse is the social butterfly of our small herd.
My four year old daughter is able to halter him in the pasture and lead him in for his grooming session.
Jesse is easy to body clip, trailer, and de-worm.
Vaccinations are not a big deal.
Jesse leads well in a halter.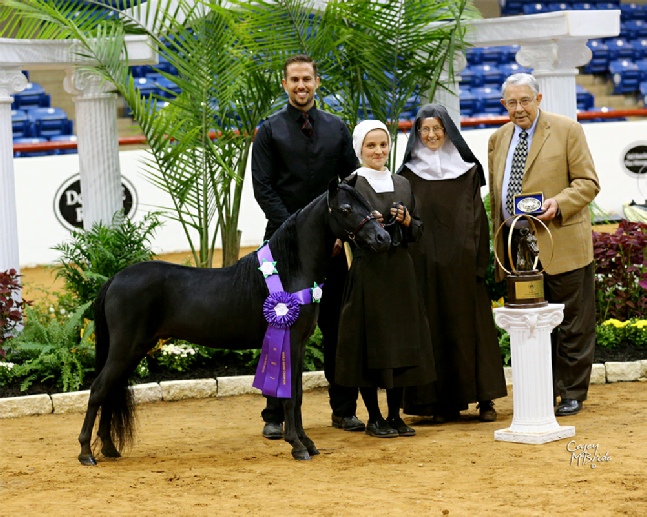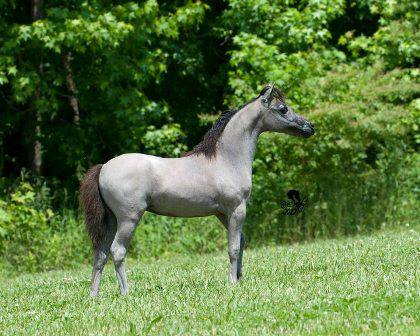 Sire: WORLD GRAND CHAMPION Dam: MULTI SUPREME CHAMPION
I would like to find this guy a competitive show home where he can shine!
PRICED LOW AT JUST $900.00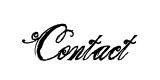 Sarah Randolph
TELOS FARM
www.telosfarm.com
telosfarm@hotmail.com
(260) 327-3820
Located in Columbia City, Indiana 46725
(013120X) Ad updated 8/6/2019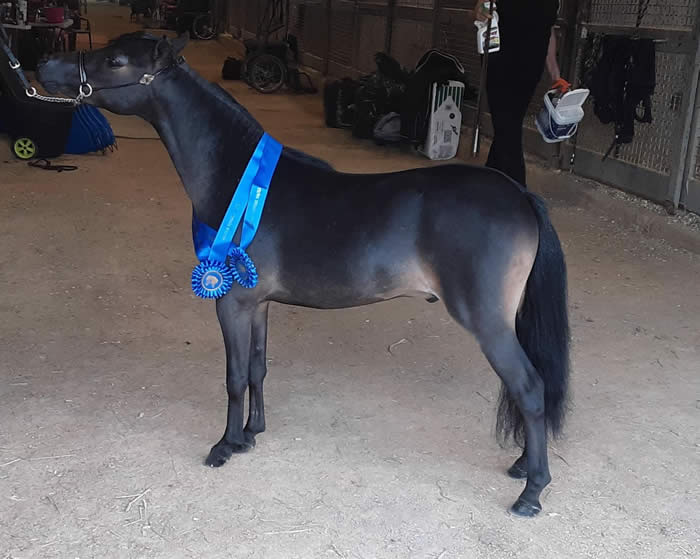 CMC Majestic Born To Lead
(Leader)
AMHA/AMHR/ASPC Triple Registered 2018 Dark Bay SHOW Stallion
2X AMHA AMATEUR SUPREME HALTER HORSE AT HIS FIRST SHOW!
Rivenburghs Jess Majestic x Amore Lalita
Foaled 3/24/2018
LOOKING FOR A STALLION WITH A GRAND PEDIGREE?!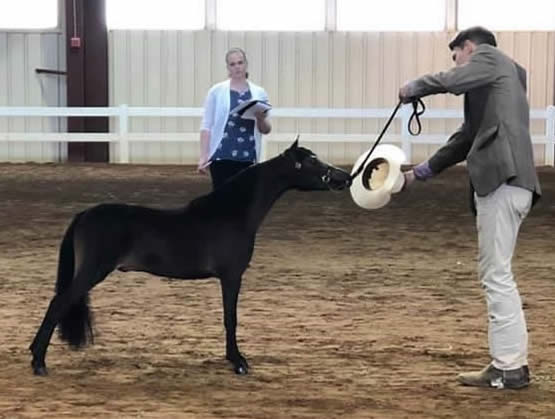 I can promise you, it doesn't get any grander than THIS colt right here.
Leader is sired by AMHA World Grand Champion and AMHR National Reserve Grand Champion Rivenburgh's Jess Majestic.
(pictured below, at left)
Majestic is a son of MCCARTHYS JESSE JAMES OF RIVENBURGH who has transformed the Miniature Horse industry.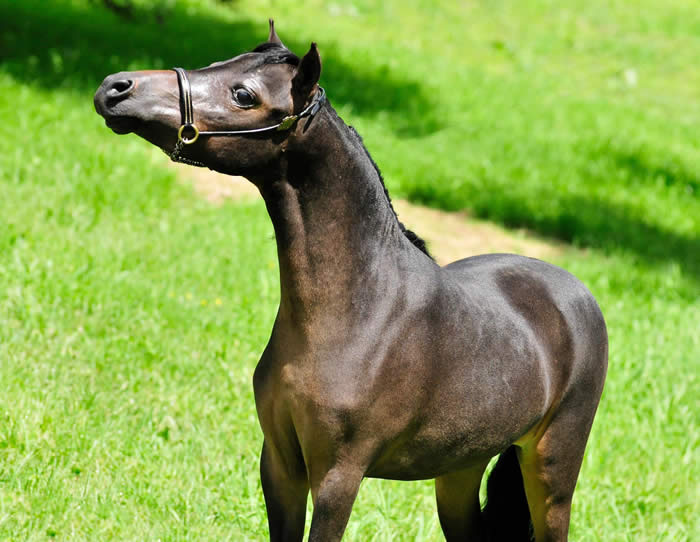 Leader's dam is 2x World Grand Champion Amore Lalita.
(Pictured below, at right)
Lalita is a Triple Registered Shetland mare by 36x AMHR National Champion (Halter & Driving) stallion, D&S PEEPING TOM.
Leader currently measures 30" and should mature around 32".
He's totally balanced with clean, straight legs and well set tail.
This stallion's neck comes out high from his shoulders and hooks perfectly with a tiny, trim throat latch.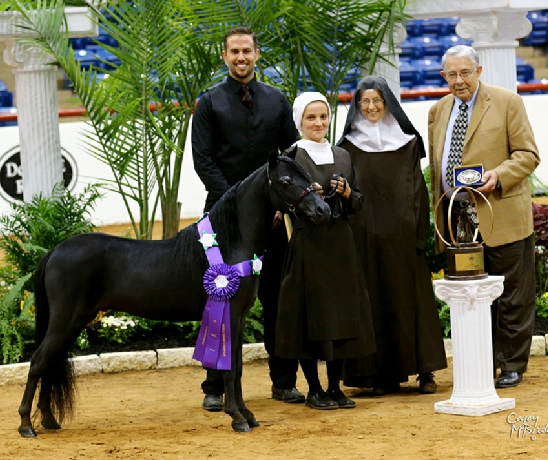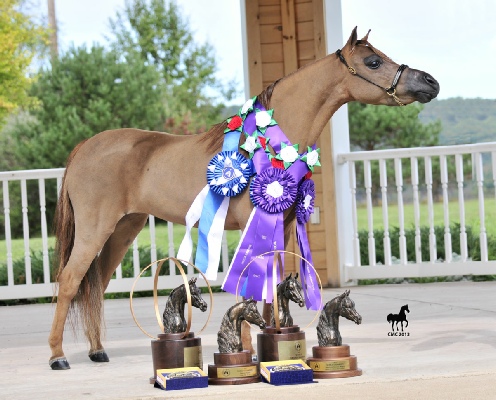 SIRE: World Grand Champion DAM: 2x World Grand Champion
Leader is already a 2x Amateur SUPREME Champion at his very first show.
We expect BIG things from this little Shetland!
SHOW HIM THEN BREED HIM!
OFFERED FOR SALE AT PRIVATE TREATY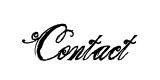 Carmelites' Mini Corral
403 West County Road,
Sugarloaf PA 18249
(570) 788-1205 -
(570) 788-3329 Fax
Located in Sugarloaf, Pennsylvania
(122819X) Ad updated 7/23/2019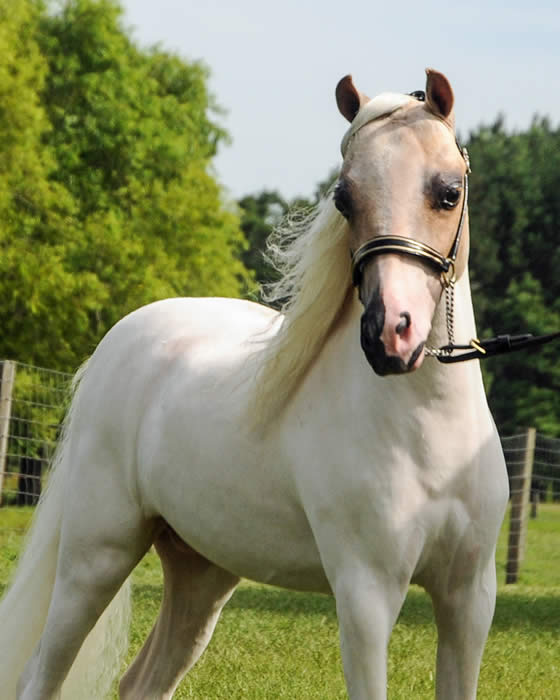 Hunterberry Hill Impressive Idol
(Presley)
AMHA/AMHR 2018 30" Palomino Pinto Stallion
Rivenburghs Jess Let Me Impress x LittleUn Farms Semis Amber Idol
Foaled 3/25/2018
Everyone who knows us knows that our favorite stallion by far is the legendary Billy Idol, sire of Numerous World and National Grand Champion in both Halter & Driving!
We are also crazy about the World Supreme Champion Rivenburghs Jess Let Me Impress.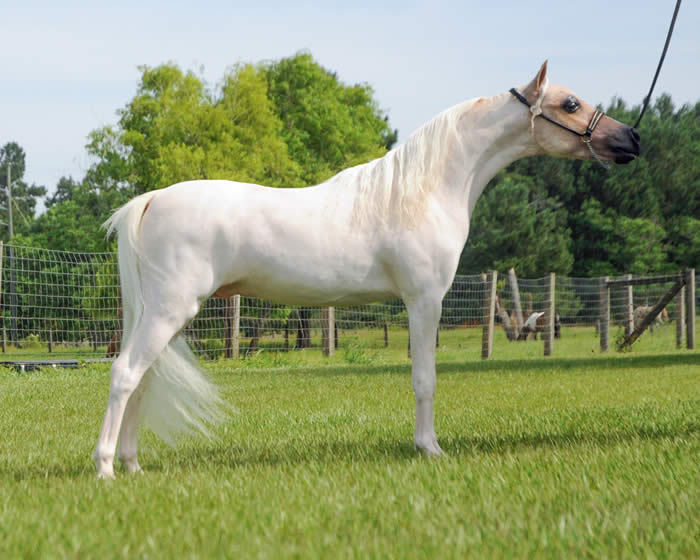 When we saw this amazing Impress colt as a weanling, and found out that his dam was a multi World Champion Billy Idol daughter, we had to have him.
Presley is a gorgeous palomino pinto yearling stallion who is AMHA & AMHR registered.
He currently measures 30".
He has been Grand Champion Stallion every time he has been shown and is a Supreme Champion as well.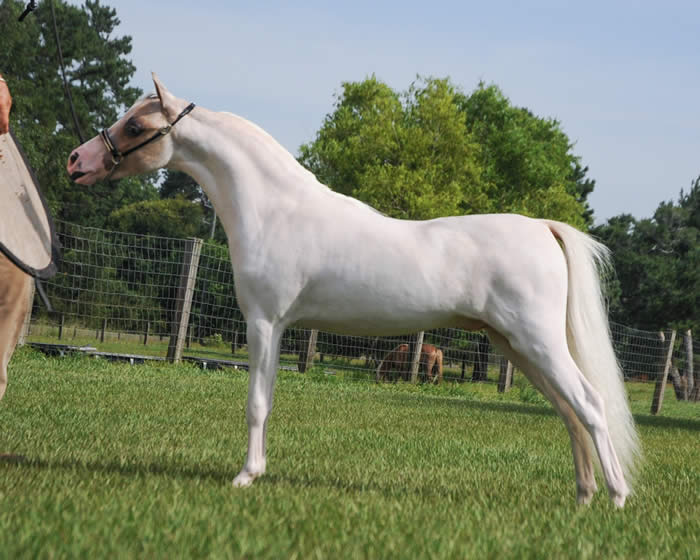 He is very refined and has a beautiful balanced body with a long, archy neck and a tiny, pretty face.
He has gorgeous expression with super tight ears and huge eyes.
We just spoke with Hunterberry Hill and they currently are NOT breeding Presley's sire, they are NOT breeding outside mares.
They have NO Impress offspring for sale!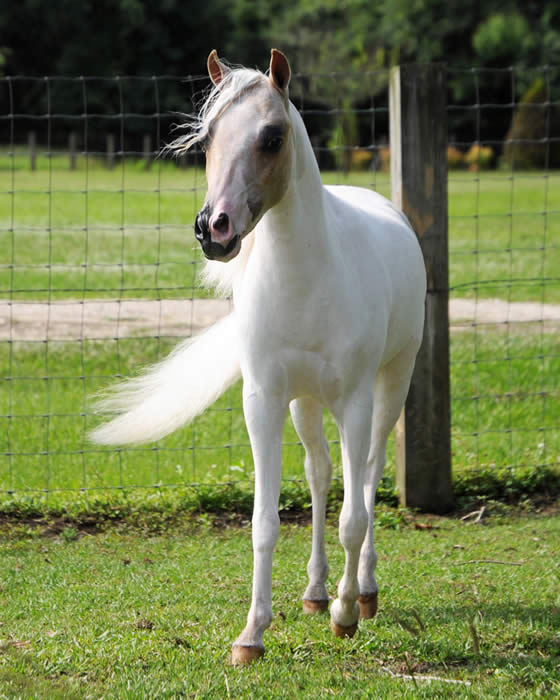 If you want the incredible pedigree and look of the Jess Let Me Impress horses, a line that has produced numerous World Grand Champions, Futurity Champions and National Champions, you have to find one for sale.
We are only selling this handsome stallion because I am no longer breeding miniatures.
We would LOVE to keep Presley in training, and he is already qualified for both the 2019 World Show and Nationals.
He could also have a show spot for 2020!
We love him that much!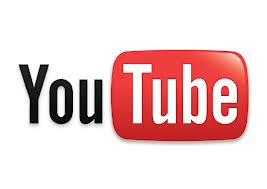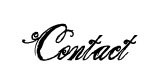 STARS MINIATURES & SHETLANDS
www.starsminiatures.com
Mike Rosauer
601-832-1370
email starsminiatures@aol.com
$8,000.00
CAN BE DELIVERED TO WORLDS OR NATIONALS
Located in Spurger, Texas
(122219NX) Ad updated 8/16/2019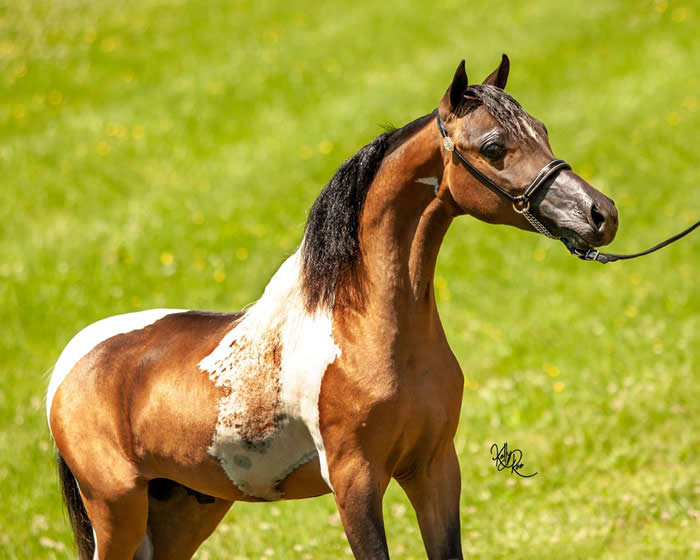 Panorama Spotlight On Fire
(Spot)
ASPC/AMHR 2018 Bay Pinto Stallion
AMHR FUTURITY NOMINATED - WILL BE AT AMHR NATIONALS IN SEPTEMBER
CURRENTLY MEASURES 33.75" TALL
Wa-Full Unique Legend x SCJ Spotlight On Me
Foaled 4/12/2018
SERIOUS SHOW HOME WANTED!
This striking stallion is currently in training for halter and WINNING!
We are looking for a SERIOUS show home that will continue to promote this amazing young colt.
"Spot" is a son of the pivotal WA-FULL UNIQUE LEGEND who's get have won numerous National and Congress CHAMPIONS and GRAND CHAMPIONS.
"Legend" has won ASPC Congress and AMHR National CHAMPIONSHIPS as well as the coveted National Champion GET-OF-SIRE award.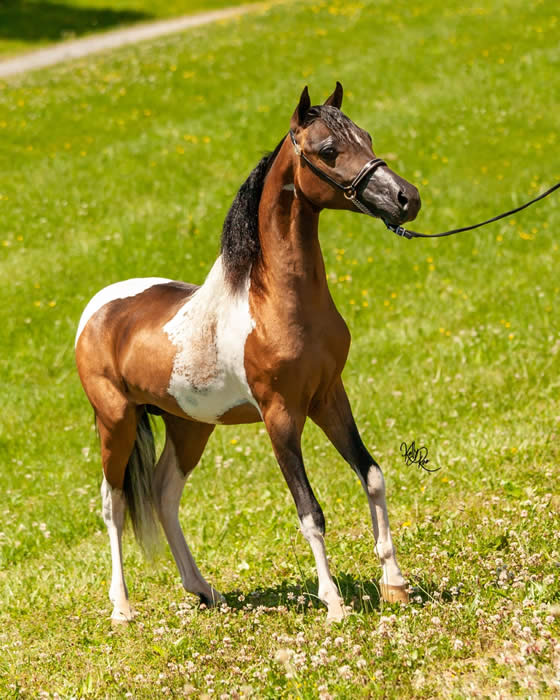 Legend has quickly become known as a sire of National Champions ans SPOT should fit very will into that elite group.
WIN MONEY BACK AT NATIONALS THIS YEAR - SPOT IS FUTURITY NOMINATED & SUSTAINED
Keep this stallion in training at DHTC (Danielle Hill Training Center) and let him win at Nationals with YOU as the new owner!
He'll be old enough for a herd of mares of his own next year -
- use his stellar pedigree and incredible refinement to take YOUR breeding program to the next level.
PRICED AT $3,500.00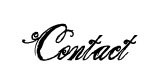 Cathy Fatigati
PANORAMA MINIATURES
(804) 925-5146
type_o13@hotmail.com
Located in Delaware
(120119X) Ad updated 7/23/2019
LM Southdown Idols Lil Ricky
(Ricky)
2018 AMHA/AMHR Smoky Black SHOW Colt
First Knights Billy Idol x Los Arboles Elusive Dream
Foaled 2018
TOP SHOW PROSPECT AS A STALLION OR A GELDING!
Should mature around 32 - 32.5" (currently measures 31" as a full yearling)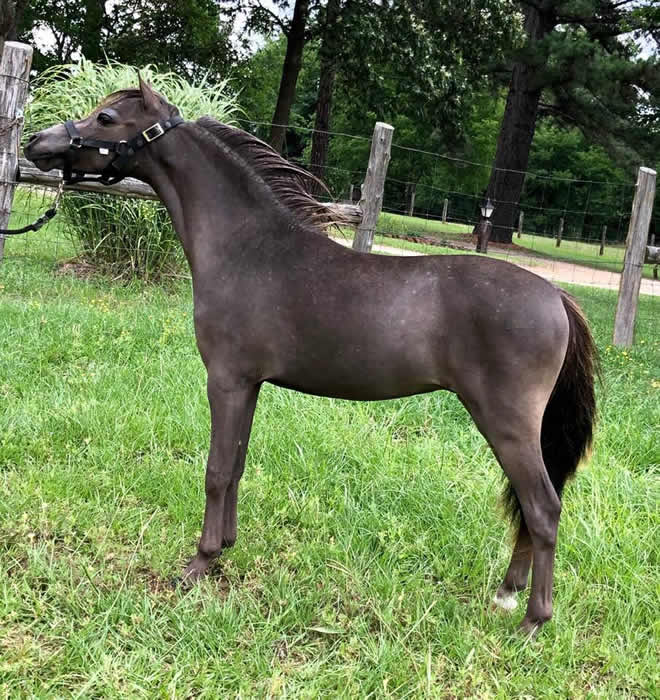 Ricky is by the unparalleled BILLY IDOL.
His lovely dam is a Sequoias Majestic Mime daughter and out of Celebrations Tennessee Tia.
He has the potential to excel in HALTER and then go on to be a force in the DRIVING arena as well!
THIS COLT IS PRICED LOW SO WE CAN GET HIM INTO A SHOW HOME FOR 2019!
All proceeds from his sale will benefit the ANN DWYER FUND to help with care & living expenses for Ann - an beloved ICON in the Miniature Horse World!
Priced as a GELDING at $2,500.00
INTACT STALLION PRICE $4,000.00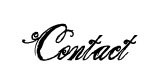 Janet King (Agent)
Limestone Miniatures
jfk657@yahoo.com
(606) 584-4231
Located in Winnsboro, Texas
(122018NX) Ad updated 7/22/2019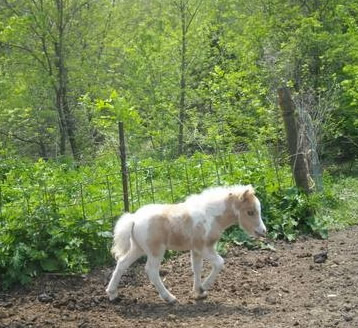 Chantilly's Lucky Little Louie
(Louie)
AMHR Registered 2018 TINY Palomino Pinto Stallion
Limited Golden Stars x Caleb's Chantilly Lace Playgirl
Foaled 5/11/2018
FLASHY ++ PALOMINO ++ PINTO ++
This tiny dynamo may never even see 30" at when he's full grown!
Louie is currently a mere 27" and projected to mature just under 30" tall.
Although he's tiny, this guy is MIGHTY and ready to take you to the winner's circle or become a super star as a therapy horse prospect!
Louie is currently AMHR registered and could easily be hardshipped into AMHA once he's of age.
Because of his small stature & bright attitude, Louie is a wonderful choice to train as a future therapy horse.
The bonus? He's not only small - he's colorful and correct as well!
He'll be a surefire hit whatever venue you choose for this handsome lad!
PRICED RIGHT AT JUST $1,000.00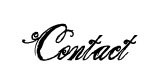 Lee (515) 708-0150
ljcagf15@aol.coom
WILD ROSE FARM
Located in Ames, Iowa
(110619X) Ad updated 8/6/2019

Sundance LB The Magician ST
(Magic Colt)
ASPC/AMHR Chestnut Pinto Stallion
COULD BE YOUR 2019 SHOW HORSE & FUTURE HERD SIRE!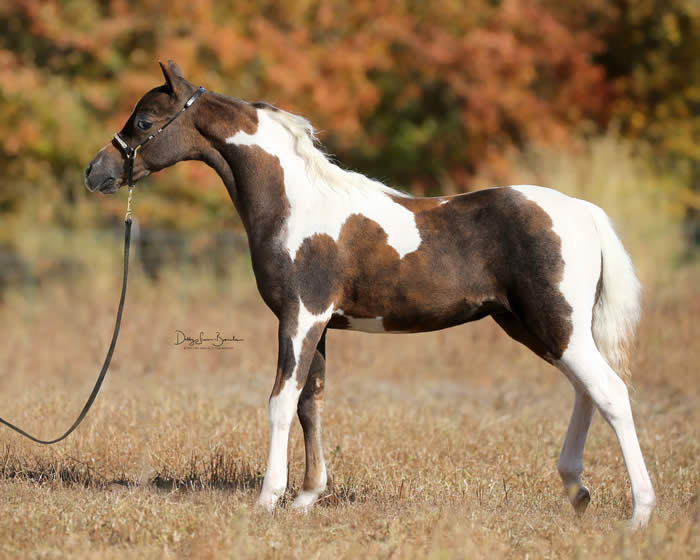 Sundance LB Juan Pablo x Sundance LB Magical Delite
Foaled 6/02/2018
Should mature 34-36" Range
Her pedigree speaks volumes on her quality and value.
This colt's sire AND dam have pedigrees loaded with ARENOSA breeding.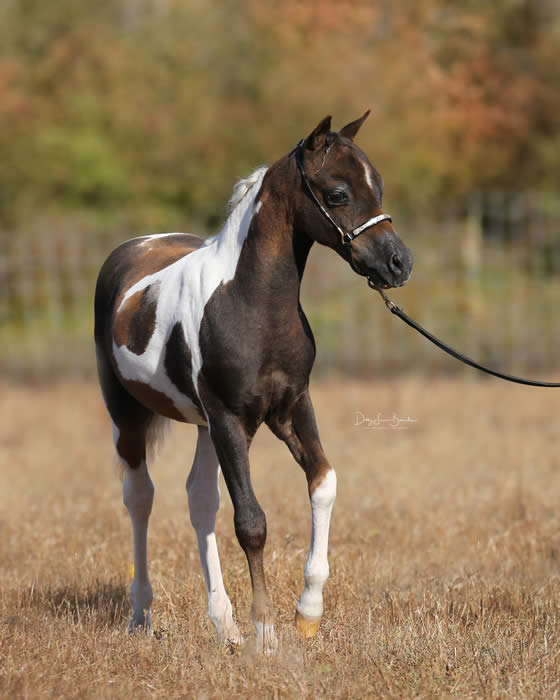 In fact his sire's pedigree is almost exclusively HOF (Hall of Fame) horses & Arenosa bloodlines.
This young colt's neck comes straight up out of his shoulders with a natural "double" hook.
We image he's bred to wear a bridle and pull a cart once he does his fair share of winning in the halter arena.
He's so extreme and upheaded with straight legs and a correct bite.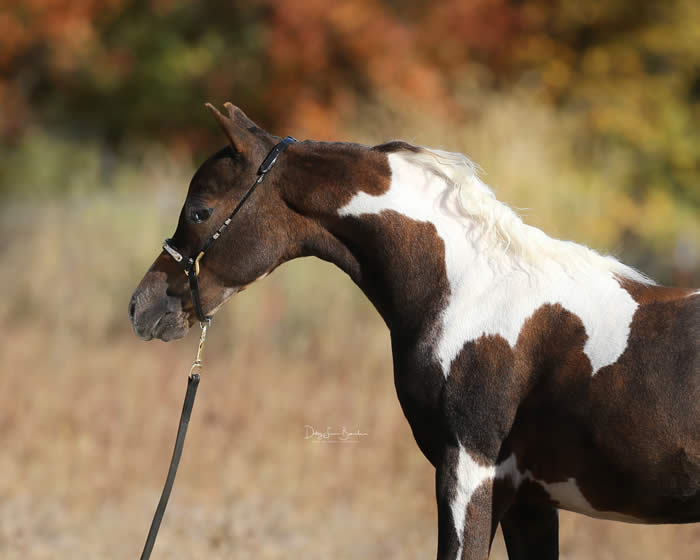 We are totally smitten with his extreme tight barrel and short, correct back -
- he's balanced and sound -
the total package of attitude, correctness and color!
Magic's colt has his dam's a gorgeous head with big poppy eyes.
PRICED AT $3,500.00
(INQUIRE ABOUT HIS TRIPLE REGISTERED DAM - ALSO FOR SALE!)
OFFERED BY OUR CORPORATE SPONSOR

Jessica Matheson
SPIRIT THUNDER TRAINING
(208) 446-8816
pinaraloosa@aol.com
Located in Idaho
(80619X) Ad updated 6/15/2019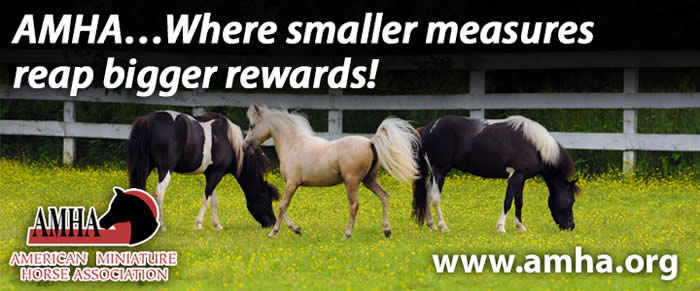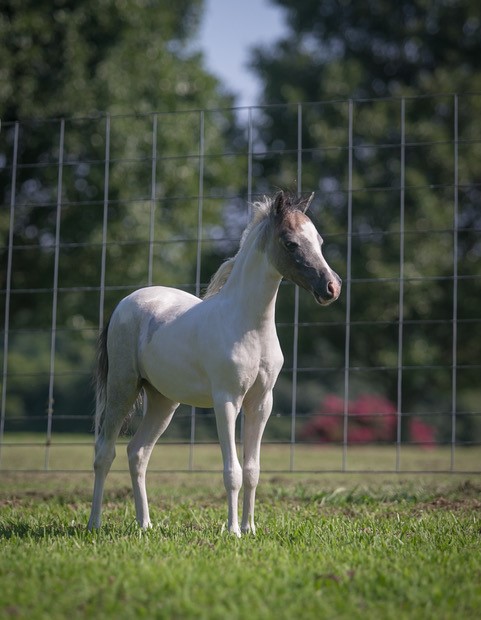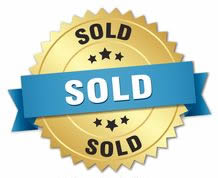 Hopkins PC Pascal
ASPC/AMHR 2018 Grey Pinto Stallion
BY WORLD GRAND CHAMPION DRIVING STALLION - "POKER CHIP"

Hopkins Cardinal Sin
(Sin)
AMHA/AMHR 2018 Red Roan Stallion w/Chrome
++ By World Futurity GRAND & National GRAND Champion "Ruler" ++
++ OUT OF WORLD GRAND CHAMPION HALTER MARE ++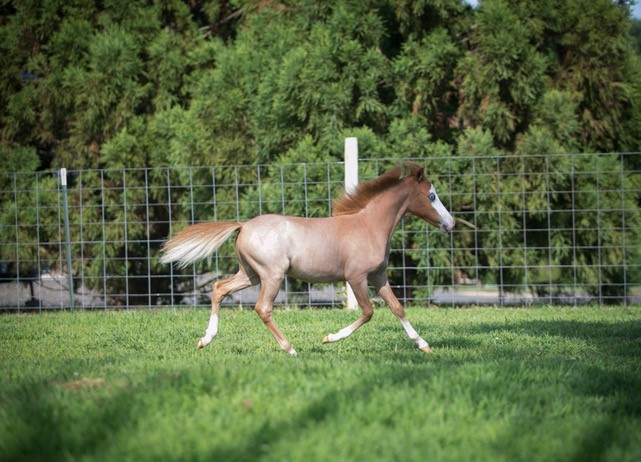 Oak Bay Salsas Cardinal Rule x Hopkins The Jokers Blazin Jasmine
Foaled 2/19/2018
With World and National GRAND CHAMPIONS as his sire & dam-
- "Sin" is bound for greatness!
Sin's sire is by World Champion Get-of-Sire and multiple World GRAND CHAMPION producing stallion OAK BAY SALSAMIO.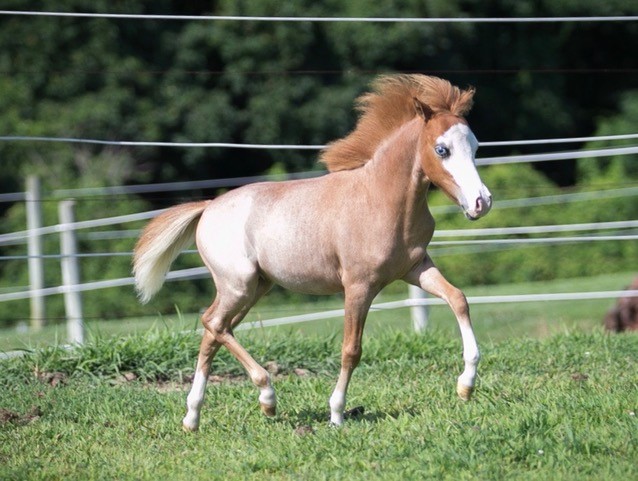 Cardinal Rule is an AMHA World GRAND CHAMPION Futurity and AMHR National GRAND CHAMPION Stallion, Under,.
And he's proving himself as a show quality producing sire, throwing his bold color and unique facial markings.
Sin's dam is a beautiful daughter of 2x AMHA World Res GRAND Champion ANOTHER DIMENSION DWBS THE JOKER.
"Jasmine" is a multi World Champion and a World Res GRAND Champion halter mare.
This is her first foal and we are thrilled with what this cross produced!
Let SIN be your next herd sire after his show career.
$7,500.00
SHOW HOME PREFERRED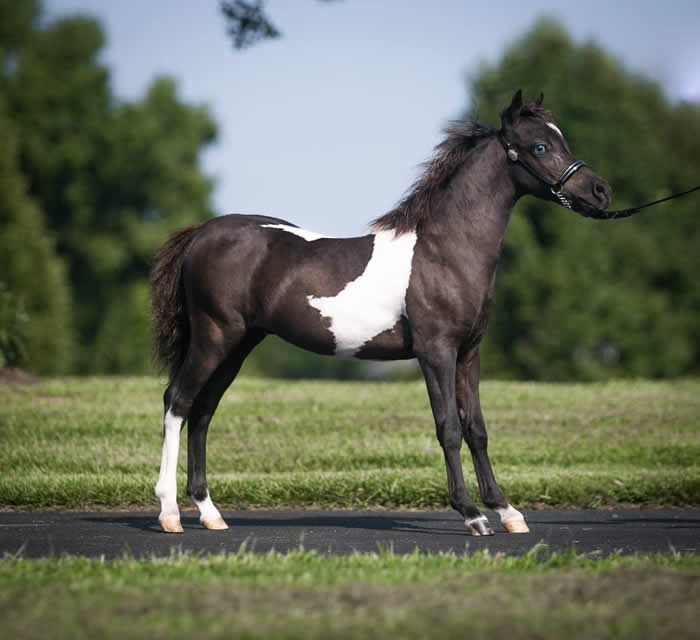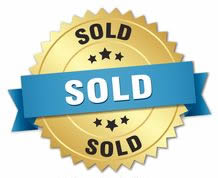 Hopkins Indelible Image
AMHA/AMHR 2018 Black Pinto SHOW Colt
BY WORLD GRAND CHAMPION STALLION OUT OF OUR "SALSA" DAUGHTER

Hopkins PC Persius
(Persius)
AMHA/AMHR 2018 Grey Pinto SHOW Colt
By World GRAND CHAMPION DRIVING STALLION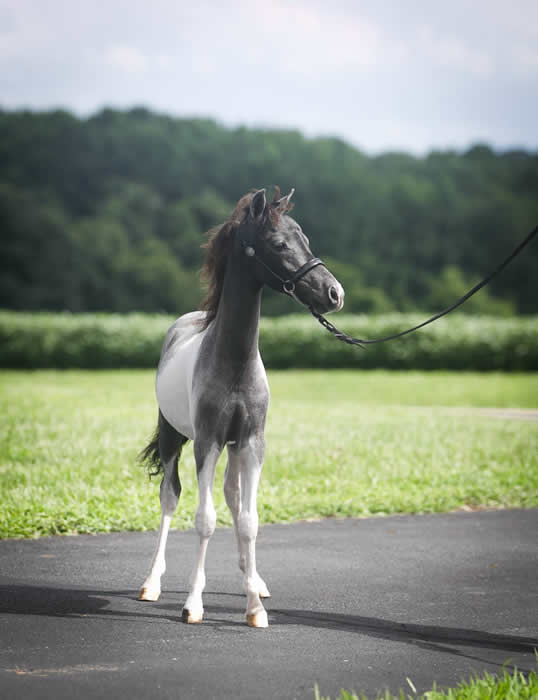 Ravenwood Poker Chip x FWF Blue Boys Flower Girl
Foaled 4/17/2018
This beautiful 2018 colt has driving on both sides of this pedigree starting with his AMHA World GRAND CHAMPION sire!
Poker Chip (aka PC) is by the industry changing sire, Wauk-A-Way Catch The Wind (aka Mike).
Persius's dam is a BLUE BOY bred mare who has produced many show winning foals for HHM.
He will be tall and finish approximately 34". Both sire and dam are producing incredible, athletic foals -
- the Shetland blend has turned out to be exceptional.
HARD TO GO WRONG WITH THIS CROSS!
PRICED AT $1,200.00 FOR A LIMITED TIME!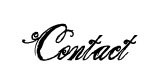 OFFERED BY OUR CORPORATE SPONSOR HOPKINS HEAVENSENT MINIATURES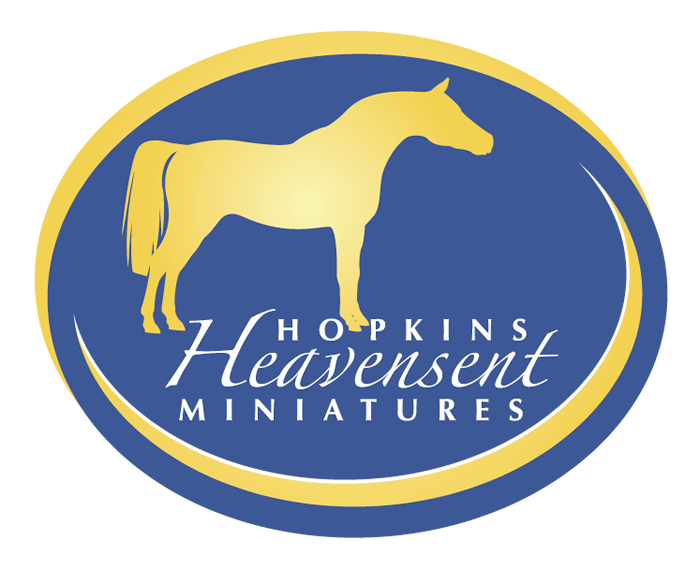 BRAD & DEBRA HOPKINS
(443) 693-5169
debra@hopkinsheavensentminiatures.com
1089 Pond Neck Road
Earleville, MD 21919
Located in Maryland
(012119X) Ad updated 8/6/2019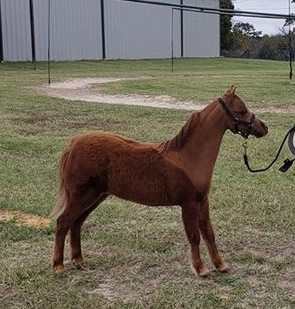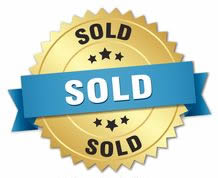 Texas Angels Chicos Tio Rojo
AMHA/AMHR 2018 Sorrel SHOW Stallion
WINNING "BOLERO" & NIGHTHAWK BLOODLINES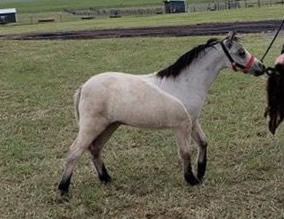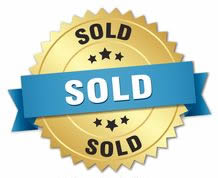 Texas Angels Chicos Chapito
AMHA/AMHR 2018 Buckskin Stallion
WINNING "BOLERO" BLOODLINES IN THIS TOP SHOW PROSPECT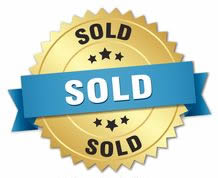 Lil Achers Ambrose
2018 Grulla Splash Pinto w/ Partial Blue Eyes SHOW Stallion
++ SHOW HOME ONLY! WE LOVE THIS COLT! ++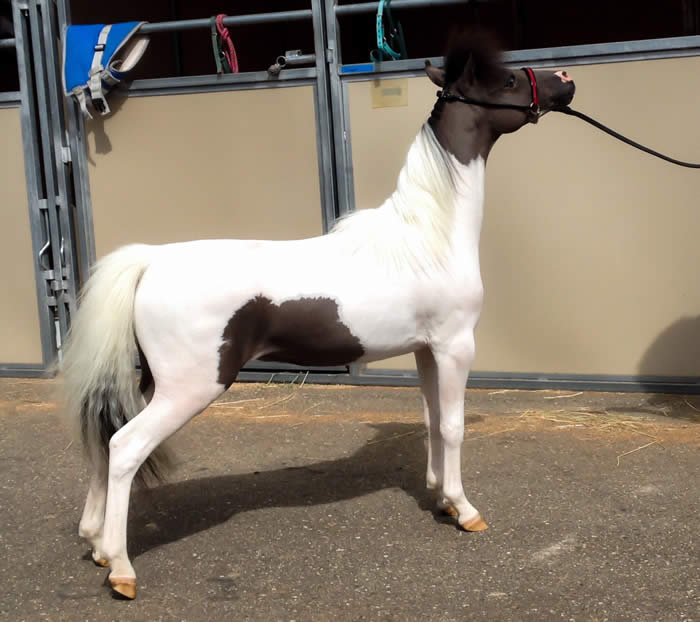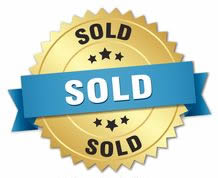 DnJ Assured To Sparkle


AMHA/AMHR 2018 Bay Pinto Tovero Stallion
PATERNAL SIBLING TO THE ICONIC "BOLERO"
Sold from this page:

Hopkins PC Pascal (August 2019)

Sunny Side Jonibuck O So Fancy (July 2019)

Hopkins Indelible Image (July 2019)

DnJ Assured To Sparkle (May 2019)

Texas Angels Chicos Tia Rojo (May 2019)

Texas Angels Chicos Chapito (May 2019)

Lil Achers Ambrose (March 2019)

Lazy N Incendios Pequino Picoso (November 2018)

Sunnyside Rock E The King (September 2018)

First Knight Kings Iron Man (July 2018)

Kakos A Wicked Dose Of Smoke (May 2018)

Hopkins PC Pequeno (April 2018)

DVM Pasos Smooth Criminalz (February 2018)

DVM Pasos Blitz N Bling (February 2018)

Born In A Barn Honey Badger (February 2018)

Windswept Tranquils Red Alert (January 2018) Sold to BC, Canada

Chance Of Golds Woodford (December 2017)

Wistiques Maxximums Revolution (December 2017)

LR Talisman Captivating Creation (December 2017)

CMC Trotters Triumph (November 2017)

Chance Of Gold Action Jackson (October 2017)

Bravados Poco Vito Of Panorama (October 2017)

Ravenwood National Victory (October 2017)

Panorama Destiny Calls (August 2017)

PHR Ima Country Sensation (July 2017)

MJM Wickedly Handsome (June 2017)

Cedar Rails Caught In The Buff (May 2017)

First Knight Striders Cowboy Up (May 2017)

First Knight Man In The Mirror (April 2017)

Woodland Acres Kings Jericho (April 2017)

PHR Baileys Irish Cream (April 2017)

Stars Suerte Del Diablo (March 2017)

Minners Amadeus Melodies Of Mozart (March 2017)

EE Pistols Big Love (February 2017)

SMBF Storm Chaser (February 2017)

2016 "Potion" colt by Billy Idol (January 2017)

Lucky Four Nates Reason To Dream (January 2017)

Lazy N Incendios El Jefe (January 2017)

Ravenwood National Headlines (January 2017)

Hunterberry Hill Impressive Artwork (January 2017)

TOF Secrets National Treasure Jett (January 2017)

Silver W Idols Outlaw Hawk (December 2016)

Hopkins Inspired Image (December 2016)

Hill Creeks JJs All That Jazz (December 2016)

SunnySide WinBuff Wild Willie (November 2016)

Born In A Barns Felonious Maximus (October 2016)

2016 Colt by Country Boy out of More Than Velvet (October 2016)

Hunterberry Hill Aim To Impress (August 2016)

2016 Covergirl SHOW COLT by Nighthawk (August 2016)

Larsons Jandt Brody Buckeroo (August 2016)

DVM 2016 Shetland Blend Show Colt (July 2016)

Ten L Legacys Cadillac Chrome (November 2015)

Cocis Royal Flush (November 2015)

Aloha Acres I Adore Partner (October 2015)

Aloha BSpringhill A Silent Dream (October 2015)

2015 CoCi Show Colt (October 2015)

2015 Colt by Nighthawk out of Blue Halo (October 2015) Sold to California

2015 Colt by Triple Registered BHR Chocolate Sundae (October 2015)

Sunny Side Winbuff Silver Velvet (October 2015)

Sunny Side Jonibuck Heza Wild Card (October 2015)

Sunny Side Jonibuck Heza Cool One (October 2015)

Ravenwood Paint The Town (October 2015)

Hopkins A Moment 2 Envy (October 2015)

Stars Geronimo (October 2015)

Ten Ls Mr Perfect In The Buff (September 2015)

Los Arboles Mahogany Shine (September 2015)

Los Arboles Pocket Rocket (September 2015)

Ten Ls Big City Buff (September 2015)

MJM Im Handsome N I Know It (September 2015)

LM Aloha Whats The Rush (September 2015)

Stars Majestic Masterpiece (August 2015)

EaglesNest Sharifs Star Appeal (August 2015)

2015 Colt out of Aloha Acres Shes A Silent Kicker (July 2015)

Hyde Away Ranch Hot Growing Concern (July 2015)

Stars Majestic Maverick (May 2015)

Olympian LM Shadow Hawk (December 2014)

Unnamed Picture Perfect 2014 Colt (December 2014) Heading to Florida

Hopkins The Jokers Maximus (December 2014)

11 Acres Sign O The Times (November 2014)

Los Arboles Boleros Arrogancio (October 2014)

Classic Fable's 2014 Show Colt (October 2014)

Stars Legendary Knight (August 2014)

Sunrise Valley Domino Diablo (August 2014)

Stars Grey Flannel (August 2014)

Ravenwood Taking A Break (July 2014)

Birchcrest Exceptional Touch Of Gold (July 2014)

Partner x Look Over Yonder Weanling Colt (June 2014)

DRK Tuxedos Sensational Hot Spots (May 2014)

RFM Undisputed Cowboy Hawk

Stars Legendary Eagle (December 2013)

MJM Thunder From Down Under (December 2013) Congrats Kristen Florez

Stars Legendary Gangster (December 2013)

TOF Warriors Apache Masquerade (November 2013)

Brookhavens Dancin N The Dark (November 2013)

Ravenwood Fine & Dandy (November 2013)

LK Eagles Unos N Chanting Rover (October 2013)

Eagles Ring Billy Bigelow By Buzz (October 2013)

Lucky Four 2013 Weanling Show Colt (October 2013)

Azariahs Beyond Handsome (August 2013)

Hopkins the Jokers Blue Steel (August 2013)

Stars Galahad - Congrats to Lexi Chase - MA (July 2103)

RFM Reeces Buffalo Soldier

Stars Legendary Gangster - Congratulations to Vali Mini Ranch - KS

LR Hennesseys Real Idol

LM Idols Sabre Hawk

Shneighs Phantom Of The Opera

Echos Firelite Of A Supreme Phoenix

LM Idols Kashmir Hawk

Brookhavens Domineer

MiniEquine Amirs Phoenix

Ten Ls All Buffed Up

LR Hennessey Hawk Mason

Aloha Acres A Silent Partnership

Frost Hill Breakin The Bank

Brookhavens Knight Dreams

Hidden Timbers Bold Streak