Two Year Old Miniature Mares - 2016 Mares

Hunterberry Hill Check Me Out
(Tiki)
AMHA/AMHR 2016 33" Silver Bay Pinto Mare
++ SIRED BY 3X AMHA WORLD GRAND CHAMPION SALSA SON! ++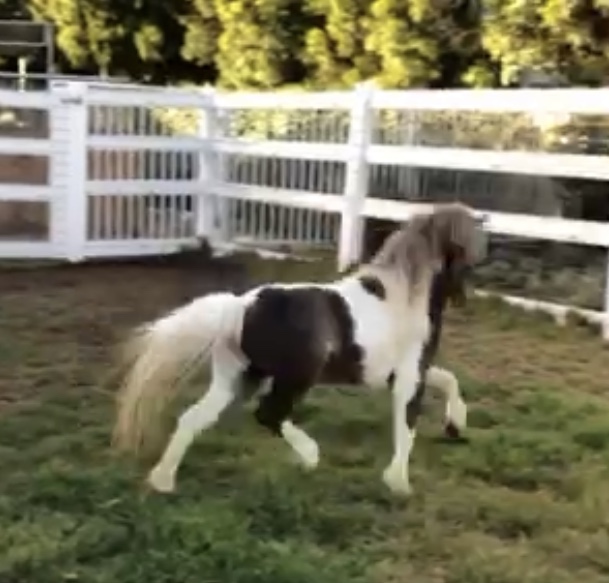 Oak Bay Salsa Chipotle x Modern Candymans Mandy
Foaled 3/15/2016
~ OUTSTANDING PEDIGREE
~ OUTSTANDING CONFORMATION
~ OUTSTANDING COLOR
~ OUTSTANDING MOVEMENT
What's not to love?!
Tiki is a lovely pinto mare sired by 3x AMHA World GRAND CHAMPION stallion, OAK BAY SALSA CHIPOTLE.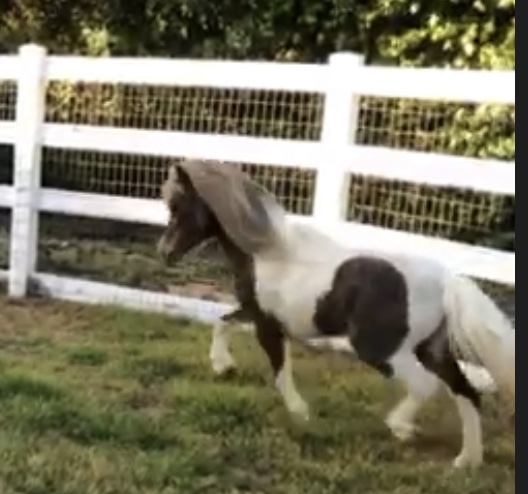 "Chip" now resides overseas so there will be no more offspring in the United States!
Chip is a direct son of OAK BAY SALSAMIO who has made a dramatic impact in the show ring.
SALSA has sired many World GRAND CHAMPIONS in both HALTER and in the PERFORMANCE arena.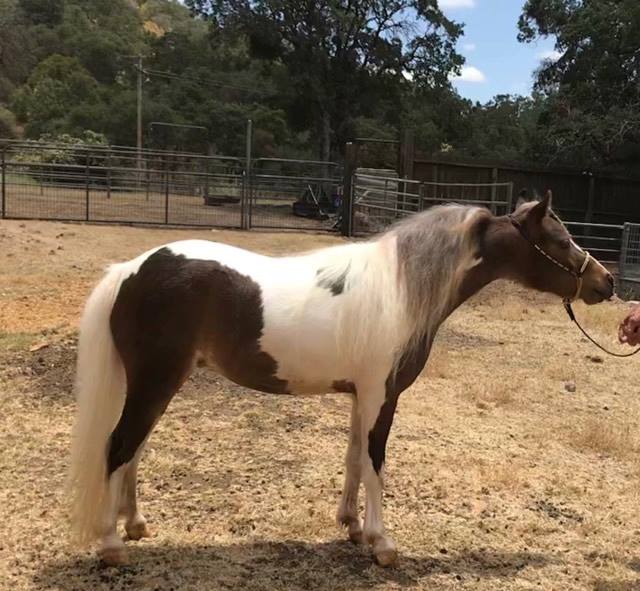 SALSA is also a 4x World Champion/Res World Champion of the coveted GET-OF-SIRE title.
And check out Tiki's MATERNAL side!
Her dam is a daughter of Modern Golds Candyman - Triple Registered sire to World and National Champions and GRAND CHAMPIONS.
"Candyman" daughters are highly sought after as broodmares for those adding Shetland lines to their Miniature Horse breeding program.
Tiki should make a competitive driving horse or a fantastic broodmare prospect.
$3,500.00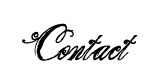 Lynne Francis
DARKSIDE MINIATURES
email address: darksideminis@yahoo.com
Located in California
(041219X) Ad updated 10/12/2018
Aloha Acres Charmed By The Lite
(Charm)
AMHA/AMHR Registered 2016 Silver Bay 31" SHOW Mare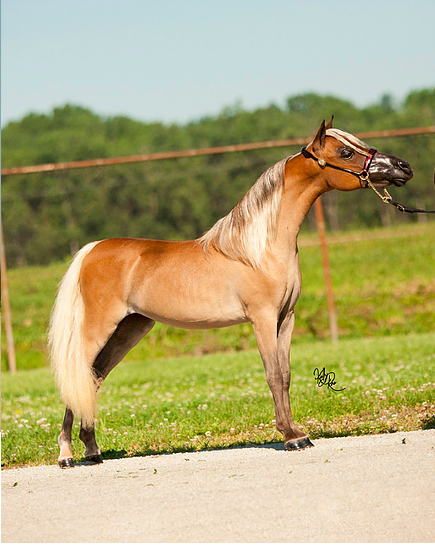 Aloha Acres Little Sky Lite x Grosshill EK Creations Cameo
Foaled 6/01/2016
Charm has had a very successful show career.
She was an AMHA World Top Ten as a yearling and has multiple GRAND CHAMPION titles to her credit.
She had 2018 off to mature and just be a "horse".
She could easily go back in the show ring in 2019 and continue her winning ways.
She's super simple to show and will not move her hooves once she is set.
Charm's sire, "Sky Lite" is a World GRAND CHAMPION producer.
He's a Triple Registered Shetland which makes this mare a wonderful blend of Shetland and Mini.
Her dam is a daughter of the great Hemlock Brooks Egyptian King.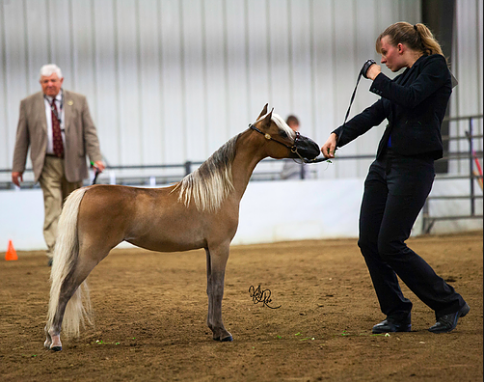 It's no wonder Charm has such a PRETTY head (one thing that EK is well known for!)
Charm would make an excellent youth or amateur show horse.
She should become a valued broodmare for a farm breeding for small, correct Miniatures.
OFFERED AT $5,000.00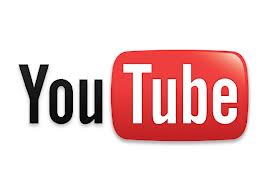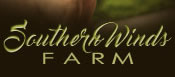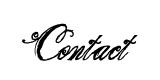 Megan Mahoney
SOUTHERN WINDS MINIATURES
(703) 909-3192
mmahoney97@live.com
Located in Covesville, Virginia
(032619X) Ad updated 10/1/2018
Valhalla Farms Girl Friday
(Friday)
AMHA/AMHR 2016 Bay Pinto Mare
EAGLE SCOUT/ SIR SIGNATURE BLOODLINES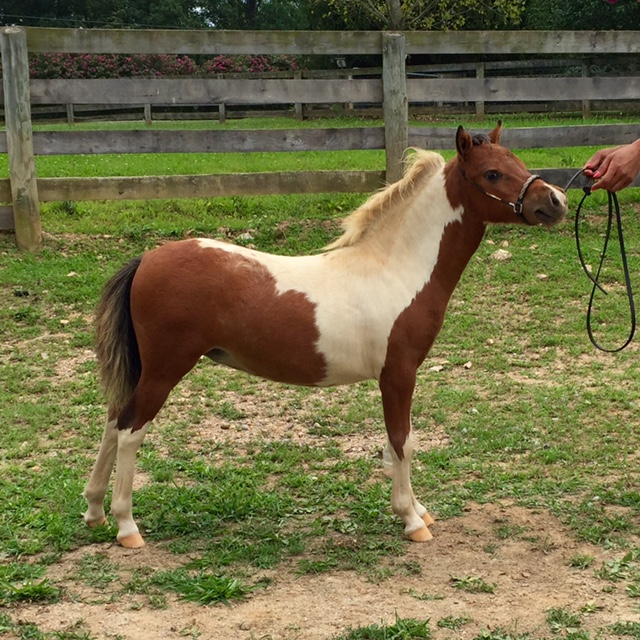 FAF Eagle Scouts Fine Art x Abrias Signature Aura
Foaled 3/25/2016
Who couldn't use a GIRL FRIDAY?!
A "do it all" girl with a super attitude and work ethic? We feel that "Friday" will live up to her name.
She's SUPER sweet & loves attention.
This young mare is showy and correct with ideal conformation, all wrapped up in a brilliant bay pinto package.
Friday is AMHA and AMHR Registered. She's the perfect PtHA PINTO registration candidate as well.
Friday is on track to mature between 33" - 34" -
- the ideal height for a competitive all-around prospect.
We've priced her LOW, hoping she'll find a super show home with a serious youth or amateur.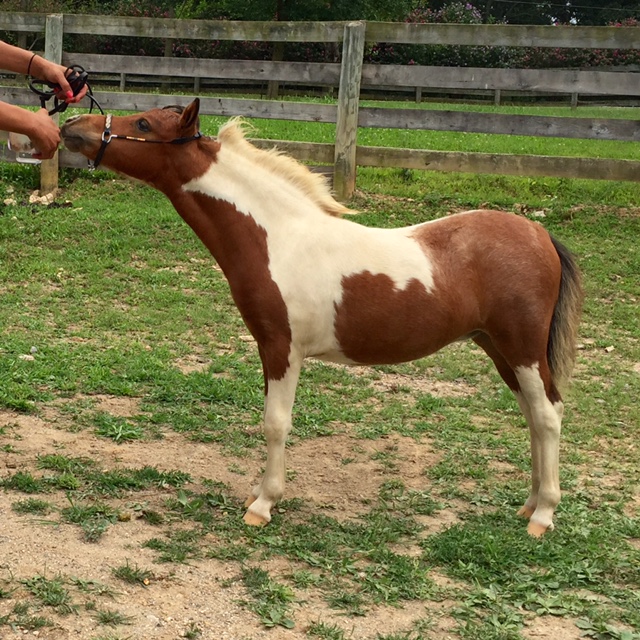 Her pedigree warrants a second look.
Friday is by Fallen Ash Eagles Fine Art, a WORLD CHAMPION son of the iconic FALLEN ASH FARMS EAGLE SCOUT.
"Fine Art" is out of a WITTMAACKS MICKEY MOUSE daughter, making him a grandson of the foundation Miniature Horse stallion, GOLD MELODY BOY.
Friday's dam is by 2x AMHA Res World Champion CHAMPION FARMS SIRS SIGNATURE- a son of CROSS COUNTRYS CALL ME SIR.
SIGNATURE AURA boasts LAZY N RED BOY, ROWDY, ROAN RANGER & AMHA National Res GRAND Champion Senior Stallion, JOHNSTONS STARLIGHT RANGER.
Friday would make an excellent show horse, driving sensation and future broodmare deluxe.
Friday could be YOUR perfect partner.
PRICED AT $1,500.00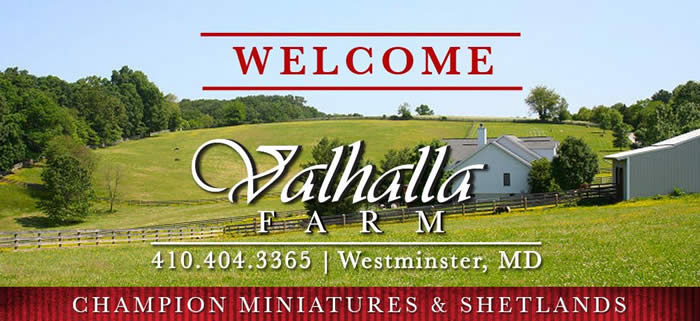 Katherine Snyder
VALHALLA FARM MINIATURES & SHETLANDS
www.valhallafarm.net
(410) 404-3365
valhalla@qis.net
Located in Westminster, Maryland
(1217) Ad updated 8/22/2018
Amazing Grace We R Kickin It
(Wee)

ASPC/AMHR 2016 Black Sabino Roan Pinto Mare - Should mature around 36"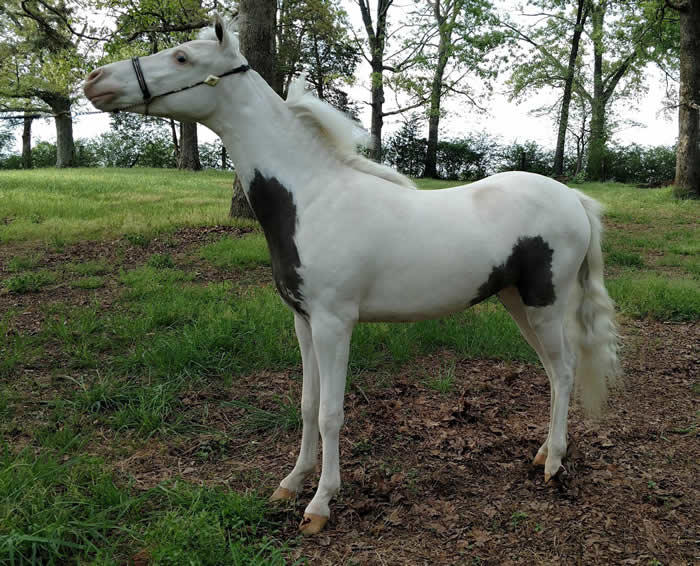 Caldwell's The Name's King x Ten Ls Legacys Strawberry Wine


Foaled 4/03/2016

AMHR 335429T/ASPC 166698
" Wee" is a beautiful black Roan Sabino with ice blue eyes.

She is straight & correct with a balanced body and ultra long, trim neck.

This young filly already shows lots of character.
Her sire is Caldwell's The Name's King (pictured at right)– 37.5" -
- an AMHR/ASPC bay pinto stallion who exemplifies the high standard of perfection attained by the Caldwell breeding program.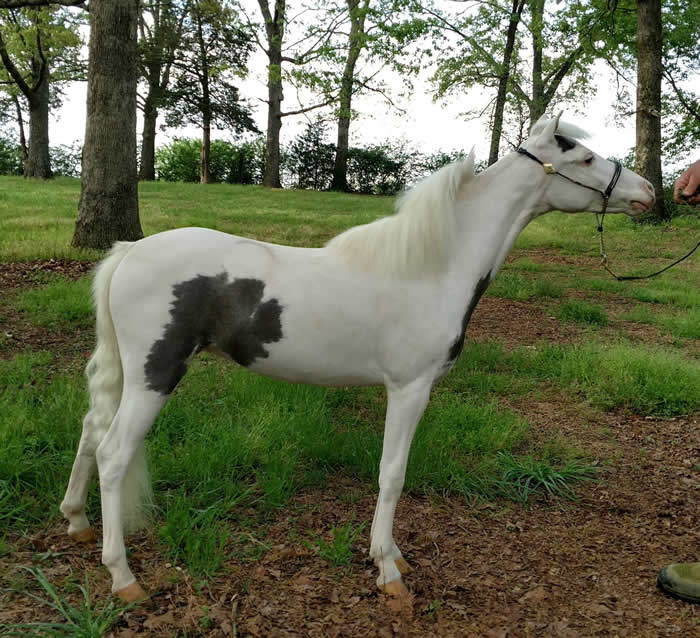 "Wee" is an "in your pocket" type of horse - inquisitive and friendly.

She should make a super fun show horse and performance partner.

She's tractable and sweet but still has tons of "show" to her.
Oh - and she can move it - move it!

Both sire and dam have gorgeous movement which they have passed on to all of their offspring.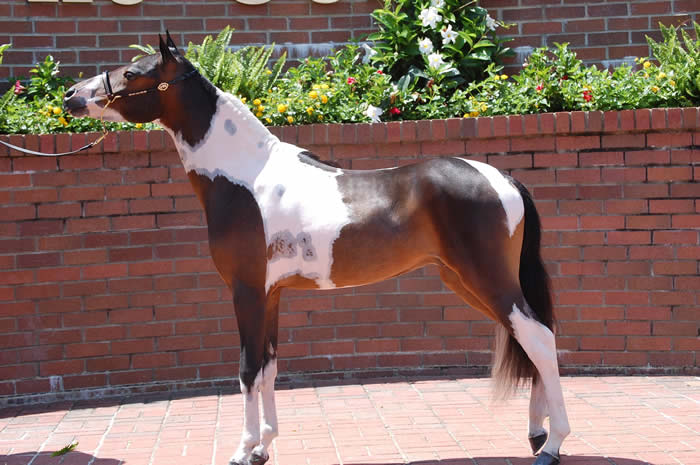 We expect this mare to be an exceptional driving prospect once she matures.

Her pedigree is full of outstanding horses including:

Red Rock Kid Lee
Graham's General Lee
Graham's Fashion King and
Wa-Full Captain's Lovely Lass

Excellent performance prospect and a future broodmare that could throw some wild color.

From her pretty face to her colorful pedigree, this Shetland has SO much to offer -
a wise addition to your 2018 show string!

Futurity Nominated

$1,200.00 - negotiable

CONTACT:
Tamara Vanderwerf
423-836-1844
Redsdan@aol.com

Located in Sweetwater, Tennessee – between Knoxville and Chattanooga

(1116) Ad updated 10/20/2017
Azariahs Alluring Eagle
(Pumpernickel)
2016 AMHA/AMHR Silver Bay Tobiano Mare
Estimated to mature approx 32"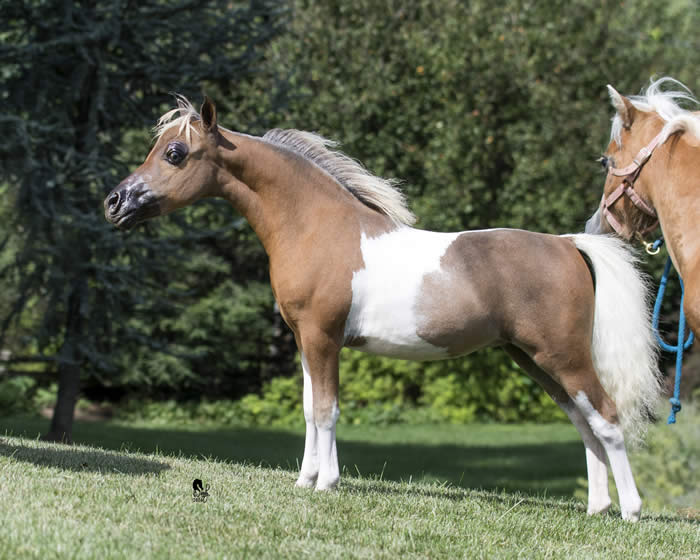 CMC On Eagles Wings x Impressibles Exquisite Design
Foaled 5/19/2015
What's so special about this beauty?
For starters, Pumpernickel's sire, CMC On Eagles Wings is an AMHA Reserve World Champion.
He is a son of Fallen Ash Farms Eagle Scout -
- multi World Champion producing stallion and the 2012 AMHA World Champion in the prestigious Get-of-Sire class.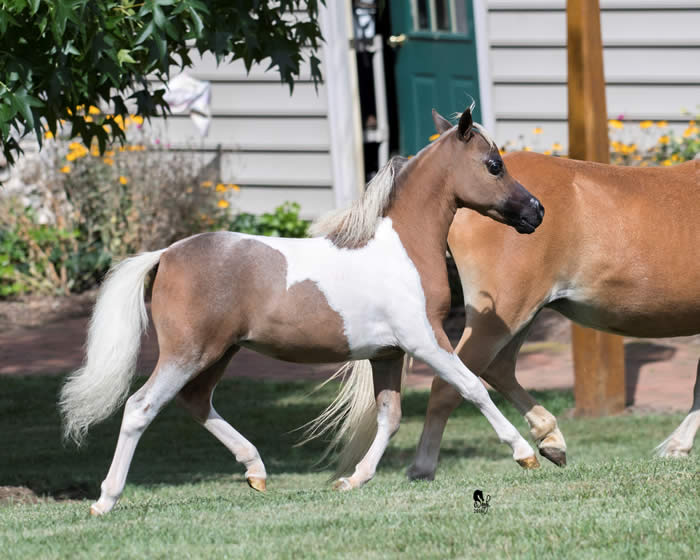 Eagles Wings dam is also a direct descendent of the iconic L&D Scout, doubling up on his prolific bloodlines.
Eagles Wings' FULL sibling, FALLEN ASH EAGLES ENCHANTRESS is a World Champion as well.
Pumpernickel's dam carries the lines of ORION LIGHT VANT HUTTENEST, NFC HUSSELERS STAR and BREWERS ORION CLASSIC.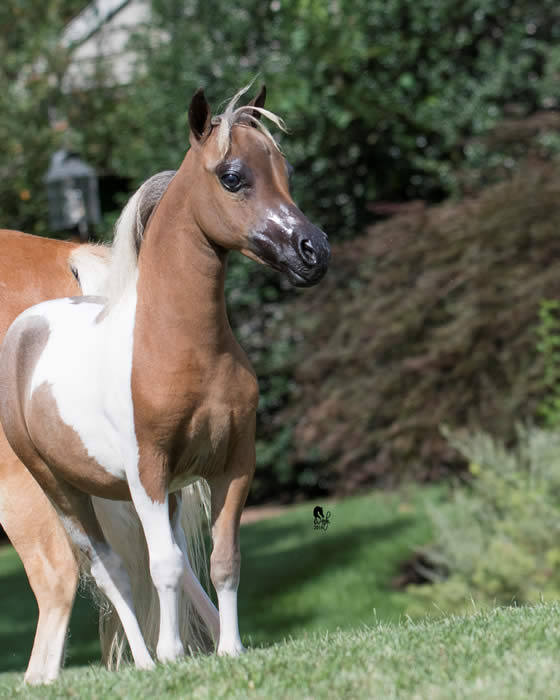 Her dam has consistently produced outstanding show quality foals and Pumpernickel is no exception.
She is showy, correct and ready to begin her career.
Pumpernickel has a beautiful head and neck, huge soft eye, upright carriage and extreme presence.
She has a strong top line, good angles and beautiful movement.
This filly will be a very strong contender in the halter and driving rings.
BROUGHT TO YOU BY OUR CORPORATE PARTNER AZARIAH MINIATURES at MEADOWIND FARM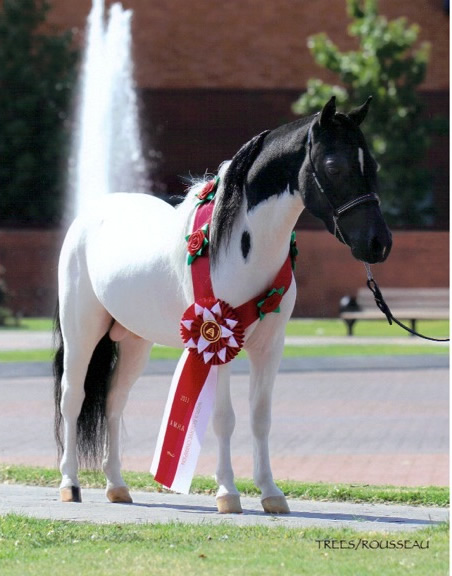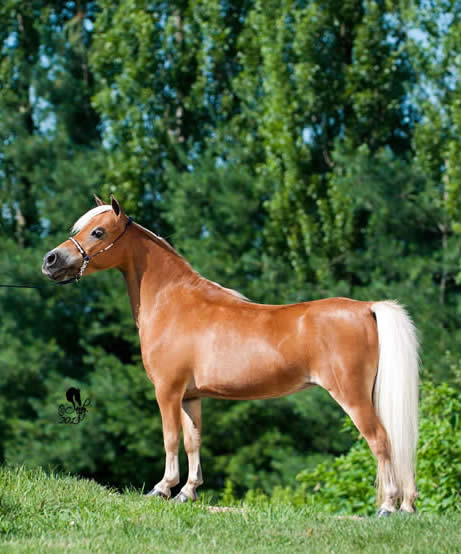 SIRE: ON EAGLES WINGS DAM: EXQUISITE DESIGN
Not only is she a stunning filly, her bloodlines will be an asset to any breeding program.
PRICED AT $3,000.00
VERY NEGOTIABLE! LET'S TALK!
OFFERED BY OUR CORPORATE SPONSOR

Located in southeastern, Pennsylvania, Azariah Miniatures at Meadowind Farm is a small farm with a goal of selectively breeding refined miniature horses that will be competitive in the show ring, strengthen your breeding program, or bring joy to your family.
Our horses are chosen for their correct conformation, excellent temperaments, balanced, elegant movement, and strong bloodlines.
While our site is under construction, please feel free to contact us
Azariah Miniatures
at Meadowind Farm
Julie Good
Manheim, PA

717 725-7784
azariah@meadowindfarm.com

"And Indeed, a horse who bears himself proudly is a thing of such beauty and astonishment that attracts the eyes of all beholders; no one will tire of looking at him as long as he will display himself in his splendor." ~~Xenophon
Located in Pennsylvania
(516) Ad updated 7/24/2018
Junior Bear Dawn Of Destiny
(Destiny)
AMHR Registered Solid Bay Mare
BY WORLD RES GRAND CHAMPION "SALSA" SON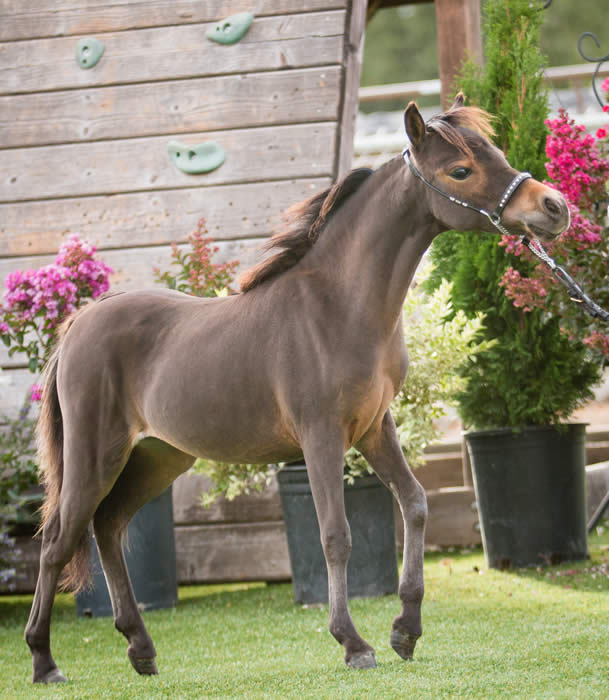 Oak Bay Salsas Donatello x Qunitessas Miss Scarlett
Foaled 4/10/2016
SWEET mare with HUGE eyes and super cute face!
Destiny has a ROYAL pedigree.
Her sire is OAK BAY SALSAS DONATELLO - a World Res GRAND CHAMPION stallion. He is a direct son of OAK BAY SALSASMIO -
sire to multi World GRAND CHAMPIONS and World CHAMPIONS.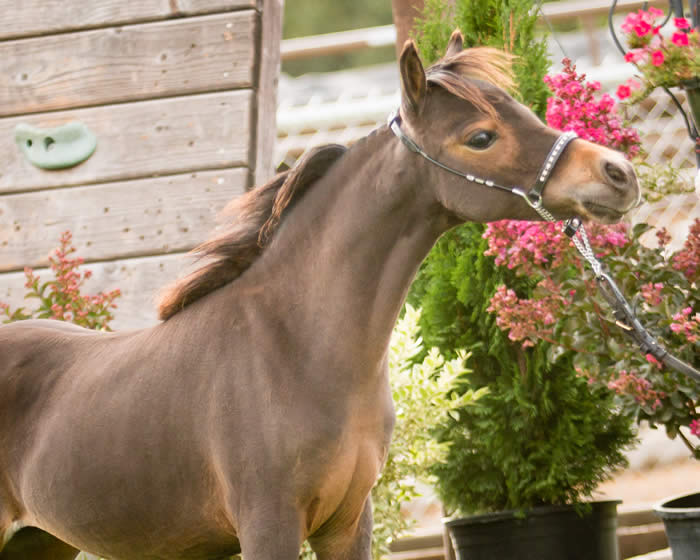 New, current photos soon.
Balanced mare with solid, correct body.
NOW PRICED AT $3,000.00
OFFERED BY OUR CORPORATE SPONSOR
JUNIOR BEAR RANCH
Mike & Kerri Griggs
(707) 459-1800
Located in Willits, California
(817) Ad updated 7/24/2018
DVM Pasos Iam Sasha Fierce
(Sasha)
AMHA/AMHR 2016 Palomino SHOW Mare
Full Sibling to 2016 & 2015 NATIONAL CHAMPION Gelding "DVM Shut Up And Dance"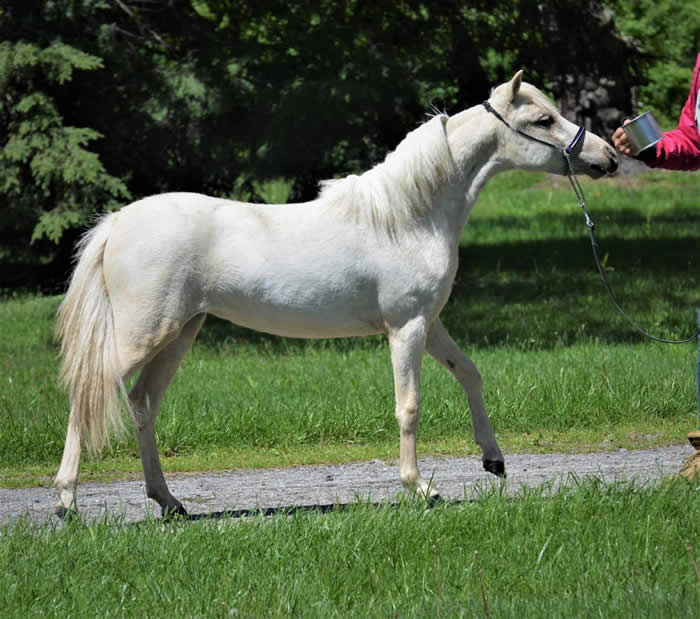 Mini Ridge Paso Doble x Blue Boys QT Pie
Foaled 4/29/2016
ANOTHER CHAMPION IN THE MAKING!
This little doll has big hoof prints to fill -
-
her FULL sibling was just awarded AMHR Nationals CHAMPION Gelding for the 2nd year in a ROW!
She's every bit as nice - just in a golden palomino wrapper!
Her sire "Paso" is pictured below, at right.
He's a direct SON of World SUPREME CHAMPION, Grahams Ragtime.
(he's pictured below at bottom)
She's elegant and leggy with a super tight body and a neck that may never need sweating.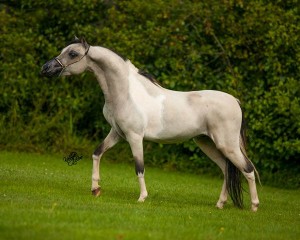 She tested NEGATIVE for the GREY gene -
- this darling is a PALOMINO that can produce dilutes for YOUR farm.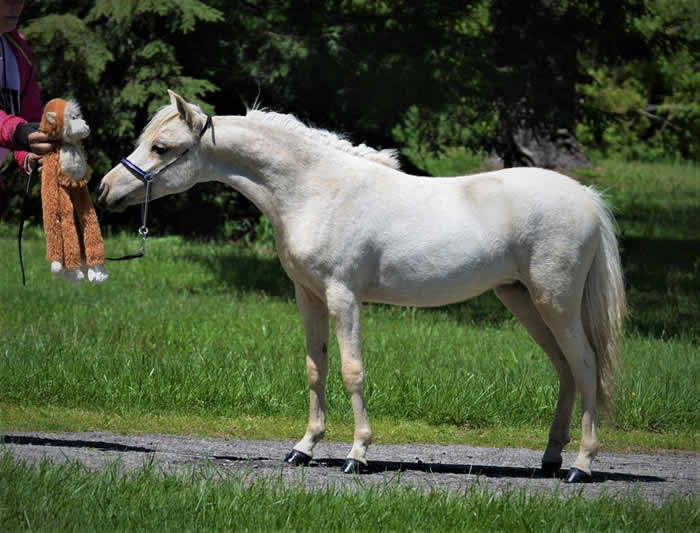 This filly should be a fancy show mare then go on to produce Champions for your farm.
Add some Shetland blood without sacrificing that pretty "Mini" look -
- and still keeping your program UNDER 34" tall.
Priced at $2,500.00 -
SPECIAL CONSIDERATION TO A SHOW HOME!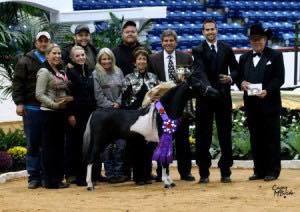 This filly's Grandsire - World Supreme Champion RAGTIME (owned & loved by Kim Sweatt)

DVM La Luna Bella
(Luna Bella )
ASPC/AMHR 2016 Black Pinto Mare
Paternal Sibling to WORLD SUPREME CHAMPION "Ragtime"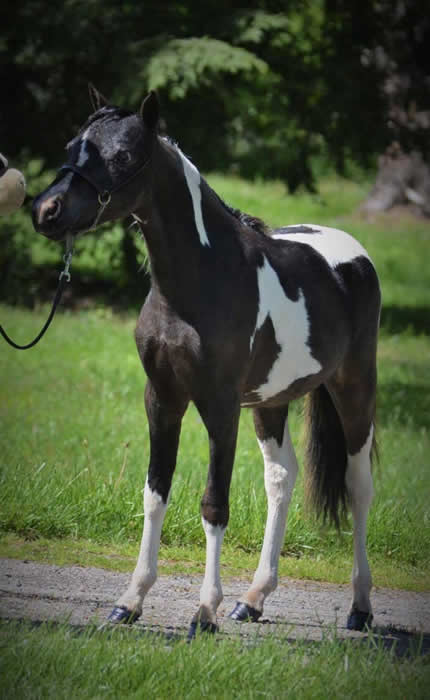 Graham's Little Tramp x Mini Ridge Luna
Foaled 7/9/2016
Should mature to 34" and be a candidate for AMHA Hardship!
What's not to love?!
Here's a few reasons why THIS mare is one you should seriously consider:
+ Paternal Sibling to World Supreme Champon
+ Brilliant black pinto
+ Should mature to 34" and be eligible as a TRIPLE!
+ Pretty head & elegant body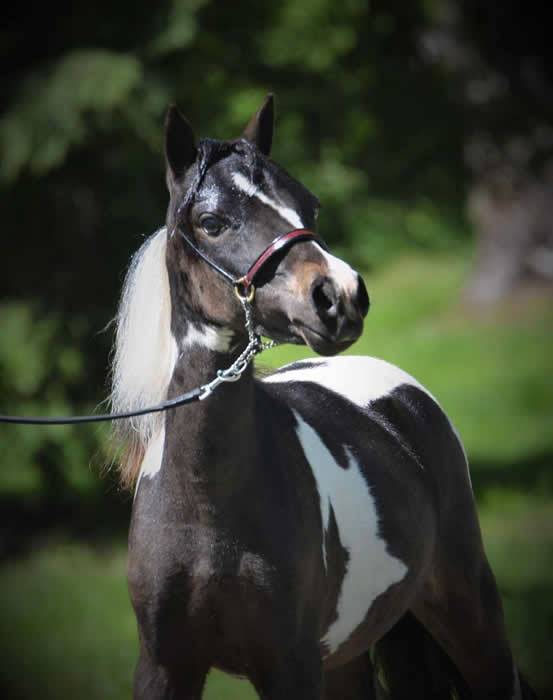 READY TO SHOW NOW THEN PRODUCE YOUR NEXT CHAMPION LATER!
Luna Bella measures 32" as of May 2017.
Her pedigree is loaded with ARENOSA, Kewpies and GRAHAM bloodlines that have stood the test of time.
She also carries KID LEE in her pedigree.
Luna Bella should be a valued addition to any fine breeding program after her show career is finished.
Her price has recently been reduced to make room for client mares coming in to the NEW FOALING CENTER at DVM Farms.
Take advantage of this rare offering!
Priced at $5,000.00 -
SPECIAL PRICE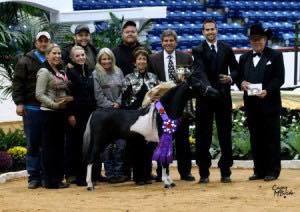 Bella Luna's Paternal sibling - World Supreme Champion RAGTIME
(owned & loved by Kim Sweatt)
Nicole & Boomer Pearsall
5 Jimro Road West Middlesex, PA  16159
(412)527-0358  (call or text)

dvmfarms@hotmail.com
Located in Pennsylvania
(1016) Ad updated 9/9/2018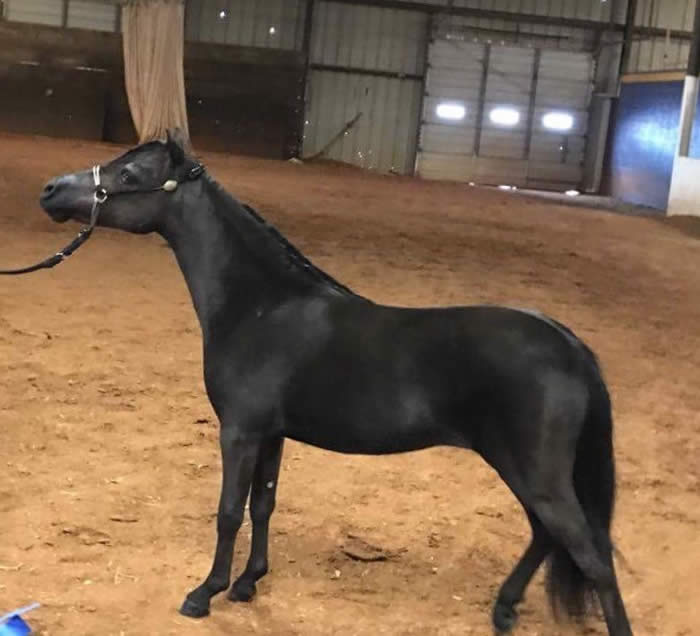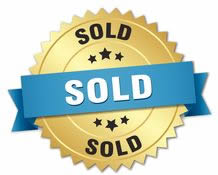 Echo Falls Bey Eclipse
AMHA/AMHR 2016 31" Black SHOW Mare
QUALIFIED FOR AMHA WORLD SHOW AT HER VERY FIRST SHOW!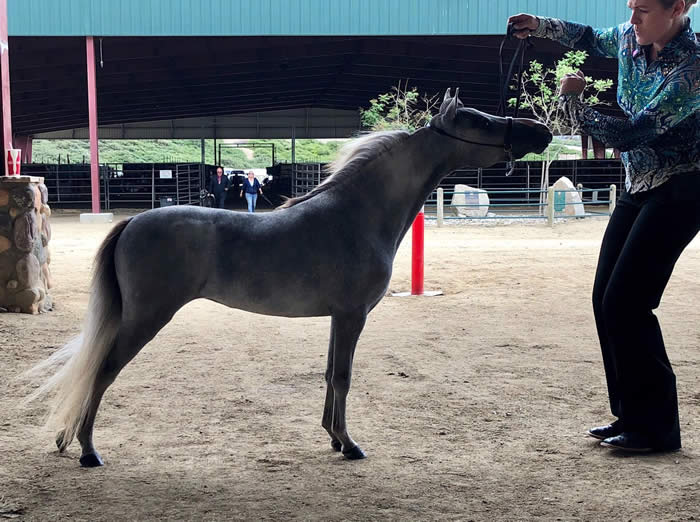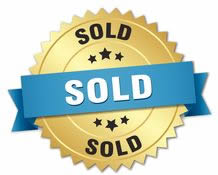 LM Idols Eternal Hawk
AMHA/AMHR 2016 Gray SHOW Mare
FULL SIBLING TO WORLD GRAND CHAMPION "HAWKS COUTOUR"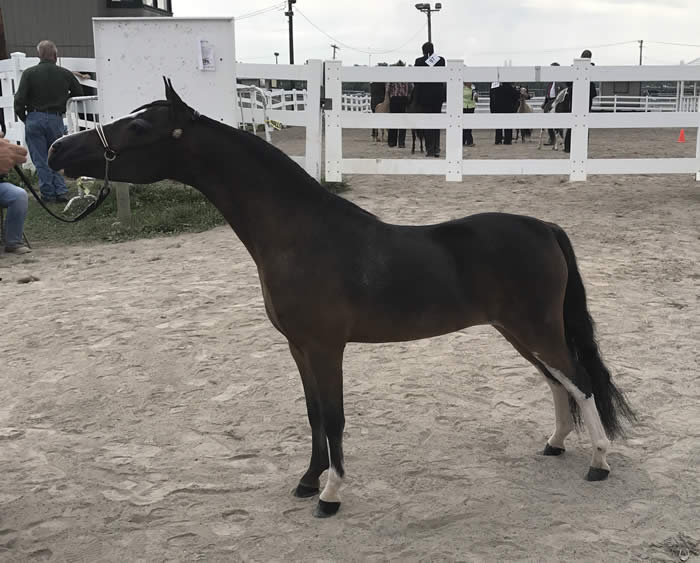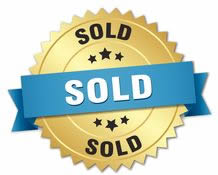 PHR Candy Crush
ASPC/AMHR Bay Roan SHOW Mare
AMHR National Champion Yearling Mare in 2016!
SOLD HORSES:

Echo Falls Bey Eclipse (August 2018)

Hopkins Angelic Image (April 2018)

Lucky Four Thunders Dream Come True (Jan 2018)

Bandidos Repeated In Red (October 2017) Sold to France

PHR Candy Crush (August 2017) Congrats to CMC Miniatures

EE Princes Sara (August 2017)

Covergirls French Kiss By Fabian (July 2017)

Chance Of Golds Show Me The Buff (May 2017)

CD Fashion Is My Kryptonite (February 2017)

Tricetta CE Abbys Lady Spice (January 2017)

Hunterberry Hill Cherie Amore (December 2016)

Lucky Four Rebelchase Exotica (December 2016) Heading Overseas!

Minners Unforgettable Irish Blessing (November 2016)

Libertys Redi To Dare (November 2016)

DVM Geneses Lady Eyes (November 2016)

Azariahs Unpisputed Star (September 2016)

Flying G Assured Mailbu Barbie (August 2016)

Ravenwoods Another Chance (July 2016)

Hopkins Golden Image (July 2016)

CD Fashion Is My Kryptonite (July 2016)

DVM Rebs Heaven On Earth (June 2016)

Ericas Trotters Bab E Doll (June 2016)

PHR ZP Mystique (May 2016)

OR Missdemeanor Buckskin Beads Hawk (April 2016)

Aloha Acres Flirting With The Lite (April 2016

OR LM Hawks Phantom Of The Opera (April 2016)

Los Arboles Extreme Sensation (April 2016)

Aloha Acres Lady Of Lite (February 2016)

Wingate Indiana (January 2016)

Stars Gift Wrapped (January 2016)

Hopkins Irresistible Image (October 2015)

Lovett Farms Settin Fancy Free (October 2015)

CMCs Scouts Rowdy Baroness (September 2015)

DW Buckin Rosa Mia (September 2015)

Stars Glass Slippers (August 2015)

Ravenwood War Of The Roses (July 2015)

Bandidos All Blinged Out (June 2015)

Sunny Side JoniBuck O So Wild (June 2015)

Hopkins Champagne Fame (May 2015)

Gander Hill California Chromin (April 2015)

Lazy N Unforgettable Desires (February 2015)

Tapestrys Triple Shot Espresso (February 2015)

Gander Hill CA Lady In Black (February 2015)

LK Eagles Unos Ritzy Rose (February 2015)

Vista Valley Its About Romance (December 2014)

Covergirl Rocks QueenOf RockNRoll (December 2014) SOLD IN 4 DAYS!

Tyler's Kashmire Sapphire of LTF

Playtimes In Amir Or IC Me2 (November 2014) Congratulations to Janet King

RFM Geneses ShesMyTen (October 2014)

Hopkins The Joker In January (October 2014)

Hopkins The Jokers Blazin Jasmin (October 2014)

Ravenwood Dreamcatcher (August 2014)

Stars Miss Majestic (August 2014)

Mercedes Giselle (August 2014)

Gander Hill California Keepsake (July 2014)

Ten Ls Kiss Me In The Buff (June 2014)

Ten Ls Bikini Buff (May 2014) Heading overseas

Hopkins The Jokers Irish Eyes (May 2014)

Black Mountain Troubadors Lyric (March 2014)

Hunterberry Hill High Hopes 4U (February 2014)

Mountain Meadows Breakers Fiesta (February 2014)

Hills Geneses Forevermore (January 2014)

LK Eagles Unos Graceful Ginger (January 2014)

Hunterberry Hill Have A Little Jazz (January 2014)

Arion Bandstand Harmony (December 2013)

Rivendells Carmel Contessa (November 2013)

Rainbow Ridge Moonlight Serenade (November 2013)

Gander Hills California Elegance (November 2013)

Hunterberry Hill Kenya SE (October 2013)

LR Hennessey Precious Girl (October 2013)

LR Hennesseys Mne All Mine (October 2013)

Ten Ls Destinys Im In The Buff Too (October 2013 - Congrats to Lynn Gulledge-Fatale!)

Poco De Oro Bella Mia (October 2013)

Lucky Four Rowdys Reason To Dream (September 2013)

LM Hawks Thumblelina (September 2013)

Elite Velvet Vixen (September 2013)

Gander Hill Miss California (July 2013)

Caldwell's Whata Pretty Picture (June 2013)

RFM Geneses Russian Contessa (June 2013)

Alliance Unforgettably Charmed (heading overseas!)

Alliance Fiery Kisses (heading overseas!)

Ericas Take My Picture

Sunny Side JoniBuck O So Fanci - (Congrats, Bill & Caroline Robinson)

Westwind Hopalongs Top Silver Star

Wa-Fulls Sweet Snip's Brandy

HHP Desirable Debutante

Dundees Replicas Wild Ginger

Ten Ls Passion In The Buff

LM Kodys Pretty Penny

CMC RG Appear In Glory

Eastside Making Waves

LM Idols Rihanna Hawk

GRF Lines Little Lass

Hytide Hallelujah

LR Hennesseys Miss Baily