Two Year Old Miniature Mares - 2015 Mares

PHR Candy Crush
(Candy)
ASPC/AMHR Bay Roan SHOW Mare
AMHR National Champion Yearling Mare in 2016!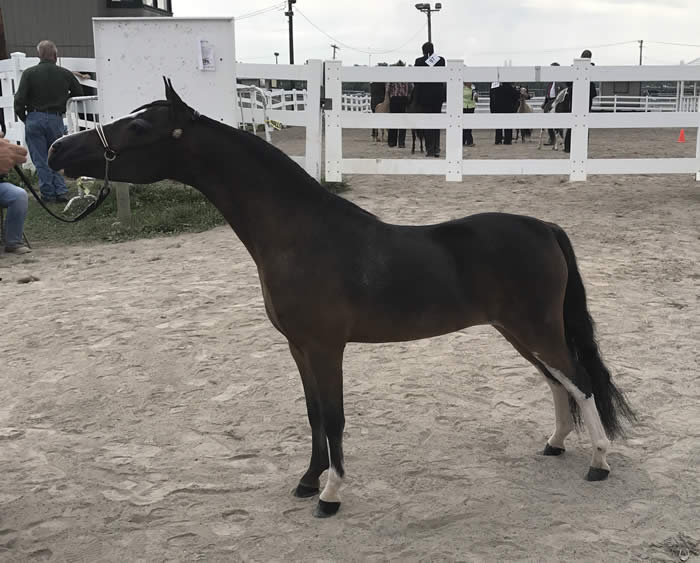 JC's Jo-Co's Lil Admiral (HOF) x Modern Candyman's Eye Candy
Foaled 3/18/2015
This stunning young mare has bragging rights for SURE.
Her pedigree reads like a who's-who in today's winner's circle.
Candy's sire is a World SUPREME CHAMPION producer as well as an AMHR National GRAND CHAMPION sire.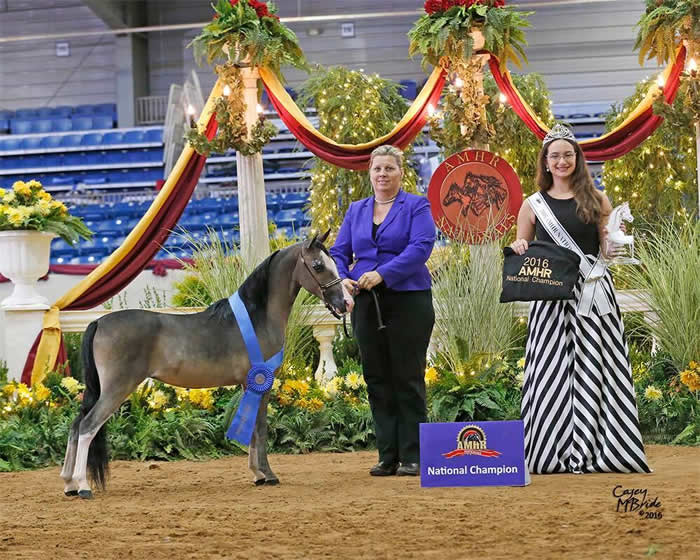 "Admiral" is the sire to D&S TG IMA COUNTRY BOY -
- World Grand Champion Senior Stallion & World SUPREME Champion.
Admiral also boasts being the sire to Rayvik Jocomotion -
- AMHR National GRAND CHAMPION Stallion, Under and now a World Champion sire as well.
Want more?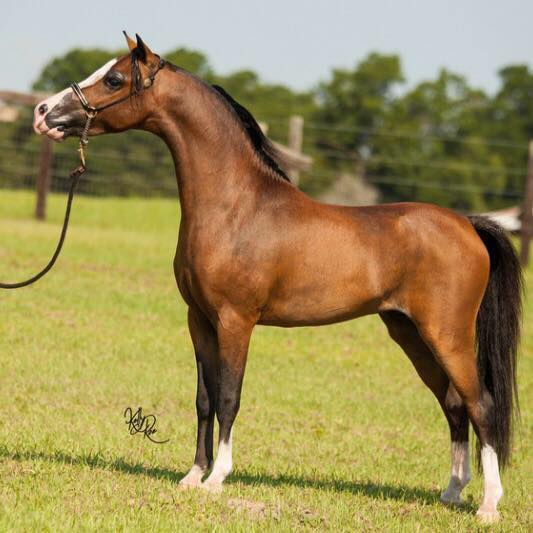 Candy's dam is a direct daughter to National GRAND CHAMPION producer, Modern Golds Candyman.
"Eye Candy" is a FULL sibling to the incredible multi SUPREME Champion, 2017 Eastern Regional UNANIMOUS Grand Champion Amateur & Open Senior Stallion, MODERN CANDYMANS LEGACY.
Legacy is pictured at right.
Candy is already an AMHR National Champion.
Continue to show this mare then add her to your premier breeding program.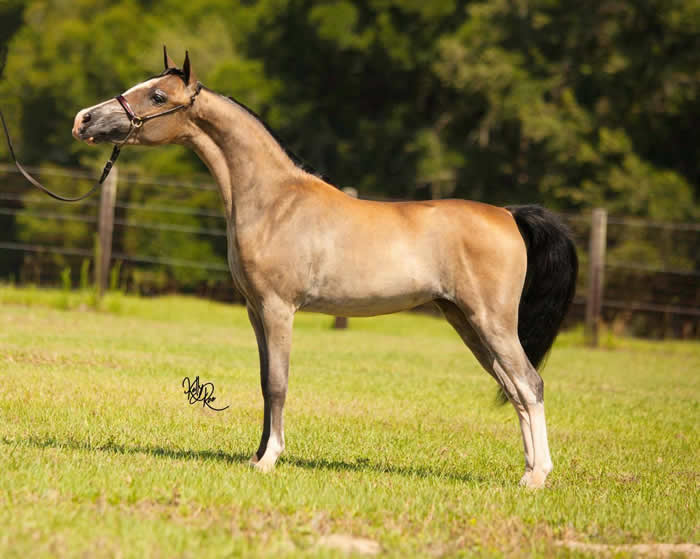 Candy is estimated to mature a small B size.
She is FIT and SHOWING in 2017.
Regretfully offered for sale since owner's stallion is a sibling to this mare.
PRICED AT $5,000.00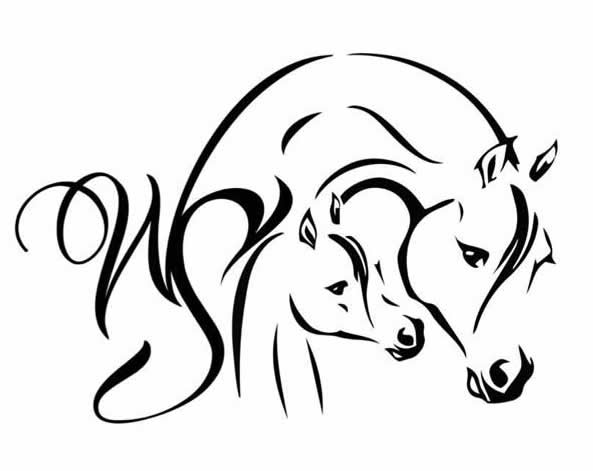 WINNING STREAK MINIATURES
Donna Lavery
winningstk@aol.com
Located in Florida - can be delivered to AMHR Nationals in September
(817) Ad updated 7/24/2017
Lucky Four Thunders Dream ComTru
(Dream)
2015 AMHA/AMHR 32" Black Minimal Pinto Mare w/Chrome
WORLD CHAMPION PEDIGREE & WINNING LOOKS!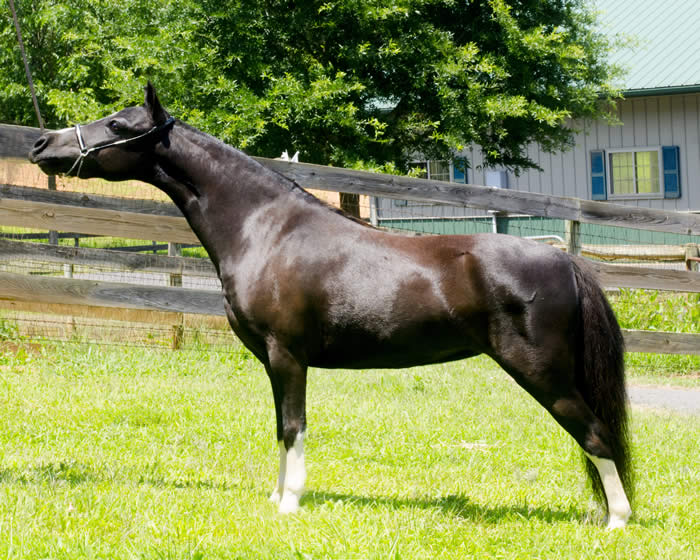 LUCKY FOUR DOMINOS THUNDERATION x LUCKY FOUR REBELCHASE SUCHACREATION
Foaled 4/03/2015
Another mare that is everything we have ever bred for!
Reluctantly offering her for sale to a serious show or breeding home as we begin to reduce our numbers to ease our workload.
Dream's name has a very special meaning.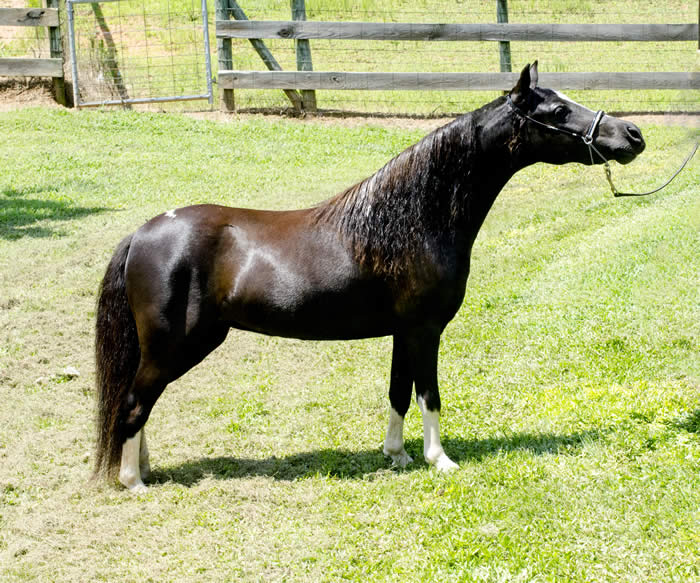 Wade Burns (co-owner of Lucky Four Farms) had always dreamed of breeding a black horse with white socks.
This mare was a "dream come true" for him.
Now she can be YOUR dream come true!
Her pedigree speaks volumes as to the QUALITY of this mare!
Her dam goes back to HEMLOCK BROOKS EGYPTIAN KING and AMHA National GRAND CHAMPION, SUNDANCE SOLID GOLD .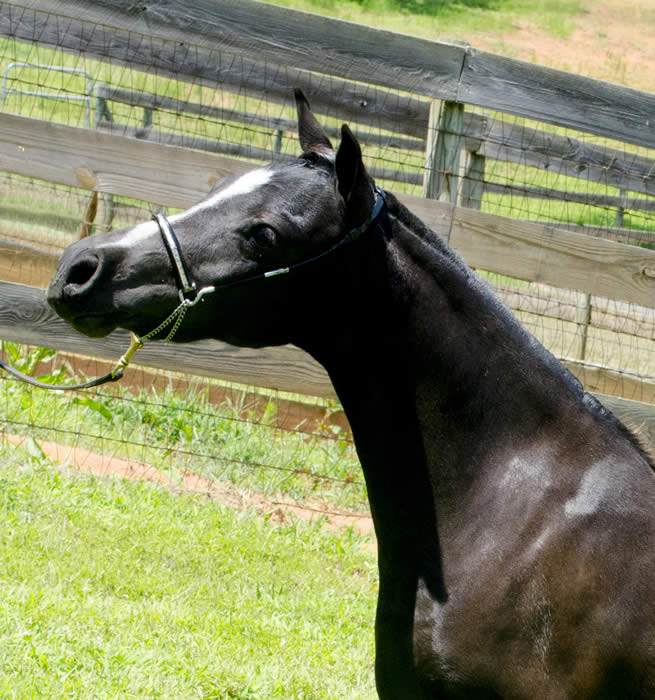 She is a direct daughter of LUCKY FOUR REBELS CHASIN RAINBOWS.
Dream's sire is out of World Champion, LUCKY FOUR SHEZ SOFANCI.
He has 2 crosses back to the epic L & D SCOUT
Her terrific show attitude would make her suitable for any amateur.
She is one of our very best and would be an asset to any select breeding program.
IF WE WEREN'T REDUCING OUR NUMBERS THIS MARE WOULD BE A KEEPER FOR SURE!
Offered at $2,500.00
Offered as part of the Lucky Four Farms herd reduction sale!
We aren't retiring! Just reducing our numbers so we can continue to enjoy the horses we have!
Lucky Four Farms is owned Wade Burns and Jon Woodring , breeders of Top Quality Miniature Horses welcome you to our farm.  We believe that constant awareness and an open mind lead to a successful breeding program.  Our program was founded on the great stallions, Sids Rebel, Little Kings Black Velvet and the late Richters Apache.  Many of our horses are five generations of "Lucky Four" breeding, although we are never beyond adding new blood from time to time.
We are offering some of our very BEST horses at this time - and they are priced right to sell! Please inquire
LUCKY FOUR FARMS
Wade Burns & Jon Woodring
Advance, North Carolina, 27006
(336) 998- 4402 (barn)
Located in Advance, North Carolina 27006
(817) Ad updated 7/7/2017
Stars Girl On Fire
(Catniss)
AMHA/AMHR 29" 2015 Silver Dapple Mare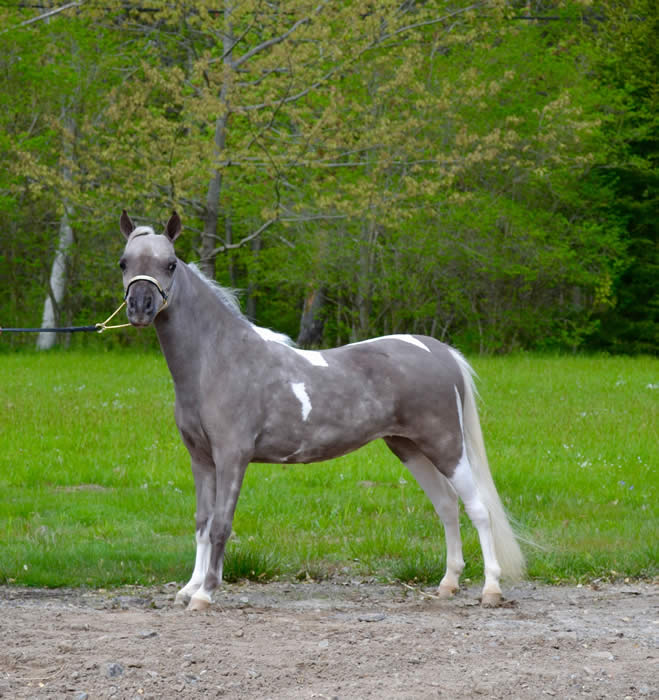 Nirvanas Black Knight (Gator) x Bar B Paris Supreme
Foaled 1/20/2015
Tiny & correct mare for sale!
Catniss comes from a strong line of champion show horses.
Her sire is a World Champion producing son of FIRST KNIGHTS BREAKIN ALL THE RULES.
Her dam is a a direct daughter of 2x AMHA National Champion, BREWERS CLASSIC SUPREME.
Catniss has been shown successfully in 2016.
She has a bright and cheery disposition and is extremely well mannered.
You will fall in love with her outgoing personality.
We'd LOVE to see her out showing with a youth or amateur.
Catniss will make a neat all-around prospect.
Her pedigree is one that is worthy of continuing,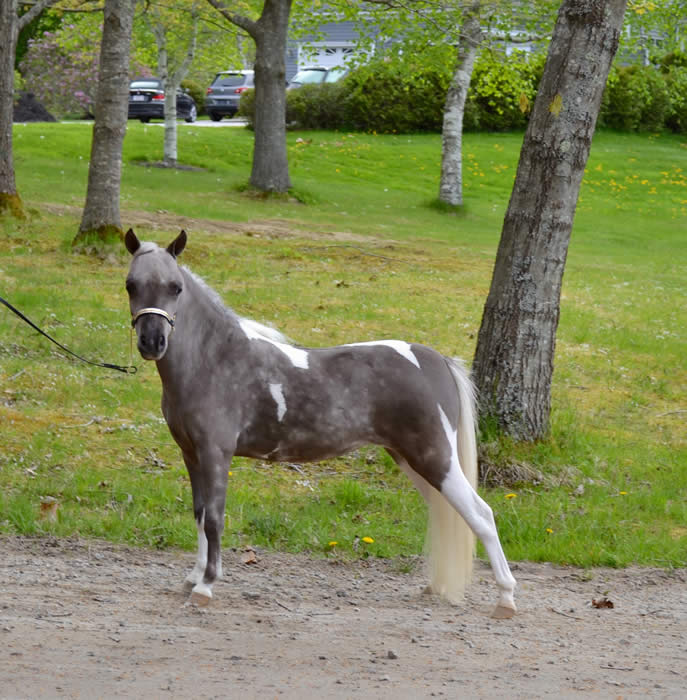 She would make a top broodmare once she retires from the show ring.
The current owners of this mare are changing their breeding program to ASPC Shetlands and so Catniss is being offered for sale.
LOVE TINY & COLORFUL LITTLE MINIS?
LET'S TALK!
PRICED AT $3,500.00
Joey Fortin
HAT TRICK FARM
Brunswick, Maine
(207) 841-1212
hat-trickfarm@hotmail.com
Located in Brunswick, Maine
(817) Ad updated 7/8/2017
Bandido's Repeated In Red
(Red)
ASPC/AMHR Shetland 2015 Sorrel Pinto Mare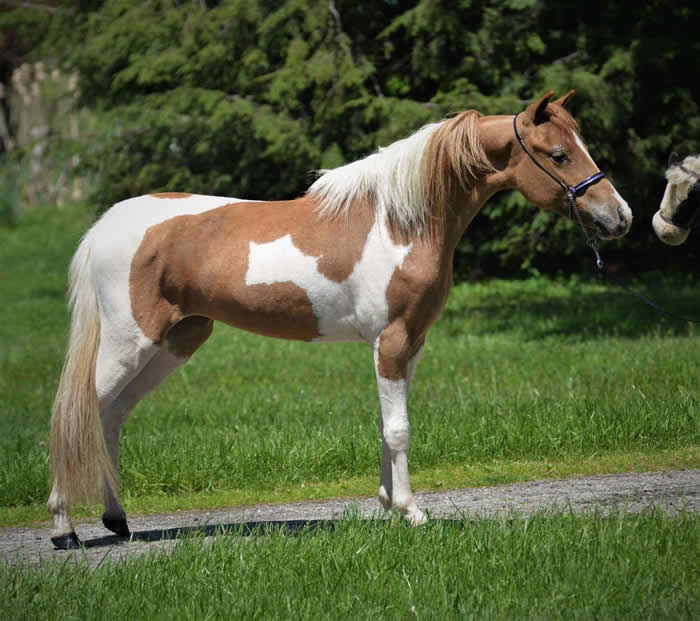 Filipowiczs That's All Foulks (HOF) x Noblebrooks Canadian Girl Of Establo
Foaled 6/24/2015
PRICED LOW THROUGH AUGUST 1ST!
Arenoa bred, TOP & BOTTOM!
We'll let her photos speak for themselves - this pretty mare exemplifies her lineage in a BIG way -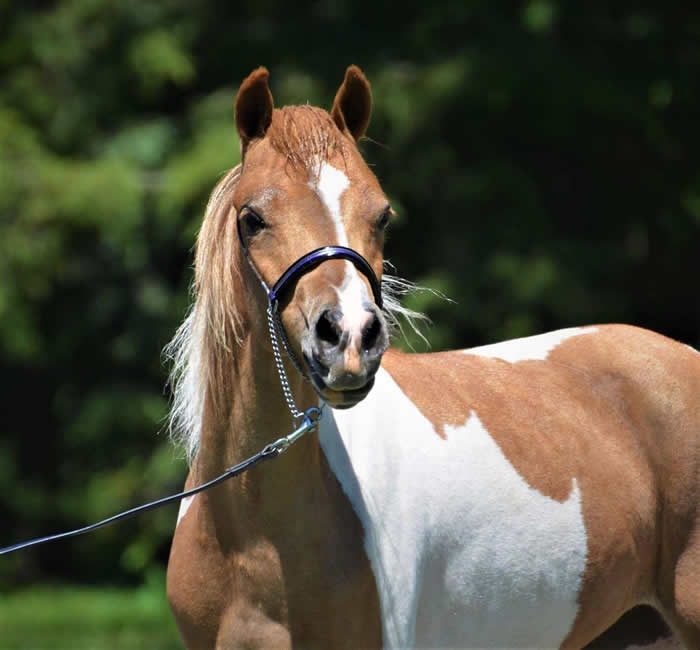 She has the trim, Arenosa barrle and long, hooky neck so typical of those lines.
Her markings are BOLD and bright.
She measures at 36.5" as a full two years old and should mature at 38".
Her powerful genetics ensure her value as a broodmare.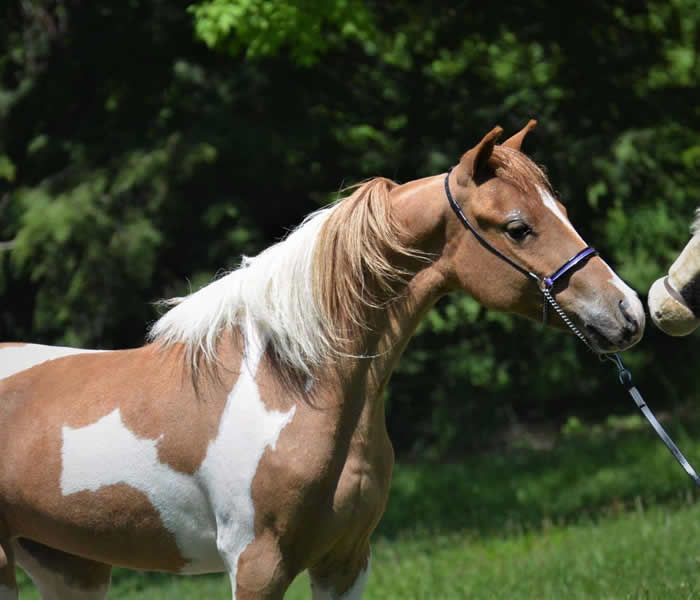 Add some Arenosa to YOUR ASPC/AMHR breeding program.
Priced low through June 1st -
- if she doesn't sell, we'll keep her and add RED to our progressive breeding program in the future!
OFFERED AT $3,500.00
LET'S TALK!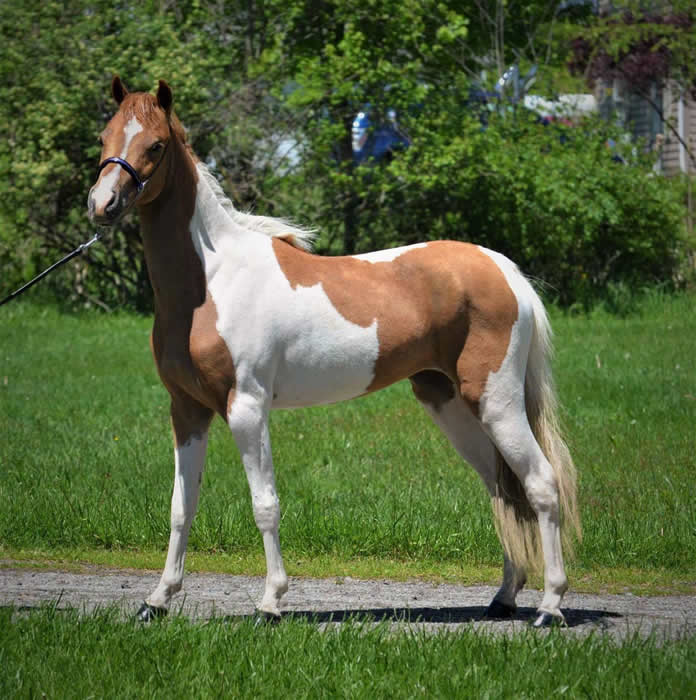 Welcome to Diva Valley Miniature Horse Farm !

We started raising Miniature Horses in 1980 as Jones' Mini-Whinnies but have now converted to Diva Valley Miniature Horse Farm as we have changed our breeding program to accommodate the ever increasing competition in the AMHA and AMHR.  DVM Farms is owned by Nicole and Boomer Pearsall and is located in western Pennsylvania just off I-80 just a few yards over the OH/PA border about an hour north of Pittsburgh and an hour east of Akron, OH.  Nicole and Boomer also own
Penn-Ohio Veterinary Services
which is also located at their residence in West Middlesex which requires a lot of their attention; however, with the help of Nicole's amazing mother, Elaine Buchanan, the horses are well-taken care of and spoiled !  Our horses boast many of the top bloodlines that are winning in the show ring today such as Graham's Ragtime, First Knights Billy Idol, Champion Farms Nighthawk, and Buckeye WCF Leeland Royal Grand; but, at the same time are deeply rooted in bloodlines that have stood the test of time such as FWF Little Blue Boy, Boogerman, Rowdy, Sid's Rebel, FWF Little Wardance, and Gold Melody Boy.  Our horses hold many AMHA and AMHR National titles and also Hall of Fame titles.  Now after 35 + years of raising miniatures, we are very proud of what we are producing.  We have sold minis to many different countries and enjoyed meeting people from all over the World.  Please feel free to call or stop by our farm to see what we have to offer!
Nicole & Boomer Pearsall
5 Jimro Road
West Middlesex, PA 16159
(412)527-0358  (call or text)

dvmfarms@hotmail.com
Located in Pennsylvania
(216) Ad updated 5/14/2017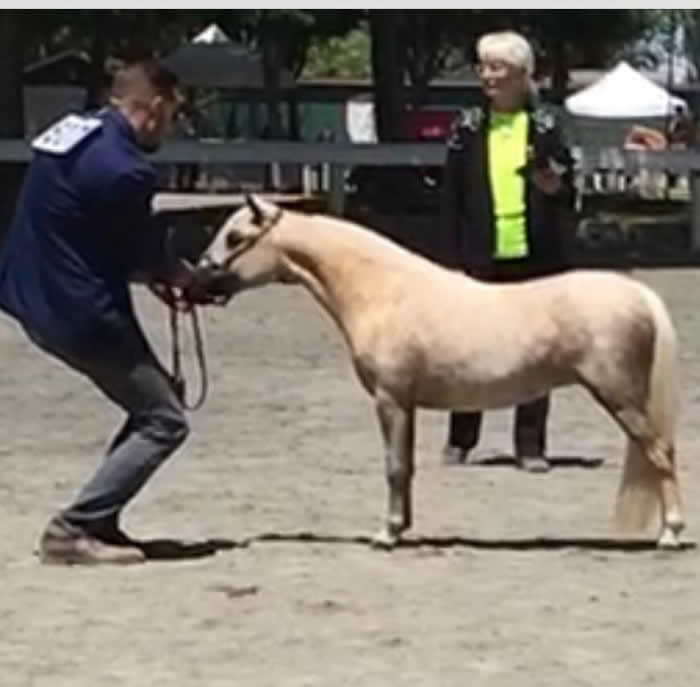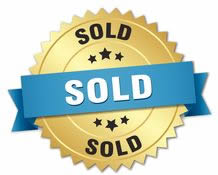 EE Princes Sara
AMHA/AMHR 2015 Palomino Yearling SHOW Mare
AMATEUR SUPREME CHAMPION IN 2016!
++ Sara's dam is a 2016 AMHA Res World Champion Country Pleasure Driving Mare! +
EE Princes Angel Of My Dreams
(Angel)
AMHA/AMHR 2015 Buckskin Yearling SHOW Mare
+++ PRICE INCLUDES FREE SHIPPING ANYWHERE IN THE CONTIGUOUS UNITED STATES! +++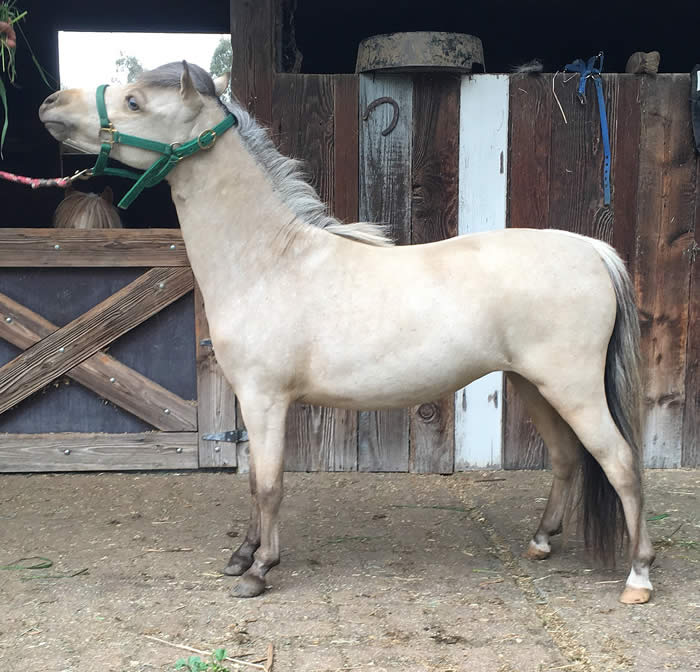 Little Kings Prince Echo    x    Marystown Cowboys Uptown Girl
Foaled 5/10/2015
SEE DRIVING IN YOUR FUTURE?
This young lady can trot up a storm.
She has animated movement and a great attitude.
In fact, Angel's dam is a paternal sibling to two driving sensations - MARTYSTOWN MCDREAMY & MARYSTOWN HEIR TO GLORY.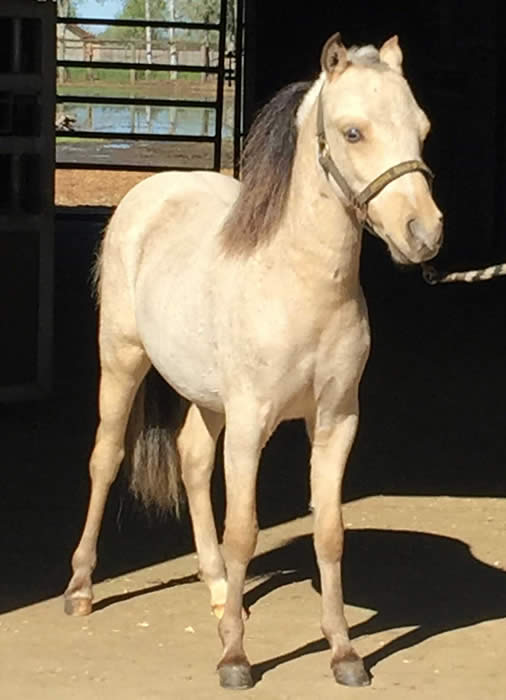 Angel's sire (pictured below) is a direct son of LITTLE KINGS BUCK ECHOwho is best known for winning AMHA National GRAND CHAMPION, at a mere 28.25" tall!
He goes back to Buckeroo (2x) as well as Komokos Little King Supreme.
Show her now and breed her later.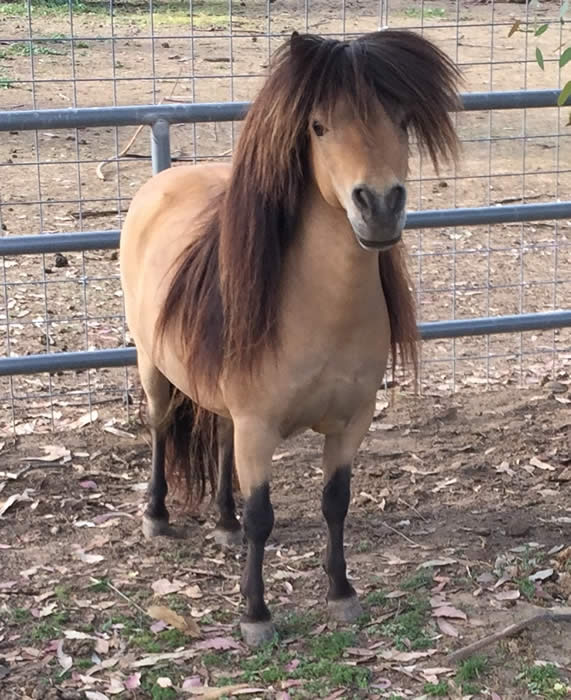 She should produce beautiful, dilute babies with extreme movement and super sweet attitudes.
PRICED AT $3,000.00
Proudly offered for sale by our CORPORATE PARTNER, Double E Ranch
+++ PRICE INCLUDES FREE SHIPPING ANYWHERE IN THE CONTIGUOUS UNITED STATES! +++
Jacob Elliott - Richard Erickson
Double E Ranch
916-897-4386
rreriksson@yahoo.com

Located in Galt, California
(716) Ad updated 4/18/2017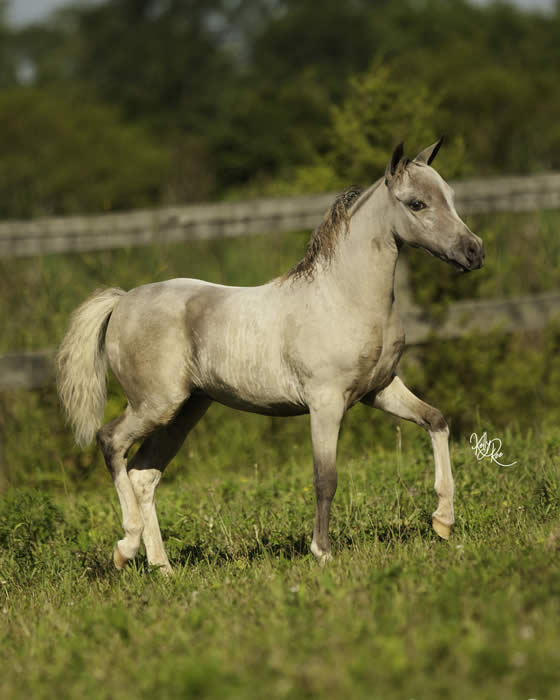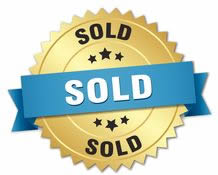 Chance Of Golds Show Me The Buff
AMHA/AMHR 2015 Buckskin Minimal Pinto Mare w/Chrome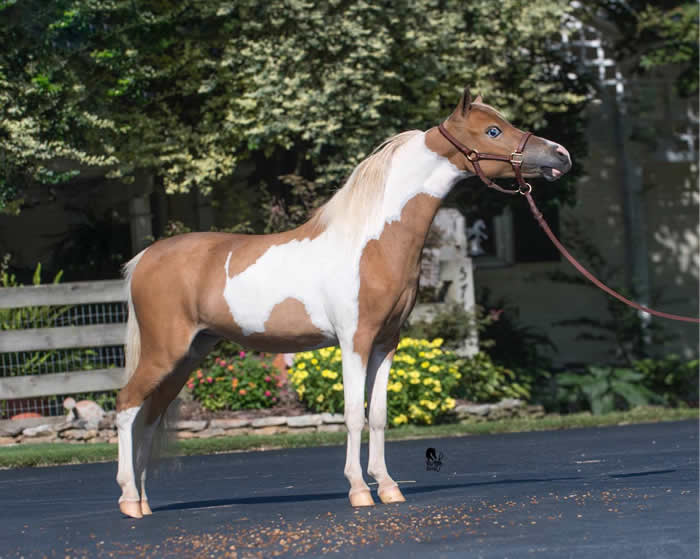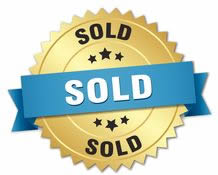 Ravenwood Come On Over
AMHA Registered 2015 32" Bay Pinto Mare
Double Bred L&D Scout Mare
Cedar Rails Cherished Memories
(Sissy)
AMHA/AMHR/KMHB Nominated 2015 Silver Buckskin SHOW Mare
AMHR RES GRAND CHAMPION MARE AS A YEARLING!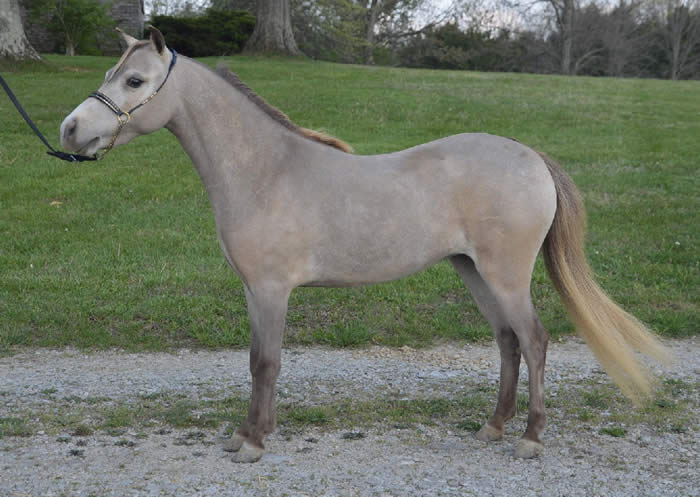 Buckeye WCF In Your Wildest Dreams x Lil Promises Absolutly Faithful
Foaled 3/28/2015
SERIOUSLY in love with this mare!
First of all she's KMHB Nominated - (click on logo below right for details!)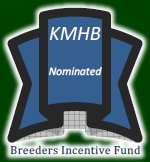 - that means every point earned at an AMHA sanctioned show equals DOLLARS in your pocket!
Many owners of KMHB horses receive a $$ check $$ at the end of the year - up to a few thousand dollars!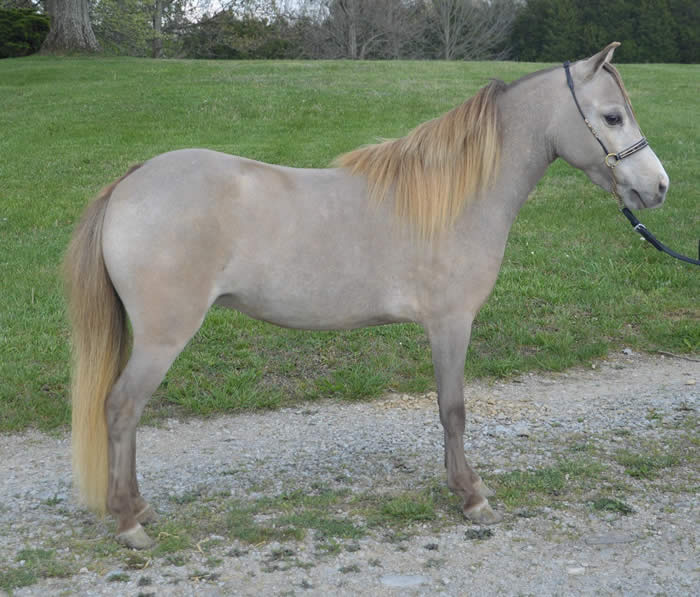 On top of that - this mare is SO beautifully balanced and correct.
Her long neck is naturally trim with a well angled shoulder that lends itself to a future driving career.
She has an excellent topline and strong hip with a high, correct tail set.
And the judges agree!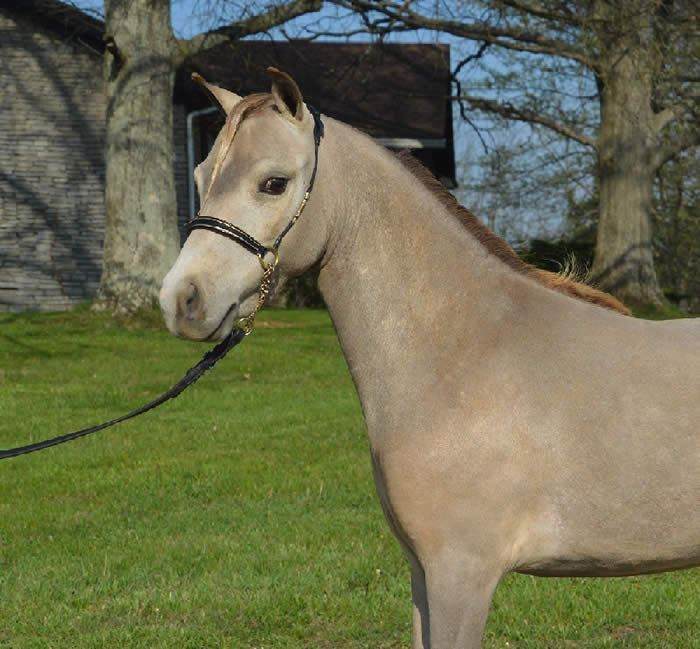 Sissy was shown lightly and was AMHR Res Champion Junior Mare and AMHR Res GRAND CHAMPION Mare.
Sissy has a good bite and straight, correct legs.
Her pedigree includes the best of Buckeye WCF and Willow Creek breeding.
She should mature right under 34" and be the ideal height for a performance horse or prized broodmare.
She's a sweet mare and easy to work with -
- a smart addition to any farm!
Priced at$1,500.00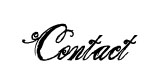 Paula Langheim
859-227-8284
cedarrailfarm@gmail.com
Located in Lawrenceburg, Kentucky
(517) Ad updated 4/21/2017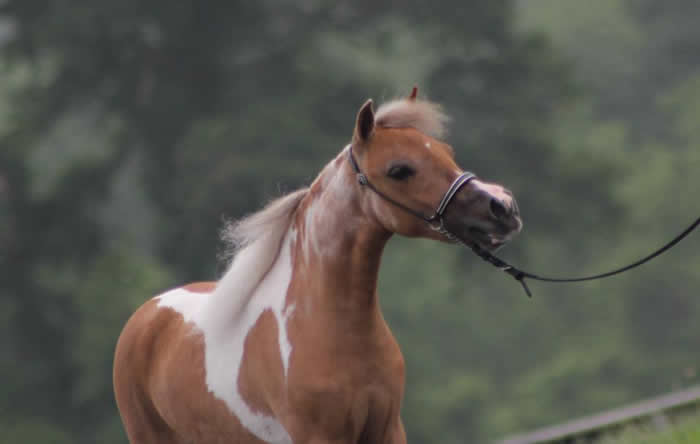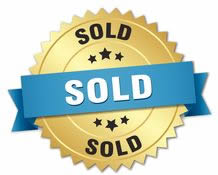 Minners Unforgettable Irish Blessing

AMHA/AMHR and AMHA Yearling Futurity Nominated 2015 31" Chestnut Pinto Mare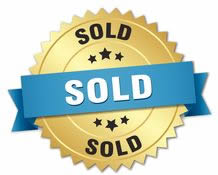 Covergirls French Kiss By Fabian
AMHA/AMHR 2015 Perlino Show Mare
Hopkins The Jokers Jezabel
(Jezabel)
AMHA/AMHR 2015 Bay Pinto SHOW Mare
WILL SHOW IN 28" - 30" JUNIOR MARES THIS YEAR!
PRICED RIGHT TO A SHOW HOME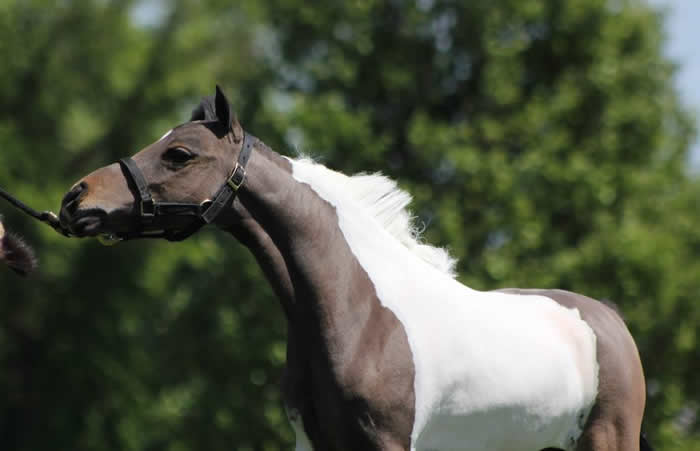 Another Dimensions DWBS The Joker x LM Mischiefs Rio Grande
Foaled 2/22/2015
There will never be another like this -
- Jezabel's sire, 2x World Res GRAND CHAMPION, "The Joker" passed away in 2014.
"The Joker" (pictured, left) had amassed an impressive show record with limited showing.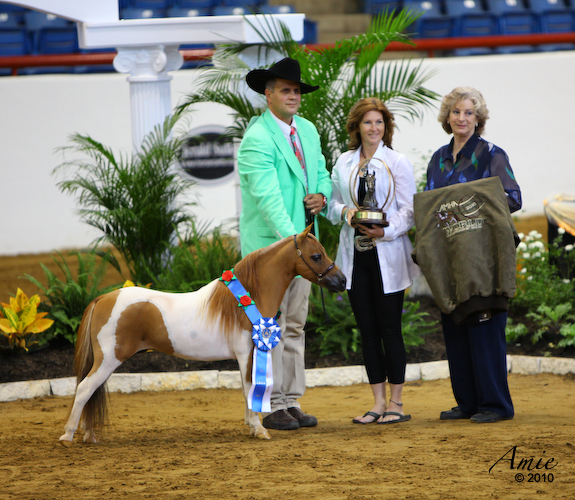 "The Joker" holds the following AMHA World Titles:

2004 AMATEUR JUNIOR STAL LEV 1 WORLD CHAMPION
2004 JUNIOR STALLION RESERVE WORLD GRAND CHAMPION
2004 TWO-YEAR-OLD STALLIONS OVER 29" WORLD CHAMPION
2005 SENIOR STALLIONS OVER 28" TO 30" WORLD CHAMPION
2010 AMATEUR SR STAL, LVL 1, 30" AND UND RESERVE WORLD CHAMPION
2010 SENIOR STALLIONS OVER 28" TO 30" WORLD CHAMPION
He left behind a legacy of WORLD CHAMPIONS -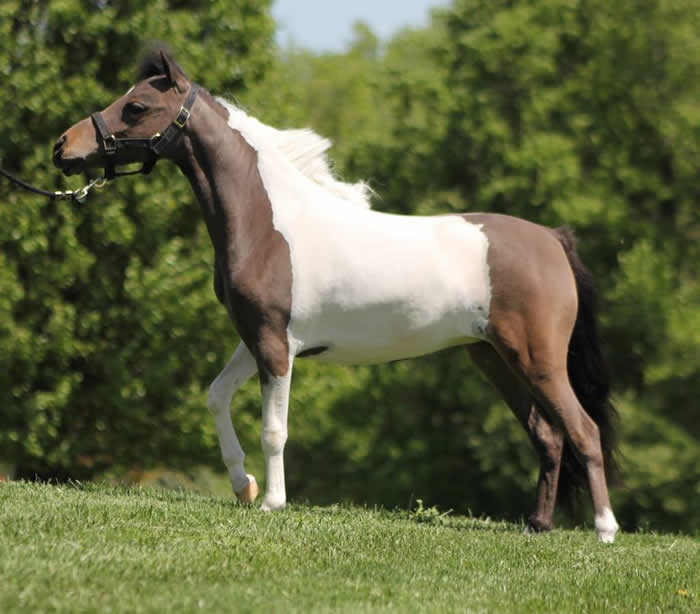 - and this amazing filly with World Champion potential.
Jezabel may never reach over 30" tall.
But she has a BIG attitude and a showy presence which makes up for her tiny stature.
Priced at $4,500.00
Proudly offered by our Corporate Sponsor: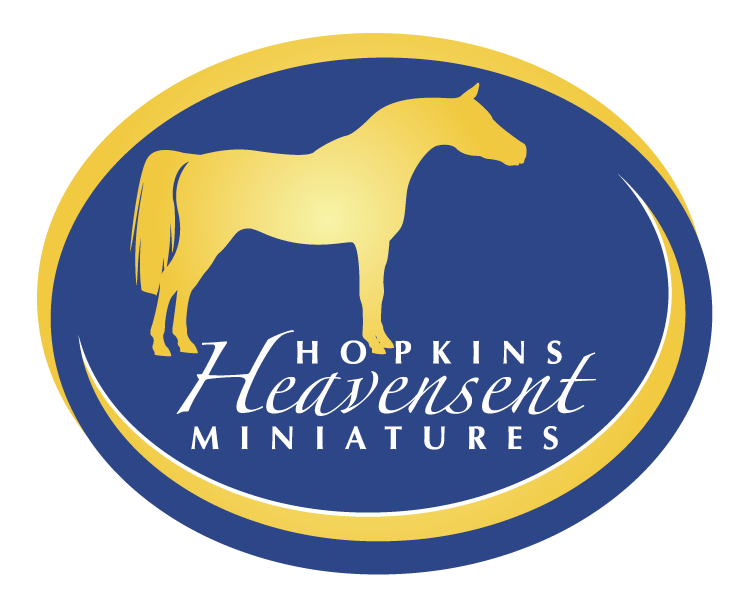 1089 Pond Neck Road,
Earleville, MD 21919-2307
debra@hopkinsheavensentminiatures.com
phone: (443) 206-4577
Or (302) 220-3707
Located in Maryland
(616) Ad updated 6/2/2016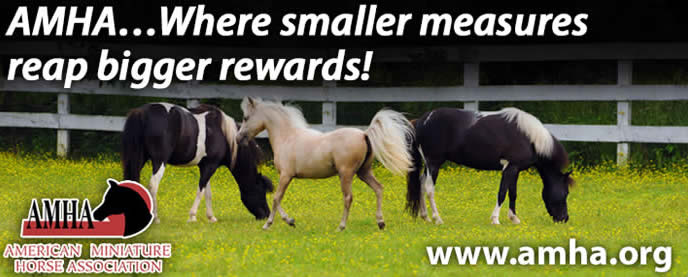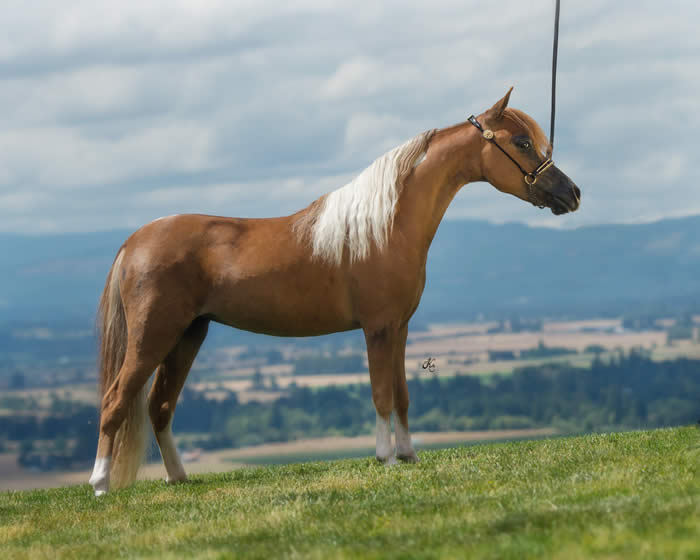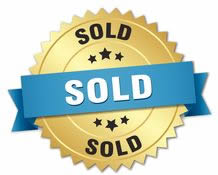 Hunterberry Hill Cherie Amore
2015 AMHA/AMHR Chestnut Pinto FUTURITY NOMINATED Mare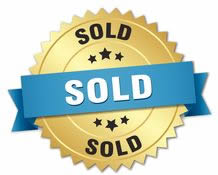 Azariahs Undisputed Star
AMHA/AMHR Registered 2015 Black Pinto Mare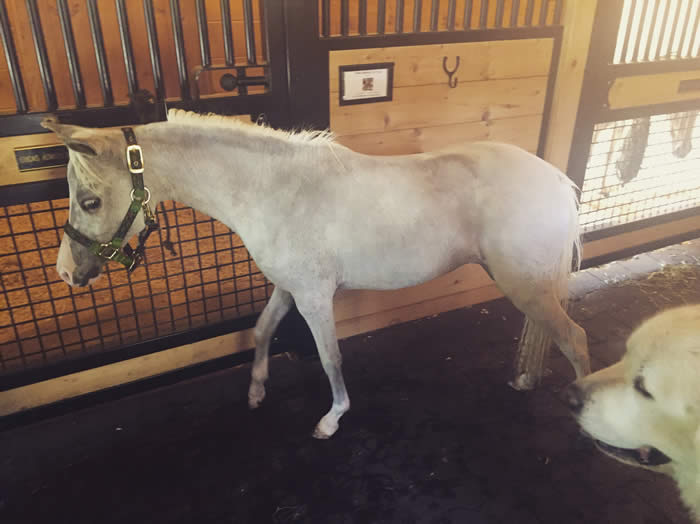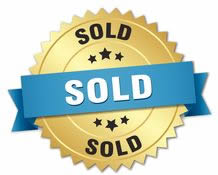 Flying G Assured Malibu Barbie
50% Shetland 2015 AMHA/AMHR Palomino Mare
w/ Wide Blaze & White Socks
SOLD HORSES:

EE Princes Sara (August 2017)

Covergirls French Kiss By Fabian (July 2017)

Chance Of Golds Show Me The Buff (May 2017)

CD Fashion Is My Kryptonite (February 2017)

Tricetta CE Abbys Lady Spice (January 2017)

Hunterberry Hill Cherie Amore (December 2016)

Lucky Four Rebelchase Exotica (December 2016) Heading Overseas!

Minners Unforgettable Irish Blessing (November 2016)

Libertys Redi To Dare (November 2016)

DVM Geneses Lady Eyes (November 2016)

Azariahs Unpisputed Star (September 2016)

Flying G Assured Mailbu Barbie (August 2016)

Ravenwoods Another Chance (July 2016)

Hopkins Golden Image (July 2016)

CD Fashion Is My Kryptonite (July 2016)

DVM Rebs Heaven On Earth (June 2016)

Ericas Trotters Bab E Doll (June 2016)

PHR ZP Mystique (May 2016)

OR Missdemeanor Buckskin Beads Hawk (April 2016)

Aloha Acres Flirting With The Lite (April 2016

OR LM Hawks Phantom Of The Opera (April 2016)

Los Arboles Extreme Sensation (April 2016)

Aloha Acres Lady Of Lite (February 2016)

Wingate Indiana (January 2016)

Stars Gift Wrapped (January 2016)

Hopkins Irresistible Image (October 2015)

Lovett Farms Settin Fancy Free (October 2015)

CMCs Scouts Rowdy Baroness (September 2015)

DW Buckin Rosa Mia (September 2015)

Stars Glass Slippers (August 2015)

Ravenwood War Of The Roses (July 2015)

Bandidos All Blinged Out (June 2015)

Sunny Side JoniBuck O So Wild (June 2015)

Hopkins Champagne Fame (May 2015)

Gander Hill California Chromin (April 2015)

Lazy N Unforgettable Desires (February 2015)

Tapestrys Triple Shot Espresso (February 2015)

Gander Hill CA Lady In Black (February 2015)

LK Eagles Unos Ritzy Rose (February 2015)

Vista Valley Its About Romance (December 2014)

Covergirl Rocks QueenOf RockNRoll (December 2014) SOLD IN 4 DAYS!

Tyler's Kashmire Sapphire of LTF

Playtimes In Amir Or IC Me2 (November 2014) Congratulations to Janet King

RFM Geneses ShesMyTen (October 2014)

Hopkins The Joker In January (October 2014)

Hopkins The Jokers Blazin Jasmin (October 2014)

Ravenwood Dreamcatcher (August 2014)

Stars Miss Majestic (August 2014)

Mercedes Giselle (August 2014)

Gander Hill California Keepsake (July 2014)

Ten Ls Kiss Me In The Buff (June 2014)

Ten Ls Bikini Buff (May 2014) Heading overseas

Hopkins The Jokers Irish Eyes (May 2014)

Black Mountain Troubadors Lyric (March 2014)

Hunterberry Hill High Hopes 4U (February 2014)

Mountain Meadows Breakers Fiesta (February 2014)

Hills Geneses Forevermore (January 2014)

LK Eagles Unos Graceful Ginger (January 2014)

Hunterberry Hill Have A Little Jazz (January 2014)

Arion Bandstand Harmony (December 2013)

Rivendells Carmel Contessa (November 2013)

Rainbow Ridge Moonlight Serenade (November 2013)

Gander Hills California Elegance (November 2013)

Hunterberry Hill Kenya SE (October 2013)

LR Hennessey Precious Girl (October 2013)

LR Hennesseys Mne All Mine (October 2013)

Ten Ls Destinys Im In The Buff Too (October 2013 - Congrats to Lynn Gulledge-Fatale!)

Poco De Oro Bella Mia (October 2013)

Lucky Four Rowdys Reason To Dream (September 2013)

LM Hawks Thumblelina (September 2013)

Elite Velvet Vixen (September 2013)

Gander Hill Miss California (July 2013)

Caldwell's Whata Pretty Picture (June 2013)

RFM Geneses Russian Contessa (June 2013)

Alliance Unforgettably Charmed (heading overseas!)

Alliance Fiery Kisses (heading overseas!)

Ericas Take My Picture

Sunny Side JoniBuck O So Fanci - (Congrats, Bill & Caroline Robinson)

Westwind Hopalongs Top Silver Star

Wa-Fulls Sweet Snip's Brandy

HHP Desirable Debutante

Dundees Replicas Wild Ginger

Ten Ls Passion In The Buff

LM Kodys Pretty Penny

CMC RG Appear In Glory

Eastside Making Waves

LM Idols Rihanna Hawk

GRF Lines Little Lass

Hytide Hallelujah

LR Hennesseys Miss Baily