Shetland Mares for Sale

Stars Taylored To Win
(Winnie)
2017 AMHR/ASPC/Foundation Black/Bay Pinto Mare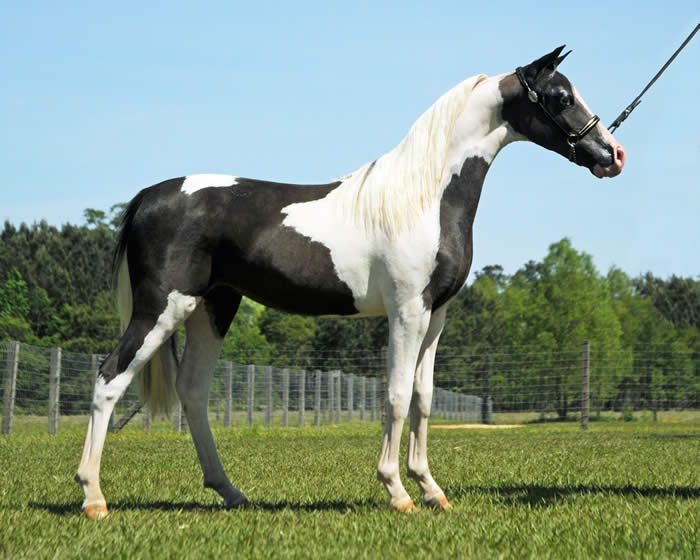 Michigan's Mad Money x Michigan's Dippity Dew
Foaled 5/06/2017
Winnie is a beautiful filly with lots of style, flashy color and exotic, huge eyes.
She floats when she trots.
We purchased Winnie's dam, Hall Of Fame mare Michigan's Dippity Dew, at the Taylor Pony Sale.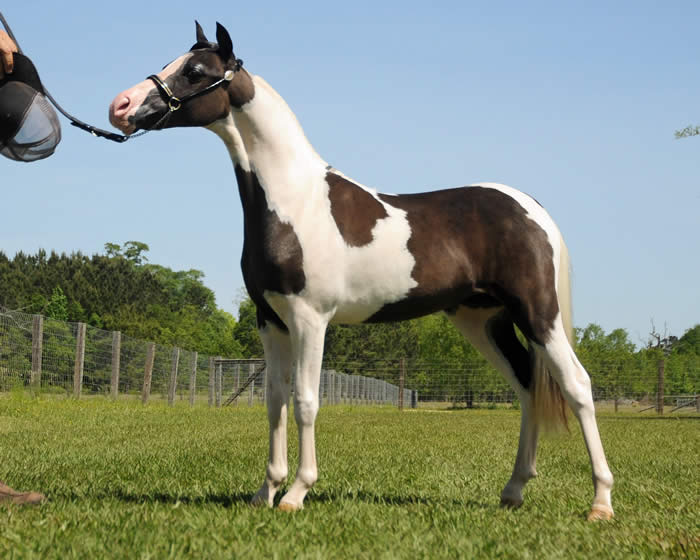 Dippity Dew is a Jericho's New Image daughter and I have come to love that line as my top mares and Domain hold that pedigree.
Winnie's sire is the great Michigan's Mad Money, who goes back to multi Congress Champion and Hall of Fame, Michigan's Hart Breaker.
The possibilities are unlimited for this pretty filly.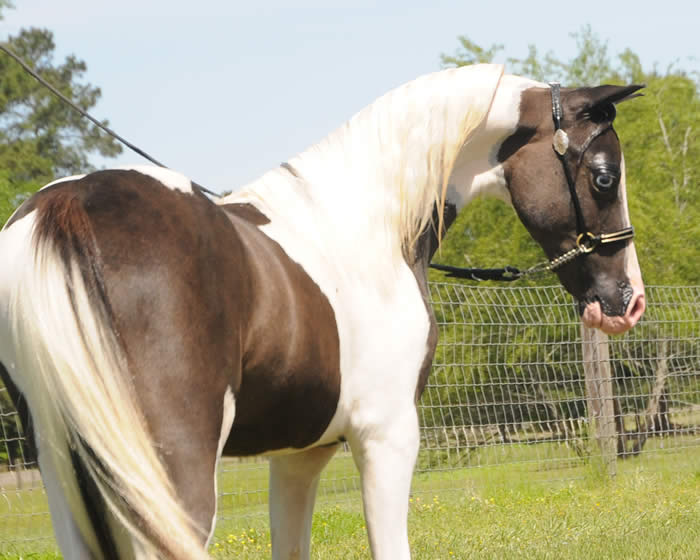 She was a spindly weanling, but has really come together and turned into a swan!
With her looks and movement, she will excel in both Halter and in Harness.
She can put her head straight over her withers with NO ewe neck at all.
With her extra length to her poll and throat latch, she will have the ability to easily bridle up high and tight!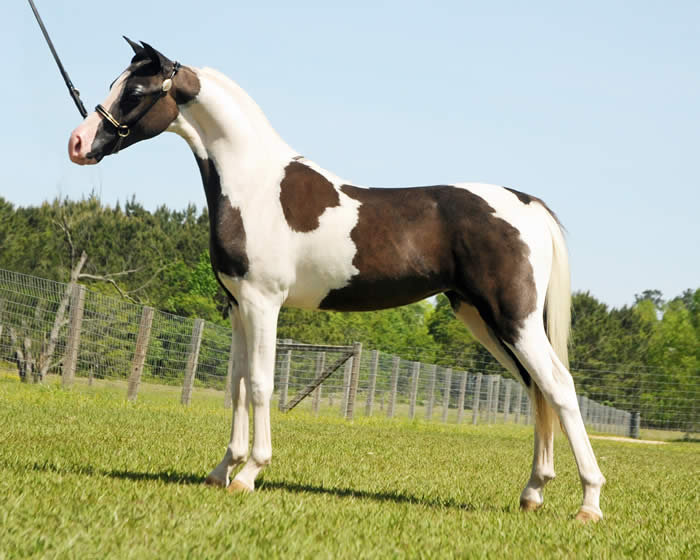 Headed out to start showing in May, 2018!
Winnie should mature in the 37 to 38" range.
$3,500.00
We would love to keep her to show at Congress and/or Nationals! Please contact Mike for details!!!
Stars Miniatures, Shetlands & Hackneys
www.starsminiatures.com
Three Oaks Goats
www.threeoaksgoats.com
Mike & Allison Rosauer
Located in Spurger, TX
(101718X) Ad updated 4/17/2018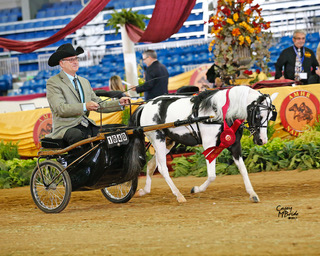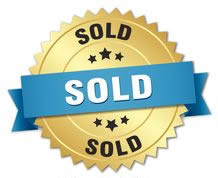 Wild Haven's Harlequin Romance (HOF)
(Quinn)
ASPC/AMHR 37.5" Shetland BRED Black Pinto Mare
National Stakes Champion/ 2x AMHR Res National Champion Western Country Driving
IN FOAL FOR April 2018 to TRIPLE Registered Stallion

Rayvik Storm's Fancy New Dew
(Fancy)
ASPC/AMH 2014 37" Bay Pinto SHOW Mare
HALTER/DRIVING MARE - GRAND CHAMPION & STAKES CHAMPION
SHOW CART & HARNESS AVAILABLE - ASK ABOUT A PACKAGE DEAL!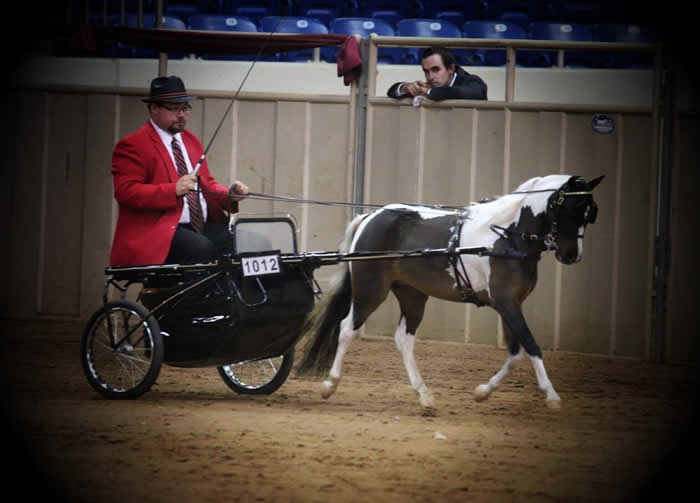 Wall Street Admirals Perfect Storm x Michigan's Anna Dew
Foaled 4/26/2014
FANCY - FANCY - FANCY
Fancy is a wonderful driving/halter all-around mare.
She is more than halfway to her HOF (Hall of Fame) in Country Pleasure Driving and also has 25 points in Halter.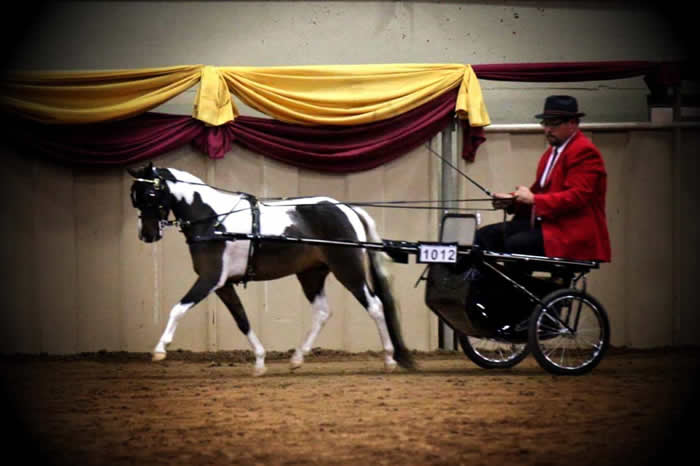 She's a gorgeous bay pinto with a beautiful head and a long pencil neck.
She's well on her way to her HOF in halter as well -
- with one overall halter GRAND CHAMPION win.
She's a multiple Stakes Champion in driving and keeps getting better and better.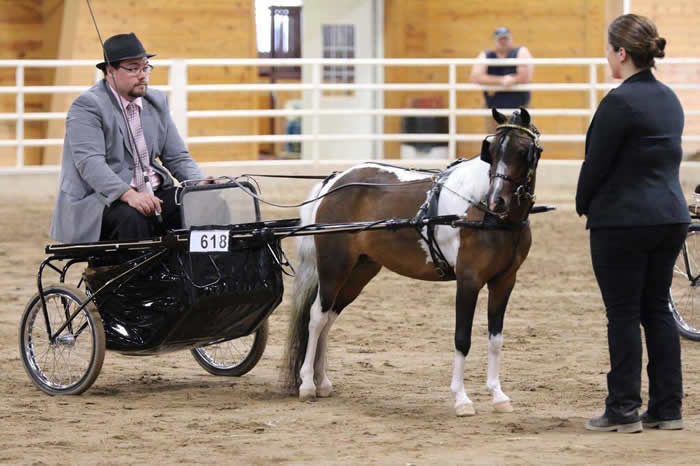 Fancy was Top Three at AMHR Nationals as a weanling.
In 2017 she was AMHR National Top Five in multiple driving classes.
She has been in professional driving training with Robby & Andrea Barth.
This pretty mare is easy to prep and a joy to have in the barn.
She's talented and FUN and has loads of potential as an all-around.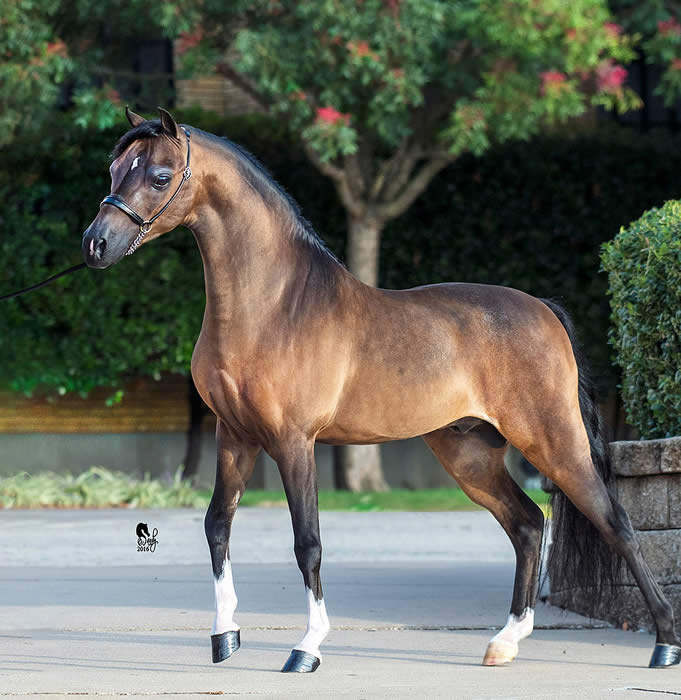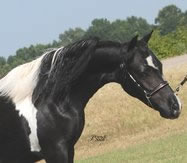 Fancy is sired by WALL STREET ADMIRALS PERFECT STORM - (pictured above, left) a DOUBLE bred grandson of BAR-G'S ROCK "E" (HOF)
Her dam is lovely daughter of HOF stallion, H.P. JERICHO'S NEW IMAGE (HOF)
Continue to show FANCY to her Country Pleasure HOF or add her to your premier breeding program!
Either way, she'll be a super star!
PRICED AT $6,000.00
SHOW CART & HARNESS AVAILABLE! ASK ABOUT A PACKAGE DEAL!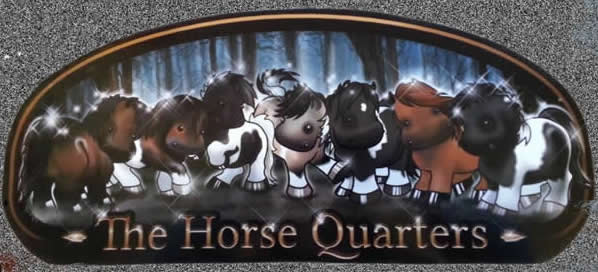 Jamee Bornstein
(414) 916-9700
www.thehorsequarters.net
email: the horsequarters@yahoo.com
Located in East Troy, Michigan
(62018) Ad updated 4/2/2018
 JHK Marios Golden Girl
(Golden)
ASPC/AMHR 2014 34" Palomino SHOW Mare
Trained to Drive - Grand Champion Halter Horse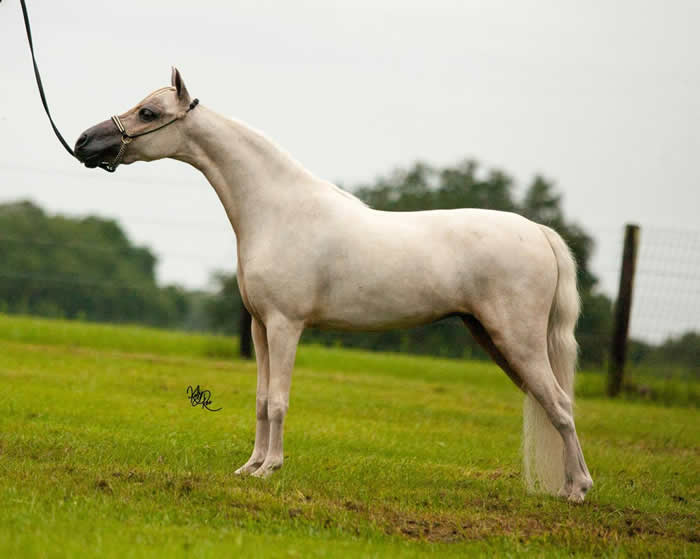 Establo Mario x Royal Liquid J&L
Foaled 5/15/2014
This golden beauty shines bright in many ways.
She's a winning halter horse with many Champion titles to her credit.
Golden is easy to show and prepare - and safe enough for any youth to compete with.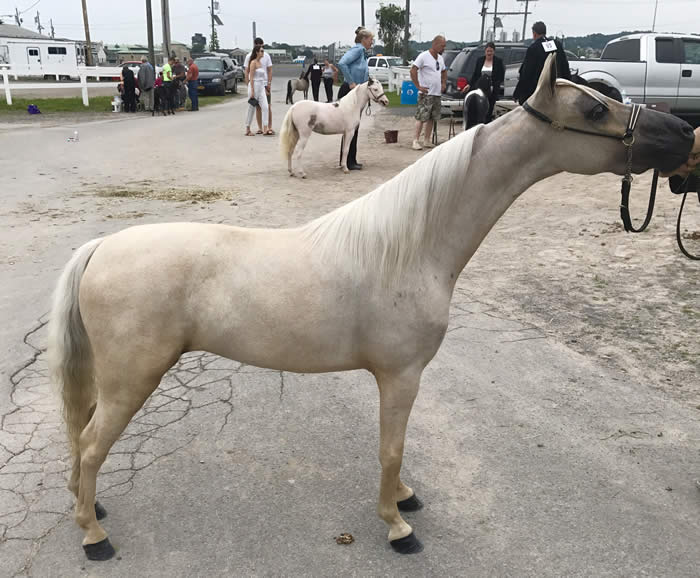 She's also trained to DRIVE.
With a few more miles and polishing, she's a promising Country Pleasure prospect.
She has been show by a youth a driving, obstacle and hunter classes.
Golden could be a super candidate for AMHA hardship.
She measured 34" as a three year old, and has been measuring right at 34" all year in 2017.
WELL PRICED FOR A QUALITY MARE!
PRICED AT $3,500.00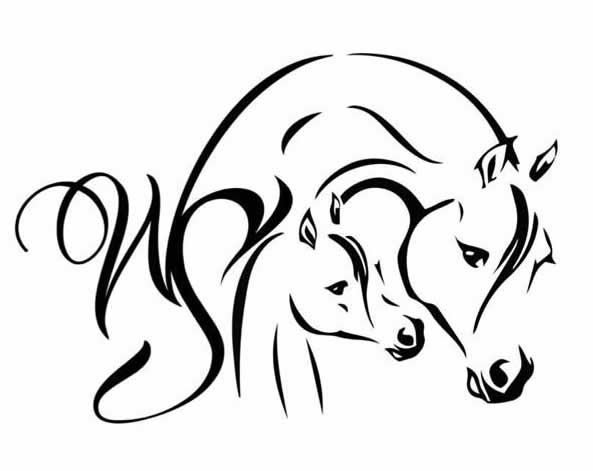 WINNING STREAK MINIATURES
Donna Lavery
winningstk@aol.com
(352) 274-3715
Located in Florida
(917) Ad updated 10/8/2017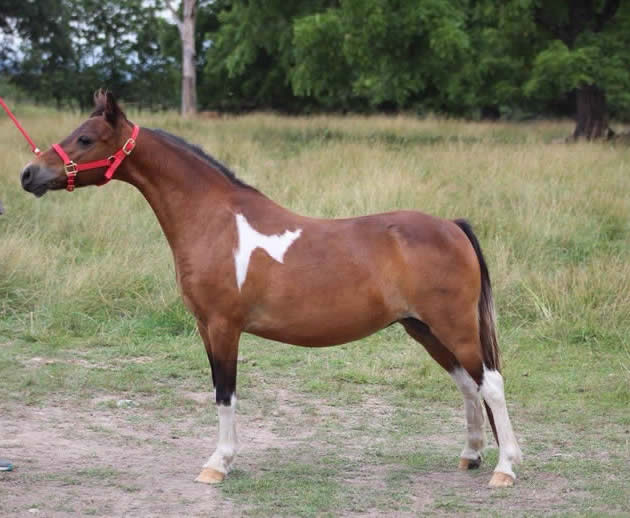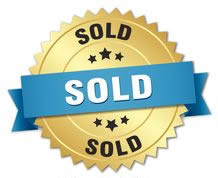 Emerald Glenn Ruffled Wings
ASPC/AMHR 2001 Bay Pinto PROVEN Broodmare
EXPOSED TO TEN LS TIGERS NGIHT TIDE FOR 2018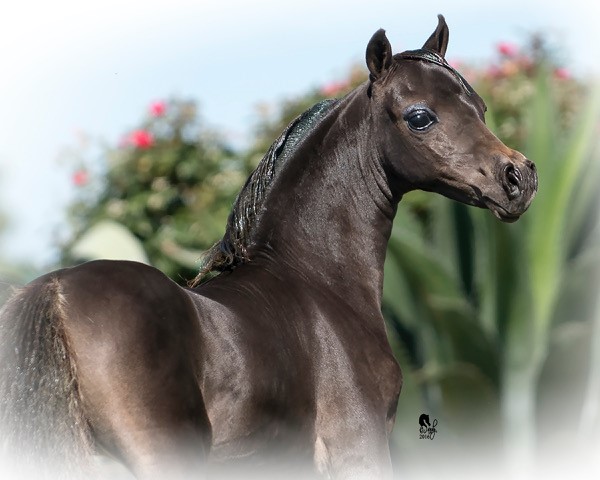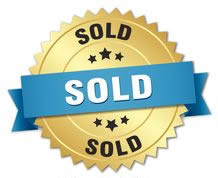 TF Hershey's Classic Touch
(Classic Touch)

Sold from this page:
Wild Havens Harequin Romance (March 2018)
Emerald Glenn Ruffled Wings (January 2018)
Stars Petra (October 2017)
TF Rainy's Gordiva Heiress (July 2017)
Rhapsody's Hollywood Melody (July 2017) Congratulations Painted H Ranch
G3S Vida Loca (June 2017) Heading to Australia
TF Hersheys Classic Touch (June 2017)
TF Hershey's Limited Edition (June 2017)
JKSs Marios Gala (June 2017)
Stars Taylor Maid (May 2017)
Hopwood's CD Bonny Blue (April 2017)
Stars Voo Doo Queen (December 2016)
Buckeye WCF One Hot Taylor Maid (August 2016)
Buckeye WCF Paposo Amore Doll (July 2016)
Amore Platinum Midnight (July 2016)
Erica's Trotters Bab E Doll (June 2016)
Little Kings Awesome Annie (March 2016)
Caldwells No Joke Im Beautiful (January 2016)
Humhill Charlie's Angel (January 2016)
Currys Fancy Nancy (December 2015)
SMHC's Rhythmic Dancer
Grahams Sunswept's Destiny (October 2015) Sold to California!
MJM I'm So Schmancy (September 2015)
Comferts Nighthawks Fantasia (July 2015)
Star Struck Hersheys Sweet Success (June 2015)
Skyland Meadow's Misty Morn (May 2015)
Irish Hills Black Cat (March 2015)
Delicia Of Hell's Canyon (April 2014)
Finchwoods PlayMe A Sweet Melody (October 2013)
McCarthys Dance Hall Girl (October 2013)
Caldwell's Whata Pretty Picture
Caldwells Hey Good Looking
"Pocahontas"
Caldwells Queen Anne
Caldwell's Photo Finish
Shneighs Phantom Of The Opera
Caldwells Aloha Acres Final Affaire
Caldwells You Look So Lovely
Westwind Hopalongs Top Silver Star
Wa-Fulls Sweet Snip's Brandy
HHP Desirable Debutante