Shetland Mares for Sale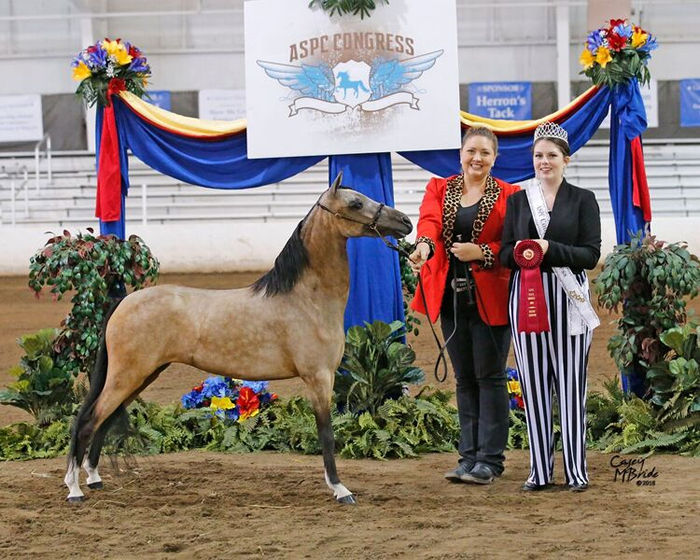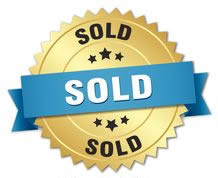 Erica's Trotters Porcelain Doll
ASPC/AMHR 2016 Buckskin Mare
CONGRESS CHAMPION/ 5X RES CONGRESS CHAMPION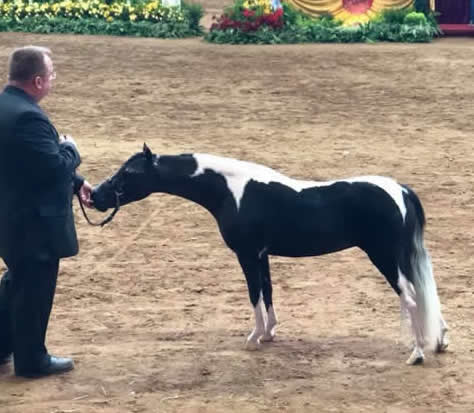 A Kings Daughter Of Valley Rose
(Katie aka KD)
ASPC/AMHR 2017 34" Black Pinto SHOW Mare
FOUNDATION BRED SHETLAND MARE
Graham's King Of Kings x McCarthys Dance Hall Girl
Foaled 4/29/2017
This pretty black pinto was shown at the 2018 AMHR Nationals in Tulsa!
You can't beat her pedigree.
Her sire, Grahams Kimg Of Kings, is DOUBLE BRED Red Rock Kid Lee.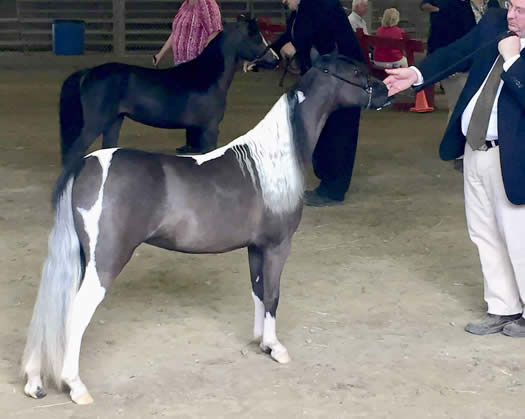 Katie's dam, MCCARTHYS DANCE HALL GIRL has generations of HOF (Hall of Fame) champions attesting to the fact that her pedigree is worthy of continuing.
This Kid Lee/Michigan cross has produced show ring winners that are still relevant in today's competitive show arena.
Katie is showing and winning in 2018.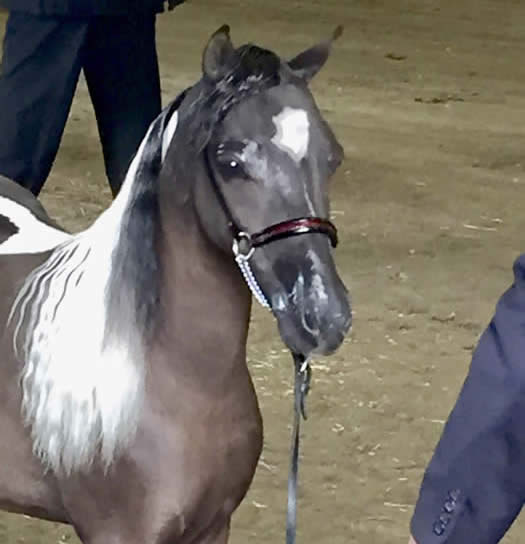 She is projected to mature a small B size and may possibly stay small enough to hardship into AMHA when she is five.
She's a perfectly marked black pinto that will look stunning in harness with her four tall socks and brilliant white mane & tail.
Katie has a lovely dished head with huge eyes and tiny, expressive ears.
Show her and then breed her.
She has tons to offer!
$3,800.00
Holly Knopp
ROSE VALLEY LAKE FARM
(570) 998-2976
htroutrun@aol.com
Located in Trout Run, Pennsylvania
(031519X) Ad updated 1/26/2019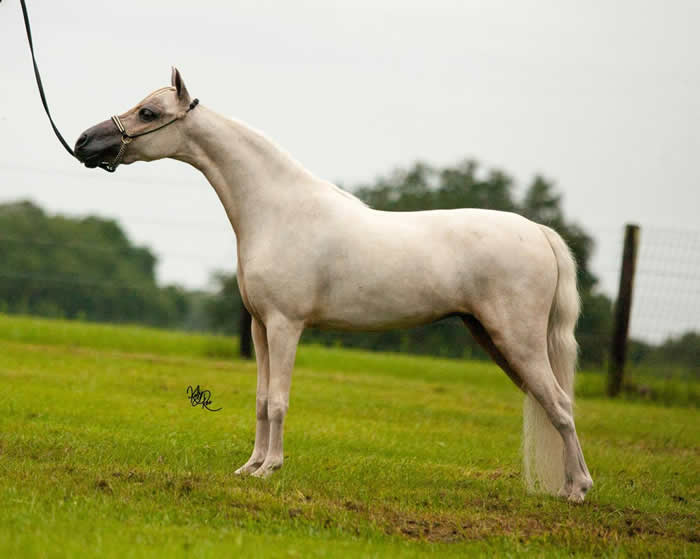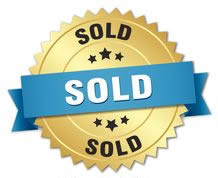 JHK Marios Golden Girl
ASPC/AMHR 2014 34" Palomino SHOW Mare
Trained to Drive - Grand Champion Halter Horse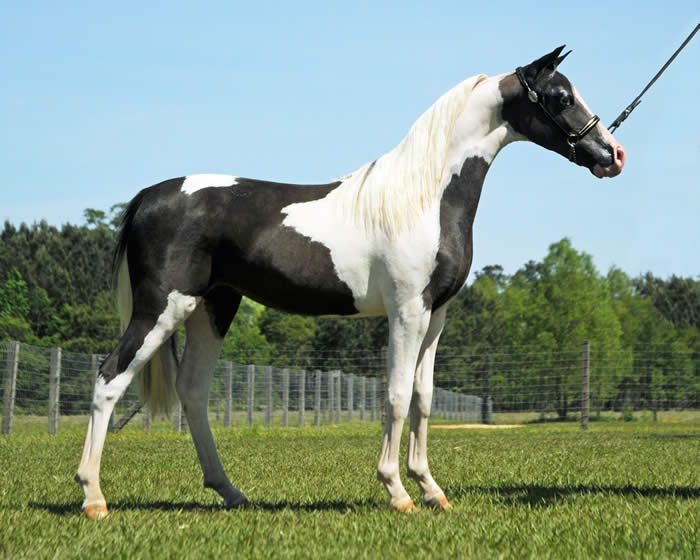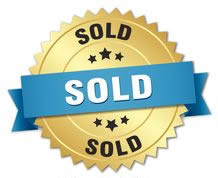 Stars Taylored To Win
2017 AMHR/ASPC/Foundation Black/Bay Pinto Mare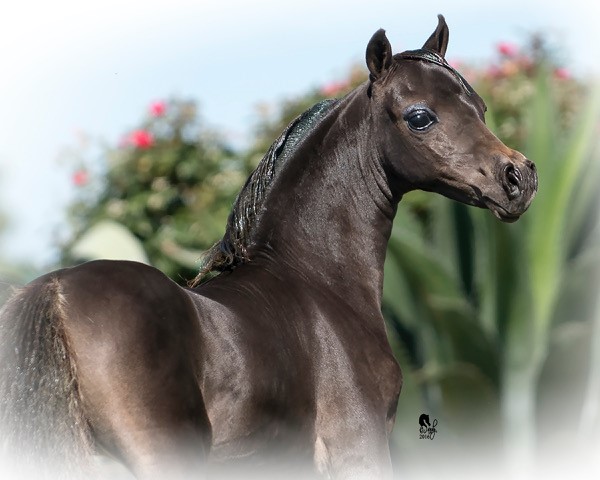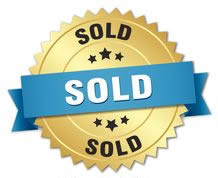 TF Hershey's Classic Touch
(Classic Touch)
Sold from this page:
SMHC's Bella Bandita (January 2019)
SMHC's Fantabulous (January 2019)
Stars Taylored To Win (May 2018)
Rayvik Storms Fancy New Dew (April 2018)
Wild Havens Harlequin Romance (March 2018)
Emerald Glenn Ruffled Wings (January 2018)
Stars Petra (October 2017)
TF Rainy's Gordiva Heiress (July 2017)
Rhapsody's Hollywood Melody (July 2017) Congratulations Painted H Ranch
G3S Vida Loca (June 2017) Heading to Australia
TF Hersheys Classic Touch (June 2017)
TF Hershey's Limited Edition (June 2017)
JKSs Marios Gala (June 2017)
Stars Taylor Maid (May 2017)
Hopwood's CD Bonny Blue (April 2017)
Stars Voo Doo Queen (December 2016)
Buckeye WCF One Hot Taylor Maid (August 2016)
Buckeye WCF Paposo Amore Doll (July 2016)
Amore Platinum Midnight (July 2016)
Erica's Trotters Bab E Doll (June 2016)
Little Kings Awesome Annie (March 2016)
Caldwells No Joke Im Beautiful (January 2016)
Humhill Charlie's Angel (January 2016)
Currys Fancy Nancy (December 2015)
SMHC's Rhythmic Dancer
Grahams Sunswept's Destiny (October 2015) Sold to California!
MJM I'm So Schmancy (September 2015)
Comferts Nighthawks Fantasia (July 2015)
Star Struck Hersheys Sweet Success (June 2015)
Skyland Meadow's Misty Morn (May 2015)
Irish Hills Black Cat (March 2015)
Delicia Of Hell's Canyon (April 2014)
Finchwoods PlayMe A Sweet Melody (October 2013)
McCarthys Dance Hall Girl (October 2013)
Caldwell's Whata Pretty Picture
Caldwells Hey Good Looking
"Pocahontas"
Caldwells Queen Anne
Caldwell's Photo Finish
Shneighs Phantom Of The Opera
Caldwells Aloha Acres Final Affaire
Caldwells You Look So Lovely
Westwind Hopalongs Top Silver Star
Wa-Fulls Sweet Snip's Brandy
HHP Desirable Debutante