Triple Registered Stallions

Lazy N Incendios Pequeno Picoso
(Poncho)
ASPC/AMHR/AMHA 2017 Triple Registered Bay Sabino Stallion
++ COLOR - LOOKS - PEDIGREE - THE ENTIRE PACKAGE ++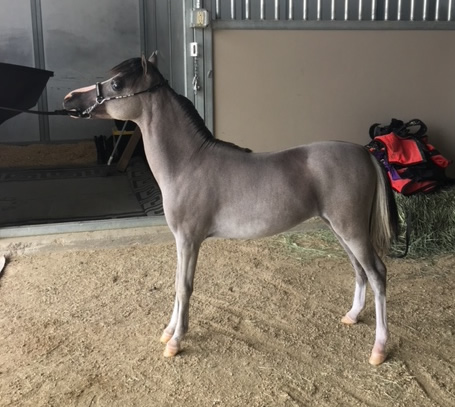 Alliance Boleros Incendio x Amore Toms Sweetest Charm
Foaled 7/07/2017
Top & bottom this stallion's pedigree is evidence of his quality.
Poncho is a lovely balanced young colt who stands at just 28" as a yearling.
He's good mannered and calm with a trainable disposition.
His pedigree is worth bragging about - check this out!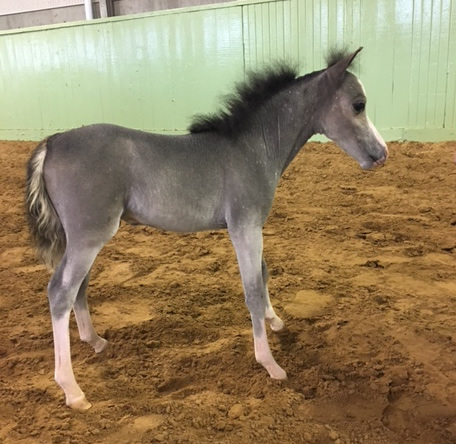 Poncho's sire, Incendio, (pictured below at right) is World Champion/2x Res World Champion ALLIANCE BOLEROS INCENDIO.
"Incendio" is by Get-of-Sire World Champion and multi WORLD GRAND CHAMPION producing stallion "BOLERO".
BOLERO stamps every one his get with an AMAZING show attitude -
these horses have no OFF button when they are in the show ring.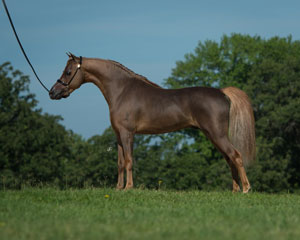 On his maternal side, you will see some very familiar names.
Poncho's dam (pictured below at left) is sired by 36x AMHA National Champion, Horse of the Year and HOF sire, D&S Peeping Tom.
Peeping Tom is not only a National GRAND CHAMPION in halter -
- he's also been awarded top honors in DRIVING as well.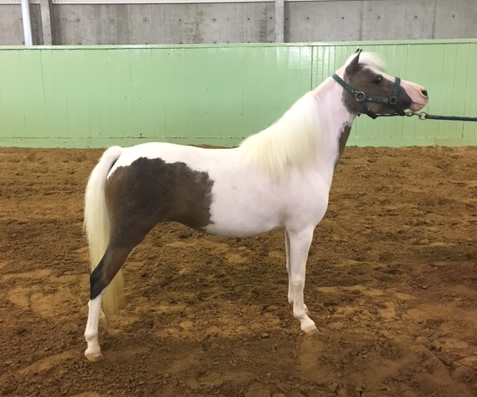 He has produced an AMHA World GRAND CHAMPION and many World/National & SUPREME Champion offspring.
Poncho incorporates many of today's HOTTEST bloodlines into a strikingly UNIQUE sabino package!
At just 28" as a yearling, this little guy may never even see 32" -
- one of the tiniest SHETLANDS on the market today!
This well mannered little stallion is offered to a show home.
MAKE AN OFFER! MUST SELL NOW!

Colleen Cayton
COCOS MINIS
www.cocosminis.com
(951) 553-1509
cocoshorses@yahoo.com
Located in Temecula, California
(113018X) Ad updated 9/20/2018
Macallan AN (Pending)
(Mac)
ASPC/AMHR/AMHA Triple Registered 2017 Black Stallion
SIRE IS A MULTI AMHA GRAND CHAMPION PRODUCER
*** COMES WITH A $3,500.00 SHOW TRAINING CREDIT! ***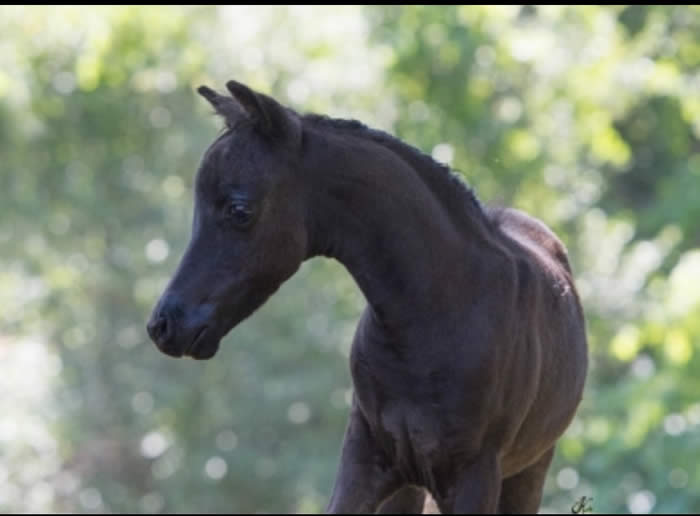 Establo Martini On The Rocks x Walking Ds Muy Bonita Of Arenosa
Foaled 2017
Here's what happens when you combine ARENOSA with a 2x National GRAND CHAMPION Triple Registered Shetland stallion!
This colt is EVERYTHING you could ask for in a future herd sire -
in an "under 34" at maturity" package!
He's stretchy and showy with a pretty face, tiny muzzle and well set, ultra long neck.
Of course with his pedigree, that's no surprise.
Mac's sire is the Triple Registered sensation, ESTABLO MARTINI ON THE ROCKS.
He produced this year's AMHR National GRAND CHAMPION Stallion, Over.
THIS is the type of colt that you can SHOW and win with then use him to produce champions for your farm.
I'd buy him in a heartbeat of I had the funds!
DO NOT MISS THIS ONE!
++++ BONUS - THIS COLT COMES WITH A GENEROUS $3,500.00 TRAINING CREDIT IF PLACED WITH A TOP, APPROVED TRAINER FOR 2018! ++++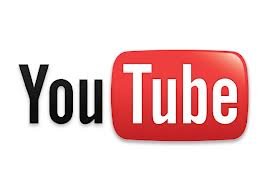 PLEASE INQUIRE FOR PRICE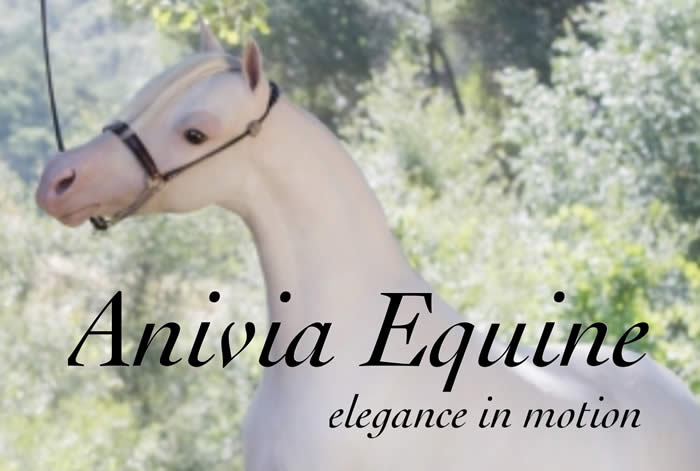 ANIVIA EQUINE
Stacy Sachen
www.anivia.com
sachen_s@yahoo.com
(773) 251-1445
Located in California
(1117) Ad updated 10/24/2017
Rakvik JoCo's Triple Motion
(Trip)
ASPC/AMHR/AMHA Triple Registered 33" Shetland Chestnut Stallion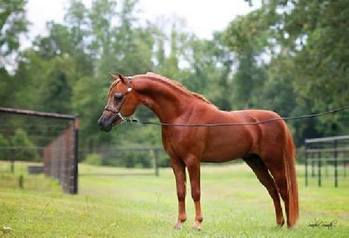 Rayvik/ D&S Jocomotion x D&S O'Mama
Foaled 6/01/2015
THIS JUST MIGHT BE THE MOST EXCITING OFFERING ON OUR WEBSITE AT THE MOMENT!
Rayvik JOCO's Triple Motion is a son of AMHR National Grand Champion Stallion D&S Jocomotion.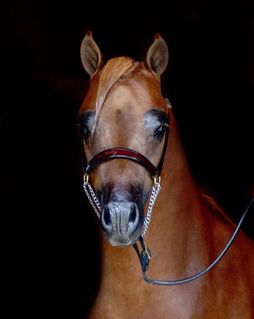 Jocomotion is also the sire to 2015 World Grand Champion Senior Stallion Rayvik Primetime of D&S owned and shown by Jonathan Whitt of JSW Farm.
His dam is the beautiful mare, D&S O'Mama.
She is a direct daughter of BHR Chocolate Sundae (HOF).
Trip is ready to follow in the foot steps of his sire, grand sire, and siblings and win at the national level and produce offspring that will do the same.
OFFERED AT $7,500.00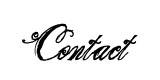 OFFERED BY OUR CORPORATE PARTNER RAYVIK MINIATURES & SHETLANDS

Vickie Tobin or Kyle Edsell
viskie@rayvik.com
(618) 578-4769
Located in Judsonia Arkansas
(817) Ad updated 4/13/2018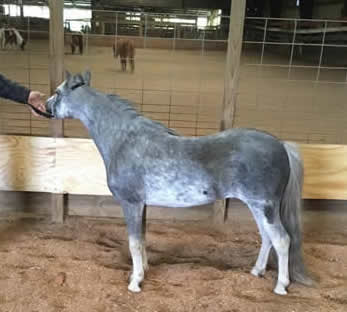 Owsley Fork Grey Gambler (HOF)
(Gambler)
ASPC/AMHR/AMHA/PtHA Registered 34" Gray Sabino Pinto Stallion
Multi National Champion & National Champion Producer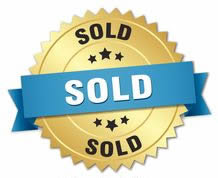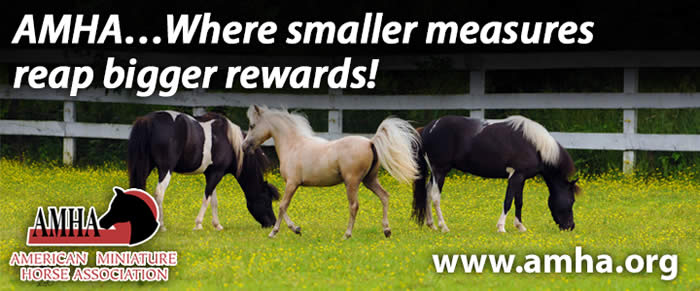 SOLD FROM THIS PAGE
LM Country Loco
Amore Toms Supreme Majesty
LM Big & Rich (September 2016)
Owsley Fork Grey Gambler (August 2016)
Have a TRIPLE REGISTERED stallion to sell?
Email karen@minihorsesales.com to have him featured on this page!