Miniature Broodmares for Sale

OFFERED AS PART OF THE LIMESTONE MINIATURES REDUCTION SALE
Los Arboles Elusive Dream

(Lucy)
AMHA/AMHR 2008 Black PROVEN Broodmare
CAN SELL WITH HER SHOW QUALITY JUNE 2018 COLT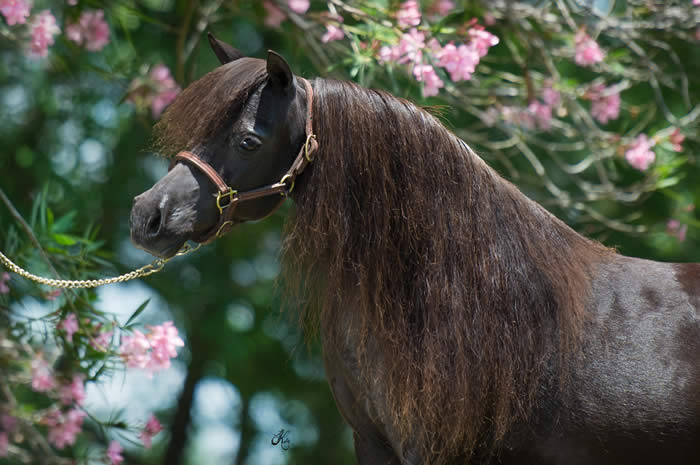 Sequoia Majestic Mime x Celebrations Tennessee Tia

Foaled 3/21/2008

FANTASTIC MARE BY WORLD GRAND CHAMPION STALLION!

Foaled a S-T-U-N-N-I-N-G colt in June 2018 (also for sale - pictured below)
He's by BILLY IDOL who needs no introduction.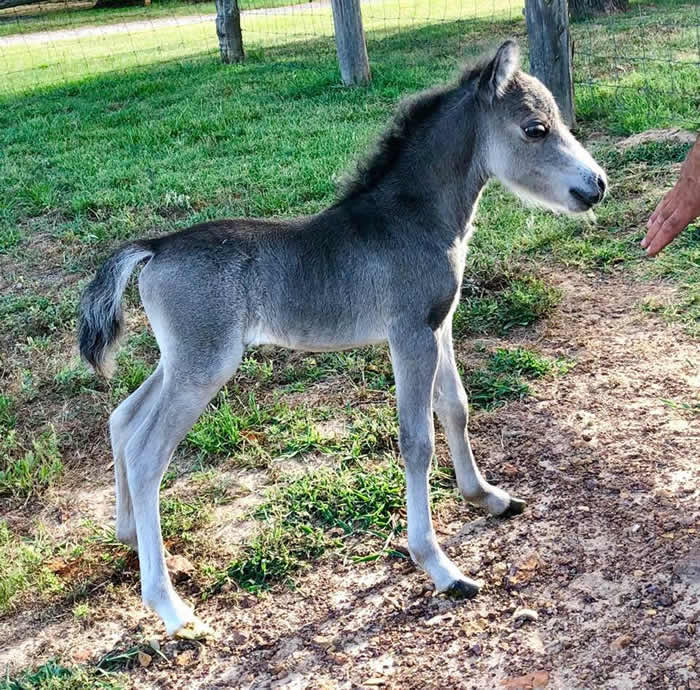 Billy Idol is a World Champion Get-of-Sire as well as the sire to MANY World GRAND CHAMPIONS, Supreme Champions and International Winners all over the globe.

Sweet and showy with an incredible neck and smooth body.
Lucy is a total sweetheart - easy to manage and a very GOOD girl.
She gets in foal easily and has had no trouble foaling.

FAIRLY PRICED AT $3,500.00
(CAN BE PURCHASED WITH HER SHOW COLT FOR $5,000.00)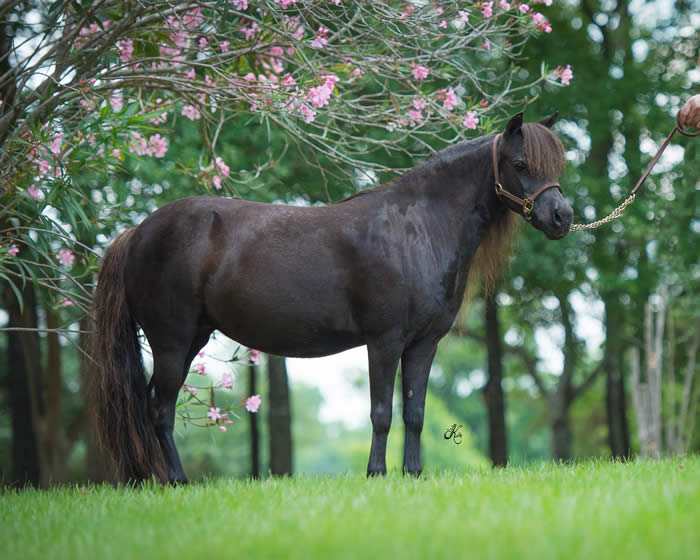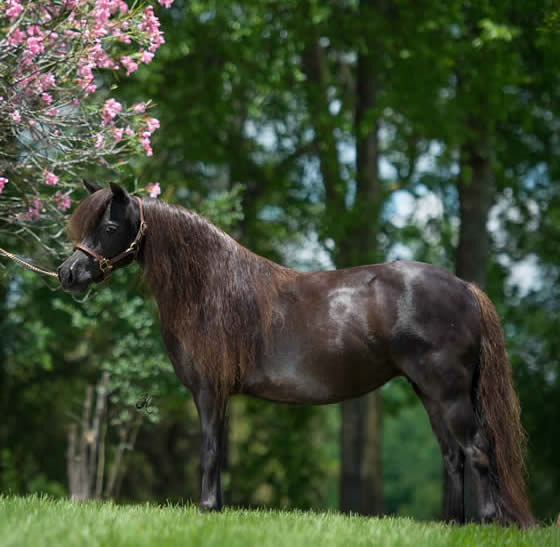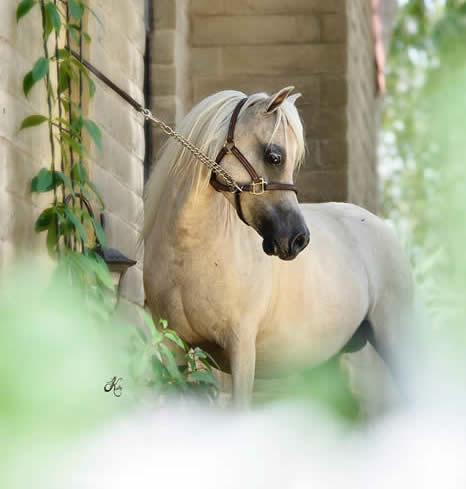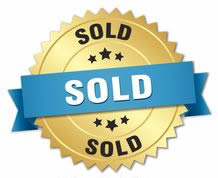 Willow Creeks More Than Just Velvet


AMHA/AMHR 2006 32" Palomino PROVEN Broodmare
SELLING OPEN AND READY TO BREED TO YOUR STALLION IN 2018

Buckeye WCF Paposo Amore' Doll
(Doll)
ASPC/AMHR 35" Black Pinto PROVEN Mare
FOALED A BLACK PINTO FILLY BY WORLD SUPREME CHAMPION COUNTRY BOY IN MARCH 2018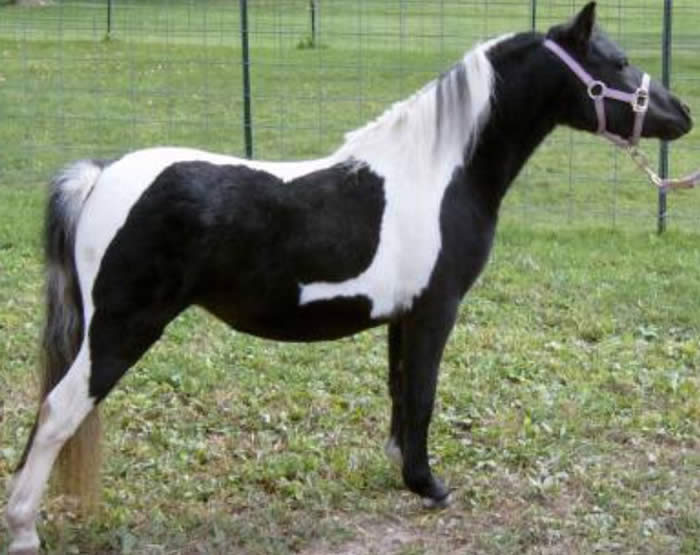 Kewpies Paposo Of Arenosa 34" (HOF) x SMHC's Lexus
Foaled 4/11/2007
Amazing opportunity to acquire a beautiful ARENOSA bred Shetland mare -
Regretfully offered for sale as this mare is totally correct & balanced with an enviable pedigree -
Doll will be an ASSET to any fine ASPC/AMHR breeding program.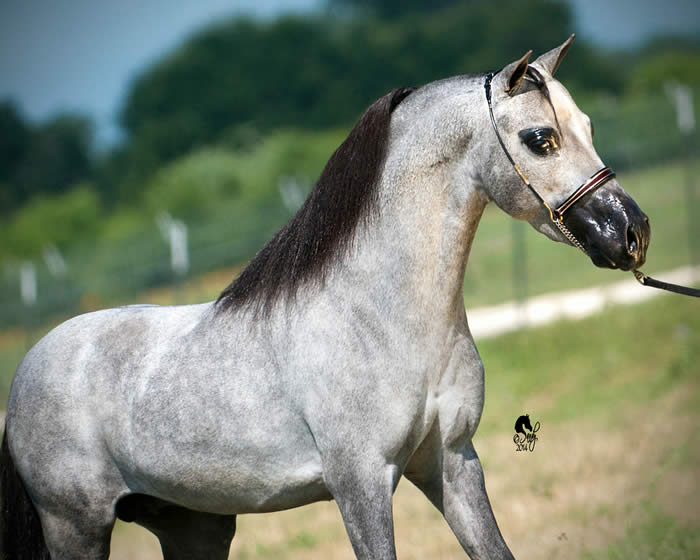 Her maternal side boasts HOF (Hall of Fame) horses galore, including TOWN & COUNTRY'S KIT CAT, GEORGETOWN'S TOM CAT and J-J'S PAINTED APACHE.
Doll's sire is the Arenosa bred Shetland KEWPIE'S PAPOSO OF ARENOSA and stands at just 34" tall.
Doll foaled a stunning black pinto by Triple Registered D&S TG Ima Country Boy in March 2018 -
Doll can be bred back for 2019 for a small fee.
(Country Boy pictured at right)
OFFERED FOR JUST $4,000.00
Doll's 2018 Shetland/ AMHR filly - should mature small enough to Hardship into AMHA
(2018 filly pictured at left)
INQUIRE FOR PRICE WITH HER AMAZING MARCH 2018 COUNTRY BOY FILLY!

Wa-Full Buddy's Crescent Tonya
ASPC/AMHR/AMHA 34+" Silver Bay PROVEN Broodmare
BRED TO TRIPLE REGISTERED "COUNTRY BOY" FOR 2018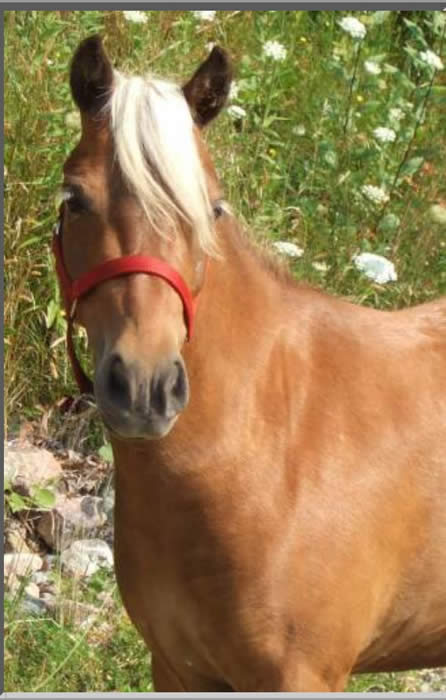 Wa-Full TP's Buddy    x    Wa-Full Benny's Red Crescent Sonya
Foaled 4/23/2007
An exciting opportunity for the buyer who has researched pedigrees and show records!
This PROVEN mare has an impressive pedigree and lots to offer as a broodmare.
She is a consistent mare -
- gets in foal easily and foals without assistance.
She is a multi SUPREME Champion producing mare.
She's TRIPLE REGISTERED with classic and desireable SHETLAND bloodlines.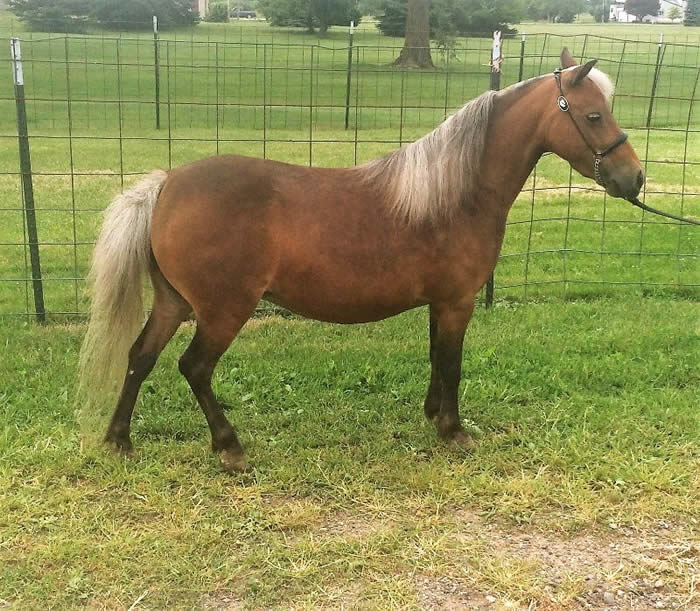 The BONUS -
Tonya is vet checked IN FOAL for 2018 to World SUPREME CHAMPION, Triple Registered stallion, D&S T.G. I'ma Country Boy.
(he's pictured below, right)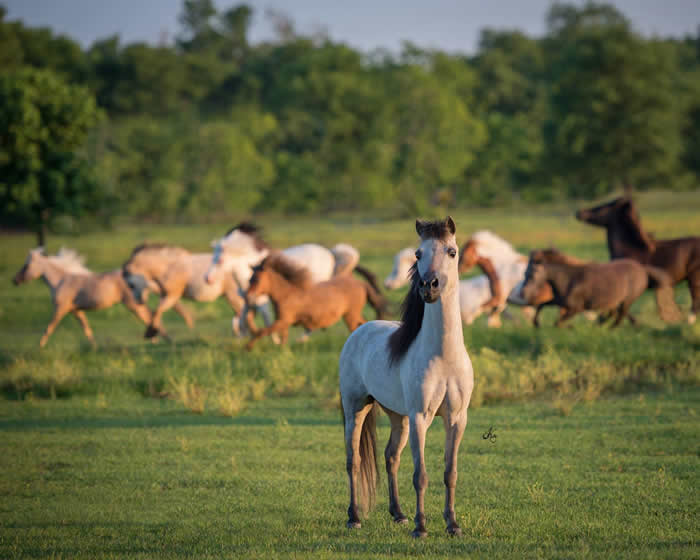 PRICED AT $3,00.00
INCREDIBLE TWO-IN-ONE PACKAGE

OFFERED BY OUR CORPORATE SPONSOR:
Janet King
LIMESTONE MINIATURES
3837 FM 1643
Winnsboro, Texas 75494
903.629.3234
606.584.4231
jfk657@yahoo.com
Located in Winnsboro, Texas
(217) Ad updated 6/22/2018
Lucky Four Rebelchase Rebelicious
(Libby)
AMHA/AMHR 2008 32" Sorrel Proven Broodmare
DUE TO FOAL NOW - TO TRIPLE REGISTERED STALLION "NATIONAL TREASURE"
+++ Sells WITH her foal as a two-in-one special +++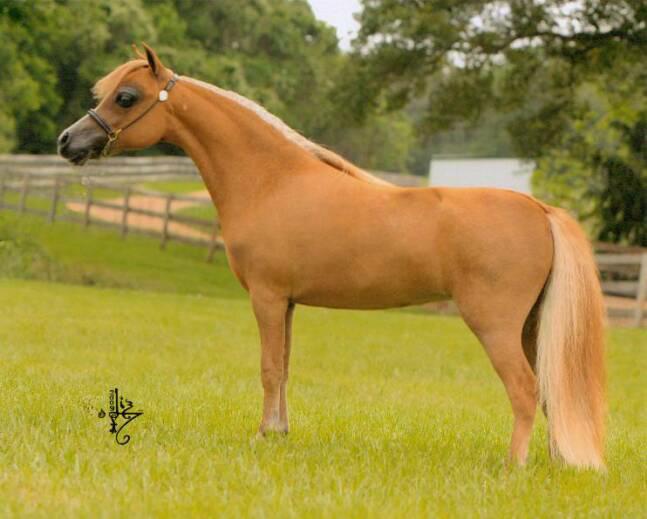 Lucky Four Rebels Chasin Rainbows x Lucky Four Classic Coppertone
Foaled 1/20/2008
Offered for your consideration - one of Lucky Four Farm's TOP producing broodmares!
Libby has been a consistent producer for LFF, always producing correct and showy foals that mature small.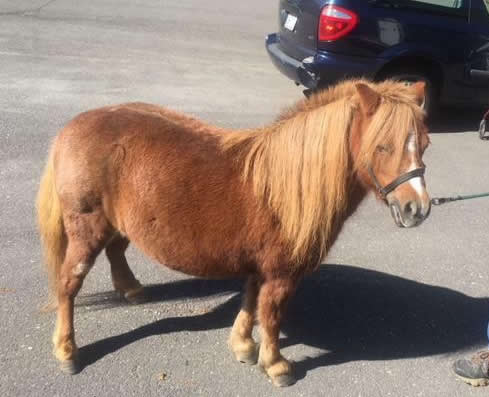 Libby is by World Champion and GRAND CHAMPION producing stallion, Chasin Rainbows.
Libby's dam, LF Classic Coppertone, is a multi World Champion producing mare.
Her most titled offspring is LUCKY FOUR REBELSUPREME REMARKABLE - 3x World Champion and World GRAND CHAMPION Futurity.
We are anxiously waiting for her 2018 foal to make an appearance since she's technically "overdue".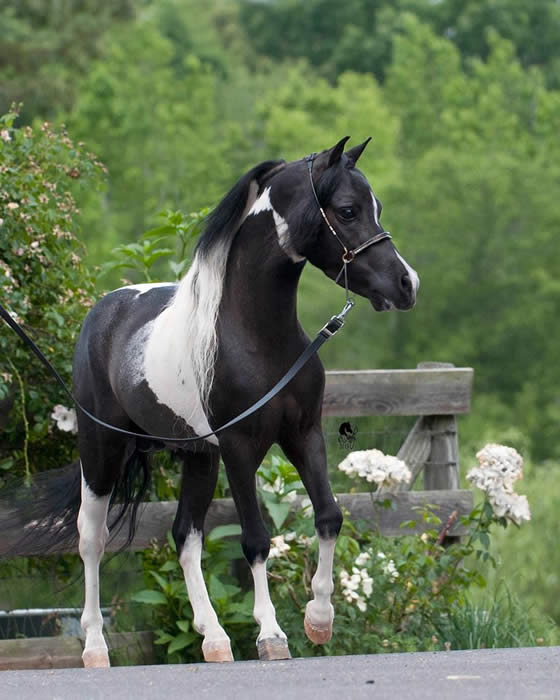 We all know mares will foal when they are ready, not by looking at the calendar.
This is the second time we crossed Libby with Triple Registered Caldwells National Treasure (aka "Nate")
(Nate is pictured at right)
We were SO pleased with her 2016 we are hoping for a repeat!
Since Nate is homozygous PINTO and BLACK, there's no question what color foal she'll be delivering soon!
With her impressive pedigree her new owner can't go wrong.
Regretfully offered for sale at just $3,500.00
AS A 2-IN-1 PACKAGE
(please inquire for foal updates! She's due any minute!)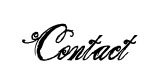 EUROPA FELL MINIATURE HORSES
Sue or Laurie Boyer
(314) 677-8409
Currently located in Waxhaw, North Carolina
(110518X) Ad updated 6/13/2018
Curry's Siera Mist
(Siera)
ASPC/AMHR 2009 39" Bay PROVEN Broodmare
SELLS WITH 2018 COLT (to be gelded) AT HER SIDE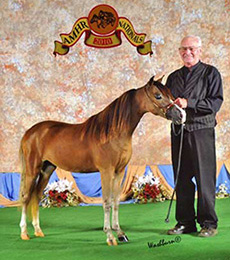 Royal Splish Splash x Sis's Siera LE
Foaled 5/2/2009
Siera is a pretty bay mare that is easy to get along with.
She settles and foals easily and is a great mother.
Siera sells with her 2018 colt at side.
He is sold on a gelding contract only.
(pictured below, at left)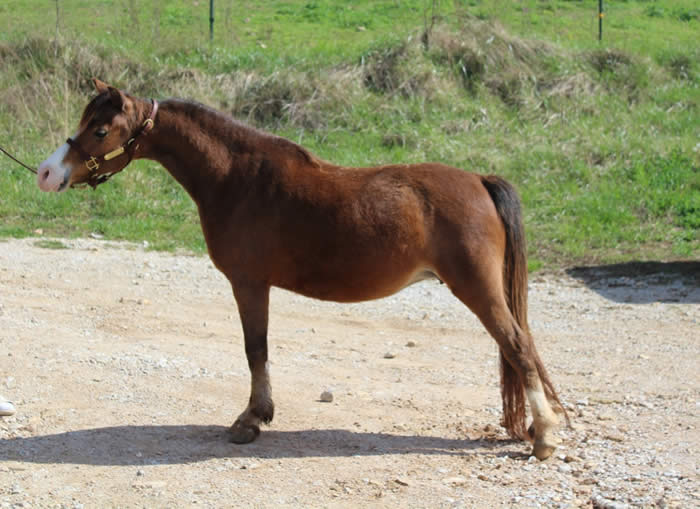 This colt is by TSL's Ravens Nighthawk and is nominated in both ASPC and AMHR Futurities.
Siera was left OPEN this year so her new owner can breed her to thier fine stallion.
She currently measures 39" with lots of hoof -
- no stretching, no pinching etc.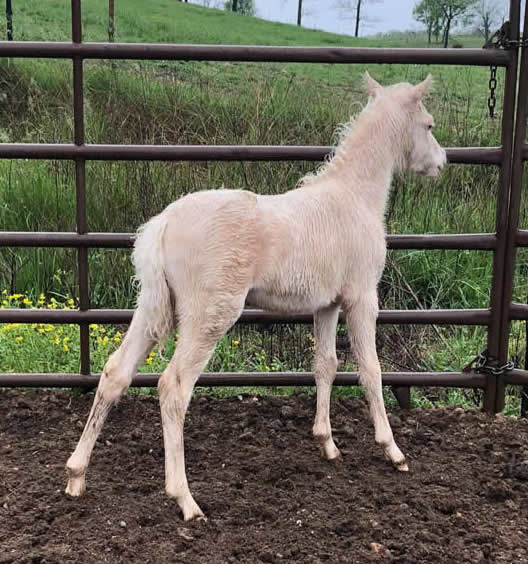 She may measure 38" with a trim and just a bit of effort.
Siera is an AMHR National Top Ten Mare.
She's a reliable broodmare does well as part of a herd and just as well inside in a stall.
PRICED LOW SINCE WE HAVE AN ABUNDANCE OF SUPER NICE MARES TO SELL!
$2,000.00 with her 2018 colt (as a gelding)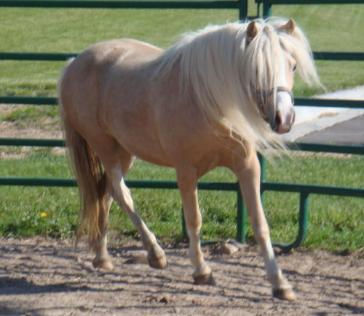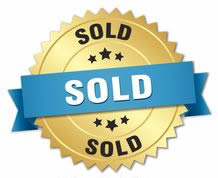 Wa-Full Dawn D.
ASPC Shetland 2003 40" Palomino Pinto PROVEN Broodmare
CURRENTLY BEING BRED TO RHAPSODYS NATIONAL ANTHEM FOR 2019
This exclusive offering is brought to you by our 2018 Corporate Sponsor

Jill Comfert
COMFERT SHETLANDS
(870-688-8675
www.comfertshetlands.com
jcomfert@hotmail.com
Located in Harrison, Arkansas
(110918X) Ad updated 5/31/2018
Impressibles Exquisite Design
(Jenny)
AMHA/AMHR 2002 32.5" Silver Bay PROVEN Broodmare
HOMOZYGOUS FOR THE AGOUTI GENE!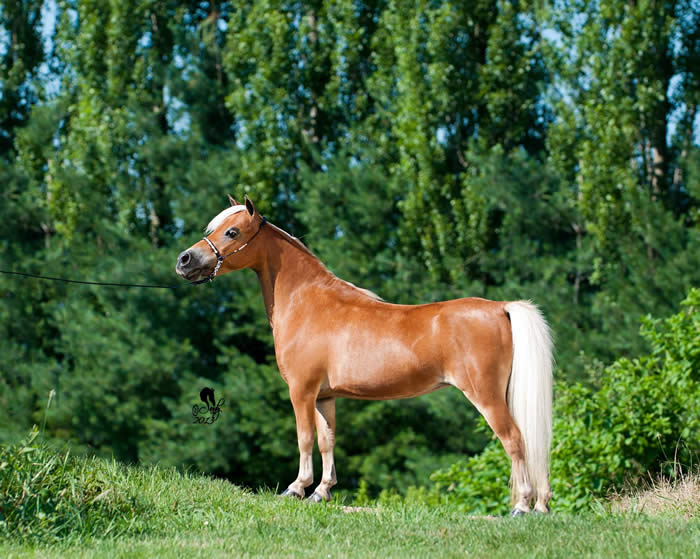 Impressibles Majestys Fine Design x Impressibles Dazzling Daisy
Foaled 5/13/2002
"Jenny" has an IMPRESSIVE pedigree!
Her heritage is loaded with TINY, correct little horses and she has consistently produced SMALL foals for her current owner.
Jenny goes back to NFC HUSSELERS STAR as well as popular the Dell Tera and KOMOKO lines.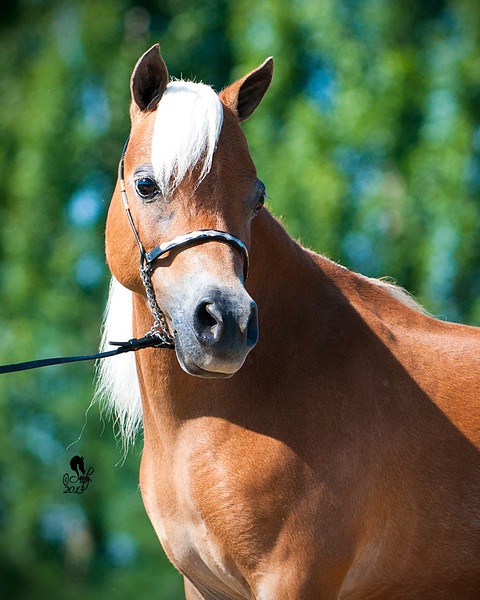 She crosses back twice to the teeny stallion IRSUL VANT HUTTENEST 2x close up.
Downsizing due to family situation otherwise this mare would be a keeper.
She's shy but sweet. Loves her friends and prefers being in a group tp being alone in a stall.
She's a loving and doting mother to her foals.
Jenny is OPEN as we did not breed in 2017. She has always gotten in foal easily.
She's respectful and easy to handle.
Jenny has many more years to produce foals for your breeding program or to just hang out as a pretty pasture puff!
PRICED AT $2,0000.00
CONSIDERATION GIVEN TO A FOREVER HOME!
OFFERED BY OUR CORPORATE SPONSOR AZARIAH MINIATURES at MEADOWIND FARM
Located in southeastern, Pennsylvania, Azariah Miniatures at Meadowind Farm is a small farm with a goal of selectively breeding refined miniature horses that will be competitive in the show ring, strengthen your breeding program, or bring joy to your family.
Azariah Miniatures
at Meadowind Farm
Julie Good
Manheim, PA
717 725-7784
azariah@meadowindfarm.com
"And Indeed, a horse who bears himself proudly is a thing of such beauty and astonishment that attracts the eyes of all beholders; no one will tire of looking at him as long as he will display himself in his splendor." ~~Xenophon
Located in Pennsylvania
(617) Ad updated 5/9/2018
Abrias Signature Copper Penny
(Penny)
AMHA/AMHR 2008 33.75" Silver Bay PROVEN Broodmare
SELLS WITH HER 2018 FOAL & BRED BACK TO POKER CHIP FOR 2019!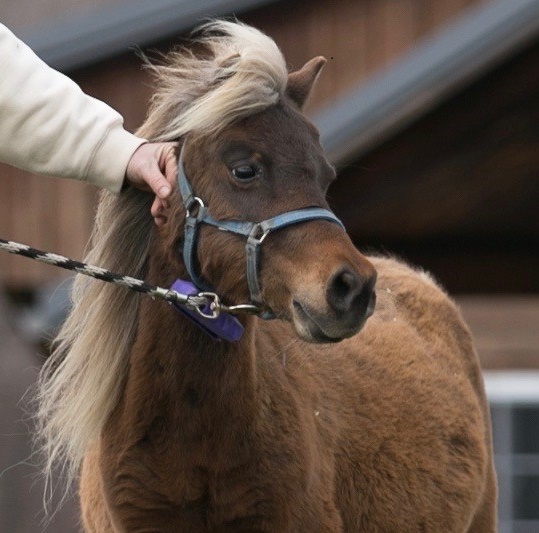 Champion Farms Sir Signature x Rocking M Remingtons 2 Fancy 4U
Foaled 4/6/2008

This pretty silver bay mare with a POKER CHIP colt at side -
and the BONUS .......
she's currently being bred back to POKER CHIP for a repeat performance!
"PC" is an AMHA World GRAND CHAMPION driving stallion –
Triple Registered –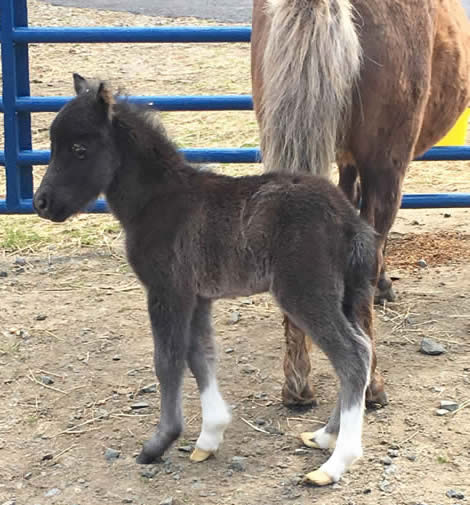 so the pinto colt at her side (pictured at right) and the coming 2019 foal are the highly desired Shetland Blends.
Copper Penny has been a valued broodmare for Hopkins Heavensent Miniatures.
She gets in foal easily and is a great mom.
OFFERED AT $2,500.00
as part of the Hopkins Herd Reduction Sale

Alliance In Fine Form
(Fine)
AMHA/AMHR 2004 32.75" Black Proven Broodmare
BEING BRED TO WORLD GRAND CHAMPION ALLIANCE UNFORGETTABLE IMAGE FOR SPRING 2019 FOAL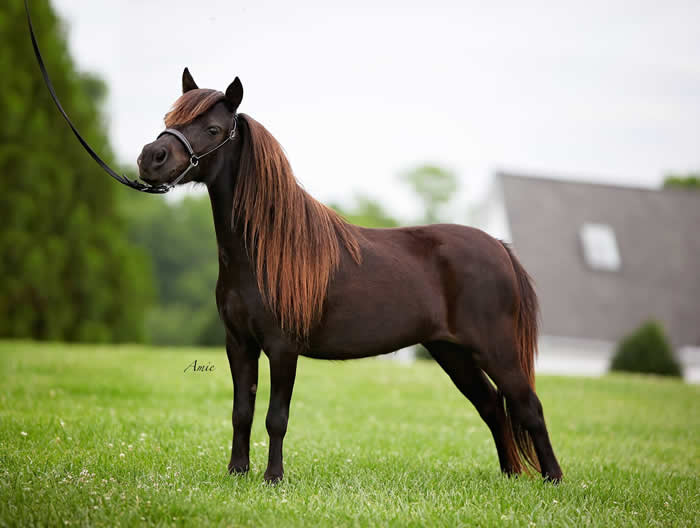 Grosshill Boogermans Fine Form x LGRS Silver Mist
Foaled 3/24/2004

AMHA A150440
AMHR 258756A

DOB: 3/24/2004


Exquisite mare - Dainty and elegant!
A pedigree that can't be beat, combined with a produce record that is top of the line!
OFFERED AT $2,500.00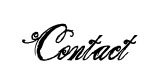 Proudly offered by our Corporate Sponsor:
1089 Pond Neck Road,
Earleville, MD 21919-2307
debra@hopkinsheavensentminiatures.com
phone: (443) 206-4577
Or (302) 220-3707
Located in Maryland
(110318X) Ad updated 5/3/2018
Lucky Four Rowdys Reverie
(Reverie)
AMHA/AMHR 34" Silver Dapple Pinto PROVEN Broodmare
CONFIRMED IN FOAL FOR 2019
World Champion & Multi SUPREME Winning Show Mare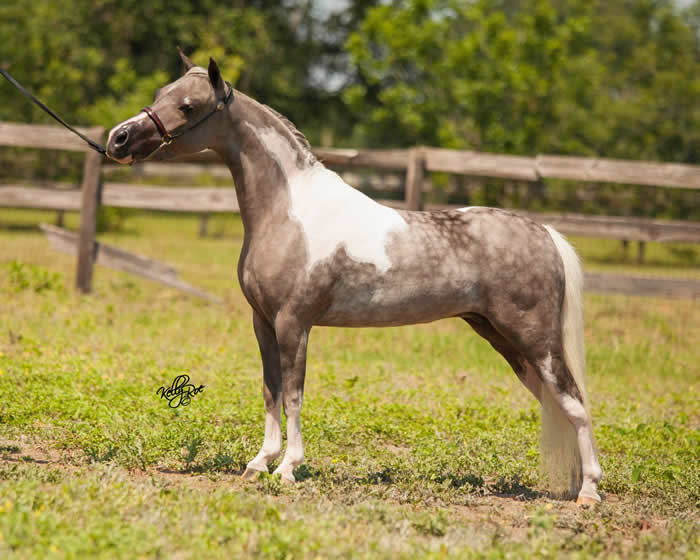 Lucky Four Rebelchase Real Rowdy x Lucky Four Rebelchase ARose IsaRose
Foaled3/26/2011
A picture says a thousand words so we'll let Reverie's photo speak for itself!
She's a World & Res World Champion mare -
- both of those awards achieved AFTER she foaled her first colt in 2014!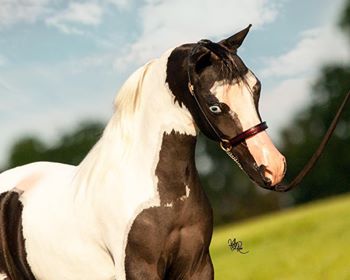 Reverie's 2014 colt is pictured at left. He's ultra flashy, bold and showy.
Reverie was left open by owner's choice in 2017.
She is now bred to Winning Streaks Epic Magic for a 2019 foal.
("Epic" Is pictured below, at right.)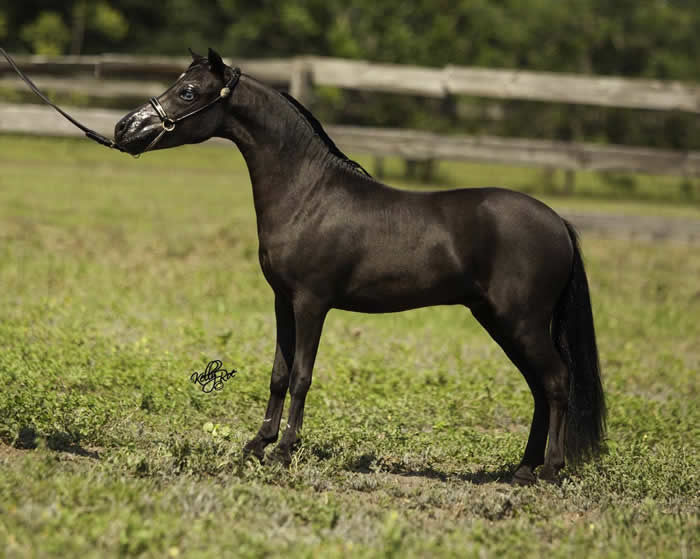 He's is a tiny and correct stallion with a winning show record.
Her coming foal will be a FULL sibling to her 2014 winning show colt, Winning Streaks Epic Masterpiece.
He produces tiny, SHOW QUALITY foals -
usually with just enough "chrome" to make them stand out in the show ring for that "second look" from the judges.
Bring YOUR breeding program up a notch!
$4,500.00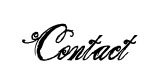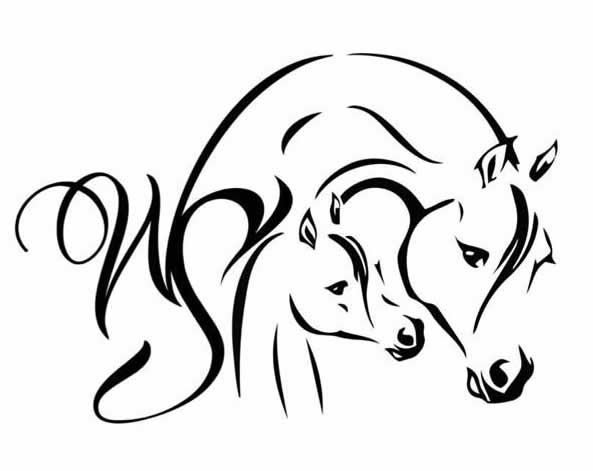 WINNING STREAK MINIATURES
Donna Lavery
winningstk@aol.com
(352) 274-3715
Located in Florida
(917) Ad updated 5/3/2018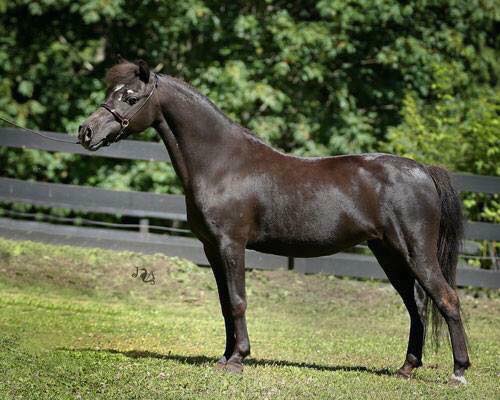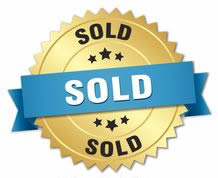 McCarthys Diamond Lil Of Rivenburgh
ASPC/AMHR/AMHA Triple Registered 34+ Seal Brown PROVEN Broodmare
SELLS OPEN OR CAN BE PRICED WITH HER FOAL
Lucky Four Rebelchase Really Adoll
 Sells with her 2018 colt Panoramas Art Deco
(Doll)
AMHA/AMHR Chestnut Pinto 32" PROVEN Broodmare
SELLING WITH HER 2018 PINTO COLT BY BOLERO SON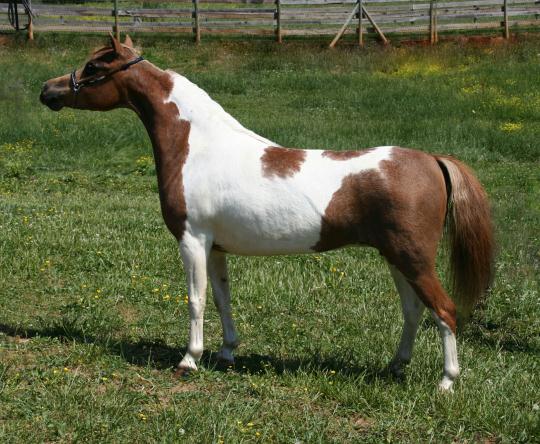 Lucky Four Rebels Chasin Rainbows x Lucky Four Rebels Real Doll
Foaled 4/18/2006
The REAL DEAL!
A PROVEN broodmare AND her show quality 2018 colt!
"Doll" is a pretty pinto mare that gets in foal easily and is a wonderful mother.
She is a daughter of multi World & GRAND Champion producer, "Chasin Rainbows".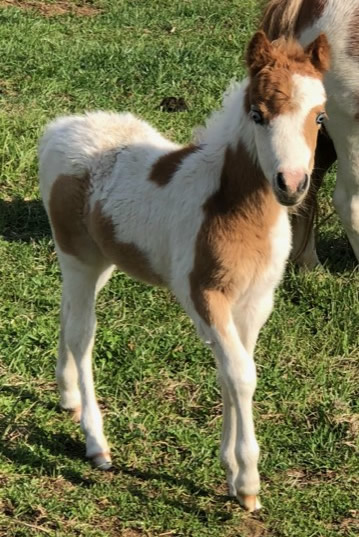 Some of her award winning paternal siblings include:
AT LAST SURASTARS LIL REBEL
BLUE RIBBON REBELCHASE CICILY ROSE
CD REBELCHASE ONCE UPON A SHOWTIME
INDIAN PEAKS CHASIN THE DREAM
LUCKY FOUR REBELCHASE AFTERDARK
LUCKY FOUR REBELCHASE REAL ROWDY
Doll's dam, LUCKY FOUR REBELS REAL DOLL is a Reserve World Champion daughter of the great SIDS REBEL.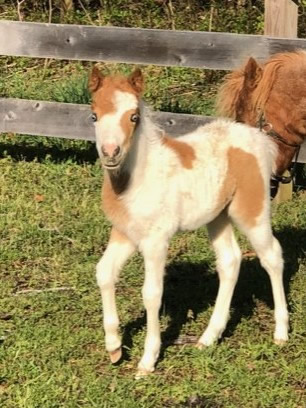 This makes doll a DOUBLE BRED Sids Rebel grand daughter.
Doll sells with her show quality 2018 pinto colt.
"Art Deco" is sired by ALLIANCE BOLERO BELLAGIO who is a direct son of World GRAND CHAMPION producer, SMO BOLERO DE SUERTE.
This little guy should be a show stopper with his brilliant color and bright attitude.
Priced as a super two-in-one deal at $2,500.00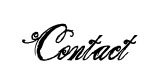 Cathy Fatigati
PANORAMA MINIATURES
(804) 925-5146
type_o13@hotmail.com
Located in Montross, Virginia
(617) Ad updated 5/2/2018
Marks Steal The Class
(Stella)

AMHA/AMHR 2004 Sorrel Pinto 32.25" PROVEN Broodmare
IN FOAL FOR APRIL 2018 TO BOLERO SIBLING!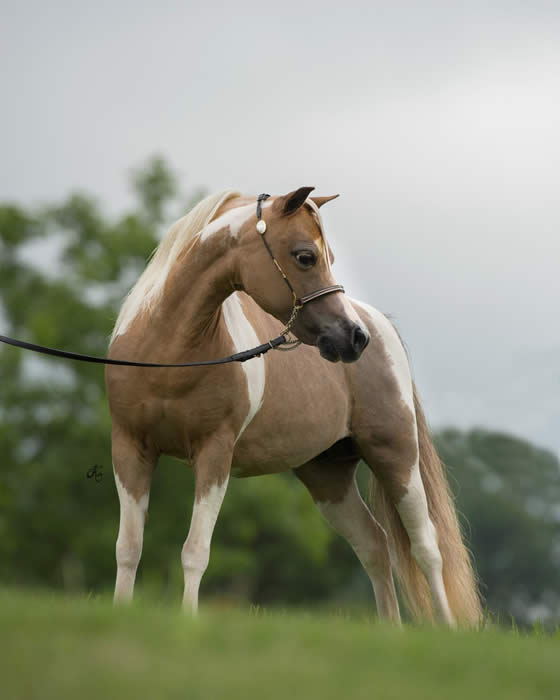 MARKS DOMINATORS BANDOLERO x MARKS YOGAS CLASSY ELEGANCE


Foaled 2/04/2004

This pretty mare has a tried & true pedigree that has been PROVEN to produce winners.

What's more - she's a PROVEN broodmare who gets in foal easily and foals without assistance.

On top of that, she's sweet - sweet - sweet!

Stella is offered IN FOAL and she's due in APRIL 2018!

She's bred to the Champion stallion, FLYING Gs ASSURED TO THE MAX - a paternal sibling to BOLERO.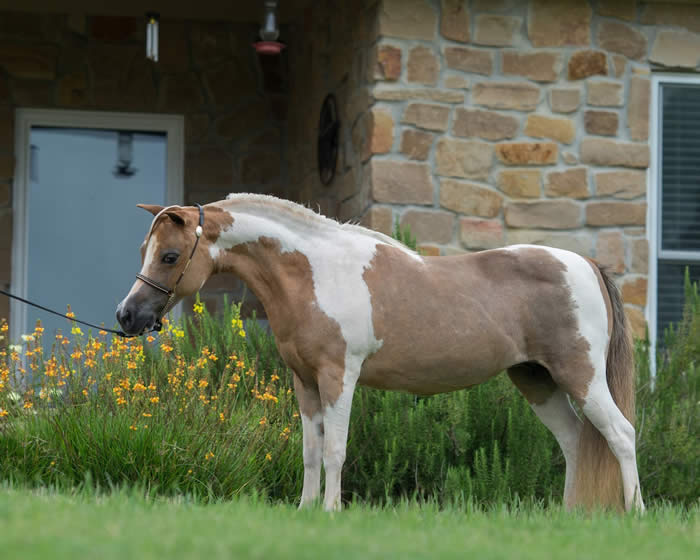 "Max" is a gorgeous ARENOSA BLEND stallion.
(He's pictured below, at left)
Max is by World Champion producing stallion, SUNDANCE LB ASSURED.
He is out of World & National Champion producing mare, FOWLERS BOOMERS EXOTICA LOVESONG.

It's so hard to find a PROVEN mare with all the qualities needed in a broodmare.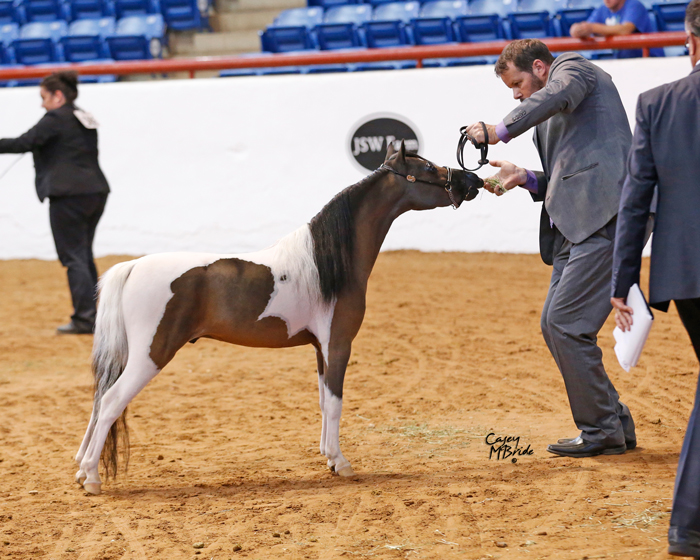 Stella has a balanced body with a deep strong hip and high set tail.

Her neck is naturally refined and long with a trim throat latch.

Her PINTO markings are just a bonus!

TWO IN ONE PACKAGE FOR JUST $3,000.00


Applecreeks Moon Glow
(Moon)

AMHA/AMHR 2010 32.75" Black SHOW Mare
Multiple Amateur SUPREME Halter Horse
VET-CHECKED IN FOAL FOR 2018 to BOLERO Sibling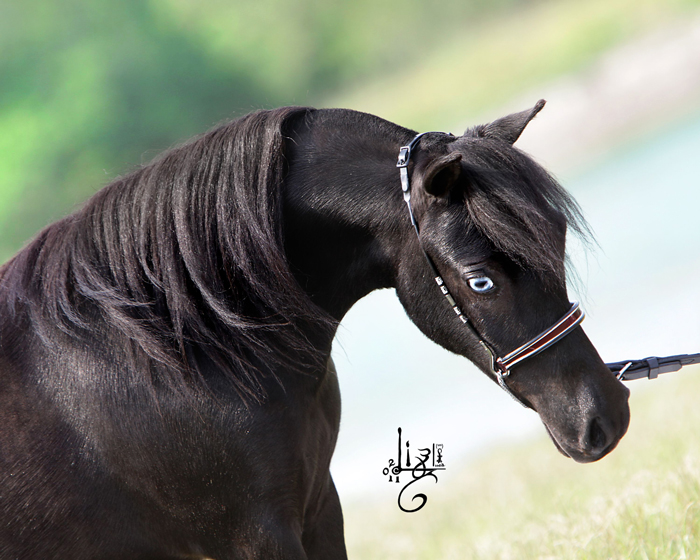 Pecan Grove Chargers Code Red x LR Scouts Little Jeanne

Foaled 4/26/2010

AMHA WORLD TOP TEN SENIOR MARE 32"-34"

Moon is APPLECREEK'S first bred by mare that they have brought into the show ring.

She had a very successful career under the guidance of Trainers Ed Sisk and Danielle Hill.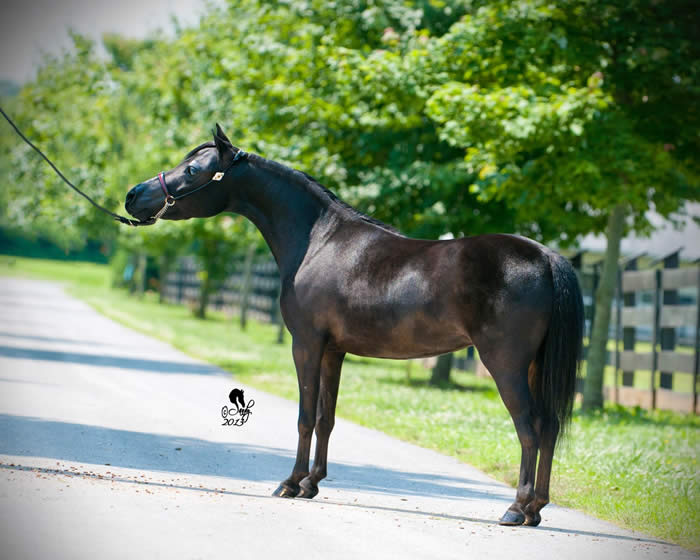 She is a beautifully refined, balanced mare with excellent length of neck, a pretty head and fancy movement.
Moon is sired by Pecan Groves Code Red who is a Johnstons Super Charger son.

"Charger" is by ROAN RANGER who is a son of the epic Shetland stallion, GOLD MELODY BOY.

Moon's maternal side has many names you will recognize.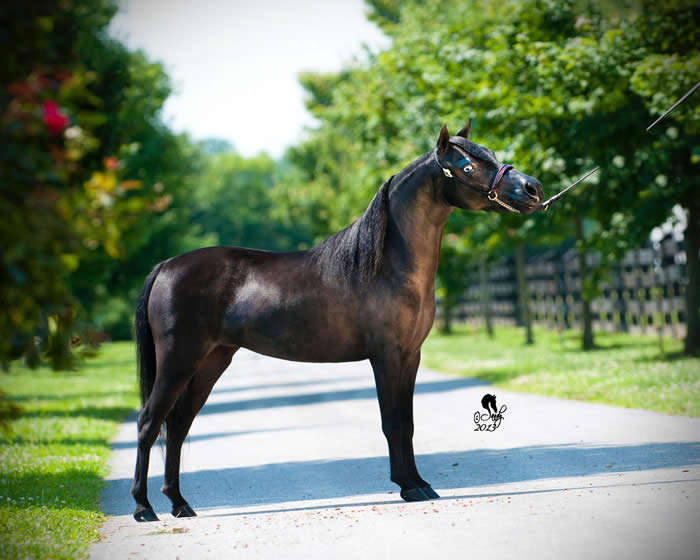 Her dam is a direct daughter of FALLEN ASH SCOUTS NIGHTCAP -
- 2x AMHA National Champion and 2x AMHA National Reserve GRAND CHAMPION Stallion.
Nigthcap is a son of the of legendary L& D Scout!

Moon is being sold as a 2-in-1 package.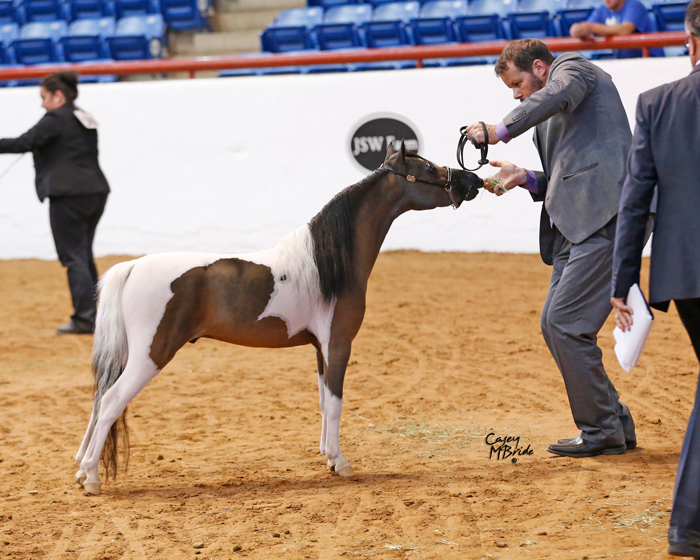 She's bred to our Champion paternal BOLERO sibling, FLYIN Gs ASSURED TO THE MAX.
He's a winning halter horse with ARENOSA bloodlines with amazing movement as well.
"Max" is pictured at right.
We have high hopes for this coming foal!

PRICED TO SELL FAST AT $2,000.00
2-in-1 PACKAGE

Lucky Four Suchabuck Shalima
(Shay)
AMHA/AMHR 2010 32.5" Bay Proven Broodmare
**VET CHECKED IN FOAL TO FLYIN Gs ASSURED TO THE MAX FOR A 2018 FOAL!***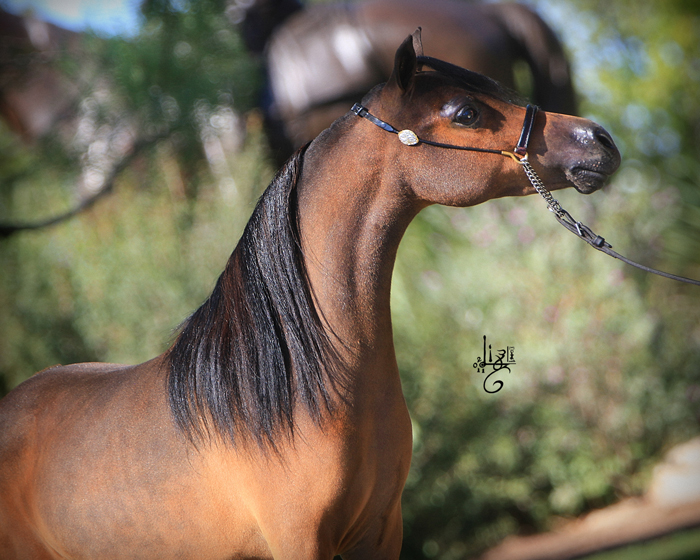 Silver Plates Baccarra Couragio x Lucky Four Spotz Lost Mysock

Foaled 3/29/2010

This mare has a pedigree designed for success.

Shay's lineage includes many of today's "greats" that continue to produce tomorrow's show ring winners

Her sire, Couragio (now overseas) is a champion producimg son of AMHA National GRAND Champion, LITTLE KINGS BUCKEROO BACCARRA.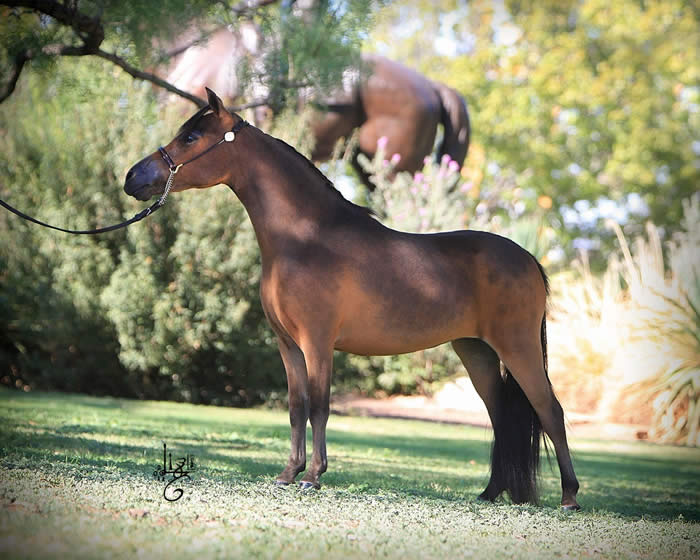 Baccarra is a son of the immortal BOOONES LITTLE BUCKEROO.

On her dam's side, Shay has a heritage worth noting.

Her dam, "Lost MySock" is a WORLD CHAMPION daughter of AMHA National Champion, LUCKY FOUR AFTER DARK SPOTACULAR -

- He's a son of National Champion and phenomenal producing stallion, MARTINS BOOZERS AFTER DARK.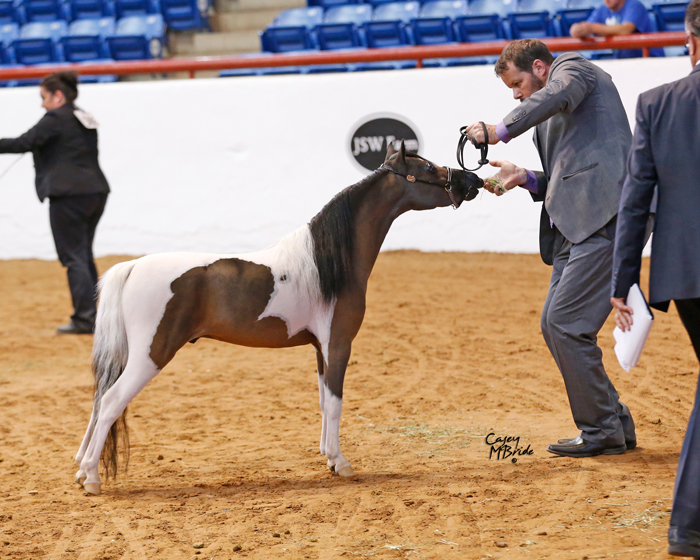 Her grand dam is a direct descendant of 2x AMHA National Champion FLYING W FARMS LITTLE WARDANCE.

This mare gets in foal easily and foals without assistance.
She's a neat mare to have in the barn -
- sweet and easy to manage.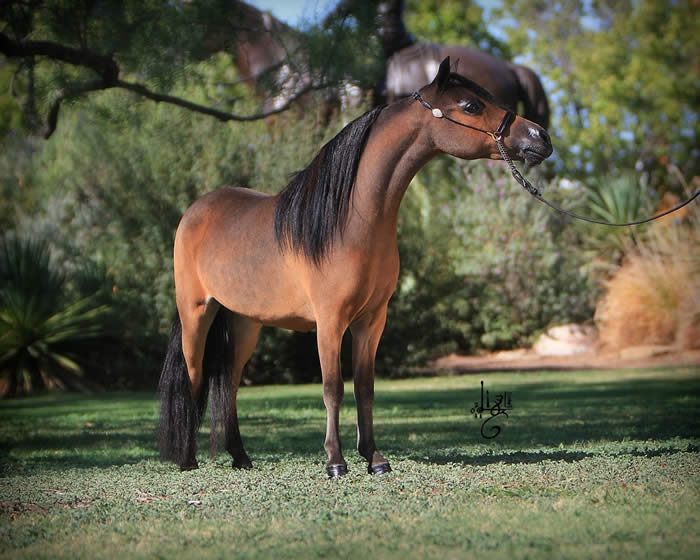 This pending foal should be her best yet -
- Her first cross with our Arenosa bred stallion, FLYIN Gs ASSURED TO THE MAX.
She sells VET CHECKED and CONFIRMED in foal -
and her new buyer has the opportunity to get TWO horses for the price of one!
PRICED AT $3,000.00
AS A 2-IN-1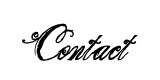 Welcome to Applecreek Farms
We are a small family owned 75-acre farm just north of Houston near College Station Texas. Our good friends and mentors have helped guide us in developing our stock with some of the top miniature pedigrees of which we are truly grateful. We strive for elegant breed type according to the AMHA standard in our horses, which are both a joy to show and a joy to own. In just a short time we have achieved World Champion and AMHA Honor Roll success. We will continue to study and add top bloodlines to our farm to enhance our breeding and show program
APPLECREEK FARM
Elizabeth Ellis
(713) 927-3077
efuselier@me.com
Located in Bedias, Texas
(82118X) Ad updated 2/21/2018
Finchwood Reflection Of Fine Wine
(Finney)
AMHA/AMHR 34+" Palomino PROVEN Broodmare
SELLING WITH HER OCT 2017 SHETLAND BLEND FILLY!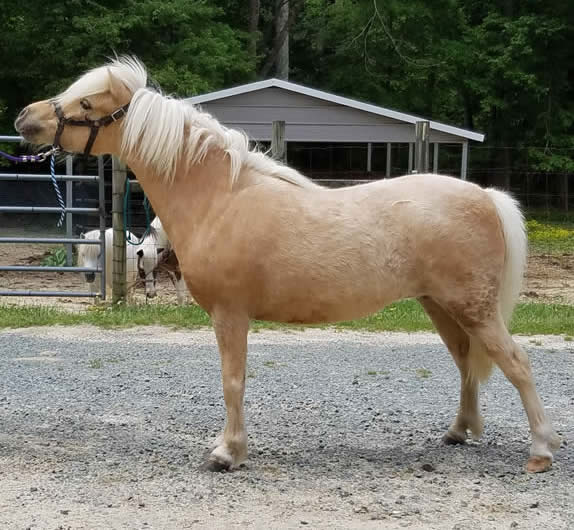 Ten Ls Splendors Monarch x Majolicas Reflection Of Fine Art
Foaled 5/15/2010
(Filly born 10/19/2017)
DON'T MISS THIS 2 in 1 PACKAGE!
Finney is a pretty & proven broodmare.
She is a doting mom.
LOVES her babies! She has had three foals -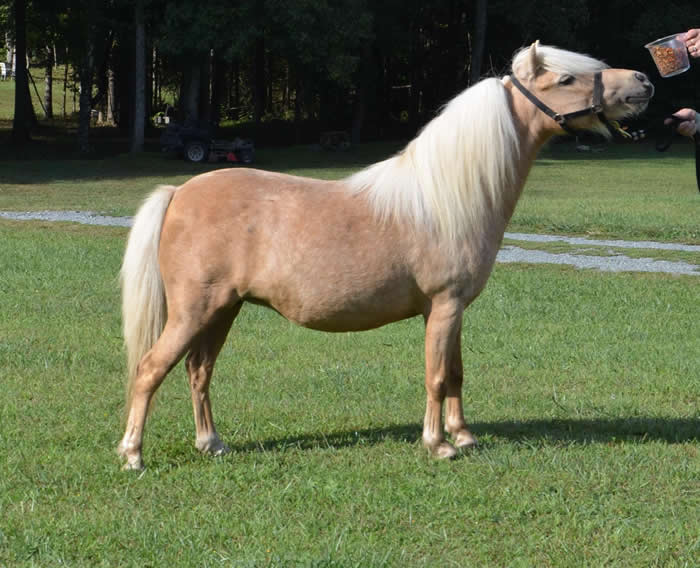 each without any foaling issues and no human intervention.
Finney is a smooth bodied mare with a long, upright neck and a pretty face.
She's a dark golden palomino -
- so hard to find in a Miniature.
Finney sells with her October 2017 chestnut filly, HumHill Brandy On The Rocks.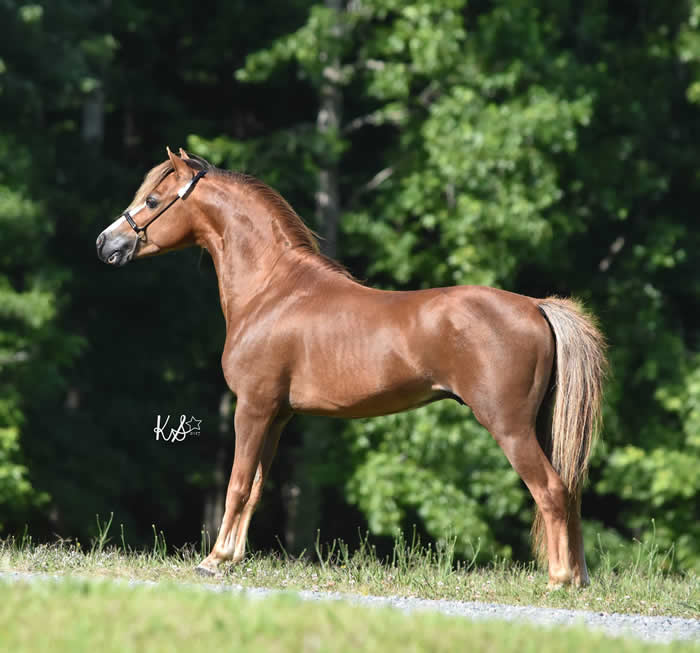 She is by AMHR National GRAND CHAMPION Stallion, Under, HumHill Barcardi On The Rocks - a TRIPLE REGISTERED Shetland, making Brandy 50% Shetland.
Finney can be bred back to the filly's sire at no additional charge. Since she foaled late in 2017, she was left open by choice.
The filly's sire is pictured at right.
Finney gets along well in a herd.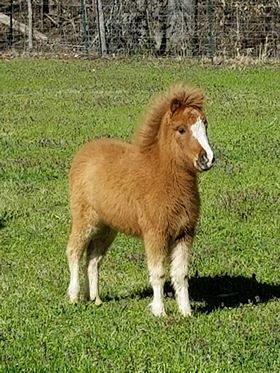 (2017 filly pictured at left)
Being a pasture mare now, she is a bit hard to catch but she is absolutely fine when handled regularly.
Her filly is sweet and correct.
She is not yet weaned.
AWESOME package deal for a new breeder or a farm looking to add some Shetland influence to their AMHA/AMHR breeding program.
PRICED AS A PACKAGE FOR $2,500.00
++ BONUS - CAN BE BRED BACK AT NO CHARGE FOR A POSSIBLE 3-in-1 ++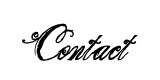 Lauren Taubert
HUMMINGBIRD HILL FARM
www.humminigbirdhill.net
ncagest@bellsouth.net
(336) 708-3838
Located in Liberty, North Carolina
(72818x) Ad updated 4/9/2018
Los Arboles Ladds Check Me Out
(Checkers)
ASPC/AMHR Palomino Pinto 32.75" PROVEN Broodmare
FOALED A STUNNING BABY BY SON OF 2013 WORLD SUPREME CHAMPION RIVENBURGHS JESS LET ME IMPRESS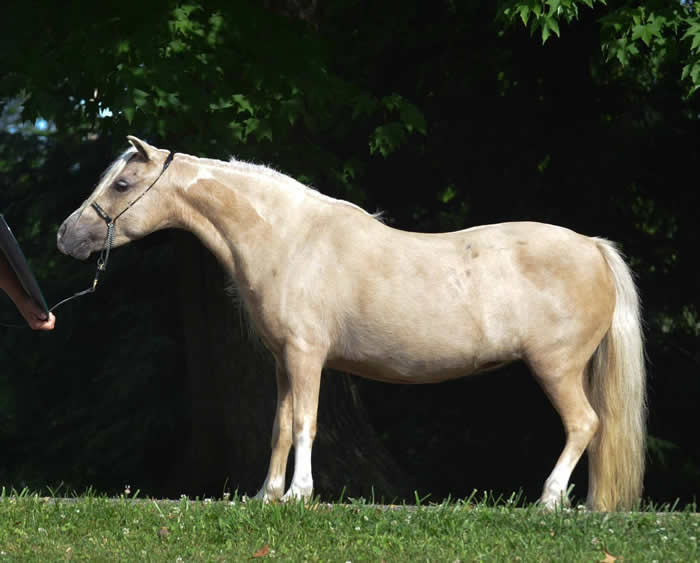 Fallen Ash Farms Irish Ladd x Rolling Ridge Recheck
Foaled 4/08/2007
LIVE FOAL GUARANTEE IF PURCHASED BRED BACK FOR 2019
$3,250.00
MORE INFO AT DVMFARMS.COM

WF Zeus Zuzen
(Zuzu)
AMHA/AMHR 2004 34" Buckskin PROVEN Broodmare
CONFIRMED IN FOAL FOR 2018 to HUNTERBERRY HILL SWEETEST IMPRESSION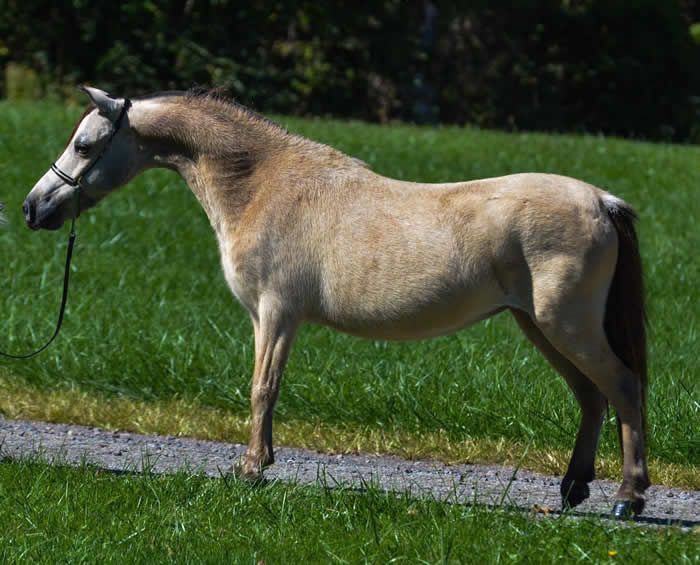 Little Kings Buck Zeus x Tatoos Katie
Foaled 6/24/2004
Reluctantly offered for your consideration!
ZuZu is one of our "tried & true" mares -
she gets in foal easily and foals without assistance.
She's classically correct with a natural, trim throat latch and a neck even the Shetlands would envy.
Zuzu is dependable and consistent - totally a gem as a broodmare and a joy to have around the farm.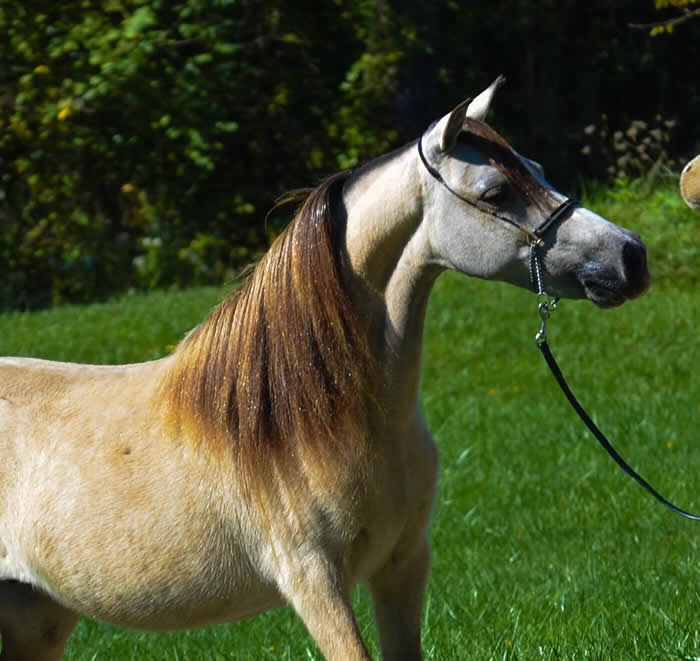 She is CONFIRMED IN FOAL to our amazing stallion, HUNTERBERRY HILL SWEETEST IMPRESSION
This is one of the only AMHA/AMHR mares that will be offered for sale in
foal to Sweet this year.
2018 will be Sweets first foal crop and needless to say we CANNOT WAIT!
She comes with a LIVE FOAL GUARANTEE to make sure you get your very own Sweets baby
This mare comes with a LIVE FOAL GUARANTEE
Priced at $3,250.00 -
INCREDIBLE 2-IN-1 DEAL!
Welcome to Diva Valley Miniature Horse Farm !

We started raising Miniature Horses in 1980 as Jones' Mini-Whinnies but have now converted to Diva Valley Miniature Horse Farm as we have changed our breeding program to accommodate the ever increasing competition in the AMHA and AMHR.  DVM Farms is owned by Nicole and Boomer Pearsall and is located in western Pennsylvania just off I-80 just a few yards over the OH/PA border about an hour north of Pittsburgh and an hour east of Akron, OH.  Nicole and Boomer also own
Penn-Ohio Veterinary Services
which is also located at their residence in West Middlesex which requires a lot of their attention; however, with the help of Nicole's amazing mother, Elaine Buchanan, the horses are well-taken care of and spoiled !  Our horses boast many of the top bloodlines that are winning in the show ring today such as Graham's Ragtime, First Knights Billy Idol, Champion Farms Nighthawk, and Buckeye WCF Leeland Royal Grand; but, at the same time are deeply rooted in bloodlines that have stood the test of time such as FWF Little Blue Boy, Boogerman, Rowdy, Sid's Rebel, FWF Little Wardance, and Gold Melody Boy.  Our horses hold many AMHA and AMHR National titles and also Hall of Fame titles.  Now after 35 + years of raising miniatures, we are very proud of what we are producing.  We have sold minis to many different countries and enjoyed meeting people from all over the World.  Please feel free to call or stop by our farm to see what we have to offer!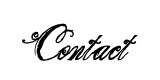 Nicole & Boomer Pearsall
5 Jimro Road West Middlesex, PA  16159
(412)527-0358  (call or text)

dvmfarms@hotmail.com
Located in Pennsylvania
(817) Ad updated 4/9/2018
GRF Designer Misty
(Baybee)

AMHA Registered 2013 30" Bay Pinto Mare
FOALED IN JUNE 2018!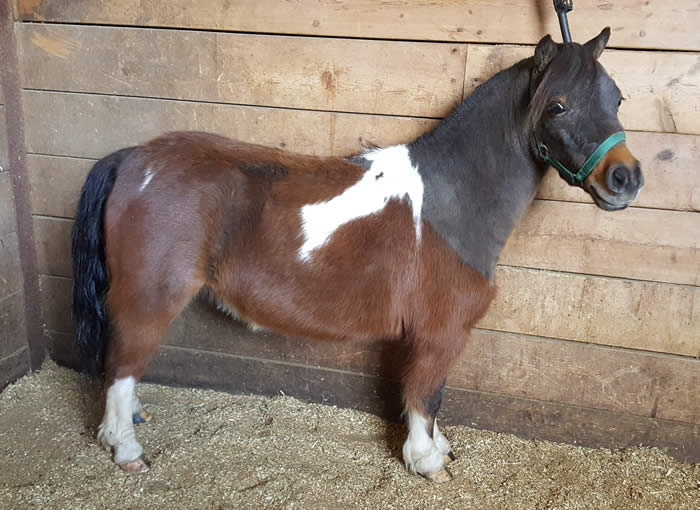 Fallen Ash Farms Designer Label x Philia Blazes Toy Empress

Foaled 4/24/2013
FALLEN ASH FARMS DESIGNER LABEL - sound familiar?

Maybe because he's a direct son of FALLEN ASH FARMS SCOUTS DARK DESIGN -
- a Champion producing stallion for Fallen Ash Farms.

"Dark Design" is a direct son of L&D Scout.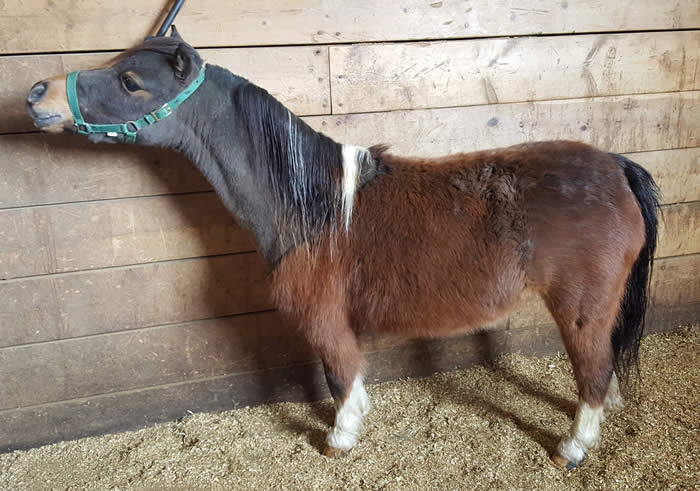 Designer Label's dam is WORLD CHAMPION producing daughter of the pivitol stallion, WITTMAACKS MICKEY MOUSE

Most pedigree guru's are aware that Mickey Mouse is by the famous Shetland stallion, GOLD MELODY BOY.

Mokuau Minis carefully selected Baybee for their breeding program because of her upright & balanced body and brilliant markings.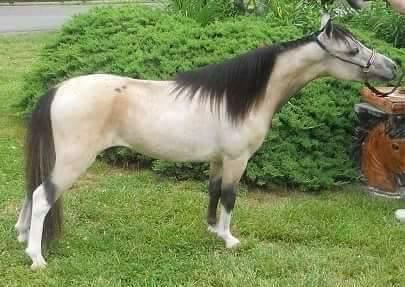 She has a star-studded pedigree and exemplary "showy" attitude.

She should be an excellent additional to any AMHA breeding program.

Baybee could easily get her AMHR papers since she's all of 30" tall!

This is a QUALITY mare with LOADS to offer.

What makes this deal even better? -
She was bred to our beautiful Buckeroo stallion - Baybee foaled in JUNE 2018 - sired by 29.75" LITTLE KINGS GOTTA BE BUCKEROO.
(pictured above, at left)
He is a DIRECT son of the epic BOONES LITTLE BUCKEROO. Better still, his DAM is a Buckeroo daughter, doubling up on this amazing pedigree.
OFFERED AT $1,500.00
WELCOME TO MOKUAUS MINIS!
Where the best things come on small packages!
Mokuau`s Mini`s is more than just a Miniature Horse Farm.
its where Dreams are created. From the moment you meet your first miniature horse you can sense these small elegant creatures are special. These little guys and girls have a way of just making you smile from the inside out, just watching them at play will make you giggle. Let us help you create the Miniature horse of your Dreams no matter what your desire, be it showing, driving, obstacle challenges, etc. our horses are there for you to love and enjoy.
You might forget how to say our name but you wont forget us !!!!

Mokuau's Minis (pronounced Mok-wah)

Karen Mokuau
(856) 305-1680
cowchasers@aol.com
STONEY ACRES RANCH/MOKUAUS MINIS
Bridgeton, New Jersey

Located in Bridgeton, New Jersey

(70418X) Ad updated 6/6/2018
Michigan's Q.E. Two
(Brandy)
ASPC/AMHR Foundation Certified Shetland 38" Bay PROVEN BROODMARE
BRED FOR 2018 TO WA-FULL UNIQUE WAYLON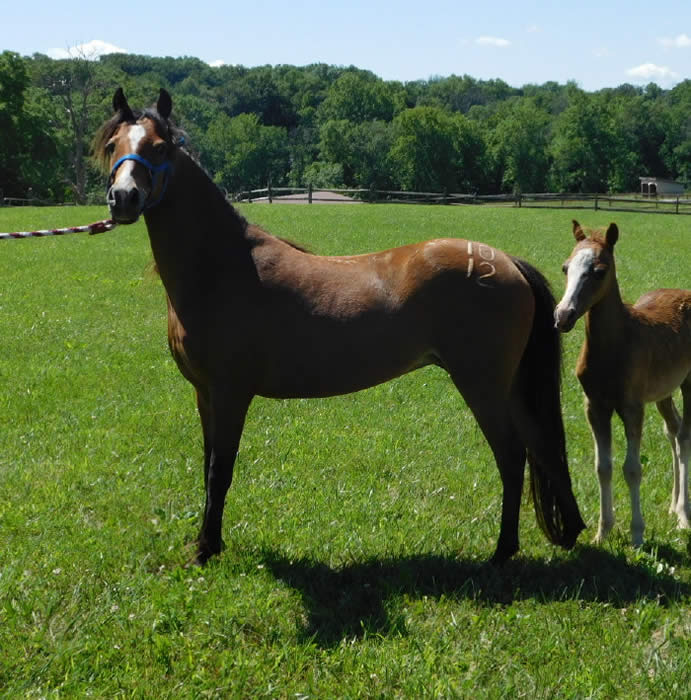 Michigan's Hart Breaker (HOF) x Michigan's Silver Penny (HOF)
Foaled 5/13/2010
Did you ever wonder what you'd get if you crossed two top HOF show horses?
Brandy is a fine example of the pure Michigan bloodline.
And the 2017 foal ather side is a perfect example of what these Michigan lines can add to YOUR breeding program.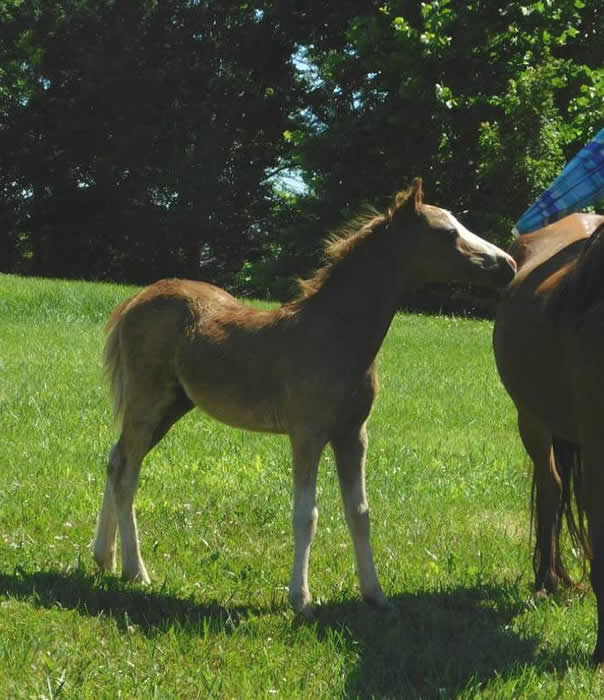 Her 2017 colt is sired by GOLD MINES FOURTY NINER - a striking ASPC/AMHR golden palomino stallion
Her colt is already SOLD but she already has another one "cooking"!
This 2-in-1 package is a super value for any farm working on creating a TOP Shetland/AMHR breeding program.
This mare is worth more than the entire package -
- and a smart buyer could make al their money back by selling her 2018 foal.
The sire to the coming foal carries the TOP bloodlines of today -
Le Land Unique!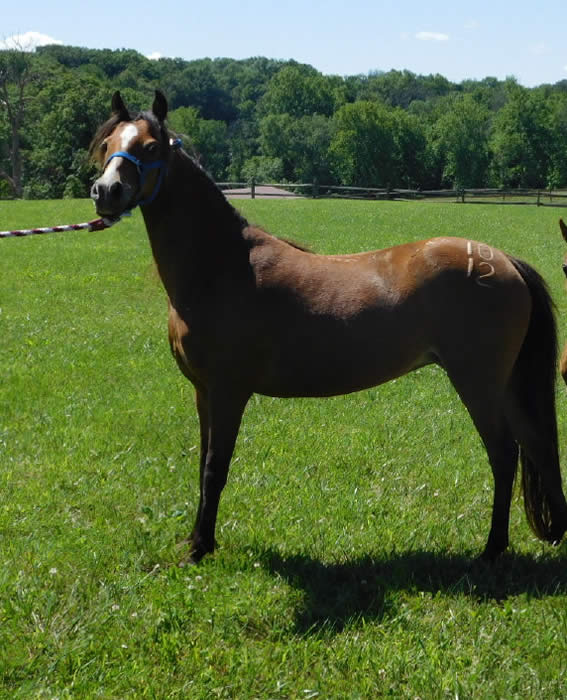 Unique Waylon is is a paternal sibling to:
WA-FULL UNIQUE BOB-THE-BUILDER (HOF) and the AMAZING sire, owned by RHA, WA-FULL UNIQUE LEGEND.
The incredible "Unique" lines combined with generations of MICHIGAN bred horses is a super-star in the making!
PRICED AT $2,200.00
AS A 2-IN-1 PACKAGE
SELLS BRED TO WA-FULL UNIQUE WAYLON FOR 2018

CHANCE OF GOLD FARM
Paige Mehlhope
Pmehlhope@gmail.com
(513) 235-2223
Located in Goshen, Ohio
(917) Ad updated 4/7/2018
Wall Street Rock E China Doll E
(China)
ASPC/AMHR 38" Golden Buckskin PROVEN Broodmare
IN FOAL TO HERSHEY BAR SON FOR 2018!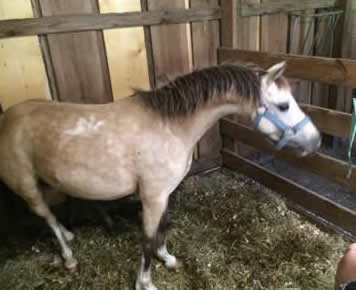 Bar G's Rock "E" x D&Ls Golden Dainty Doll
Foaled 4/01/2008
China is a BEAUTIFUL golden buckskin mare who is a special daughter of the one and only Rock "E".
She is a FULL sister tO Congress GRAND CHAMPION, Wall Street Rock E Doll E.
China has the typical teeny petite Rock "E" head with tapered muzzle, bright eyes and tight litttle ears.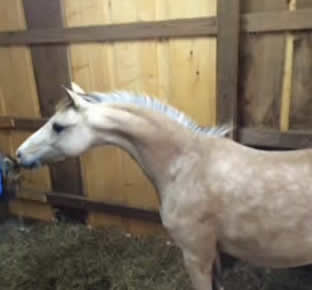 She is a great mom that gets back in foal every year with no issues. .
She is breeding back to multi National Champion and Res National GRAND CHAMPION, Erica's Tiny Trotter Of Wall Street for 2018.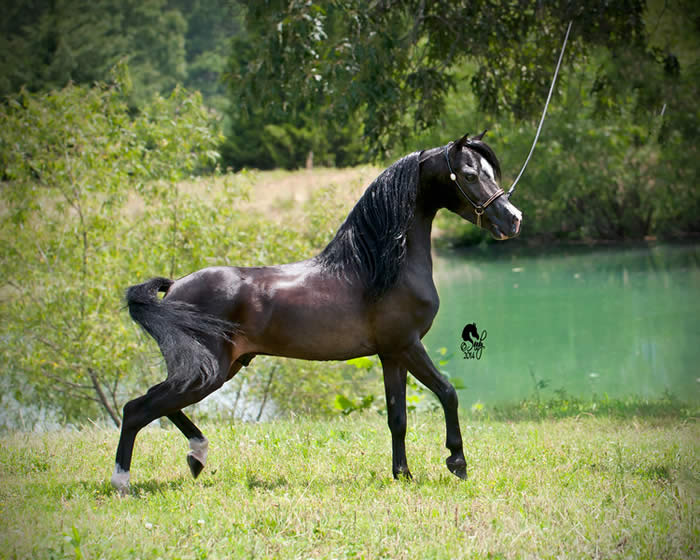 Mares offered in foal to Trotter are few and far between so here is your chance for a Rock "E" daughter in foal to a HERSHEY son.
OFFSPRING OF CHINA DOLL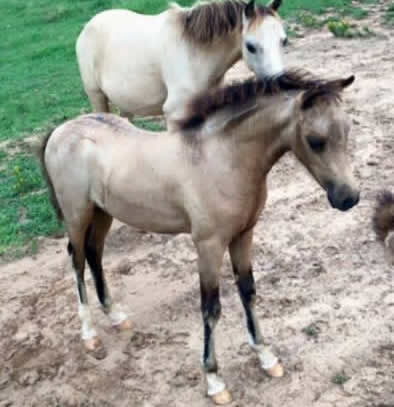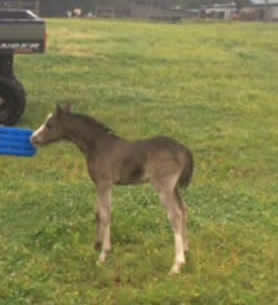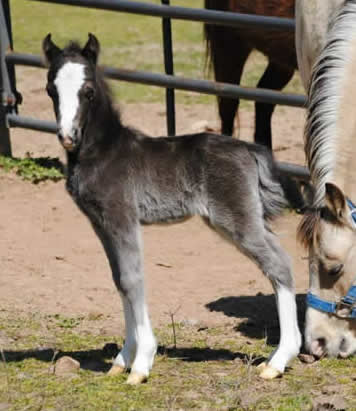 $7,000.00

Wall Street Hershey PQ
(PQ)
ASPC/AMHR 38" Blood Bay HERSHEY BAR Daughter
OPEN AND READY TO BREED IN 2018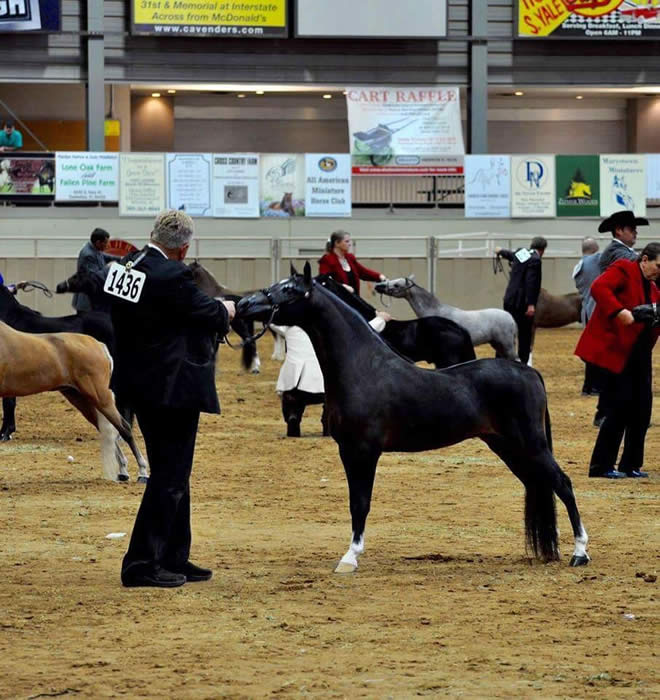 B & Ls Bar-G's Rock "E" Hershey Bar x Rhapsody In Red
Foaled 6/15/2006
Super special daughter of Congress GRAND CHAMPION Rock "E" son, Hershey Bar.
PQ is a 3/4 sibling to Wall Street Rock E Heddy who sold for $30,000.00
- which is a proven cross for PQ.
PQ has a beautiful head, , huge eyes and tiny ears.
She can be a treasured gem in your broodmare herd as one of the FEW Double Registered HERSHEY daughters available.
$3,000.00

Curry's Bay Breeze
(BB)
ASPC/AMHR 34" Foundation Certified Bay Mare
POTENTIAL HARDSHIP TO AMHA!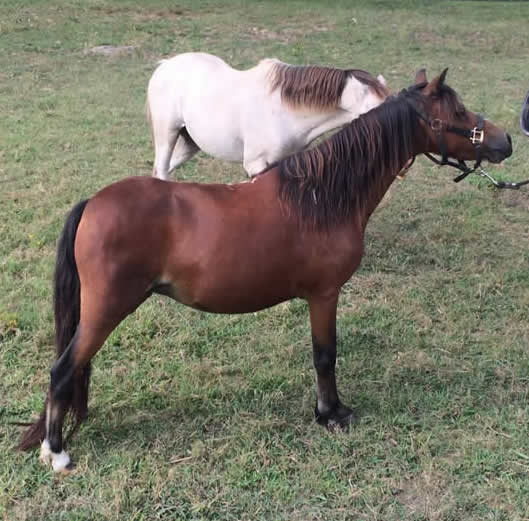 Royal Splish Splash x Happy Hollows Latigo Winter Breeze
Foaled 3/31/2010
Foundation Certified mare with the potential to hardship into AMHA and join the elite Triple Registered Shetlands.
BB has big eyes and a pretty face -
a really correct little mare who is super sweet and gets along with everyone.
BB is 4x KID LEE bred on her dam's side.
She is open for 2018
A TRUE GEM!
$1,500.00

Erica Killion
ERICA'S TINY TROTTERS
EMAIL:   ericastrotters@hotmail.com
Drasco, Arkansas   72530
PHONE:  501-626-7367  or  870-668-3369
Located in Drasco, Arkansas
(917) Ad updated 10/5/2017
Flyin Hearts Sundance Wishes
(Wishes)
AMHA/AMHR 31.5" 2009 Dark Grey PROVEN Broodmare
SUPER SWEET & FRIENDLY WITH A STELLAR PEDIGREE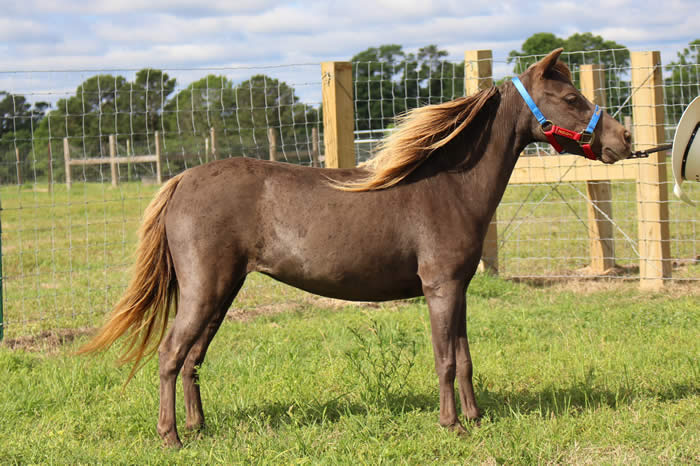 Flyin Hearts Champagne Sundance x Marks Yoga Classy Elegance
Foaled 5/11/2009
This retired show mare could be a GOLDMINE for your farm!
Wishes was shown locally and was awarded GRAND Champion as a junior mare.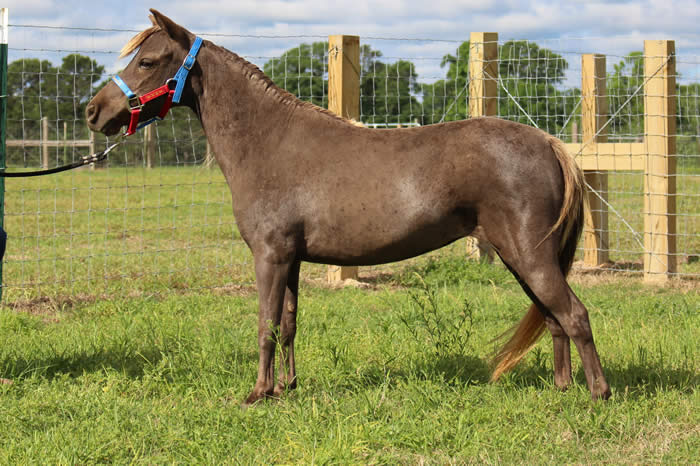 We feel her claim to fame will be her value as a broodmare.
Wishes pedigree is filled with horses that brought FIRST KNIGHT MINIATURES to the pinnacle of the Miniature Horse world.
They have stayed at the top of the game through carefully planned crosses such as this mare.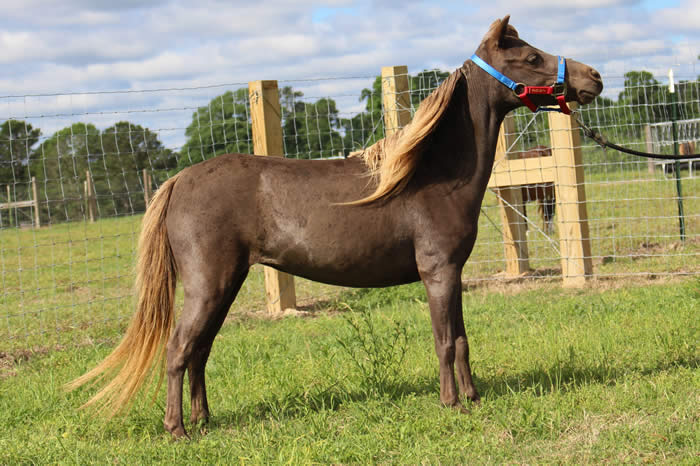 Wishes foaled a pretty filly in 2016 and was left open for 2017.
She is breeding sound.
ONLY for sale as First Knight is reducing their workload.
She will be a valued asset to any AMHA/AMHR breeding program.
She is OPEN and ready to breed to your stallion in 2017.
OFFERED AT $3,000.00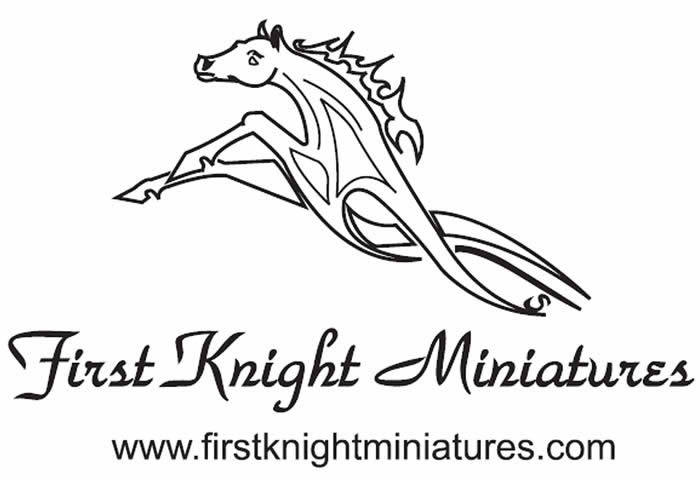 Stephani Pappas
(409) 377-3447
stephanifirstknight@gmail.com
WELCOME TO FIRST KNIGHT MINIATURES
For over 30 years, First Knight Miniatures has been dedicated to producing the highest quality Miniature Horse.
Founded by KC Pappas, her pursuit of breeding World Caliber halter horses earned her the AMHA Lifetime Achievement Award in 2010. The consistency of the First Knight breeding program is proven year after year as they are awarded World & National Champion titles. Since KC's retirement from the show ring, her daughter Stephani has taken the lead – and continued the winning tradition with First Knight horses in both Halter & Performance events.
First Knight Miniatures is supportive to both youth and amateur programs, helping to develop their skills & nurture the love and admiration for our little equines.
Located in Spurger, Texas
(417) Ad updated 9/2/2017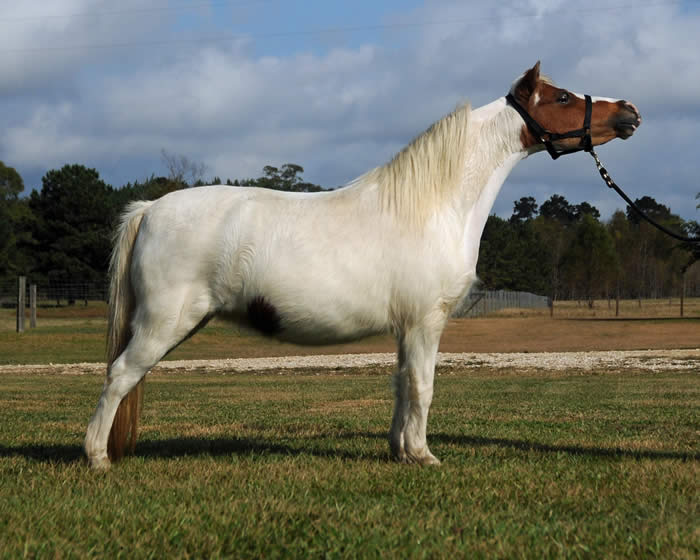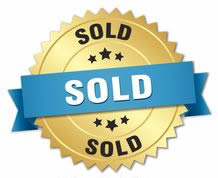 Stars LM Hawks Summer Snow
AMHA/AMHR Bay Pinto 33.5" PROVEN Broodmare
WORLD CHAMPION PRODUCING NIGHTHAWK DAUGHTER
Snow just foaled on 2/25 and had a darling silver bay pinto colt.
She is being sold as a 2 in 1 package or possibly 3 in 1!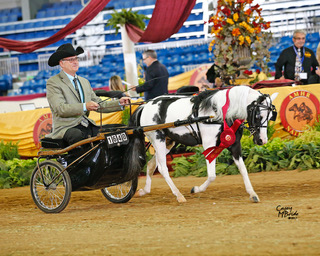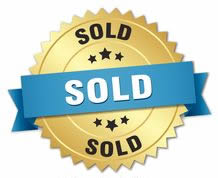 Wild Haven's Harlequin Romance (HOF)
ASPC/AMHR 37.5" Shetland BRED Black Pinto Mare
National Stakes Champion/ 2x AMHR Res National Champion Western Country Driving
IN FOAL FOR April 2018 to TRIPLE Registered Stallion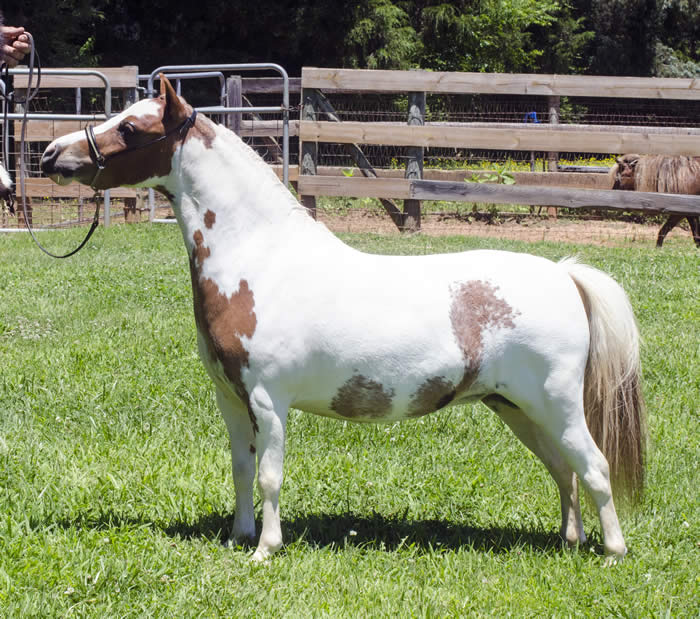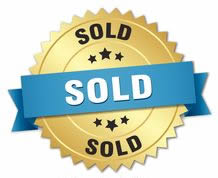 Lucky Four Rowdys Oh My
AMHA/AMHR 2014 32.5" Sorrel Pinto Mare 
VET CHECKED IN FOAL FOR 2018 TO TRIPLE REGISTERED STALLION
SOLD FROM THIS PAGE

McCarthys Diamond Lil Of Rivenburgh (June 2018)

Sunwoods Dealers Choice (June 2018)

McCarthys Copper Penny (April 2018)

Southridge Cameo Destiny (April 2018)

Hopkins The Joker March Iz On (April 2018)

Vanity Grove Farms Simply Divine (April 2018)

Willow Creeks More Than Just Velvet (April 2018)

Stars LM Hawks Summer Snow (March 2018)

Buckeye WCF Teeny Too (March 2018)

McCarthys Royal Reflection (March 2018)

Olympian Debut (March 2018)

Winning Streaks Magic Dreams (February 2018)

DVMs Rebs Shakira (February 2018)

LM Idols Black Cherry Hawk (February 2018)

Black Mountains Troubadours Harmony (December 2017)

Goebels Super Dream Miss Fortune (December 2017)

MCC BTUs Sparkle (December 2017)

Lynncliffs Daring Enchantress (December 2017)

Emerald Glenns Ruffled Wings (December 2017)

Mini Ridge Luna (November 2017)

DVM Rebs Shakira (November 2017)

Lucky Four Rowdys Oh My (October 2017)

DVM Set Fyre To The Rayne (October 2017)

Flying Hearts Champagne Winnie Bee (October 2017)

Olive Branches Distinctly Bianca (October 2017)

Modern Candymans Mandy (October 2017)

Calico Farms Daisy Lady (October 2017)

COH Echo Isabella (September 2017)

Hills Royal Romance (September 2017)

Godspeed Designs Wickedly Fanci (August 2017)

Lil Promises Absolutly Faithful (August 2017)

LM Hawks Button Up (August 2017)

TOMF Twinkle Of A Star (July 2017)

WF Zeus Shiraz (July 2017)

Junior Bear Roll Out The Red Carpet (July 2017)

Junior Bear Bedellia (July 2017)

Desert Golds Crescent Moon (July 2017)

Stars Bella Sera (July 2017)

LR Secrets Dream Girl (May 2017)

Humhill Charlies Angel (May 2017)

Flyin Hearts Champagne Miss Sunshine (April 2017)

Bar B A Silent Perfection (Leased through 2018)

Alliance Dream Diva Too (April 2017)

Alliance Forgotten Memories (April 2017)

Lazy N Unforgettable Desires (April 2017)

Misty Rose Irish Dawn (April 2017)

Hopwoods CD Bonny Blue (April 2017)

Timber Ridges Black Velvet Blaze (April 2017)

RFM Thunders Moon Star (April 2017)

Fallen Ash Scouts So Sweet (March 2017)

Olympian Magic Potion (March 2017)

RFM Geneses Gypsy Magic (February 2017)

Lucky Four Suchabuck Shalima (February 2017)

Reeces Aloha Lei Lani (February 2017)

Hopkins Valentine Idol (February 2017)

Junior Bear Test Of Faith (January 2017)

Ravenwood Dance Drama (January 2017)

3Cs Chargers Simply Scarlet (January 2017)

Ravenwood Honor And Remember (January 2017)

Ravenwood Deputy Semply Irazistabl (January 2017)

Ravenwood The Girl Next Door (January 2017)

Winning Streaks Magic Enchantress (January 2017)

Ravenwood Aristocrats Xs And Os (January 2017)

LM Hawks Button Up (December 2016)

Lucky Four Shez Sofancy (December 2016)

LM Hawks Barracuda (December 2016) Sold to MERCEDES MINIATURES

Reflections Baby U R A Star (December 2016)

Lucky Four Uppity Miss (November 2016)

LM Mischiefs Rio Grand (November 2016)

Little Kings Russian Affection (October 2016) Congratulations to Savanah in Florida!

Little Kings Rebecca Buckeroo (October 2016) Sold to Florida

Little Kings Buckeroo Ever After (October 2016)

Jones Aim For The Stars (September 2016)

Mountain Meadows Eagles Enchantress (September 2016)

LR Hennesseys Little Bit (August 2016)

Conders Just An Exception (August 2016)

Aloha Acres A Silent Promise (July 2016)

Little Kings Buckeroo Affaire (July 2016)

Vermilyea Farms Candymans Sensation (June 2016)

Scott Creek Monarchs Obsession (on lease June 2016)

Diamond Ts Simply Wicked (June 2016)

MCDS Buckaloo (May 2016)

Cottontails Mercedes (May 2016)

Walden Hill Wine & Roses (April 2016)

Jones Royally X-Quizet (March 2016)

Lucky Four Dominos Glamour Games (February 2016) Congrats to Melody!

Humhill Charlie's Angel (January 2016)

LM Hawks Elvira Blue (November 2015)

CMC Silver Symphony (November 2015)

Tricettas Touched By An Angel (October 2015)

Alamos Sirs Locos Bay Moon (September 2015)

LR Scouts Excellent Secret (August 2015)

LR Nightcaps Classy Dream (August 2015)

Poco De Oro Regalos Ritzy In Red (August 2015)

RFM Rebels Firedance (August 2015)

Erica's Rocks-Ann (August 2015)

Ravenwood Deputys Everlasting Love (July 2015)

Ravenwood Secret Obsession (June 2015)

Flying W Farms Belle Of The Valley (June 2015)

Pleasant Meadows Buckalucy (June 2015)

Westwind Farms Amazing Signature (May 2015)

CH Bonus Dynamic Debut (April 2015)

Little Kings Russian Reflection (April 2015)

Gander Hill Chantilly Lace (April 2015)

RFM Royals Celtic Lady (April 2015)

Twin Oaks Private Lady (April 2015)

Dreamchasers Onyx Summer Night (March 2015)

Sweetwaters Morning Starr (February 2015)

Oak Bay Elegant Edition (December 2014)

Mountain Meadows Bey Finesse (December 2014)

Alliance Dustys Feeling Fine (November 2014)

Sunny Side Jonibuck O So Remarkable (November 2014)

Lucky Four Adozen Red Roses (November 2014)

Picture Perfect Bebop A Luna (October 2014)

Little Kings Russian Raven (October 2014) Heading overseas!

Oak Bay Storm River Edition (September 2014) Heading overseas!

Happy Hollow Latigo's Winter Breeze (August 2014)

Mountain Meadows Bey Mist (August 2014)

Rockin M RCs Dazeeis Adorable (August 2014)

NXS Reeces EZ As Sin (August 2014)

Lucky Four Black Velvet Vanilla Sky (July 2014)

Fallen Ash Farms Angel Bucks (July 2014) Sold to Maine!

Uno Ginger (July 2014)

Dalmar Boogermans Precious Angel (July 2014)

Buckeye WCF Classical I Believe (June 2014)

Triple Ks Destined 4 Fame (June 2014)

Ericas Dream Along With Me (June 2014)

Rocking M Reminton Sheza Winner (June 2014)

Alliance Dream Diva (May 2014)

WFF Blazing Good Time (May 2014)

MSR Majestys Angelique (May 2014)

Owens GCF Buckeroos Lil JJ (April 2014)

Little Kings BT Buckeroo Envi Me (April 2014)

Junior Bear Betcha Mega Bucks I Can (April 2014)

Lucky Four Black Velvet Rowdy Love (April 2014)

Trinity (March 2014)

Sonoita Remarkably Shy (March 2014)

Falcon Ridge Scout Midnight Serenade

Olive Branchs BC Queen Of Hearts

Rivers Edge Harbor Lights

LR Seminoles Little Shot (November 2013) Congratulations Robin Brooks!

Ericas Just Wait And See (November 2013)

Ericas Cloverbud (October 2013)

SunRaes Firebuck Angel Eyes (October 2013)

Darmonds Major Bucks Mistress (October 2013)

LR Beautiful Hennesseys Cognac (October 2013)

Ger Mels Hosanna (October 2013)

LR Semis Mo Money (October 2013)

SRF Obsession (October 2013)

Lucky Four Rebels Dreamstreet (October 2013)

LM Idols Tygress Hawk (October 2013) - Congrats to Janae Benton of PA!

HHF R Dream Came True (September 2013)

Showcase Capri (August 2013)

Laurel Acres Blue Hyacynth (August 2013) Heading overseas!

RTR Super Chargers Summer Rain (August 2013)

MJM Aristocrats Super Charged (August 2013)

Ravenwood Deputy Flyer (July 2013)

Alliance Fire Starter (July 2013)

Mulligans Run Silk N Pearls (July 2013)

Grosshill Boogermans Infinity (June 2013)

Brookhavens Dynamics Lyrical Lou (June 2013)

Cross Country Secret Dreams

SRF Party Girl

Spirit Thunders Silhouette

Ravenwood Medalions Keeping Secrets

Little Kings Twinkle Too

Applewood Farms Dynamic Ovation

Clear Brook Jamaica Buck

Applewood Farm Buckeroo China Doll