Geldings Age 3 & Over for Sale

Bigleaps Slicks Man Of Honor
(Jake)
AMHA/AMHR 2015 33" Flashy Silver Bay Pinto Gelding
YOUR NEXT ALL-AROUND GELDING DELUXE - SHOWING AT 2018 AMHA WORLDS!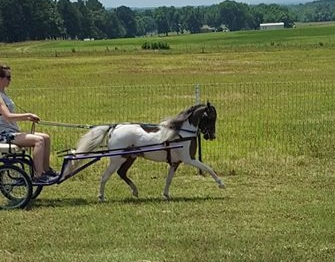 Aloha Acres Striders Back In Black x Bigleaps Eagle Scouts Honor
Foaled 3/22/2015
This flashy gelding is truly a stand out in the show ring.
"Jake" is steady and easy to show.
He LOVES to work & strives to please.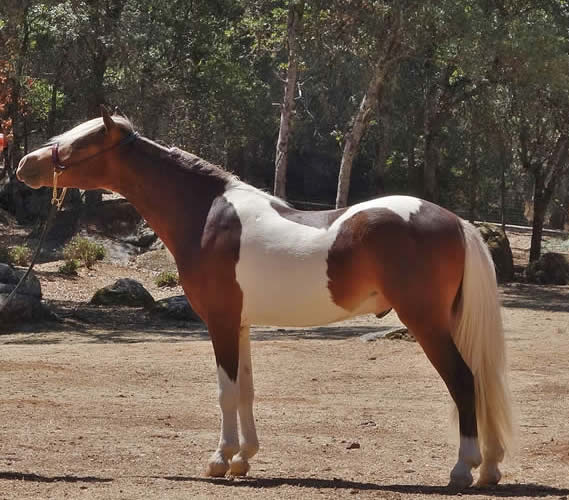 We feel Jake would make a fantastic Youth or Amateur All-Around show gelding.
He's proficient in in halter as well as Country Pleasure Driving.
In fact at the AMHA Central Regional Championships, Jake was awarded the following:
RES GRAND CHAMPION SENIOR GELDING
RES CHAMPION SENIOR GELDING 32" - 34"
COUNTRY PLEASURE DRIVING OVER 32" - 34" (THIRD)
LADIES COUNTRY PLEASURE DRIVING (THIRD)
COUNTRY PLEASURE DRIVING GELDINGS (THIRD)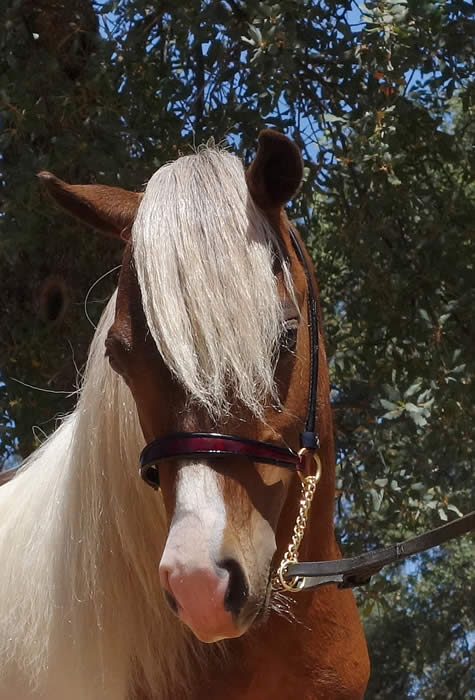 Jake will be competing at the AMHA World show and we invite you to watch him!
If you are not able to attend you can follow the live feed (link found at www.amha.org)
This gelding is entered in the following classes:
Saturday 8/25/2018 CLASS #22 YOUTH 13-18 EXHIBITING A SENIOR GELDING
Thursday 8/30/2018 CLASS #146 3 YEAR OLD COUNTRY PLEASURE DRIVING
Thursday 8/30/2018 CLASS #152 COUNTRY PLEASURE DRIVING 32" - 34"
Friday 8/31/2018 CLASS #178 LADIES COUNTRY PLEASURE DRIVING
Saturday 9/1/2018 CLASS #193 SENIOR GELDINGS OVER 32" - 34"
Saturday 9/1/2018 CLASS #196 COUNTRY PLEASURE DRIVING GELDINGS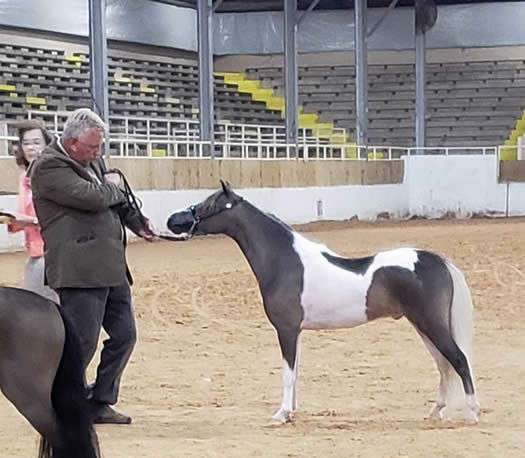 Jake will be available for private viewing (by appointment please!) at the ALLIANCE stalls (BURNETT BUILDING STALLS #200-233)
He will also be at the AMHR National Show in Tulsa the following week.
PRICED AT $4,000.00
FOR THE ULTIMATE ALL-AROUND PROSPECT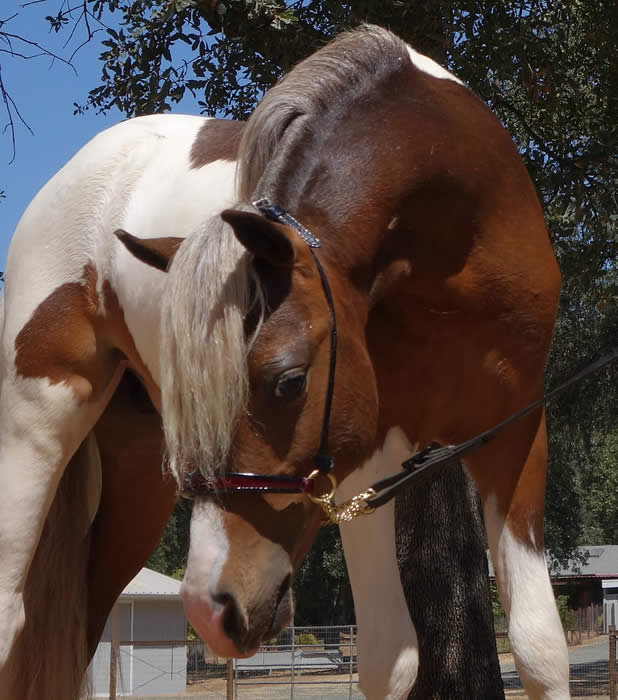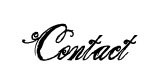 BIG LEAP RANCH - PENN VALLEY, CALIFORNIA
bigleapranch@att.net
FOR MORE INFORMATION or to schedule a viewing contact:
Carey Campbell - PM or telephone (951) 907-5894
Mike Hlavatovic - PM or telephone (903) 638-3930
Janice Kieler - PM or telephone (530) 559-9568
Currently located in Texas
(021619X) Ad updated 8/15/2018
Minners Unforgettable Golden Titan
(Titan)
AMHA/AMHR 2015 35" Palomino Gelding
++ 2x AMHA RES WORLD CHAMPION GELDING ++
Alliance Unforgettable Image x WF Mai Tai
Foaled 4/23/2015
Titan is shaping up to be a true all around show horse that will excel in multiple events.
He is already a multi Champion halter horse, multi Res. AMHA World Champion Halter Horse and multi in-hand trail Champion.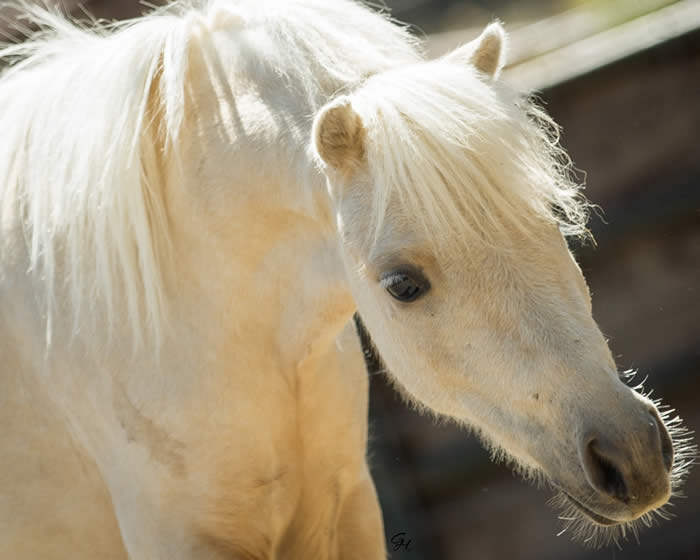 Titan is also a beautiful mover that is destined to also be a driving Champion. Started in lines & will be in cart soon.
Titan is a true gem & is ready to take a new owner to the winner's circle.
SOME OF HIS ACCOLADES:
2016 AMHA Res. World Champion AOTE Yearling Gelding Futurity
2016 AMHA Res. World Champion AOTE Yearling Gelding Lv1
2017 Once Upon a Horse In-Hand Trail Mini Grand Champion & Res. Grand Overall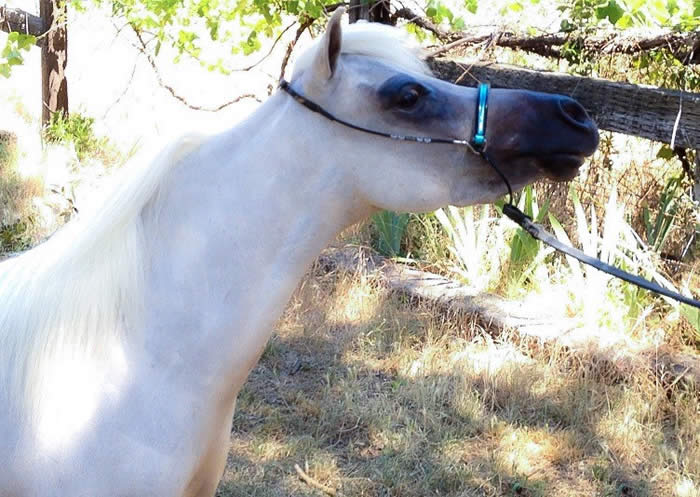 He is proficient in Halter, Showmanship & Trail.

Titan is now started in harness and could be your next all around deluxe in 2019!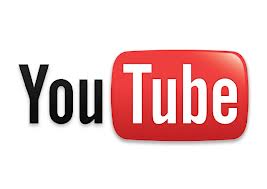 Priced right at $3,500.00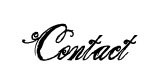 DnJ Miniatures
Jamie Bethany
jambethany@hotmail.com
(541) 646-1577
Located in Jacksonville, Oregon
(020819X) Ad updated 8/14/2019
Millennium Gamblins Genuine Risk
(Gino)
AMHA/AMHR 2009 33.75" Palomino Pinto Gelding
SOLID & SAFE DRIVING HORSE AND ALL-AROUND CONDENDER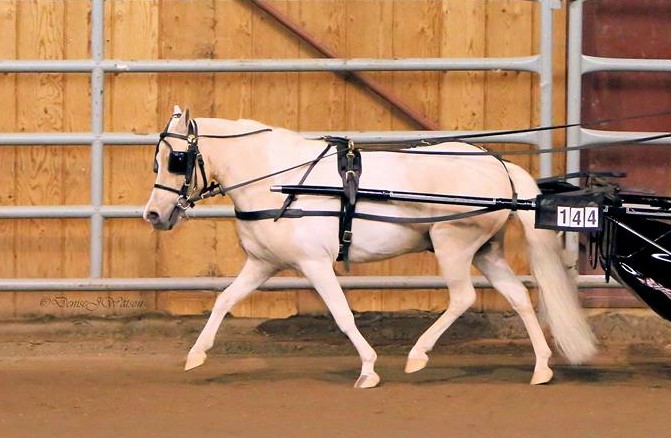 NFC Gambling Man x Showcase Capri
Foaled 3/20/2009
GINO IS READY FOR ANYTHING!
This guy is vice-free. He bathes, clips and hauls like a dream.
His current owner has had Gino since he was just 8 months old and he's been raised with consistent love and kindess.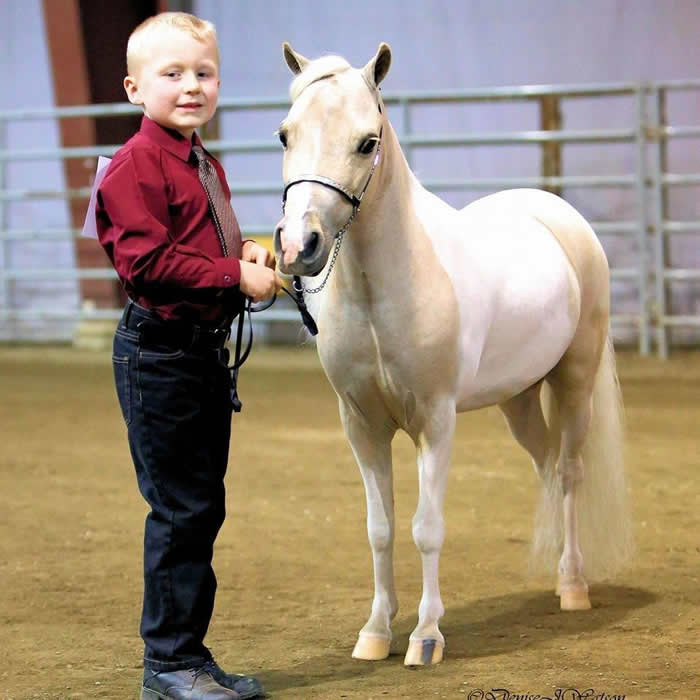 He's been the perect all-around horse for the owner's boys.
At this point they are more interested in hockey so Gino is looking for an ambitious youth or amateur to make a new "dream team" together with him.
He's been shown since he was a yearling, winning multiple Championships and year-end awards in Halter, Multi-Color and Hunter/Jumper.
Want MORE?
Gino is a safe and SOLID driving horse.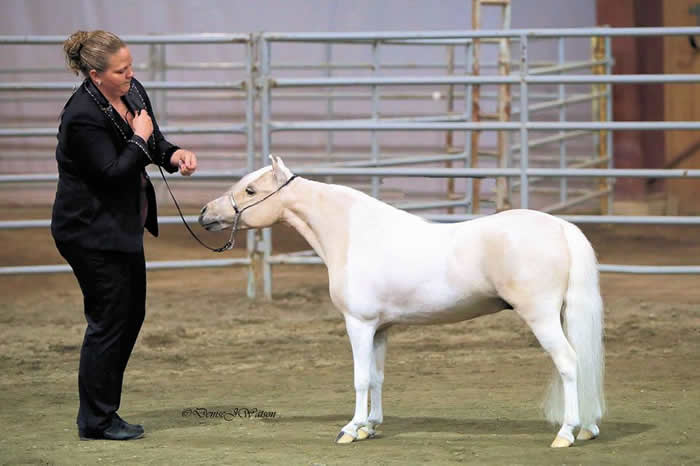 He has beautiful, free flowing classic driving movement.
Recently he has added halter obstacle to his repertoire and is ready for finishing touches in his driving obstacle training.
Gino loves attention. He's willing and ready to go.
With very little prep work and two years off, he went back into the show ring in 2018 and was at the top in all his classes and really kicked it up in Liberty!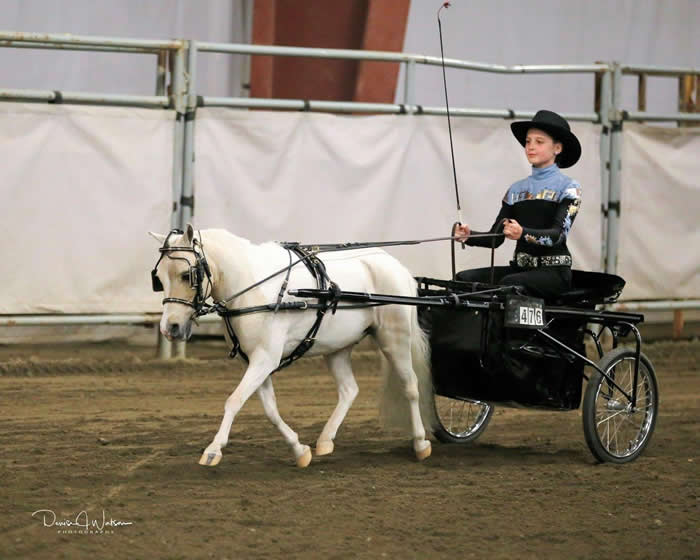 He LOVES to jump and excels in both Hunter & Jumper classes.
GINO IS THE DEFINITION OF EASY!
Playful and careful in a herd situation - calm and happy locked in a stall.
If Gino sounds perfect for YOU, contact his owner today!
PRICED AT $4,000.00 CANADIAN
POINTS WEST MINIATURES
Laila Wilson
(604) 807-1011
buckybrigs@hotmail.com
Located in Chilliwack, British Columbia
(012319X) Ad updated 7/23/2018
J & S Estates Spitfire
(Spit)
AMHR/ASPC * 36" Bay Silver Dapple Gelding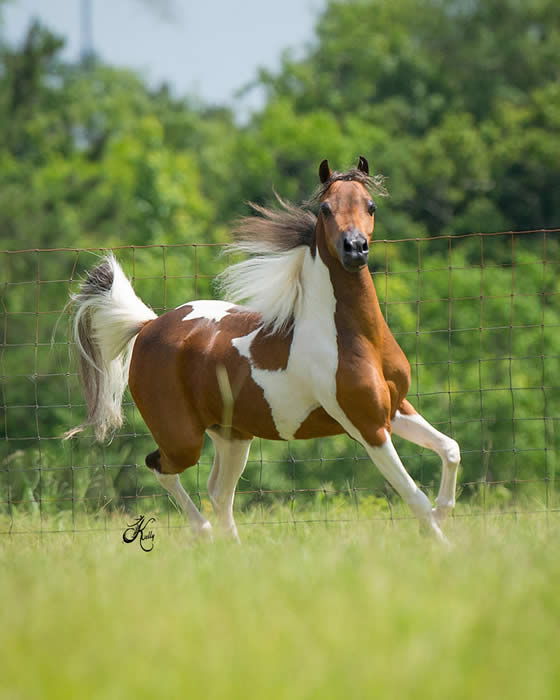 Wa-Full TP's Buddy X J x S Estates Lady Patton
Foaled 4/15/2014
Where do you start with a horse like Spitfire.
He is the epitome of a show horse, with a huge heart and no "Off Button".
As of 6/20/2018, he is leading Pony of the Year for AMHR in BOTH Halter & Driving!
Spitfire was just Area V Stakes Champion in Country Pleasure Driving.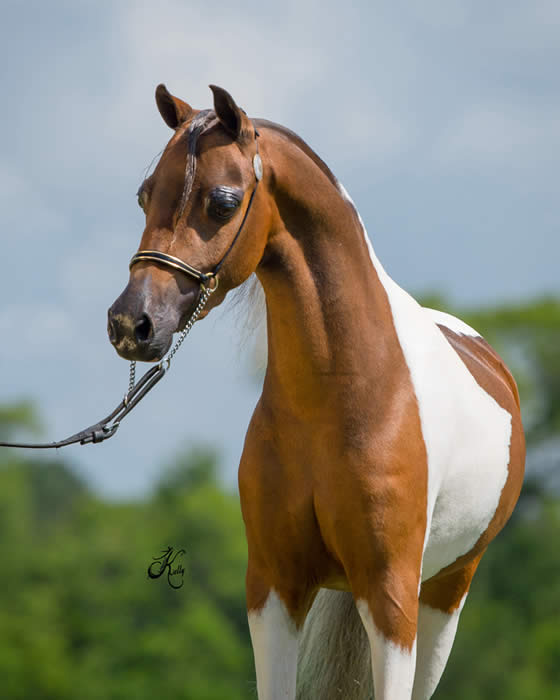 We LOVE showing this horse so much we are only offering him for sale if he is left in training thru the 2018 Nationals.
We would also love to keep him in training for 2019 to continue his show ring success if his new owners would like!!!
Spitfire is a blast to show in Halter and he is always on.
He is one of the most expressive horses with a gorgeous face and huge eyes with great ears.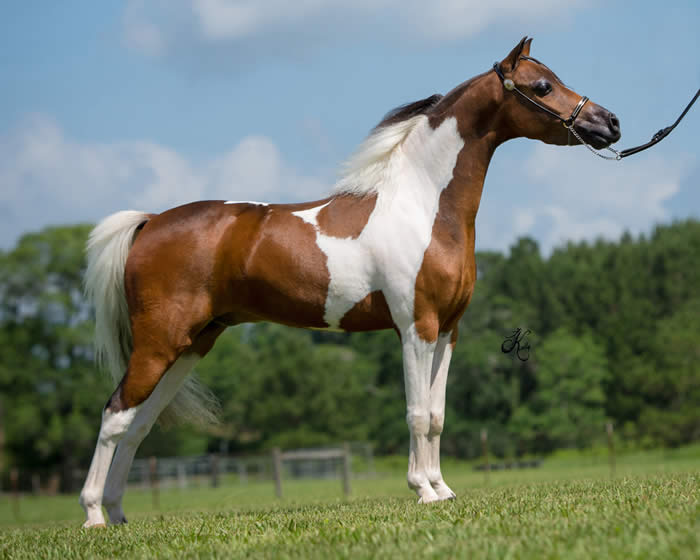 His neck sits up straight out of his shoulder and he is very balanced with a strong hip and top line.
In 2018 he has earned 13 Grand Championships and accumulated 146 Halter points!
He is a talented, exciting young Driving horse with a huge future ahead of him.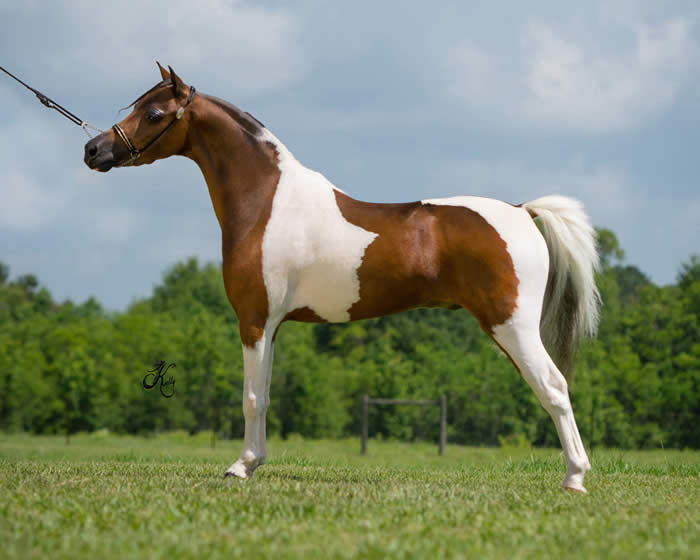 Spitfire already has numerous Stakes Championships to his name in both Country Pleasure and Roadster.
With just 6 months of showing he has over 100 Driving points!
$7,500.00
Video coming soon!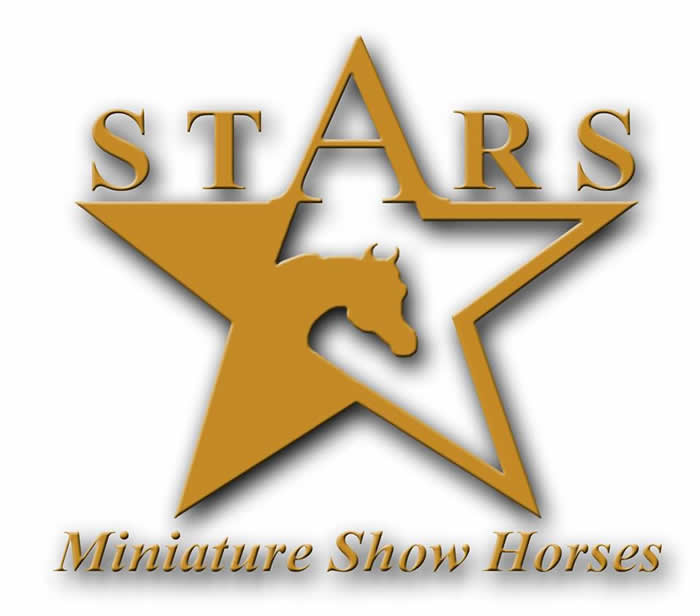 Stars Miniatures, Shetlands & Hackneys
Three Oaks Goats
Mike & Allison Rosauer
Spurger, TX
Located in Spurger, Texas
(010919XN) Ad updated 723/2018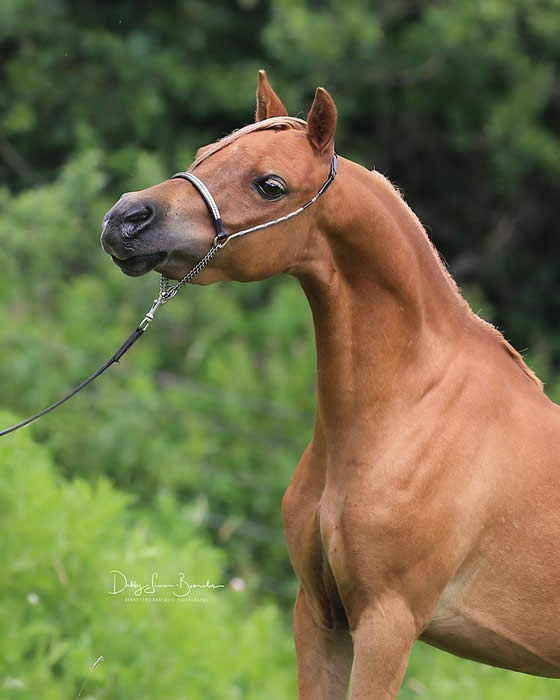 IB A Martini Chaser
AMHR Registered 2012 33" Chestnut Gelding
FOR SALE - PLEASE INQUIRE

Hollars Kryptonite Derechos Storm
(DerEcho)
AMHA/AMHR 2012 Grey Pinto All-Around Gelding
PERFECT WESTERN STOCK CLASS HALTER ENTRY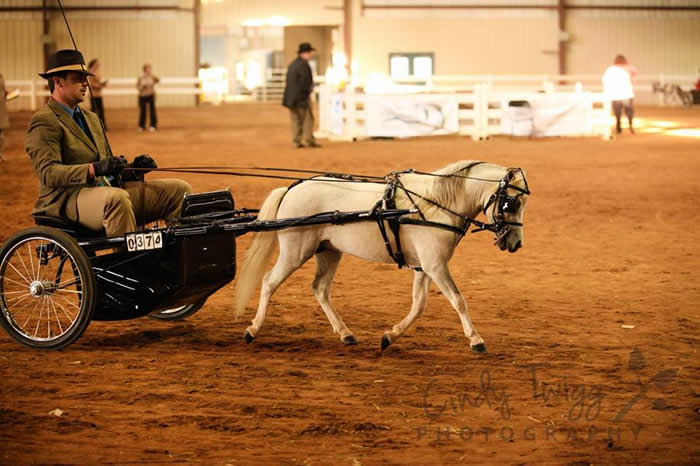 McCarthys Kryptonite (HOF) x Fallen Ash Scouts My One & Only
Foaled 7/02/2012
When you are purchasing a gelding, it would seem that pedigree doesn't matter.
Yet pedigree says so much about the quaility and potential in a horse -
- gelding or otherwise.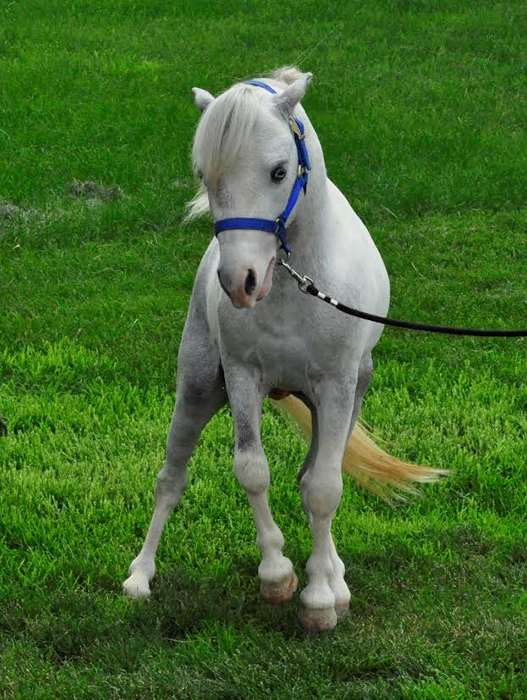 Such is the case with DerEcho -
a direct son of McCarthys Kryptonite, a sibling to MCCARTHYS ALOHA SILENT PARTER and MCCARTHYS ALOHA 3 IN 1.
This great little show gelding is looking for a new show home! Or perhaps CDE or Open Show home.
DerEcho is the ideal candidate for the Western Stock and the Classic Driving classes.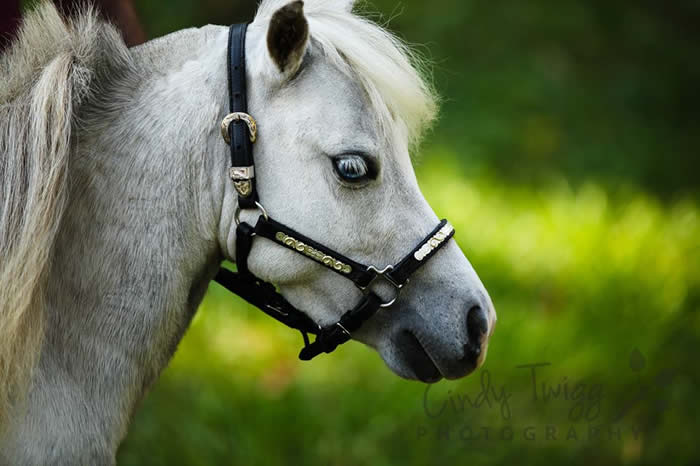 He is trained to drive although will need a refresher course.
He's smart and willing so it shouldn't take him long to get him back in the program.
DerEcho is currently showing and winning in Stock Halter in 2018!
PLEASE INQUIRE FOR PRICE
TJ Johnson
TJ's MINIS
(919) 271-5940
tjsminis@gmail.com
Located in Sanford North Carolina
(011819X) Ad updated 7/10/2018
Aloha A Partner In Crime
(Jase)
AMHA/AMHR 2013 Bright Chestnut Gelding
RES WORLD CHAMPION HALTER HORSE - PROFESSIONALLY TRAINED TO DRIVE
+++FLASH +++ MULTI AMHA EASTERN REGIONAL CHAMPION DRIVING HORSE +++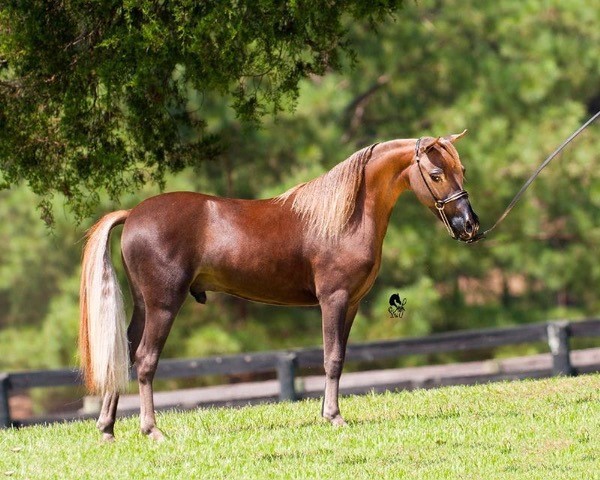 McCarthys Aloha Silent Partner x Aloha Acres Bit O Henry
Foaled 4/19/2013
Jase is already an accomplished halter horse and he's ready to make his mark in the driving arena next!
This brilliant chestnut was the 2014 Reserve World Champion Amateur Yearling Stallion.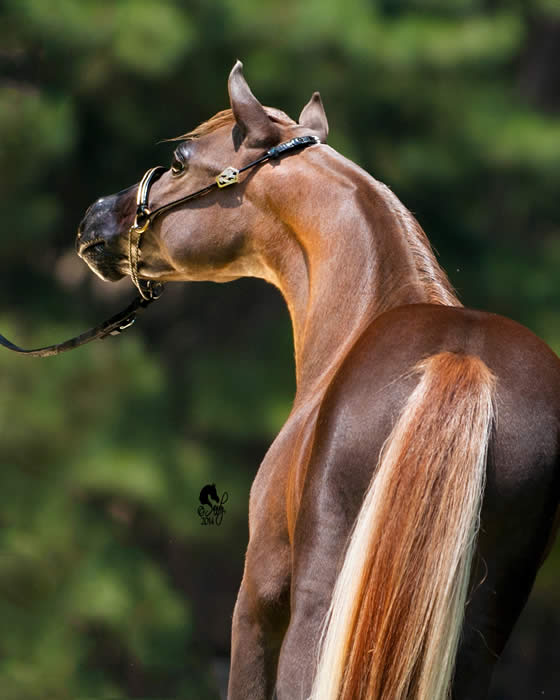 IN April 2018 - and now a GELDING, Jase stood Res GRAND CHAMPION in Open Geldings at the East Coast Spring Fling.
He's quiet, smart and good minded.
Jase has been professionally started in cart by Clinton Jury of Clearview Training Stable.
He is now showing in Western Country Pleasure and Classic Pleasure Driving.
With a few more miles, he'll be a rock steady All Around show partner for any amateur or youth.
Jase is an extremely QUICK learner.
He's been well started over fences for Hunter and Versatility classes.
It's no wonder this guy has it all together -
- just look at his lineage!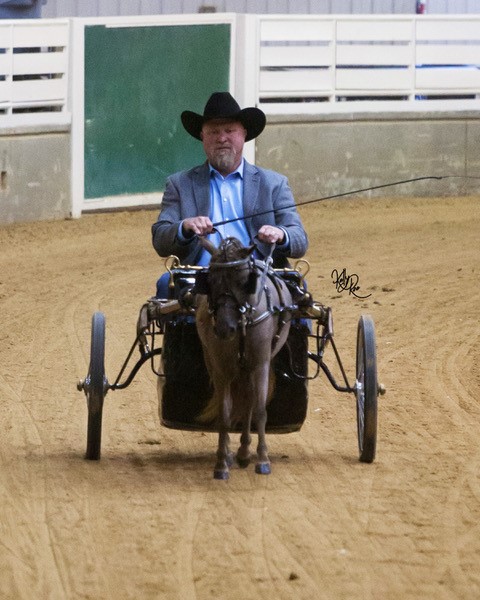 Jase's sire is the Shetland blend GET OF SIRE World Champion MCCARHTYS ALOHA SILENT PARTNER.
His DAM is by the one and only ALOHA HENRY 143.
He's fairly priced for such a talented and good minded All-Around prospect!
Offered at $3,500.00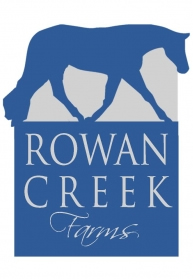 Amanda Benton
ROWEN CREEK FARMS
amandabenton@me.com
(910_ 872-2074
Located in Ivanhoe North Carolina
(113018X) Ad updated 7/23/2018
Azariahs Regal Eagle
(Regis)
AMHA/AMHR 2015 Smokey Black Pinto GELDING
AMHA FUTURITY NOMINATED IN PERFORMANCE FOR 2018!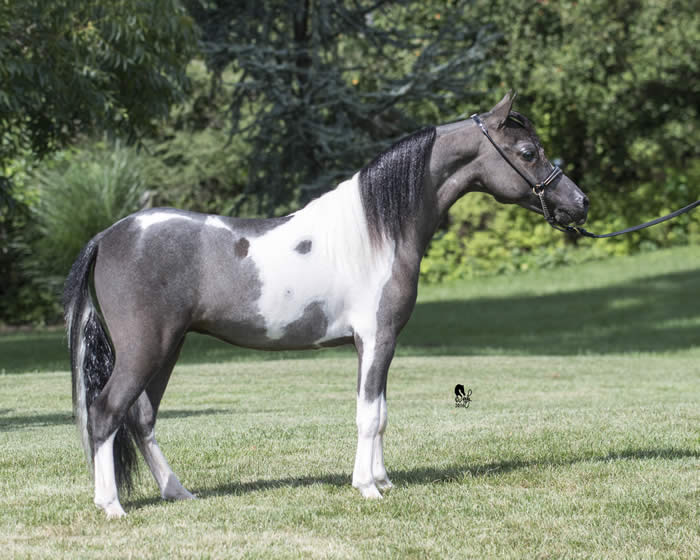 CMC On Eagles Wings x Azariahs Be Ye Glad
Foaled 4/24/2015
Futurity Nominated for BOTH Hunter & Driving AMHA Futurities for 2018
This beautiful gelding is ready to win for you!


Regis carries himself with presence and confidence.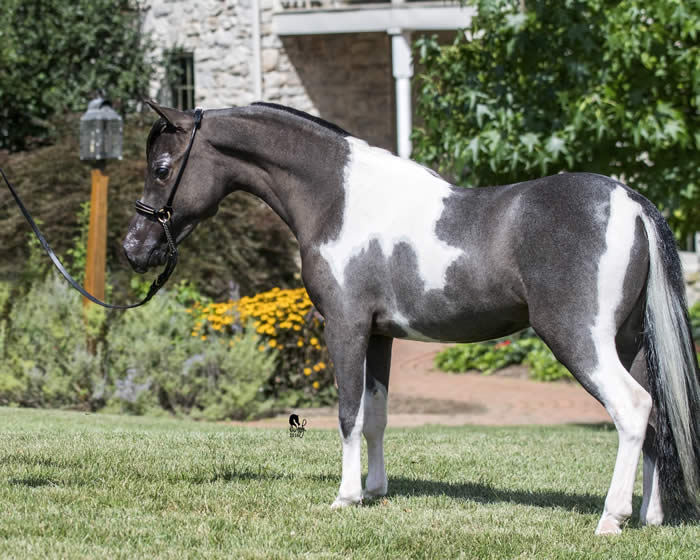 His fluid movement, long hooky neck, strong topline, and correct conformation make him an excellent choice to add to your show string.
He is kind and respects his handler.

Regis is loaded with strong color genetics. He is homozygous black ~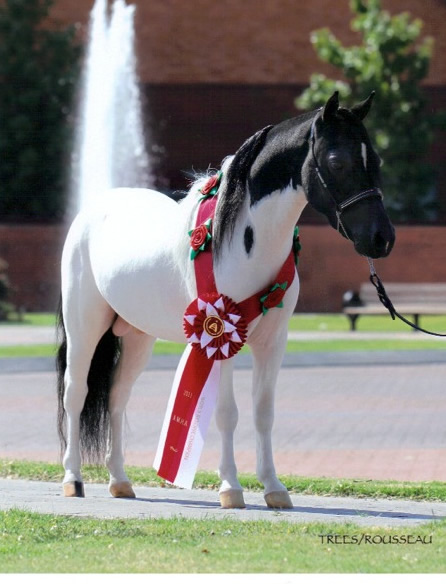 Regis is sired by Multiple AMHA Reserve World Champion 2 yo Stallion 27" and Under and Senior 28" and Under Stallion ~ CMC On Eagles Wings.
(sire pictured at left)
Eagles Wings is a direct son of FALLEN ASH FARMS EAGLE SCOUT.
Regis' dam is a grand daughter to BOTH Lucky 17 Cowboy and RHA Rangers Absolut.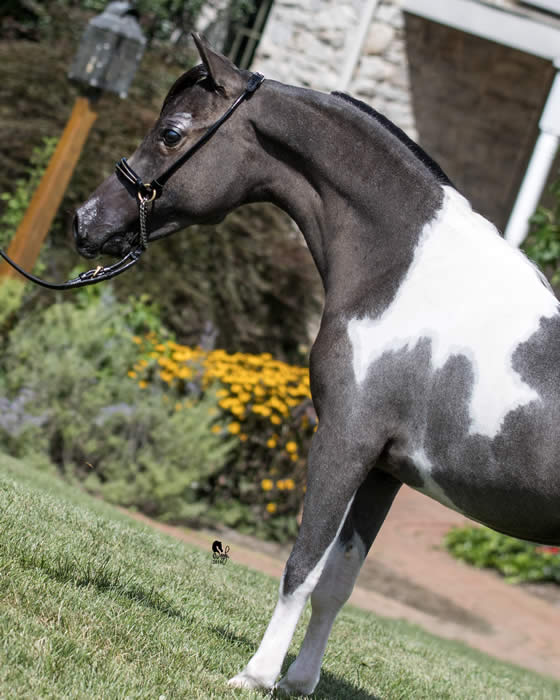 Take advantage of the AMHA Gelding Incentive Program with this beautiful boy!
SALE PENDING - MAY 2018
OFFERED BY OUR CORPORATE SPONSOR AZARIAH MINIATURES at MEADOWIND FARM
Located in southeastern, Pennsylvania, Azariah Miniatures at Meadowind Farm is a small farm with a goal of selectively breeding refined miniature horses that will be competitive in the show ring, strengthen your breeding program, or bring joy to your family.
Our horses are chosen for their correct conformation, excellent temperaments, balanced, elegant movement, and strong bloodlines.
While our site is under construction, please feel free to contact us
Azariah Miniatures
at Meadowind Farm
Julie Good
Manheim, PA
717 725-7784
azariah@meadowindfarm.com
"And Indeed, a horse who bears himself proudly is a thing of such beauty and astonishment that attracts the eyes of all beholders; no one will tire of looking at him as long as he will display himself in his splendor." ~~Xenophon
Located in Pennsylvania
(617) Ad updated 5/9/2018
KKF Bustin The Lights Out
(Lightening)
AMHR 2004 Blue Roan Pinto 37" Gelding
ALL-AROUND DRIVING/PERFORMANCE HORSE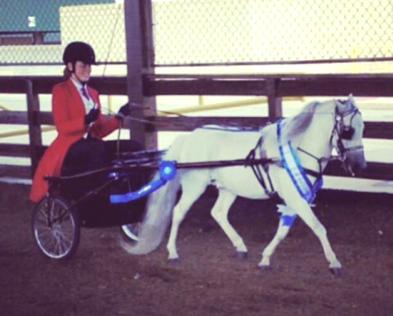 4G's Harpers Shadow Dancer x Wildberry's Brickles
Foaled 4/22/2004
KID SAFE - PRETTY - EAGER TO PLEASE!
What more do you need in an all-around partner?
Lightening is a been-there-done-than kind of horse.
He's talented and beautiful & is not looking for a new best friend.
He's been shown to multiple National top tens in Obstacle Driving and Western Country Pleasure but it equally at home out on the trails and country roads.
Lightening is pretty much bullet proof.
He's accustomed to water, bridges and road hazzards.
He's willing to please and loves having a job.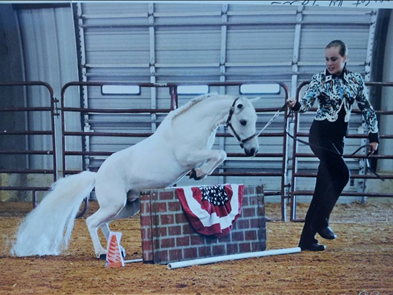 Whether your goal is CDE driving events, rated or open horse shows, teaching lessons, parades
- or just having FUN on the roads and trails, He's your guy!
PRICED RIGHT AT $2,000.00
Audrey Halcomb
BLACK TIE STABLES
ahalcomb0024@kctcs.edu
(606) 492-4183
Located in Somerset, Kentucky
(10818X) Ad updated 4/8/2018
Ten Ls Cruisen In The Buff

(Cruise)
AMHA/AMHR 2014 33.25" Smokey Black SHOW Gelding
2x AMHA Reserve World Champion
KMHB Nominated - He can win you $$$$ at any AMHA Approved Show!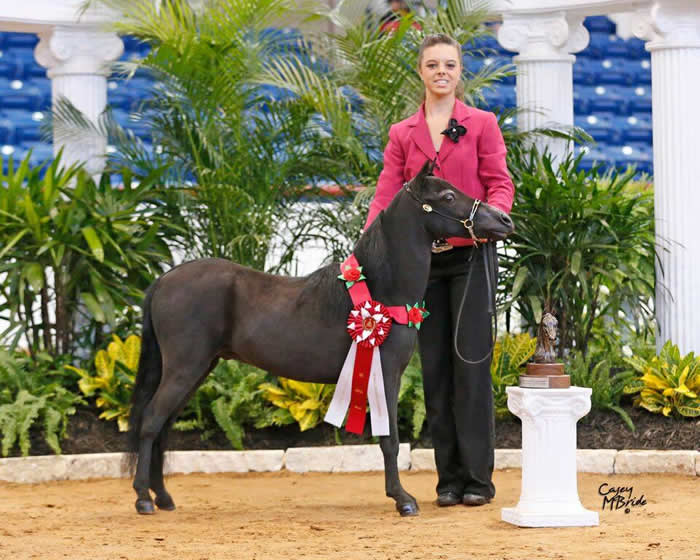 Ten Ls Destinys In The Buff x Sage Bonnie Blue


Foaled 4/7/2014


2015 Reserve World Champion YOTE Geldings
2015 Reserve World Champion Youth Jr. Gelding 13-18

KMHB (Kentucky Miniature Horse Breeders) Nominated -
- He can win you money back at any AMHA approved show!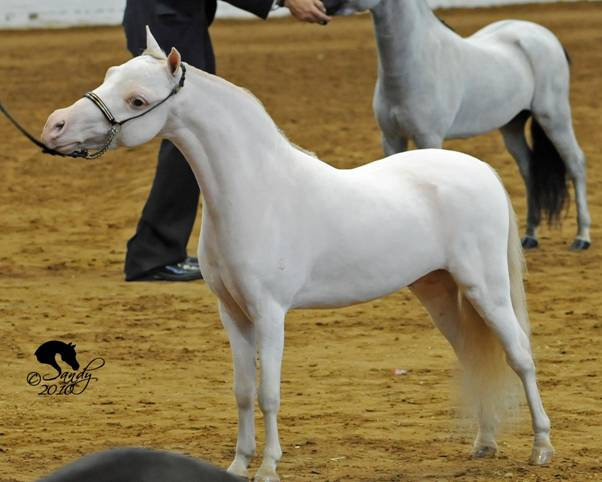 What a COOL all-around prospect!
Cruise is a good natured gelding with an excellent work ethic.
He's been shown and handled exclusively by youth/amateurs.
He's fresh and ready to win for YOU!
Cruise's sire (pictured at right) is a World Champion Get-of-Sire as well as a multi World and World Res Grand Champion producer.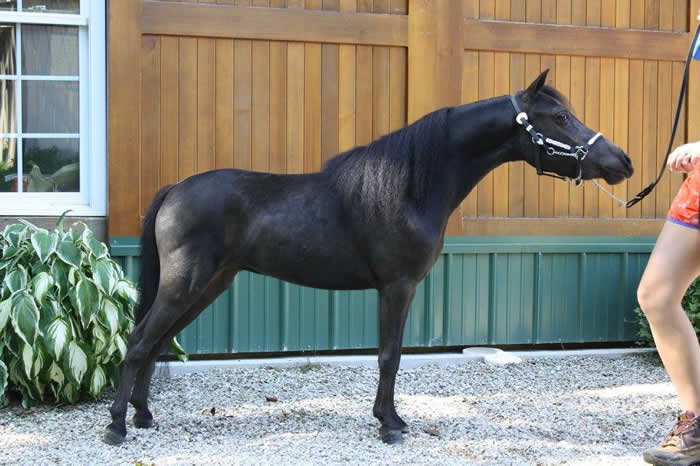 Crusie shows great aptitude for performance events.
He has a bold, pretty trot and a pretty l head set and nice flexion at the poll.
We envision him as a superstar in showmanship, hunter and Liberty as well -
- a natural showman that is SUPER trainable!

PRICED AT $1,500.00
MOTIVATED SELLER!
Emilie Burgin
www.burginfamilyfarm.com
828-442-4327
eburgin@montreat.edu
Located in Marion, North Carolina
(717) Ad updated 1/1/2018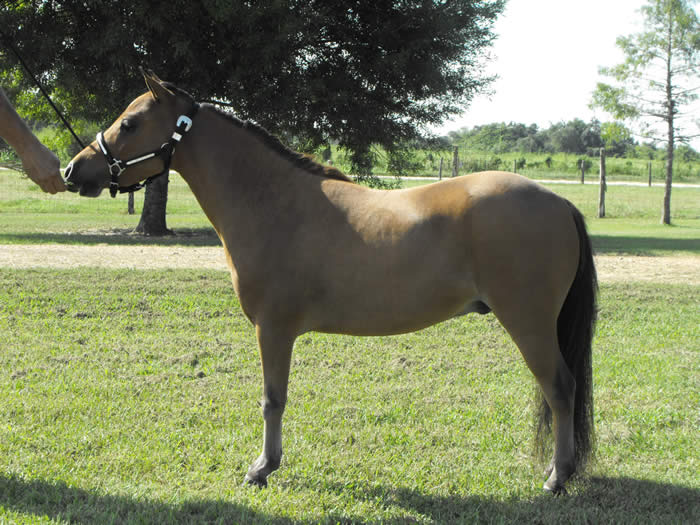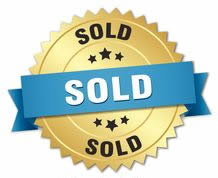 WRS Lets Hear It For The Boy
AMHA/AMHR 2012 30" Bay Gelding
AMHA RES REGIONAL CHAMPION AMATEUR STOCK TYPE GELDING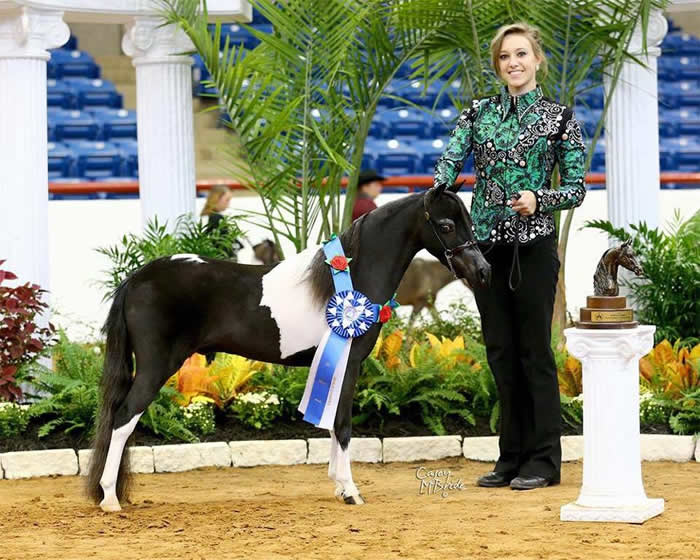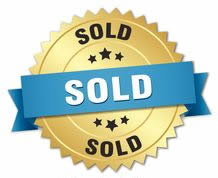 Ravenwood Cut To The Chase
AMHA/AMHR 2012011 33" Silver Dapple Pinto Gelding
4x World Champion - 1x Res World Champion
World GRAND CHAMPION Junior Gelding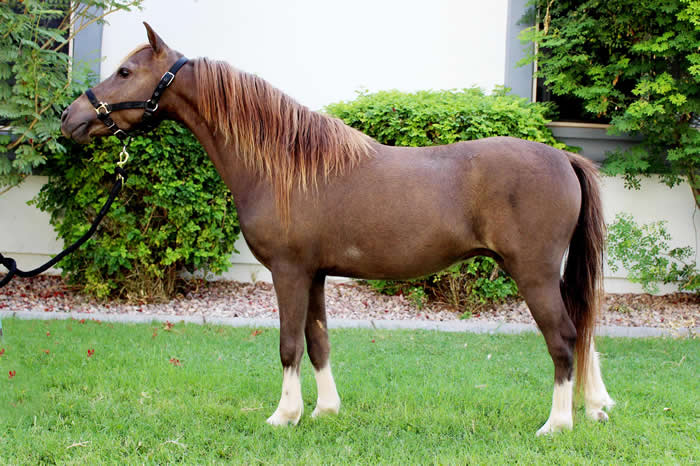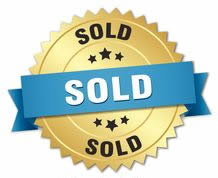 Sand Creek Scouts Bravo Champ
AMHA/AMHR 2013 33" Silver Smoky Dapple Tobiano Gelding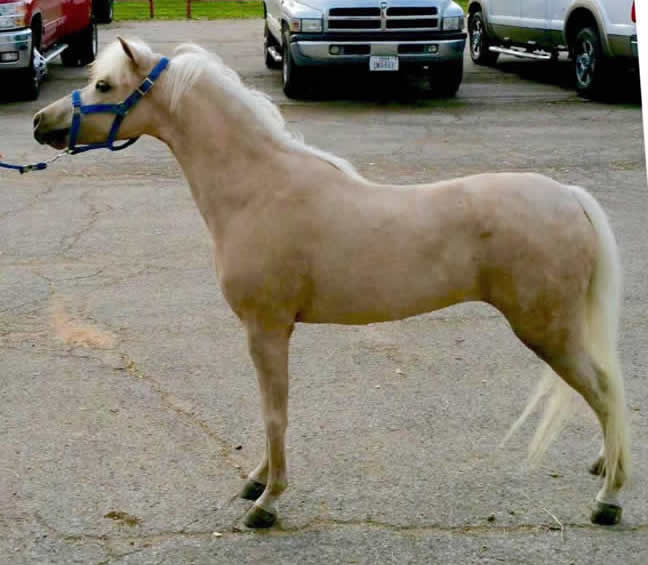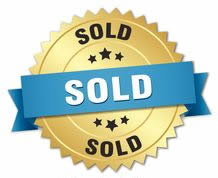 Dakota San Juan Alberto
ASPC/AMHR 37" Palomino Driving SHOW Gelding
RESERVE CONGRESS CHAMPION HALTER GELDING
Sold from this page:

WRS Lets Hear It For The Boy (April 2018)

IB A Martini Chaser (November 2017)

Sand Creek Scouts Bravo Champ (October 2017)

LM Idols Black Ice (May 2017)

Dakota San Juan Alberto (February 2017)

Silver Meadows Jet's Dream (December 2016)

Avantes Prince Ace Of Coci (November 2016)

Hopkins The Jokers Cameo Appearance (November 2016)

Dayspring Captivating Kid (October 2016)

Pura Vidas Signature Silver Dollar (September 2016)

Strass Country Red E Callmelonesome (August 2016)

Zephyr Woods Da Yuper (August 2016) Congrats to Amy!

Crystal Ridge Beaus Jolais (August 2016)

Bear Branch Warpaint Feather (July 2016)

Azariahs Dandy Denali (June 2016)

Hopkins Phantom Of The Joker (May 2016)

Brookhavens Avatar (April 2016)

Designers Supers Private Investor (April 2016)

SRF Royalty (February 2016)

LM Idols Kashmir Hawk (October 2015)

3DM Captivations Cowboy Cassanova (September 2015)

Country Rds Hughstons Rio Grande (September 2015)

Clear Brooks KC Hanky Panky (August 2015)

Erica's All Eyes On Me (August 2015)

Patti's Night Vision (July 2015)

Designer Lifetime of Private Terms (July 2015)

Designer Supers Private Eye (July 2015)

Oceans East Corozon De Oro (July 2015)

Tiz Twilights Tossin It Up (June 2015)

GGs Tomahawk Chip (June 2015)

Ten Ls Dare To Be Buff (May 2015)

SRF Armani (April 2015)

Silver Meadows Doo The Jet (March 2015)

Silver Meadows Great Prophecy (February 2015)

Poco De Oro Rhythm N Blues (February 2015)

Hunterberry Hill Urban Edition (February 2015)

Alliance Fire Cracker (February 2015)

JJ's Outlaw Of SLF (January 2015)

SRF Challenger (December 2014)

WHF Shockin Sly Fox (December 2014)

Cygnet Farms Friday Night Lights (December 2014)

RHA Speedball Tucker (November 2014)

Alliance Buck Crusader (October 2014)

LM Idols Voo Doo Hawk (October 2014)

Condors Plainly Exceptional (September 2014)

ML Superstars Mr Melody (September 2014)

S Bar Ps Sirs Lucky Night

Investment Farms American Talent (September 2014)

Allure Ranch Spirits Kings Ransom (August 2014) Heading to Kentucky!

Cutter Caps Midnights Silver Shadow (August 2014)

CCMF Alliance Prodajay (August 2014)

DEWS Manatee Masterpiece (August 2014)

JSW Redis Color Of Fame (August 2014)

Bondes Bouncin B Orion Red Raider (HOF) (July 2014)

LR Creations Super Image

MRMs Blackjack Chip (May 2014) Heading overseas!

Nostalgias Follow Me (April 2014)

JSW Redis Sparks Of Fire (April 2014)

SRF Hot Topic (April 2014)

Brookhavens Elusive Lad (March 2014)

Mulligans Run Dreams Turbo Tax (March 2014)

AWF Aristocrats Classic Rock (February 2014)

Clearbrooks KC Featured In Style (February 2014) Congrats to Betty Yearwood Buice - GA

Falcon Ridge Seminole Warrior (February 2014)

Versatility Farm Pyrotechnics (January 2014)

Oak Bay Zip Along SE (January 2014 - Congrats to Dian Harris!)

Lymricks Pure Platinum - Sold to SWEDEN! Congrats to Eva Ruben!

MCC Robin Hoods Little John (December 2013)

Duke Dynamo (November 2013) Congrats to Monica Cook & family

Falcon Ridges Dancer (October 2013)

Erica's Pharoah's Kemosiri (October 2013)

SFMs Celebrities Little Buck (September 2013 - heading to Maine!)

Little Kings Buck All You Can

The Kids Magic Switch

ASW Buckin Irresistible

Silver Meadows Dans Leprechaun

Dayspring Golden Crown

First Knight Dom Perignon

SRF In Command

MTC Excel

SRF Royale

SRF Intrepid

Little Kings Exclusively Al

LM Idols Valentino Hawk

Honeysuckle Knoll Toys Little Rusty

Stars Shiraz
Another reason to purchase a GELDING!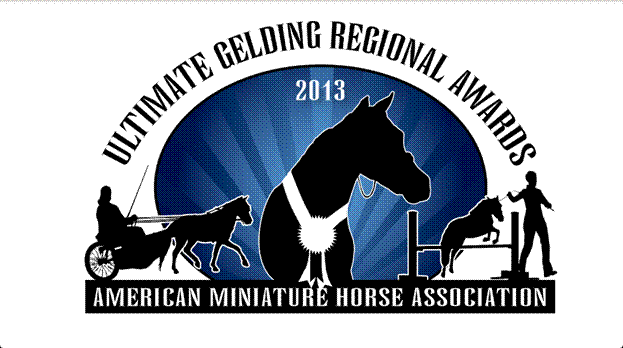 AMHA 2013 Ultimate Gelding Regional Awards
The AMHA Ultimate Gelding Regional Awards are awards that will be presented each year at the AMHA Regional Championship Shows. Awards will be presented to the top - 2 - placings for each division.
The awards are based on points and will be awarded in three divisions – youth, amateur and open. Points will follow the horse, and the appropriate award will be presented to the RECORDED owner as of the transfer and/or Lease deadline for the Regional shows in the current show year.

New Program!
AMHA supports our Geldings
Historically there have been an average of 40 geldings that participate at each Regional Championship Show. This new program replaces the old Ultimate Gelding Awards, which had limited participation. Many more exhibitors and their Geldings will be able to participate in this new and improved program!
The AMHA Ultimate Gelding
Regional Awards are awards that will be presented each year at the AMHA Regional Championship Shows! Award buckles will be presented to the top – 2-placings for each division. The awards are based on points and will be awarded in three divisions – youth, amateur and open. Points will follow the horse, and the appropriate award will be presented to the RECORDED owner as of the transfer and/or Lease deadline for the Regional shows in the current show year.
1) Although non-nominated horses will be eligible to compete in the specified classes for Regional Championship Show titles, only nominated geldings will be eligible to receive AMHA Ultimate Gelding Regional Awards.
2) A nominated horse exhibited by a youth must be owned by that youth or an immediate family member as defined in YD-010 C pertaining to AMHYA titles and awards. All YOTE rules and restrictions apply to the YOTE gelding class.
There are 12 awards broken down by:
Youth halter, Youth Performance to include YOTE (to include Special Needs Youth), Amateur Halter, Amateur Performance (to include AOTE), Open Halter and Open Performance (to include Special Needs Adult).
A 1st & 2nd in each division!!!
Nominated Geldings may earn points in most classes. Look for the info on the Amha website for details. The points will be awarded according to where the nominated geldings place in their prospective classes. Points will be awarded for 1st thru 10th placings. 1st place getting 10 points, 2nd getting 9 points and so on. Should there be less than 10 entries, points will be awarded accordingly; for example: with 5 horses; 1st place gets 5, 2nd gets 4 and so on.

A gelding must be nominated by:
■ Completing a nomination form and giving the form and required nomination fee to show management "before" the horse goes into his first class.
■ All Geldings will receive a number out of a special series of numbers to make tracking them easier. For Example 900,901,902,903, etc.

The nomination fees are as follows:
■ Youth/YOTE - $25.00
■ Amateur/AOTE - $25.00
■ Open - $25.00
A gelding can be nominated in one, two or all three divisions.
Show your support for this great program!