2018 Miniature Yearling Mares For Sale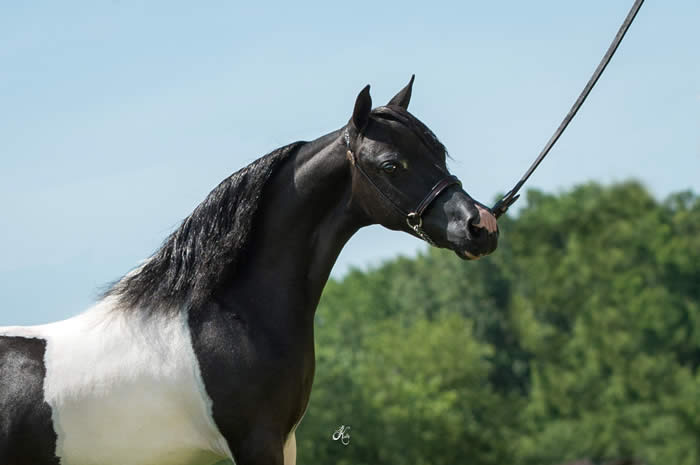 Friendship Forever De Fradillaus
(DeDe)
AMHA/AMHR 2018 33" Black Pinto Mare
++ WORLD CHAMPION ++ EASTERN REGIONAL CHAMPION ++
Caldwells National Treasure x Lucky Four Rebelsupreme Renata
Foaled 5/21/2018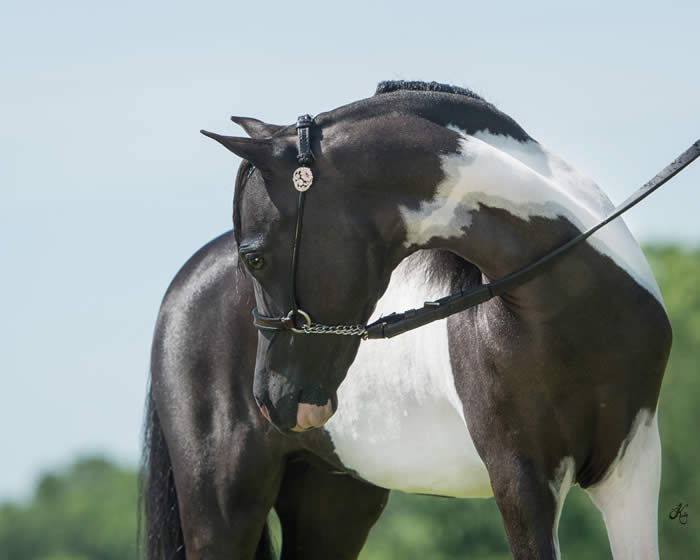 This dainty & refined mare is already a STAR!
DeDe is a lovely black pinto mare by the Triple Registered Shetland, CALDWELLS NATIONAL TREASURE.
DeDe's dam is a prestigiously bred Lucky Four mare by multi World Champion LUCKY FOUR REBELCHASE REBELSUPREME.
RebelSupreme is a direct son of multi World Grand producing stallion, LUCKY FOUR REBELS CHASIN RAINBOWS.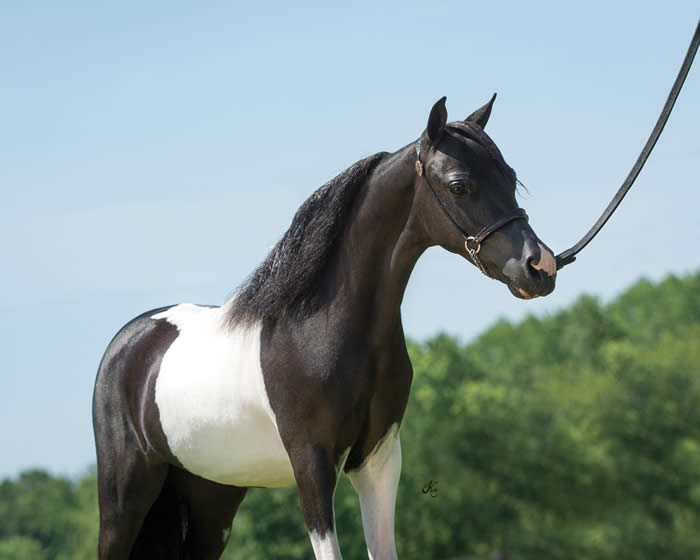 In fact, DeDe's dam crossed back to Chasin Rainbows and Sids Rebel multiple times.
DeDe is the 2018 World Champion Weanling Mare 27" & Under.
In 2019, she was also awarded AMHA Eastern Regional Champion Yearling Mare.
DeDe is friendly and outgoing with a fun, spunky personality.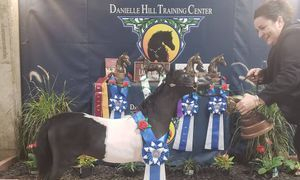 She can easily be fit up to show as a 2 Year Old Mare in 2020 and she will be fresh and bright after a few month vacation from the show ring!
After her show career is complete this mare should make a sensational broodmare for a farm looking to produce pretty and correct show quality AMHA/AMHR offspring with just the right amount of Shetland.
PRICED AT $3,000.00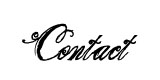 PLAYTIME MINIATURES
Sara Kellogg
palytimeminis@gmail.com
(417) 505-8622
Located in Ponoma, Missouri
(030720X) Ad updated 12/3/2019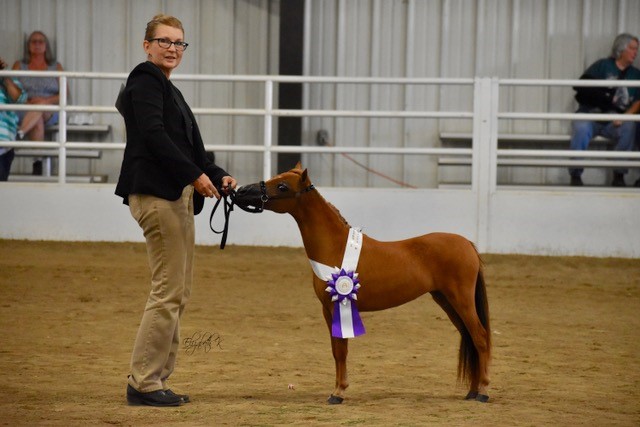 Hopkins Isadora Image
(Isadora)
AMHA/AMHR 2018 27" Chestnut Mare
AMHA REGIONAL RESERVE CHAMPION YEARLING MARE
Alliance Unforgettable Image x LM Idols Heavensent Angel Hawk
Foaled 4/11/2018
Measured 27" November 2019 and expected to stay 28" & Under.
This gorgeous, showy, tiny mare is correct in every way. We are totally in love with her big expressive eyes.
She is definitely a competitive show prospect for the "tiny horse" fan.
Isadora is sane/sweet enough to make a fantastic therapy horse as well.
Asking $2,000.00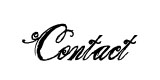 OFFERED BY OUR CORPORATE SPONSOR HOPKINS HEAVENSENT MINIATURES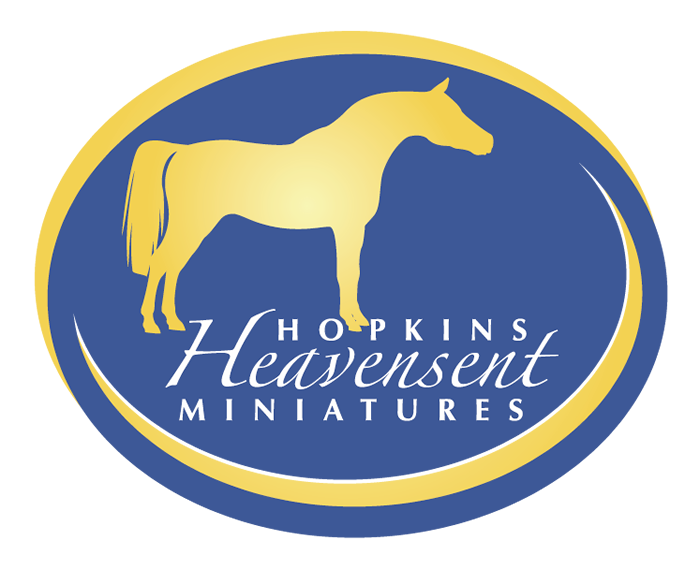 BRAD & DEBRA HOPKINS
HOPKINS HEAVESENT MINIATURES
(443) 206-4577 (Deb's cell phone)
(443) 693-5169
debra@hopkinsheavensentminiatures.com
1089 Pond Neck Road
Earleville, MD 21919
Located in Maryland
(052020X) Ad updated 12/6/2019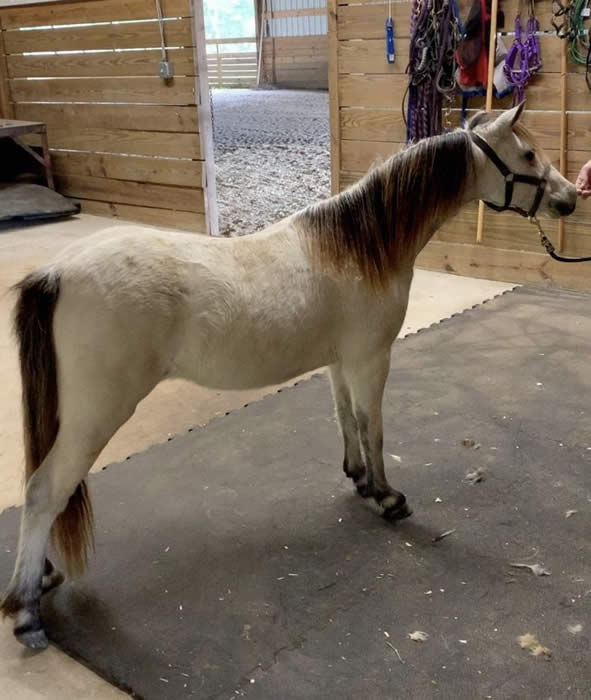 Little Kings Arabique
AMHR Registered 2018 Buckskin Mare
Wa-Full Unique Waylon x Little Kings Arabella
Foaled 5/06/2018
Measured 35.5" in November 2019
This mare has a pedigree to envy!
She's a beautiful buttermilk buckskin with a long, naturally trim neck and a perfect topline.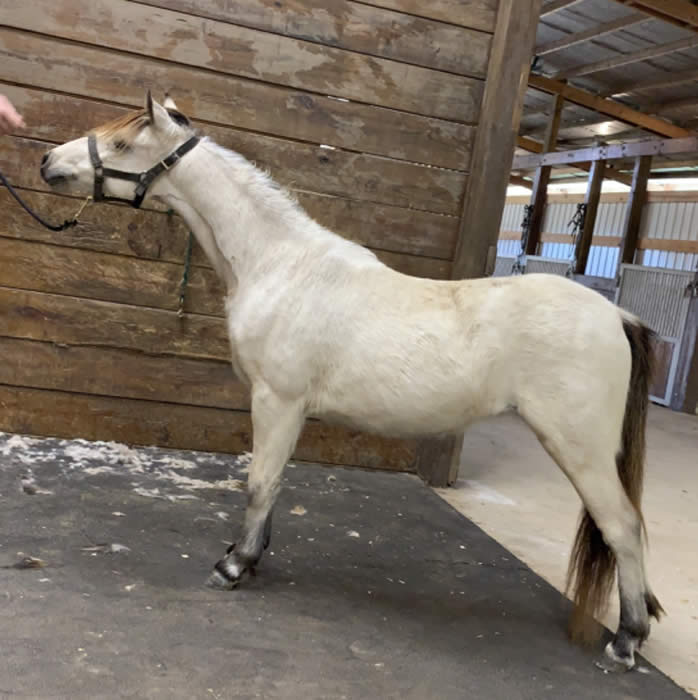 She should compete well as an AMHR show mare then continue on as a prized broodmare.
She'd be a keeper for sure but we have SO many lovely show horses we can't get them all shown!
Her sire, WAYLON is a TOP producing stallion.
He is a son of the epic LEE LAND UNIQUE.
Arabiue's dam is out is a direct BOONES LITTLE BUCKEROO daughter, making her the ideal blend of Shetland and Miniature.
OFFERED AT $2,500.00
NMOTION EQUESTRIAN LLC
Chandler Marks
ChandlerMMarks@gmail.com
www.nmotionequestrian.com
(239) 980-0272
CONTACT THE MARKS AGENCY FOR ALL YOUR EQUINE INSURANCE NEEDS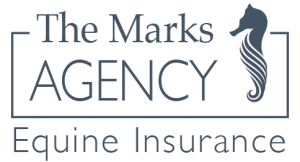 The Marks Agency, Inc
Founded and focused from the customer's point of view of Equine Insurance needs.
Providing you with direct communication to a licensed insurance producer with continued customer support from application to renewals.  We educate and provide proper tools for our clients to be prepared for the unexpected.
Providing Insurance while building relationships for #1 customer service!
The Marks Agency, Inc. founded by life long equine enthusiast Chandler M. Marks, is backed by the worlds leading providers for Equine Insurance needs – GREAT AMERICAN, with history dating back to 1872.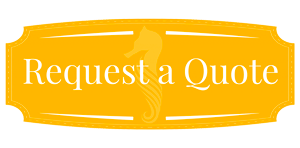 Located in Ocala, Florida
(050220NX) Ad updated 12/5/2019
DVM Athena Hawk
(Athena)
AMHA/AMHR 2018 Bay Mare
++ GRANDDAUGHTER OF RAGTIME & NIGHTHAWK ++
Pura Vida Rags To Riches x Quintessa Hawks Serafina
Foaled 4/02/2018
This well bred mare is looking for a new home!
We seriously need to reduce our numbers and so we are offering a few of our best prospects.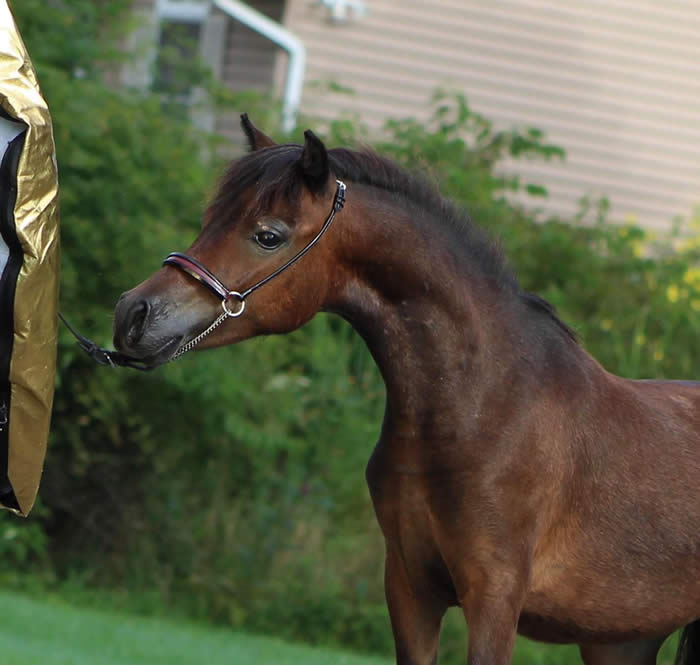 Athena should make a prized broodmare considering her outstanding pedigree.
She is projected to mature at 34-35" tall.
Athena sells with both her AMHA & AMHR papers.
PENDING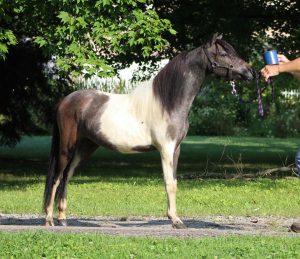 Hopkins PC Pandora
(Pandora)
AMHA/AMHR 2018 35" 2017 Grey Pinto Mare
DAUGHTER OF WORLD GRAND CHAMPION DRIVING STALLION
Caldwells Poker Chip x Ravenwood Dominate The Ring
Foaled 4/30/2018
This pretty mare has an incredible pedigree, fancy movement and a willing disposition.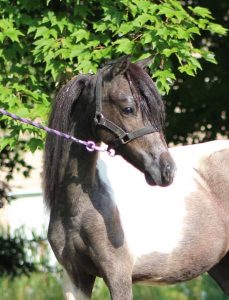 Pandora is sired by the Triple Registered stallion, CALDWELLS POKER CHIP.
He's a World GRAND Champion Classic Pleasure Driving Horse -
and already the sire to multiple World/National Champions including this year's AMHR undefeated National GRAND Champion SMF POKER CHIP HIGH CHICAGO.
Pandora's dam is a daughter of FIRST KNIHGHT LORD OF THE RING.
Pandora is AMHA and AMHR registered and will mature closer to 36".
$1,800.00 OR BEST OFFER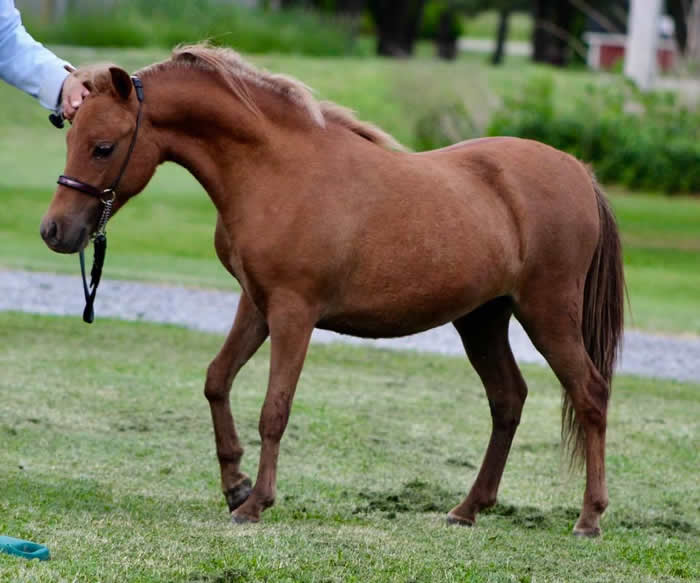 Panoramas Sallys Chit Chat
(Sally)
AMHA/AMHR Shetland Blend 2018 32" Chestnut Mare
Alliance Boleros Bellagio x RHA Mustang Sally
Foaled 3/27/2018
CHECK OUT THIS PRETTY SHETLAND BLEND MARE FOR SALE!
Sally is sired by a TRIPLE REGISTERED son of the famous SMO BOLERO DE SUERTO.
"Bolero" offspring have been dominating the winner's circle in the AMHA & AMHR show rings.
They are known for their ULTRA showy demeanors and smooth, balanced bodies.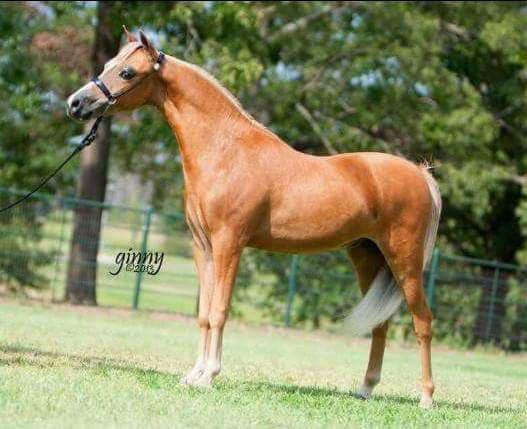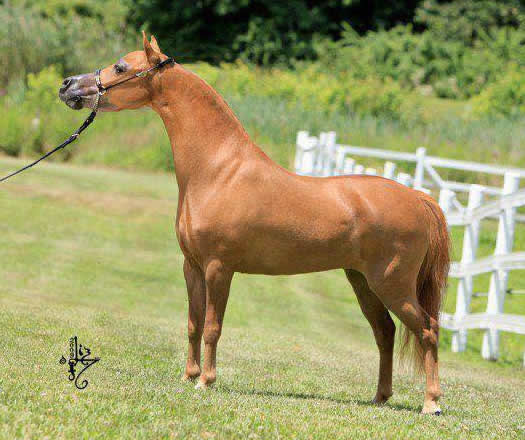 SIRE: BOLERO SON DAM: RES WORLD CHAMPION PRODUCER
Sally is out of the lovely RHA mare, RHA Mustang Sally; (PICTURED ABOVER, AT RIGHT) an AMHA Res World Champion producing mare.
 Beautiful filly ready to show and win or will make a great future broodmare.
 PM for more details.
Available $2,250.00
Nicole & Boomer Pearsall
DIVA VALLEY MINIATURES
5 Jimro Road West Middlesex, PA 16159
(412)527-0358 (call or text)
dvmfarms@hotmail.com
Located in Pennsylvania
(122919NX) Ad updated 12/3/2019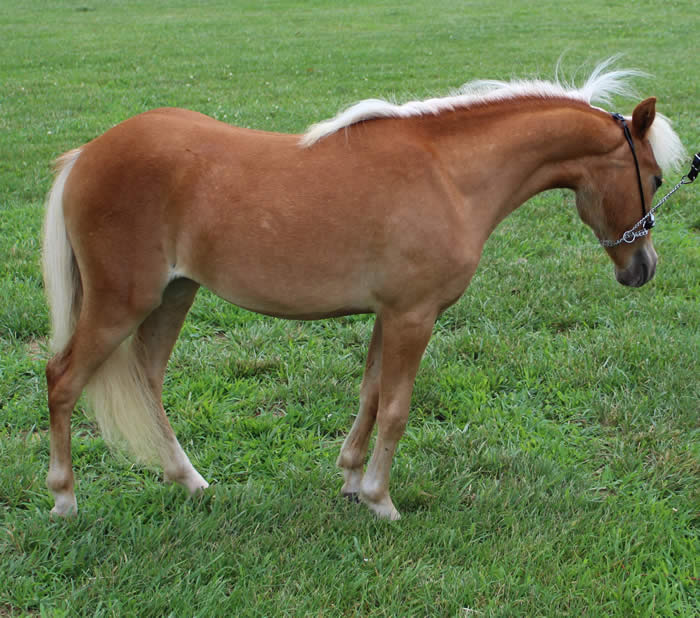 DVM Pasos 24K Magic
(Joanie)
AMHA/AMHR 2018 Sorrel Mare w/Flaxen Mane & Tail
Mini Ridge Paso Doble x Olympians Magic Potion
Foaled 6/19/2018
Joanie is the result of crossing two popular Miniature Horse pedigrees.
Her sire is an AMHR National Champion producing son of the epic GRAHAMS RAGTIME.
Ragtime is a a Triple registered stallion and one of the few to ever claim the title of AMHA World SUPREME Champion.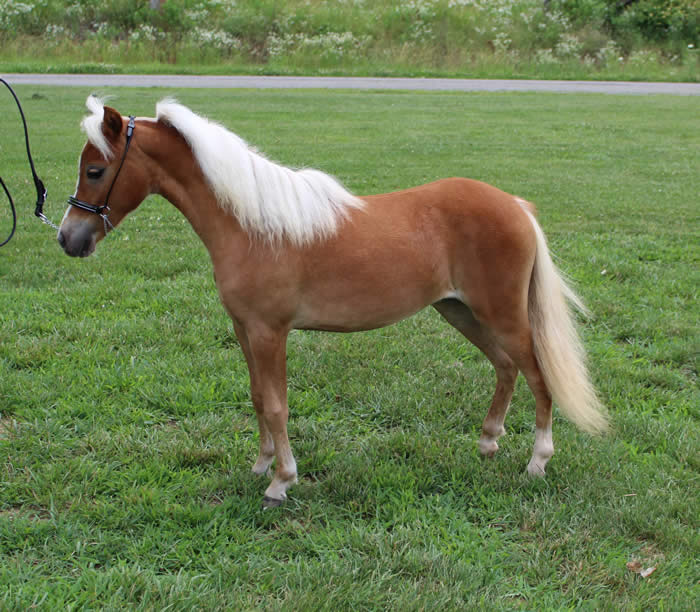 Joanie's dam OLYMPIAN MAGIC POTION, is a direct daughter of multi AMHA National Champion FLYING W FARMS BLUE BOYS MAGIC MAN.
Magic Man has sired countless World and National Champions and his name can be found in the pedigrees of many of today's show ring winners.
Magic Potion is a granddaughter of WITTMAACKS MICKEY MOUSE -
- a top producing son of GOLD MELODY BOY.
She's a smooth bodied, correct mare wrapped in a bright chestnut package.
Her brilliant flaxen mane and tail are just icing on the cake.
Whether you are looking for a show prospect or a top notch mare to add to your broodmare band, Joanie is one to consider!
PRICED AT $1,200.00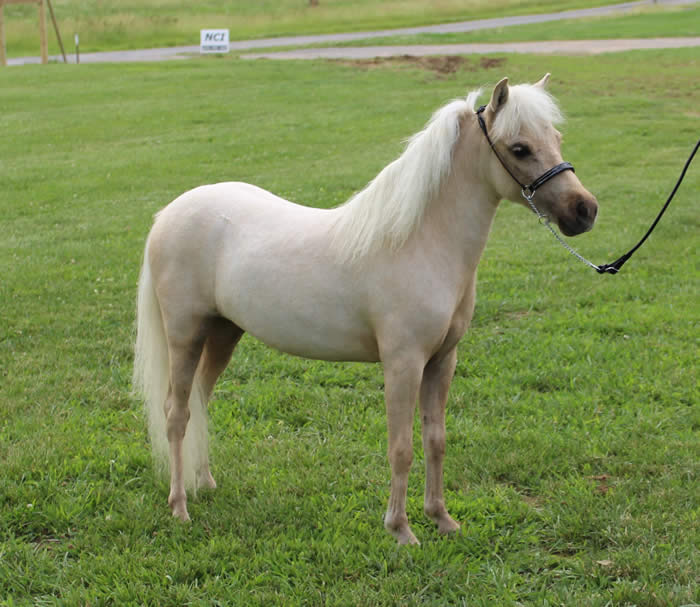 DVM As Sweet As Honey
(Honey)
AMHA/AMHR 2018 Palomino Show Mare
GRAND DAUGHTER OF WORLD SUPREME CHAMPION STALLION "IMPRESS"
Hunterberry Hill Sweetest Impression x Jones Good Golly Shez Gold
Foaled 3/29/2018
SUPER SWEET MARE WITH A STELLAR PEDIGREE
If you've been involved in the Miniature Horse industry over the past decade, you'll notice a trend towards Shetland blood infused with our classical Miniature pedigrees.
Honey is a nice example of the Miniature/Shetland blend done right.
Her sire is a 50% Shetland World Champion son of World SUPREME Champion Triple Registered RIVENBURGH JESS LET ME IMPRESS.
Honey's dam has impressive lineage including CHAMPION FARMS NIGHTHAWK, BOND ATOY4U C and NFC HUSSELERS STAR.
She's correct and upright with a pretty face and laid back shoulder.
As a future broodmare or a Junior Mare show prospect for 2020, Honey is priced RIGHT!
PRICED AT $1,200.00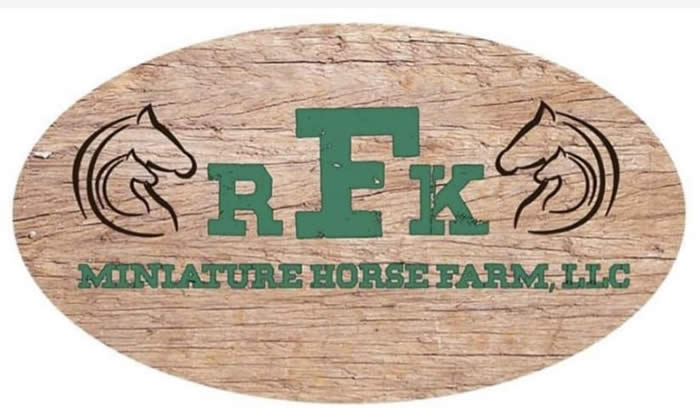 RFK MINIATURE HORSE FARM
www.rfkfarm.com
Richard & Kindra Ferrell
(618) 559-2309
kferrell@siu.edu
Located in Carterville, Illinois
(030620X) Ad updated 11/14/2019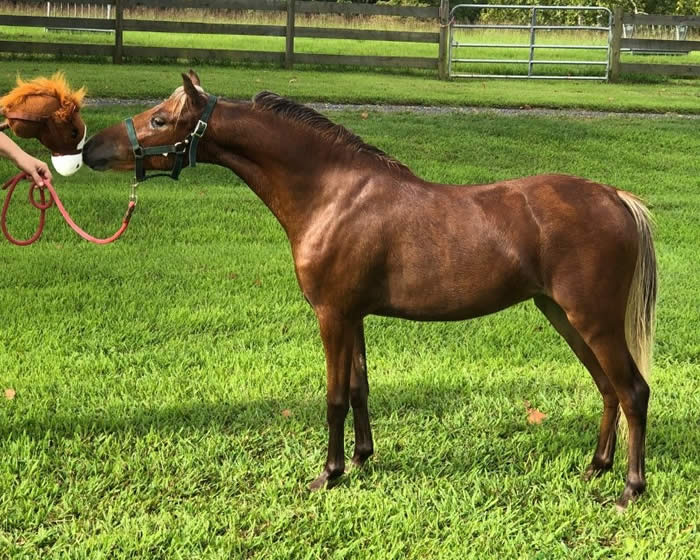 Rainy Day Riley Of Panorama
(Riley)
ASPC/AMHR 2018 Sorrel Show Mare
<> MATERNAL SIBLING TO NATIONAL GRAND CHAMPION <>
Alliance Boleros Bellagio x Royal Radiance
Foaled 3/03/2018
Riley has some pretty big hoofprints to fill but she's ready to get her game-on -
- and she's priced to SELL.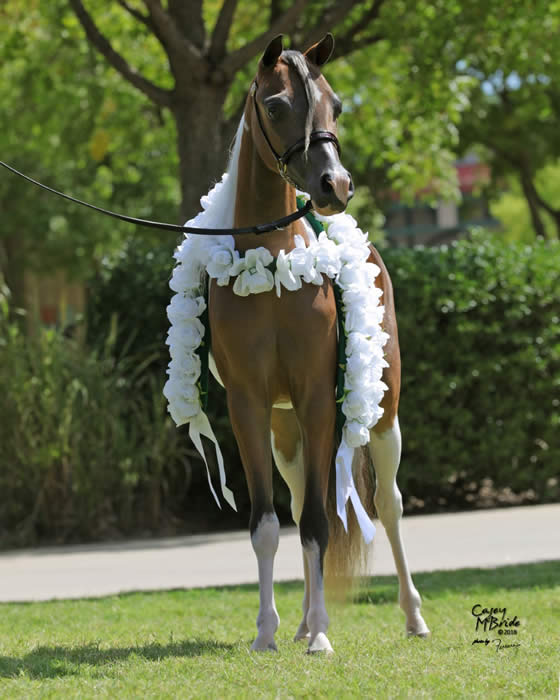 She's a maternal sibling to AMHR National Champion/Grand Champion PANORAMAS FOOLING AROUND
(pictured at left)
Riley is a combination of elegance and refinement with a totally balanced body.
Her long neck comes straight up out of her shoulders making her a prime candidate for DRIVING in the future.
Riley was shown at Nationals as a weanling and came home with an AMHR National Top Ten (7th) in the Mare Foal Futurity.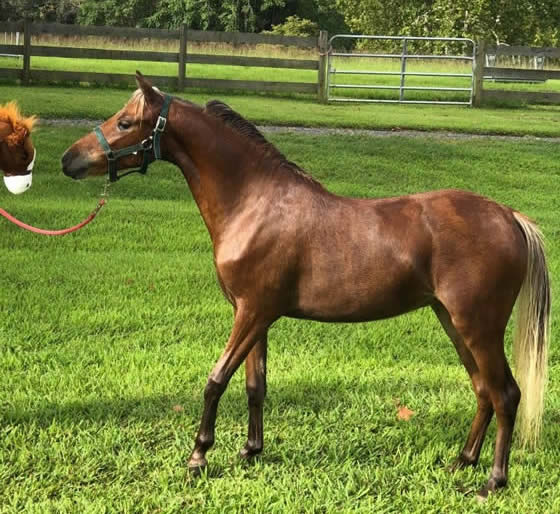 This mare is good minded with tons of show and blow -
she's halter broke and easy to catch & lead but otherwise is super showy and hot hot hot -
- ideal for a TOP NOTCH show mare.
Her pedigree combines some of the industry's top bloodlines. Riley's sire is by the iconic BOLERO and her dam is by the incredible ROYAL SPUN GOLD.
She is Futurity nominated and sustained.
PRICED TO SELL FAST AT $1,000.00
PANORAMA MINIATURES
Cathy Fatigati
(804) 925-5146
type_o13@hotmail.com
Located in Montross Virginia
(030220X) Ad updated 11/10/2019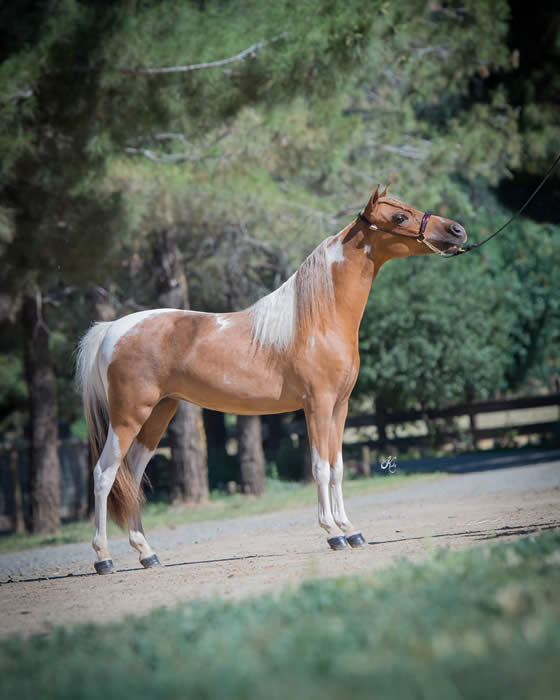 EE Redstars Sensational Storms
(Stormy)
AMHA/AMHR 2018 32" Chestnut Pinto Mare
Mountain Meadows Simply Sensational x Abrias Elusive Eclipse
Foaled 3/23/2018
Stormy is an extremely refined, balanced, gorgeous filly with a flat, long hip.
She is extremely showy and has a hooky neck that stretches for miles!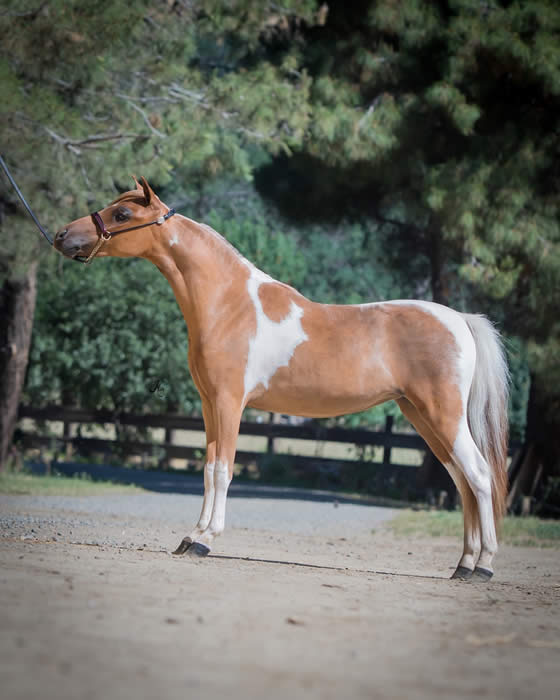 She will make a phenomenal driving horse, as she comes from a long line of performance horses.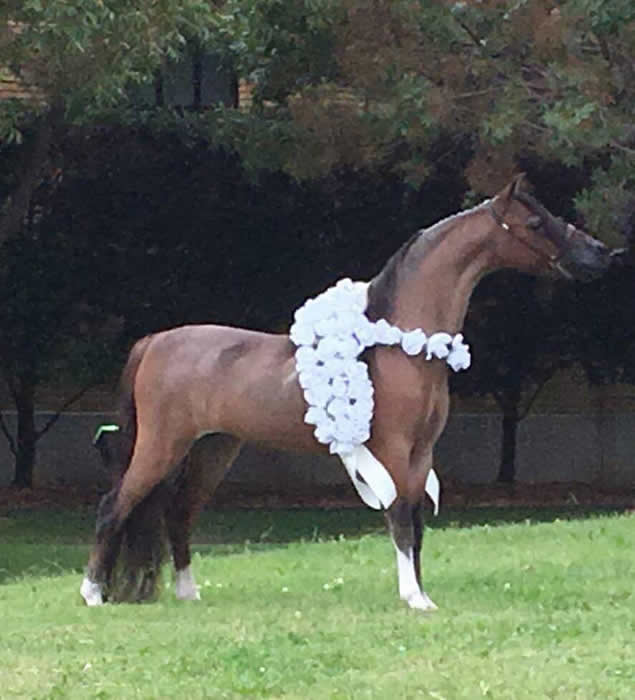 Her sire, "Sensa" is a multi National titled Grand Champion Stallion in Halter & Driving.
(He's pictured at left)
Stormy has shown in two AMHR shows both of which she placed Reserve Champion, and Amateur Grand Champion with her owner.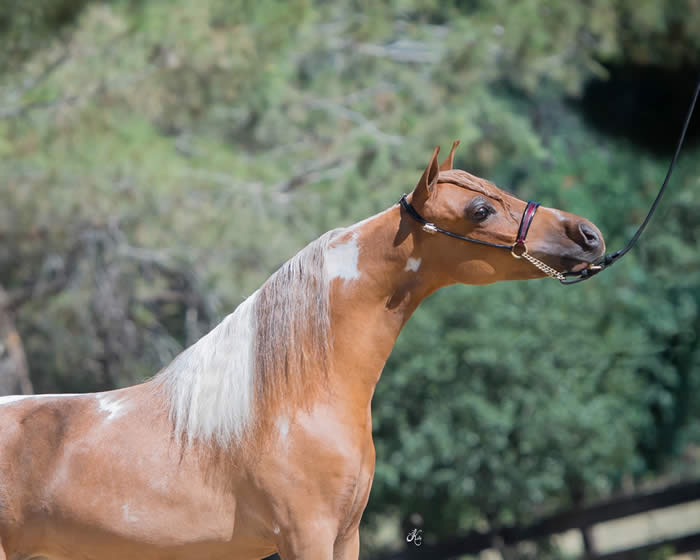 At a local AMHA show, Stormy placed Reserve Champion in Amateur and Open, as well as Grand Champion in Youth.
And just like her famous sire, this girl can really trot!
In the ring, she has really settled down and will stay planted and show!
At home, she has become an "in your pocket" horse.
PRICED TO A SHOW HOME AT $5,000.00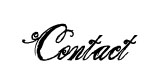 DOUBLE E RANCH
Jacob Elliott
(916) 479-0962
bigjasper5@aol.com
www.doubleEranch.us
Located in Gait, California (near Sacramento)
(011820X) Ad updated 12/3/2019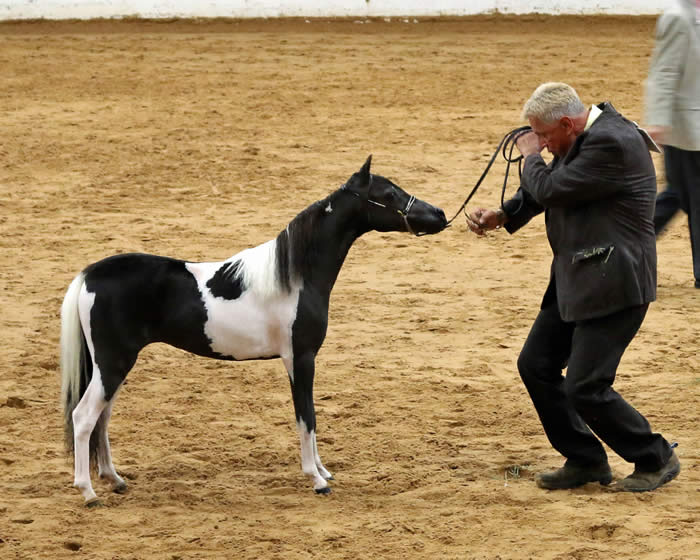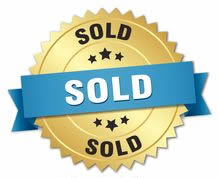 Indian Peaks Dare To Dance
AMHA/AMHR Black Pinto Yearling Mare
2019 AMHA CENTRAL REGIONAL CHAMPIONSHIP GRAND CHAMPION AMATEUR MARE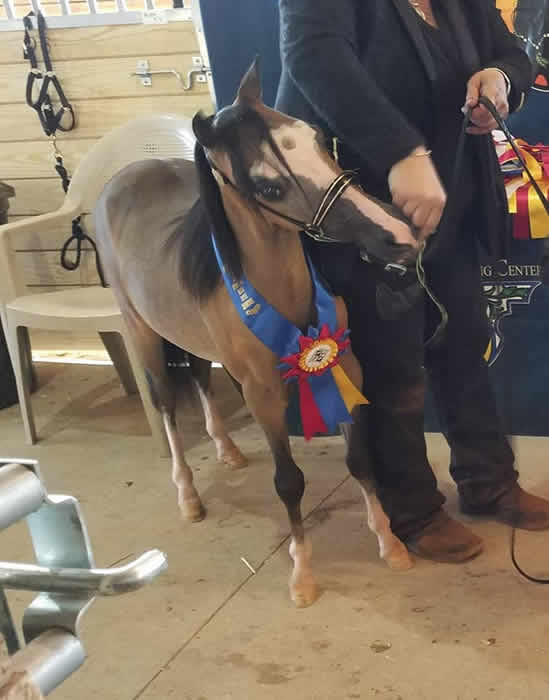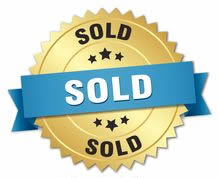 Hills Unique Rosalia
ASPC/AMHR 2018 31.75" Bay Mare with Chrome
** GRAND CHAMPION MARE FIRST TIME SHOWN! **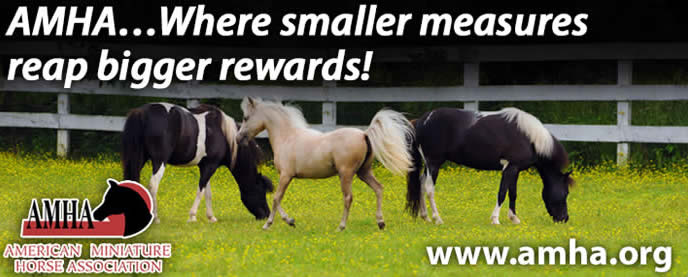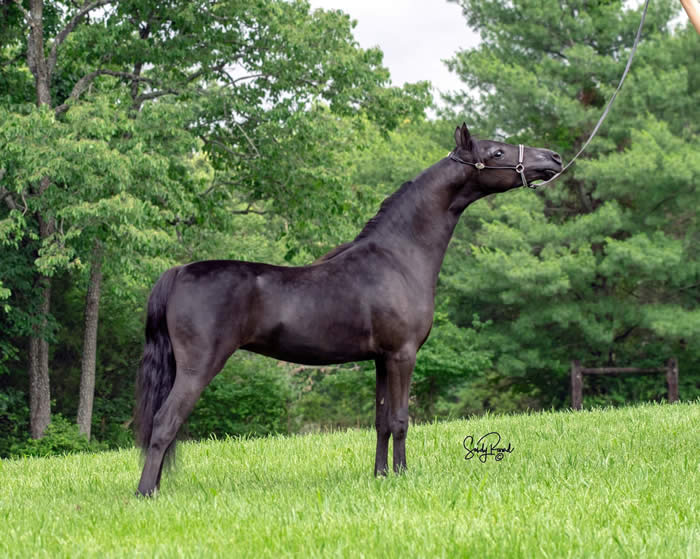 Carefree's Portrait Of A Lady
(Lady)
ASPC/AMHR Shetland 35" Black SHOW Mare
+ AMHR 2018 Nationals Top Four + Multi Grand Champion Mare +
TSL's Portrait In Black x TSL's Sweet Evening Breeze
Foaled 6/06/2018
Offered for your consideration to a show home only , Carefree's Portrait of a Lady.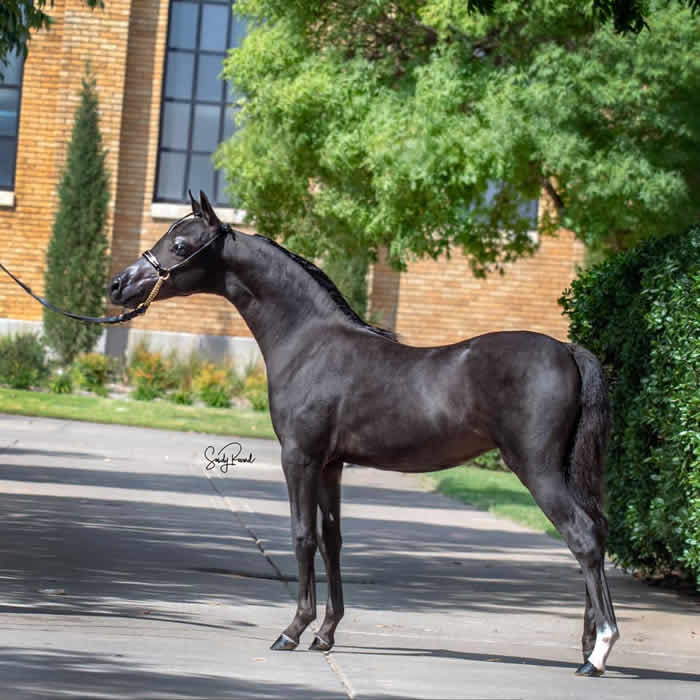 This ASPC/AMHR yearling black filly, and line bred RHF Raven Hood.
Robin Hood is the sire of TSL's Portrait in Black & TSL's Ravens Nightahawk.
"Lady" is currently in training with Belinda Bagby of B&B Training Center in Arkansas.
She has a spot on Belinda's showstring if her new buyer wishes.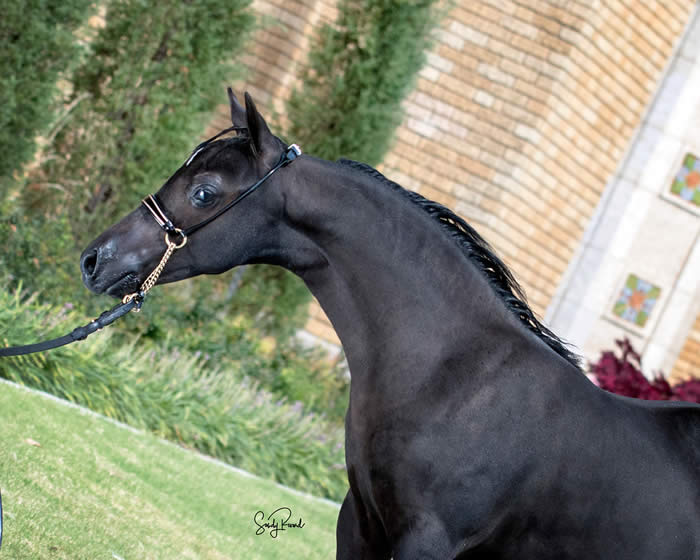 We have a NEW video of Lady available (taken this week) Please inquire!
Lady is already an AMHR National Top 4 and has four Grand Championships with under her belt.
She is already qualified for the 2019 AMHR Nationals.
Nominated in both ASPC & AMHR Futurities.
Lady is Foundation Certified.
We just LOVE this girl but we have some outside cross foals coming up that's we'll be adding to our breeding program.
We just don't have room to keep them all.
She is projected to mature around 37" tall.
Fantastic opportunity to add a top bred mare to your show string and breeding program.
WELL PRICED AT $1,500.00
PRICE REDUCED 10/7/2019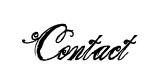 Gabby Guffler
CAREFREE MINIATURES & SHETLANDS
(314) 779-8183
Gabbygufler@gmail.com
Located in Arkansas at B&B Training Center
(100919X) Ad updated 10/11/2019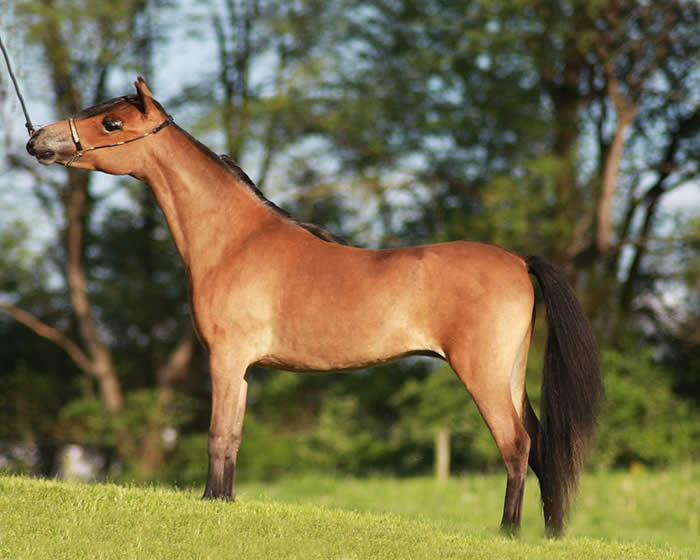 Sunny Side Winsome Easter Lily
(Lily)
  AMHA/AMHR Registered 2018 Show Mare
SHETLAND BLEND SHOW MARE AND FUTURE BROODMARE
Ten L Sunny Side Winsome Buff x RTR Black Velvet Elektra
Foaled 4/01/2018
No flowery words needed!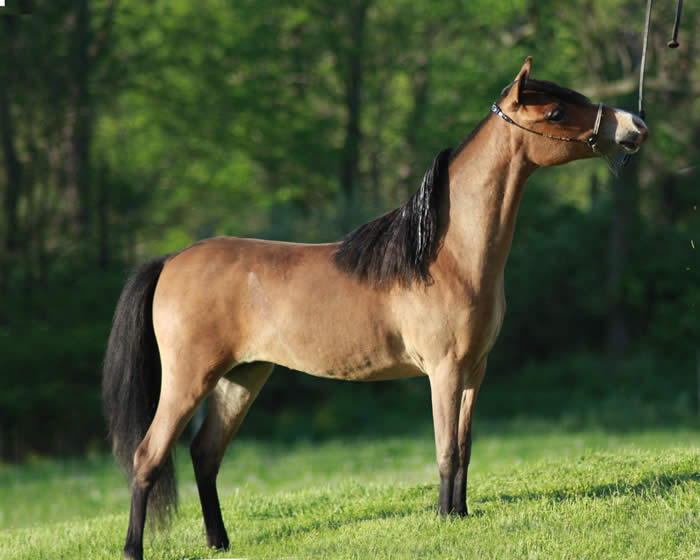 This balanced and beautiful filly speaks for herself!
She's one of many Shetland blend crosses for sale here at Sunnyside Farm in Pennsylvania!
Estimated to mature 33-34" and be the ideal size for a winning broodmare and future broodmare!
Lily is by the Sheltand blend son of TEN LS DESTINYS IN THE BUFF and out of a stunning daughter of the late/great LITTLE KINGS BLACK VELVET.
$1,500.00
+++ Free delivery within 200 miles of Harrisburg Pennsylvania +++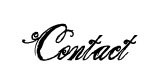 SUNNY SIDE STABLES
Ray Martin
(717) 819-9623
GrandPrix@Sunnysidestables.com
Located in Pennsylvania
(112018NX) Ad updated 10/15/2019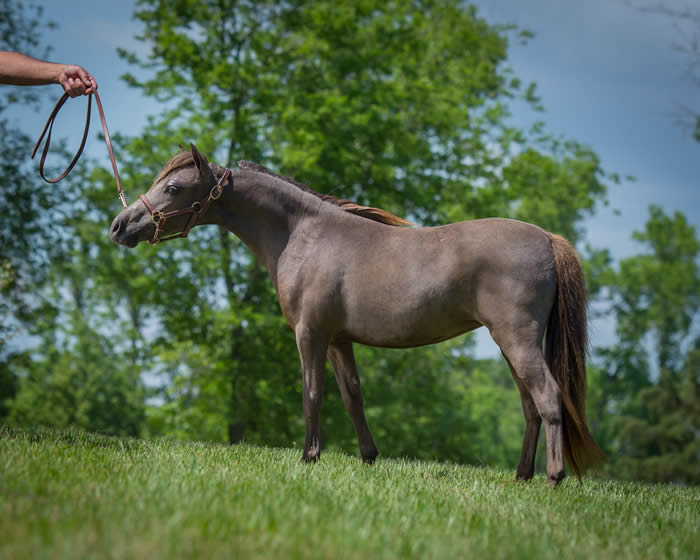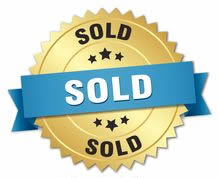 Olympian Idols Felina Hawk
2018 AMHA/AMHR Smokey Black SHOW Mare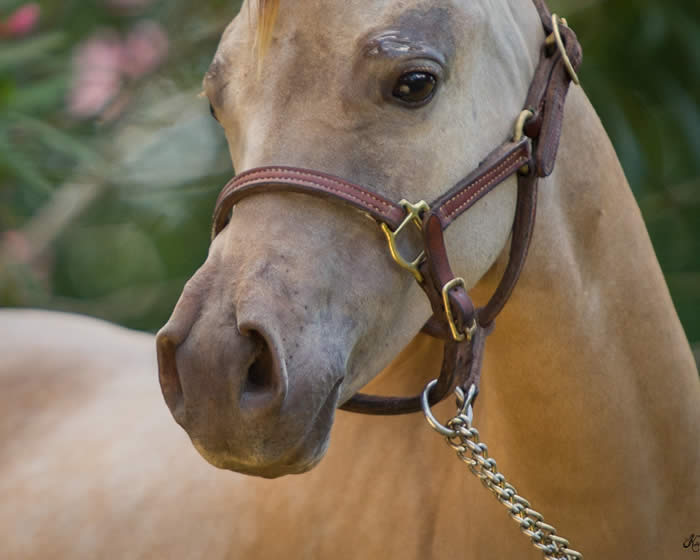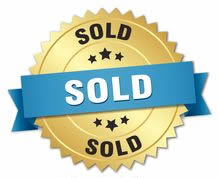 Olympian Country Lady Luck
AMHA/AMHRRegistered 2018 SHOW Mare
+++ AMHA Futurity Nominated +++

SOLD FROM THIS PAGE

CMC Gem Of The Nation (August 2019) Sold to Texas

Stars Idols I Sparkle (July 2019)

Olympian Country Lady Luck (July 2019)

Olympian Idols Felina Hawk (July 2019)

Hills Unique Rosalia (June 2019)

Hopkins PC Phoebe (April 2019)

Hopkins PC Pandora (April 2019)

Hopkins Isadora Image (April 2019)

Hopkins Ilsa Image (April 2019)

Minners Razzle Dazzle (March 2019)

Hopkins PC Pippa (February 2019)

TOF Baybees Arabella (December 2018)

Ericas Undisputably A Knockout (September 2018)

Comferts Rock E Candy Girl (August 2018)

Ranchland Acres California Heat (June 2018)

Comferts Sh-ock Top (June 2018)

PHR Kalahari Bey (May 2018)

Hopkins PC Paisley (April 2018)

Hopkins Impossible Image (April 2018)

Hopkins PC Penelope (April 2018)

Hopkins Impatient Image (April 2018)

Hopkins Incognito Image (April 2018)

Hopkins PC Peppermint (April 2018)

MJM Unique Aftershock (February 2018) Heading Overseas

THQ Gambling On Stardom (February 2018)

Hopkins PC Paris (January 2018)

Hopkins PC Pepper (January 2018)

Libertys (you name her) "Honey" (January 2018)

Hopkins Impassioned Image (December 2017)

Moms Making Music (October 2017)

Little Wolfs Barcardi Bombshell (September 2017)

MNMS Spotted Up The Wazoo (May 2017)

ABC Prime Time Glory Revival (May 2017)

ABC Prime Time Misty Rose (May 2017)

Ozark Mtn Treasures White Diamonds (March 2017)

Hopkins Invincible Image (February 2017)

Silver W Hawks Angel Wings (January 2017)

Reeces National Velvet (January 2017)

Hopkins One Small Moment (December 2016)

TOF Baybees Margarita (December 2016)

Covergirls Idols Hot Mess Hawk (December 2016)

Hopkins Babydoll Image (November 2016)

Double Trebles Starlight Sonota (November 2016)

Amore Grand Marqui (November 2016)

Ravenwoods Tardy For The Party (November 2016)

2016 Country Boy Show Filly out of TEENY TOO (August 2016)

Ozark Mnt Treasures Godiva (July 2016)

2016 Filly by "Country Boy" (April 2016)

Hopkins Salsa Image (December 2015)

PHR Salsas Sangria (November 2015)

Standing Ovation Copper Penny (November 2015)

Aloha Acres Remember The Lite (October 2015)

Aloha B Springhill A Silent Sunrise (October 2015)

Stars Gotta Lotta Glitter (October 2015)

MJM Im So Schmancy (September 2015)

Los Arboles Baylight (September 2015)

Los Arboles Idols Classical Jazz (September 2015)

Double Treble Dun With Class (September 2015)

Triple Registered SHOW Filly offered by Limestone Miniatures (September 2015)

Aloha Acres Nicolite (August 2015) Sold to New York

Stars Girl On Fire (August 2015)

Stars Glass Slippers (August 2015)

Ravenwood Another Chance (July 2015)

Winning Streaks Chromatic (June 2015)

Stars Majestic Mist (May 2015)

Eagles Ring Bu2ful Dreamer by Buzz

LM Idols ... (December 2014)

Olympian Idols April Love (December 2014)

Eleven Acres Truly A Tempest (November 2014) Sold to the Briggs Family

Hills Deep River Woman (Octber 2014)

Stars Gimme The Moon (October 2014)

Eagles Ring Hot Sauce By Buzz (October 2014)

Alliance Boleros Regina (October 2014)

MJM Pistoleros Miss May (September 2014)

Stars Girl Gone Wild (August 2014)

Poco De Oro Regalos Fancy This (July 2014)

Cross Country Private Terms 2014 Daughter (June 2014)

Mountain Meadows Rafeeqs Mistique (November 2013)

MiniEquine A Ravenwood Christmas (November 2013)

Brookhavens Dorothy Gale (October 2013)

RFM Geneses Gypsy Magic (October 2013)

Stars Guiding Light (October 2013)

Ravenwood Dream Catcher (October 2013)

Ravenwood Champagne Memories (October 2013)

Ericas Gone Platinum (October 2013)

Finchwoods PlayMe A Sweet Melody (October 2013)

Azariahs Jazz Z Eagle (October 2013)

Stars Gives Me Hope (September 2013)

Hopkins The Jokers Moonlight Ink (August 2013)

Stars Good Knight Sweetheart (August 2013)

LM Idols Delilah Hawk (July 2013)

Mulligans Run Silent Heirloom (July 2013)

Double Treble Lady Echo (June 2013)

Stars Going To Love Me

JA Miniatures Super Charger

Stars Glamorous

Caldwells Hey Good Looking

Dundees Replicas Short Story

Mulligans Run Dreams Spellbound

LR Hennesseys Blue Angel

SFM Bucks Lil

MJM Buckeye WCF Belle Amore

MJM Aristocrats Belle Noire

LR Hennesseys Dream Girl

Brookhavens Let Me Down Easy

Brookhavens Martini With A Twist