Educational Miniature Horse DVDs
Patty Cloke Educational DRIVING DVDs
Learn How to drive your Horse - from the EXPERT!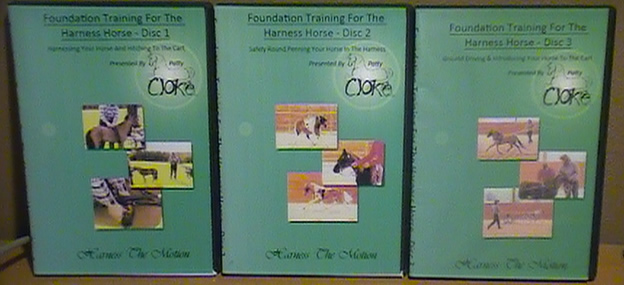 Have you watched the Miniature Driving Horses that are WINNING in the show ring and thought HOW DO THEY DO IT?
Here is an inside look - from square one! The FOUNDATIONS of training a World Class driving horse! Patty Cloke has trained and shown MANY World and National Champion horses. This set of three DVDs is the foundation of her program.
The DVD set is available for $100.00 (PLUS SHIPPING) for all three
or at $39.95 each (PLUS SHIPPING)
For more information or for ONLINE COACHING assistance and to order please contact ClokeStables@gmail.com
CURRENTLY OUT OF STOCK
SC Johnson Presents:
Miniature Horse Showmanship DVD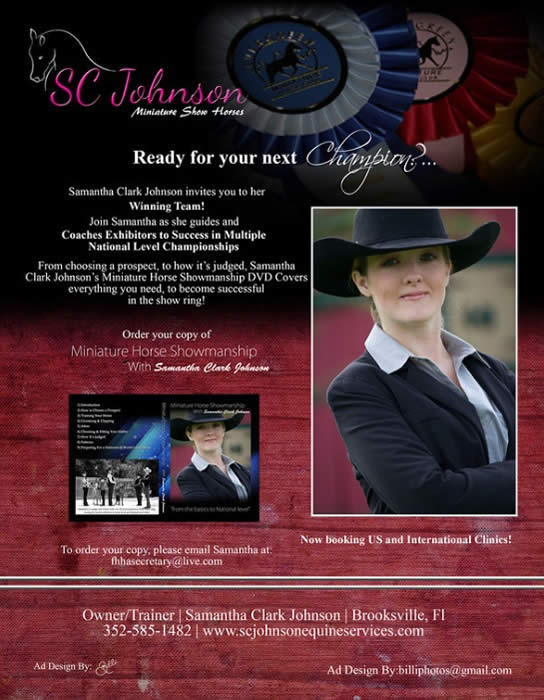 $29.99 FREE US shipping $8.95 international shipping

Samantha Clark Johnson
Brooksville, Florida
Phone:  352-585-1482
 fhhasceretary@live.com
How To Clip Your Miniature Horse
Educational DVD
By Brooke Sheridan - Clipping EXPERT
"BROOKE THE CLIPPER GIRL"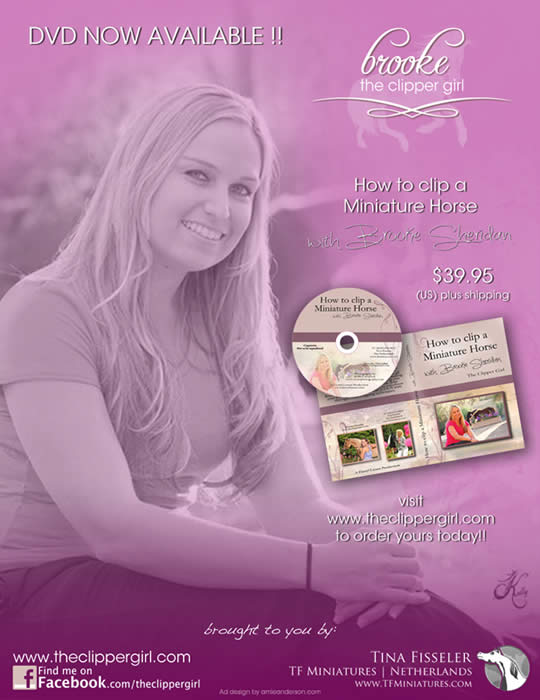 FACT -- Miniature horses grow a LOT of hair.
FACT-- Most miniature horses will benefit from body clipping from once to several times per year, be that just a basic clipping for comfort in hot weather, or the "whole deal" in preparation for the show ring or a photo shoot.
FACT -- I am the professional clipper that many, many of the nation's foremost miniature horse farms rely on to perform those services! And not only are these farms my clients, they become my friends as well.
FACT -- I am happy to service smaller farms and individual clients. I enjoy meeting and working with everyone whether that be a big farm, small farm, or a one-horse owner. Click on Brooke's LOGO below to go to her website and purchase your own copy - to learn everything there is to know about clipping YOUR Miniature Horse!
Introducing: the first "How To" series tutorial video!
I am happy to introduce the first of a series of downloadable "How-To" videos which expands on the techniques taught in the "How To Clip a Miniature Horse" DVD.  This 30-minute tutorial addresses the all important topic:  How To Do a Great Facial.    There is nothing that brings out the beauty of your horse's head like a skillful blend of clipping and razoring.  This video will take you step by step through the sculpting process and I will also share with you my trade secrets for enhancing three "tricky" colors:  white/palomino, pinto and buckskin.  Enjoy, and happy clipping!
Click the "Buy Now" button to download the 30 minute video: $19.95 USD

Video download is 800mb and will play best on Quicktime. If your computer does not have Quicktime, download it here for free: