Miniature Horses - Lost and Found
Have you been trying to reconnect to a Miniature Horse you once owned? 
Do you have a Mini that you'd like to find some history on?
This service is FREE!
Send photos and info to karen@minihorsesales.com and we will post it here!
Do you recognize this Miniature Horse?
"Tom-Tom"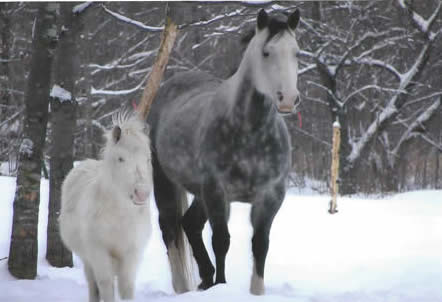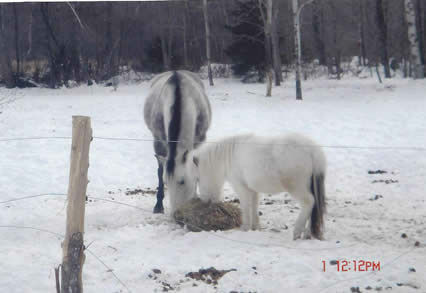 Tom-Tom's previous owner is searching for his current owner. He was resold again and Tom-Tom's past owner just wants to know that he is safe & well cared for.
Although his past owner resides in Maine, she believes that TomTom (shown in photos with his big friend, Spanky) may be in the Kensington area of New Hampshire.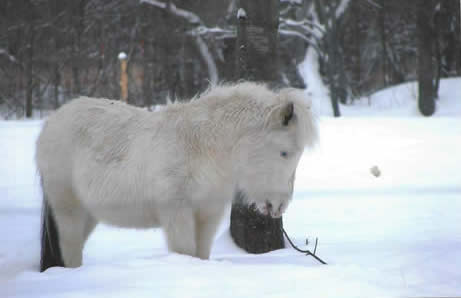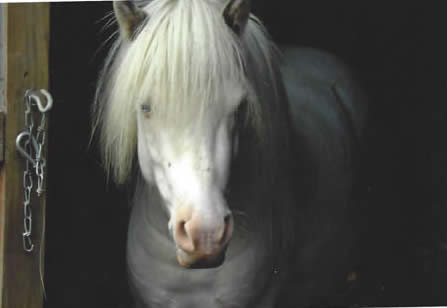 He has very unique markings!
Tom-Tom is a black pinto but the ONLY black on him is half of his tail and the tips of his ears. Hs eyes are blue. He should be easy to recognize. Tom-Tom is unregistered.
MAY BE IN NEW HAMPSHIRE
If you have seen him, please contact:
I can give you his previous owner's contact information
(or I can relay a message to let her know Tom-Tom is being loved)
3/4/2015
Do you recognize this Miniature Horse?
"Paris"
(Registered name unknown)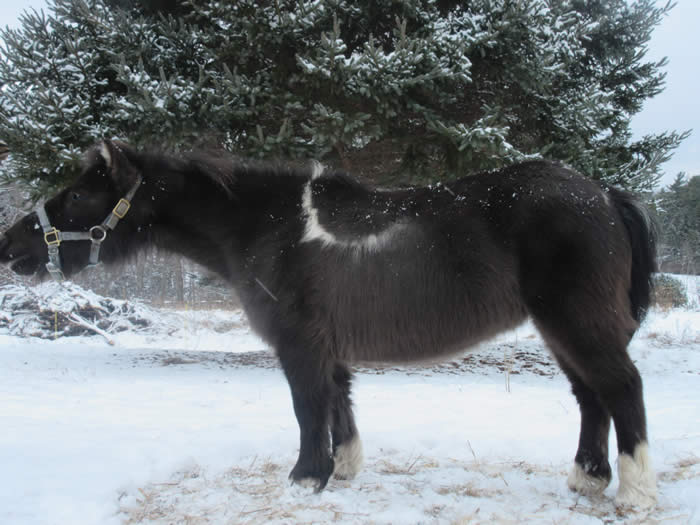 Paris' owner has lots of questions about her history!
A note from her current owner:
"Paris is a black and white Pinto with some unusual markings on her shoulders.
I bought her late last year from a couple in northern Nova Scotia.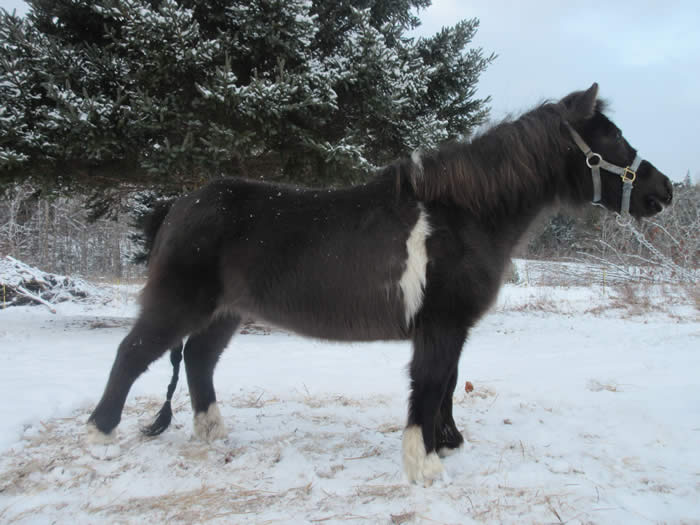 He bought her and some others from the man in New Brunswick, who before that purchased them from a lady starting off in breeding called Wendy (I cant remember her last name right now) who also lived in New Brunswick.
The stallion (see ad below, on this page!) who has been with Paris for many years now came from the Lowe family in Nova Scotia.
They bred and showed Miniatures for many years.
I have been in contact with them and they do not recognize this mare so Wendy must have purchased her from somewhere else.
I do not know her registered name, neither did her last owner, he wasn't interested in the papers.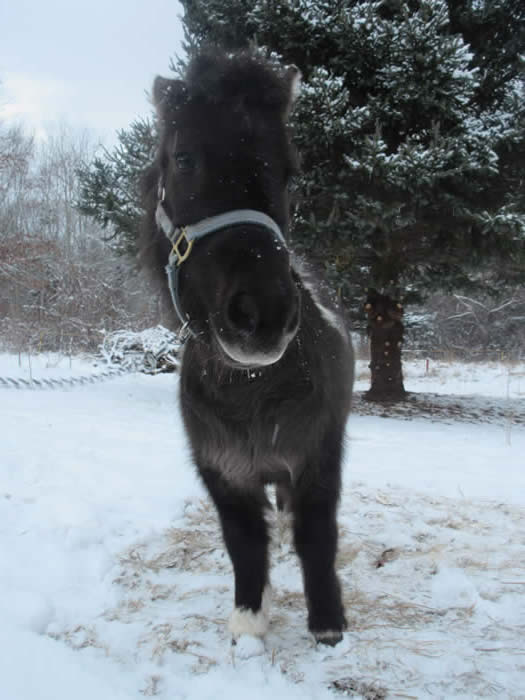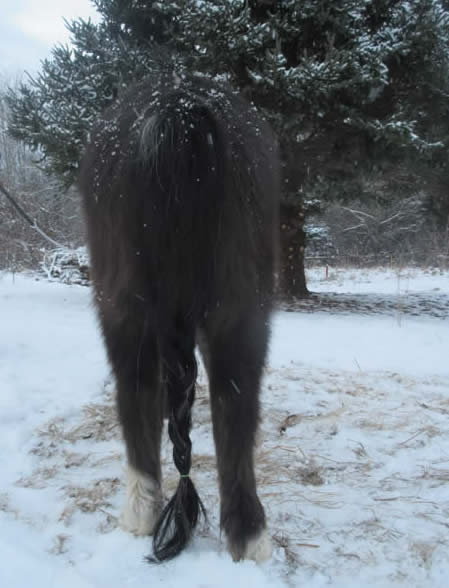 Do you know anything about this mare?
Her owner would appreciate any details!
LOCATED IN NOVA SCOTIA CANADA
Contact details
REBECCA
Currently lives near Annapolis Royal, Nova Scotia, Canada
3/20/2015
Do you recognize this Miniature Horse?
"Cooper"
A note from "Cooper's" current owner, Carissa Vines:
"The lady I got him from was in Fairchild, Wisconsin.
The neighbor got Cooper from a local breeder, but He never knew who that was.
They must have got him as a weanling because she got him as a yearling and she had him ever since I got him as a 3 year old last year.
And what I love about him is his furry feet!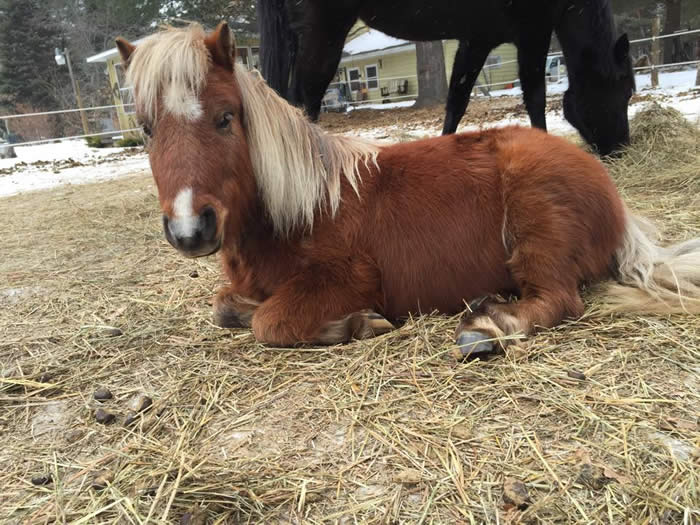 He has REALLY hairy feet like a draft horse.
It would be nice to see what type of breeeding/bloodlines he has!"
Does Cooper look familiar to you?
Do you recognize his unique star and snip?
He's in a forever home now, and he's a gelding
- but his current owner would LOVE to have some history on her handsome boy!
CURRENT LOCAION - PLAINFIELD, WISCONSIN
If you have seen him, please contact:
horserdressage08@yahoo.com
Carissa Vines
Plainfield, WI
3/6/2015
Do you recognize this Miniature Horse?
"Vinnie the Mini"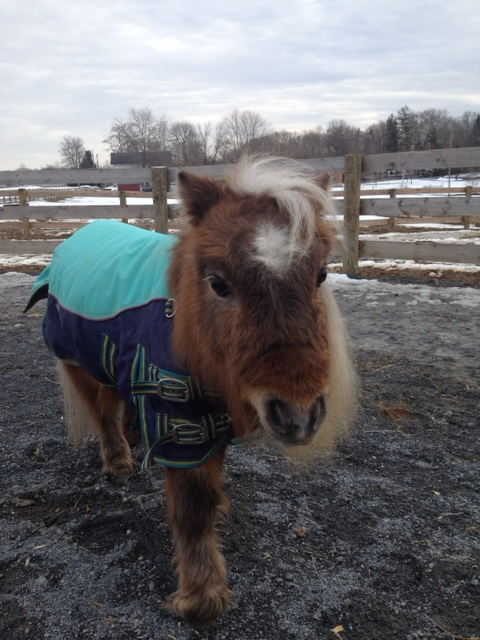 A note from "Vinnie's" current owner, LuAnn Rittenhouse:
I have a little guy (still a stallion-March 27th being gelded)
He is very small, measuring at about 28" tall.
Very sweet disposition.
One front slightly clubbed foot.
Vinnie was purchased at Lebanon (PA) Horse Auction October 11, 2014.
Do you recognize this handsome little guy?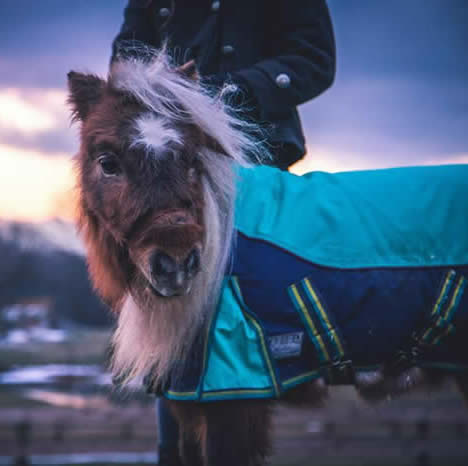 He's in a FOREVER, loving home but the new owners are looking to connect some dots in his history
- it's fun to know the story behind our little horses!
Usually, a seller sells the horse to a "perfect" home and for some reason, that "perfect" home ends up not so perfect and the new owner moves the horse along and MANY end up at auctions.
ANY info would be helpful and appreciated!
Feel free to "share" these "lost and found" Minis with all your friends and neighbors!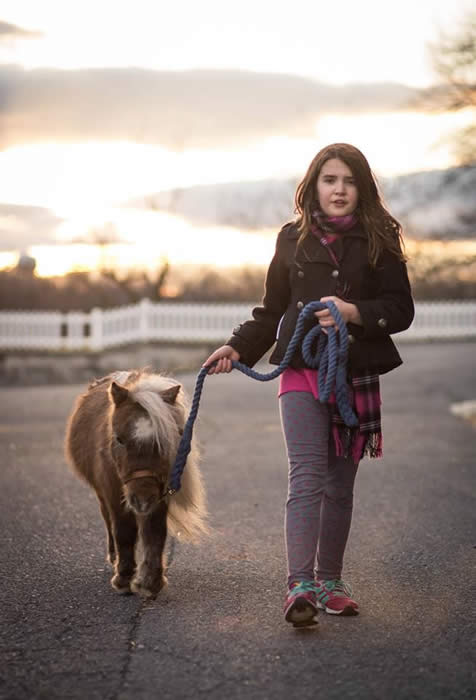 CURRENT LOCATION - Pennsylvania
LuAnn Rittenhouse
vinniethemini.therapy@gmail.com
717-951-0154
Pennsylvania
3/7/2015
Do you recognize this Miniature Horse?
"Your Horse Here!"
CURRENT LOCATION -
2015